A bright and airy haven for brunch and dinner, Tusk Middle Eastern restaurant and bar serves gorgeous, satisfying meals and colorful, creative cocktails.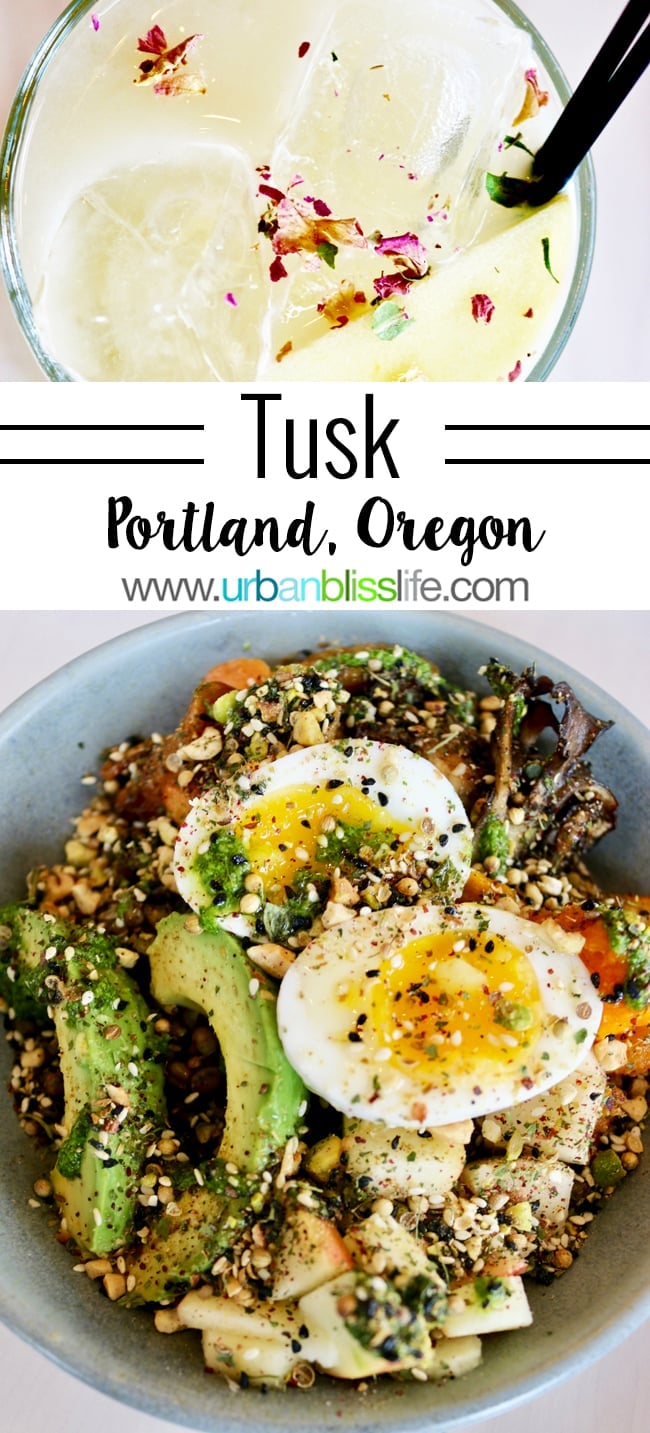 During the grey rainy days of our great Pacific Northwest, it's so refreshing to shake off the raindrops, de-layer, and cozy up to a bright and beautiful space, sip some colorful cocktails, and feast on a vibrant meal.
Tusk is up to the task, my friends.
It is so gorgeous here that it's impossible not to photograph. Luckily, the cocktails and food taste as delicious as they look.
Tusk Middle Eastern restaurant
Tusk is located in the former Levant space, on Burnside Street. The interior is a stunning, light-filled, bright and airy space full of modern decor and quirky touches (note the large portrait of Keith Richards floating in a swimming pool above the bar).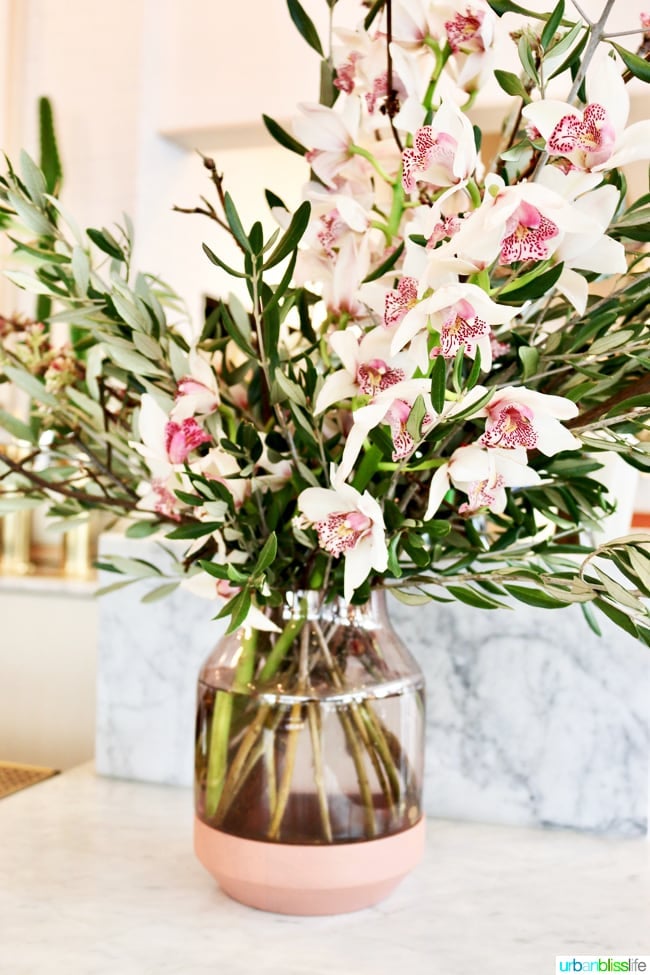 From the furniture to the dishware, each piece in Tusk is thoughtful and cheery.
In addition to the gorgeous, light-filled interior space, there's a lovely outdoor space which will be surely overflowing once the sun returns.
I had the good fortune of enjoying a media brunch here recently, and wanted to stay there all day. It's such welcoming and happy place to be.
Drinks
We started where all good brunches begin: the cocktails.
Bar Manager Tyler Stevens has concocted a menu full of clever, creative cocktails that taste as lovely as they look.
The Eastern Maid ($12) is a truly interesting cocktail. Made with Beefeater gin, hazelnut, lemon, celery seed, rose water, yogurt, this is a stunning drink.
Black Gold ($10) - Lustau Fino sherry, Beefeater gin, lemon, honey, activated charcoal. This drink was so refreshing. It's the perfect drink to sip outside once the sun starts shining again - or to drink inside and help you recall those glorious sunshine days.
And of course, there is always the brunch classic cocktail: the Mimosa ($10). Tusk's mimosa is made with St. Germain, sparkling wine, grapefruit, and the uber popular, healthy spice-of-the-moment: tumeric.
Breads and pastries
Ahh the food. Tusk Middle Eastern Restaurant certainly delivers in this area. Whether you dine here for brunch or dinner, dishes are meant to be shared family style.
I'll keep the chatter to a minimum and just give you the good stuff! Here's a look at what you can feast on for the ideal PDX Brunch!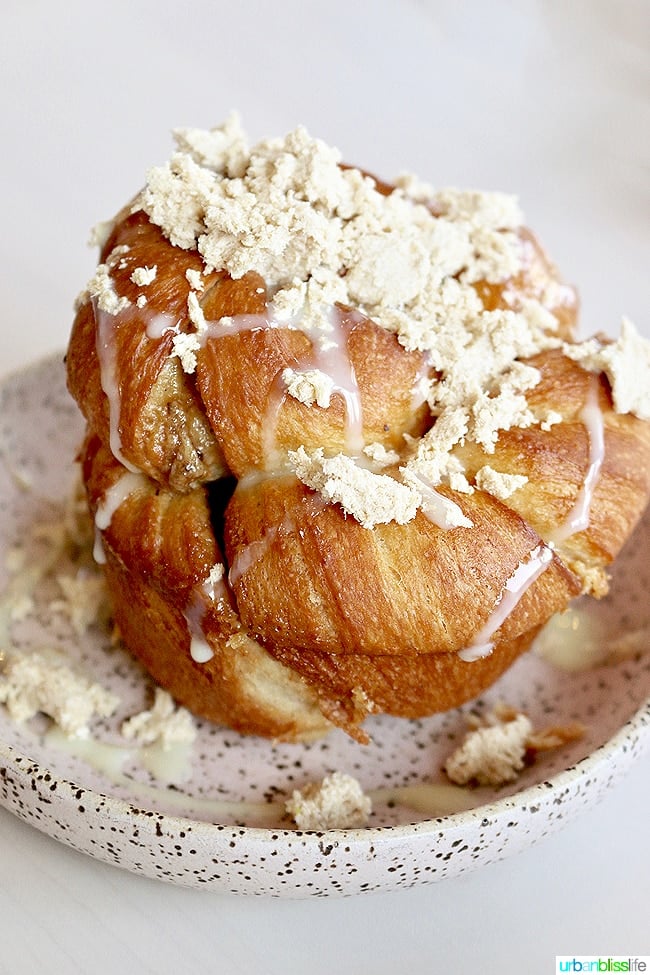 Put that Whole30 diet aside for the day and start with the Sesame Halvah Babkah ($5).
Then consider never picking up that darn Whole30 diet ever again after having a bite of this amazing Pistachio Gooey Butter Cake ($5). Holy moly, this cake is insanely good: sweet but not too sweet, with a buttery crispy crunch to the top and bottom.
Main plates
The menu for brunch and dinner at Tusk consist mainly of vegetable-forward dishes. You can certainly order items with meat in them, but even the biggest meat-and-potatoes lover can order a complete vegetarian meal here and easily be more than satisfied.
This is not like grabbing a carton of yogurt at the grocery store, folks. At Tusk, the yogurt ($10) is served in a huge bowl with fruit on the bottom, puffed grains, dates, and squash.
I was told that Tusk made the best hummus, and it is definitely right up there. You can order a small or large order of Hummus ($9 for small or $15 for large) and add an egg for an additional $2. It's made with parika, parsley, with Tusk flatbread, and is absolutely delicious. I love the layers of the spices.
The Green Wheat Bowl ($14) consists of a variety of fresh local vegetables, avocado, pickles, dukka, egg, and argan oil.
The Koda Rice Porridge ($10) is the perfect dish to warm you up on a cold Portland day. Made with curry, chicken, ginger, and egg, it's filling and full of a beautiful medley of textures.
The Cypriot ($14) is one of the plates that includes meat, and is made with halloumi, beef skewer, fried eggs, pickled pepper, and herb salad.
The people
Tusk is born from an impressive pedigree of local restaurant industry pros. The product of Submarine Hospitality, the restaurant group that brought Ave Gene's to Portland, Tusk was founded by Joshua McFadden and Luke Dirks (pictured above, left). Executive Chef Sam Smith is also a partner in the restaurant, and is joined by Chef de Cuisine Wesley Johnson, Executive Sous Chef Joe Deibler (pictured above, far right), and Pastry Chef Nora Antene (pictured above, middle). Manager Jessica Baesler keeps the restaurant's daily operations running smoothly.
Private dining
Tusk Middle Eastern restaurant also has a gorgeous private dining room which seats up to 28 people. Perfect for special occasions or just a private brunch with 27 of your closest friends!
Visit
2448 East Burnside
Portland, Oregon
503.894.8082
HOURS:
Monday-Friday: 5pm–12am
Saturday: 10am–2pm, 5pm–12am
Sunday: 10am–2pm, 5pm–10pm
https://www.tuskpdx.com
Reservations accepted online for parties of 6 or more.
What cocktail and/or disk above catches your eye the most?
Many thanks to Tusk Middle Eastern restaurant for hosting our media brunch. As always, all opinions and photos are my own.