This sexy little number is perfect for Valentine's Day. It's dairy-free, gluten free, vegan, and a delicious sweet treat with a twist: chocolate mousse with avocado!
Sometimes kitchen experiments turn out horribly wrong the first time around. Recently, I made a batch of vegan, gluten free stuffed mushrooms made with different ingredients than I usually used. They were okay, but really not great. Have you had those it-won't-kill-anyone's-tastebuds-but-let's-never-repeat-that-again type of food experiments?
Other times, I'll get an idea for a recipe in my head and won't be able to stop thinking about it. I'll make it... and its pure HEAVEN. So delicious that you can't wait to make it again...and to share it.
That's what today's Foodie Friday recipe is: absolute decadent yet better-for-you chocolate lover's bliss.
Chocolate Mousse with Avocado
I LOVE chocolate mousse. The creamy, silky texture, the rich chocolate... but when I found out I needed to go easy on the dairy, I thought my chocolate mousse dreams were crushed forever.
But then, I started seeing avocado used in chocolate recipes all over Pinterest. Vegan Chocolate Shakes, Chocolate Avocado Pudding, Chocolate Avocado Brownies... you name it, someone out there has mixed avocado and chocolate together.
I also found several different recipes for Chocolate Mousse with Avocado and decided to try it - with my own slight changes to a Food Network recipe - and I loved it!
A Healthier Chocolate Mousse Recipe
Traditional chocolate mousse contains heavy cream and eggs. I really can't have much of either, so it was important to create a dairy-free version.
Instead of regular chocolate chips, I used vegan chocolate chips, and topped it with a frozen whipped coconut cream instead of heavy whipped cream.
Avocado is truly an amazing substitute for heavy cream and eggs. It's not only healthier, but it lends that creamy rich texture to chocolate recipes with additional health benefits.
And, in case you're wondering: this TASTES just like chocolate, and nothing else. If you mix it well enough in your food processor, you just get the taste and texture of pure delicious creamy rich chocolate - with a secret hidden super fruit weapon!
Avocados are super foods that contain more than 20 vitamins and minerals in each serving. They are low in sugar but high in fiber to help you feel fuller longer. Also, they contain important omega-3 fatty acids which help lower bad cholesterol, as well as tons of potassium which helps control blood pressure.
This chocolate mousse with avocado recipe is silky, creamy, sweet, rich, and indulgent. It's a fabulous dessert to make for Valentine's Day!
This recipe makes between 4-6 servings, depending on how you decide to serve it. You could place a larger amount in individual bowls for four settings, or in shot glasses (shown here).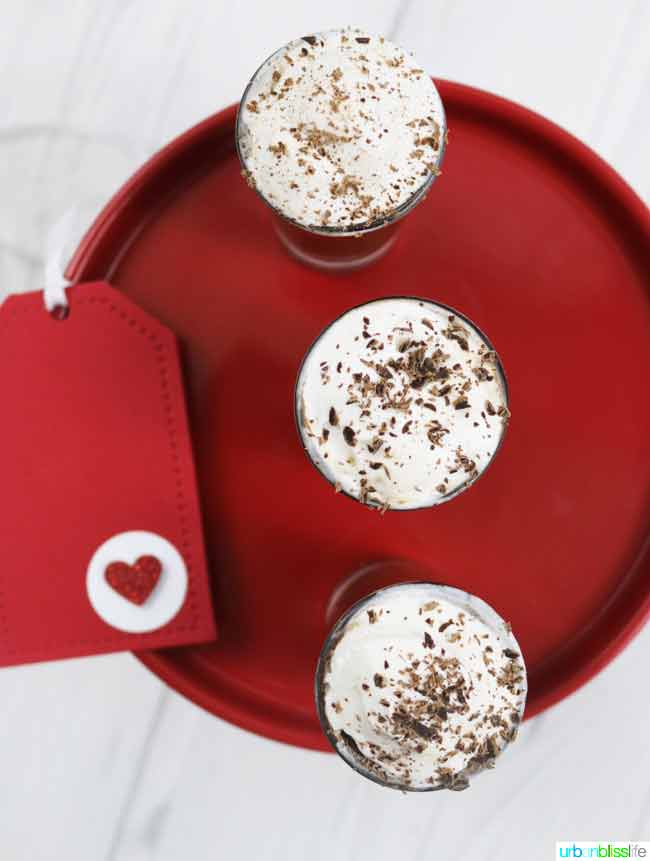 Topping Ideas
I topped this avocado chocolate mousse with Soy Delicious Whipped Coco Cream and chocolate shavings. Here are some other topping ideas:
whipped coconut cream from canned coconut milk
chocolate chips
fresh raspberries, strawberries, or blueberries
chopped mint leaves
shredded coconut
chopped hazelnuts
Chocolate Mousse with Avocado (DF, GF, Vegan)
This silky chocolate mousse has a secret ingredient: avocado! It's dairy free and vegan.
PRINT
PIN
RATE
🤍 SAVE
Saved!
Ingredients
½

cup

dairy-free semi-sweet chocolate chips

¼

cup

almond milk

2

large ripe avocados

peeled and pitted

¼

cup

unsweetened cocoa powder

½

teaspoon

vanilla extract

1

teaspoon

agave nectar or honey
Instructions
In a double boiler or a glass bowl placed over a small pot of water (so the water is just touching the bottom of the bowl), bring water to a low boil over medium heat. Add chocolate chips and whisk until chocolate just begins to melt a little, and then slowly add almond milk. Turn off heat and whisk together chocolate and almond milk until the mixture is smooth and all the chocolate is fully melted. Remove bowl, place on heatproof counter top, and set aside to cool slightly.

Add avocado, cocoa powder, vanilla extract, and agave nectar (or honey) to a food processor. Add melted chocolate. Process until the mixture is blended and smooth.

Spoon into serving cups and refrigerate for at least one hour before serving.
Notes
Can be made the day before serving and chilled overnight. Remove from refrigerator and allow to sit at room temperature for 5 minutes before topping and serving.
Tried this recipe?
Please leave a star rating and comment! Then snap a pic of your dish and share it on social media. Tag @UrbanBlissLife and #UrbanBlissLife!
Nutrition information is a general estimate. Actual nutrition details may vary depending on the exact foods & brands you use to make this recipe. It does not take into account any substitutions, toppings, or optional ingredients.
This recipe is adapted from the Food Network
Have you made chocolate recipes with avocado before? What would YOU use as your preferred topping for this avocado chocolate mousse?
More Valentine's Day Recipes
Dairy-Free Chocolate Mousse Shots
20 Delicious Valentine's Day Desserts and Drinks
This post contains affiliate links.