This restaurant is unfortunately now closed. If you are interested in more Portland restaurants, please visit our
Portland, Oregon Restaurant Guide.
Headwaters restaurant extends the Russian Tea Experience at The Heathman Hotel in Portland, Oregon to a year-round service.
Russian food is quickly rising to the forefront (and not for political reasons, mind you, although the timing is interesting). In Portland, we are lucky to have the fabulous Kachka to educate this foodie town in the deliciousness of full Russian cuisine. And now, Headwaters, the new restaurant revival in Portland's historic Heathman Hotel, has extended its holiday Russian Tea Experience to every Saturday.
I had the opportunity to enjoy the Russian Tea experience with some fellow writers and bloggers during the holidays - hence, the holiday decorations in these photos. Here's a look at what you can expect from this unique dining tradition.
A Heathman Hotel Tradition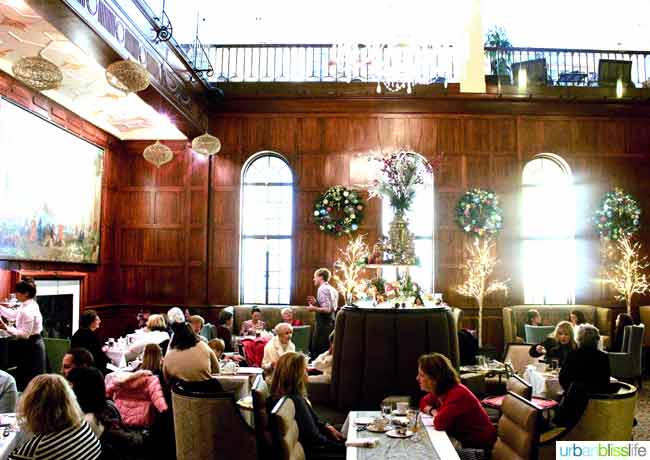 Before we dive into the service, I believe it's necessary to have some understanding of the history of the space.
For decades, The Heathman Hotel's namesake restaurant offered a classic English High Tea service during the holidays that became an annual friends and family tradition for many Oregonians. When the Heathman restaurant decided to part ways with the hotel, it was soon after taken up and revived by the renowned Portland Restaurateur team of Chef Vitaly Paley and his wife/business partner Kimberly Paley (of Paley's Place, Portland Penny Diner, and Imperial). With Executive Chef Ken Norris at the helm, the talented team has transformed the former Heathman restaurant space into Headwaters restaurant.
I'll save my overall review of Headwaters for a separate post. For now, here's a look at the Russian Tea Experience.
Russian Tea Experience
Originally offered as a holiday tea service, Headwaters now offers the Russian Tea Experience every Saturday with two seatings: 12:00 noon and 2:30pm. Reservations must be made at least 48 hours in advance, and must be made over the phone - not online.
The service is held in one of the Heathman Hotel's lounge areas, adjacent to the main Headwaters restaurant space. Its' high ceilings and artful decorations truly make you feel as though you are enjoying a special dining experience.
Chef Paley draws from his own Russian roots for the inspiration of the Russian Tea Service at Headwaters. In fact, many of the serving pieces and decorations you'll see in the tea service room are his own family's heirlooms.
The Tea
There are eight main tea selections for Headwater's Russian Tea Experience:
Bai Mu Dan - a white peony tea
Georgian Caravan - a salute to the classic teas of Russiam and served with a mix of housemade jam, as is the tradition.
Bungalow - a Darjeeling tea that's light and aromatic
Lord Bergamot - similar to the traditional Earl Grey (and my personal favorite Smith Teamaker tea)
Sencha - a deep jade colored, earthy tea
Meadow - a soothing chamomile tea
Peppermint Leaves - made with the best peppermint from the Pacific Northwest
A seasonal tea. When we were here, the offering was a Chocolate Pepperming Pu'erh with peppermint leaves and cocoa nibs.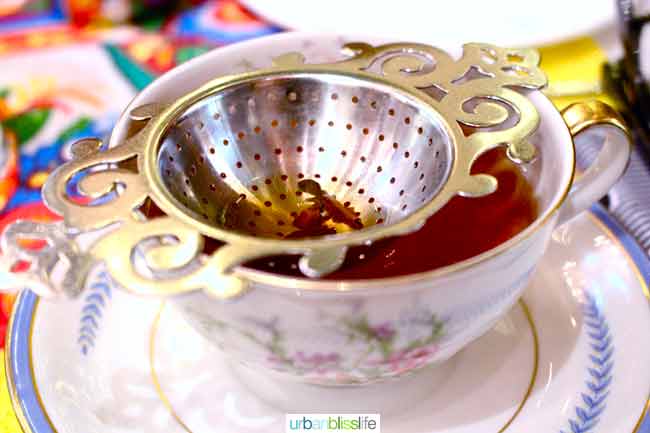 Tea is prepared and served upon ordering so that your tea is wonderfully hot and the flavors are fresh. I would recommend the Georgian Caravan, because if you're going to have Russian Tea service, you should go for the full Russian experience, right?
(For the record, I was boring and went with my traditional Lord Bergamot because it was so cold out and I wanted something known and comforting. Next time: Georgian Caravan all the way!)
Food Bliss
So let's get down to the Russian delicacies you may enjoy during Headwater's Russian Tea Experience.
Each table receives a full three-tiered stand of sweet and savory treats. Some highlights included the Buterbrodi (open face rye bread sandwiches with various toppings), Stuffed Eggs, and Khachapouri (georgian cheese bread and local honey). You may also get traditional perogis, smoked fish, and more.
Dessert Bliss
The upper tray consists of several delightful dessert bites. One of my favorites was the Bird's Milk Cake: shortbread cookie, marshmallow, with chocolate glaze. It's sort of like an easier-to-eat and more delicious s'more! The kitchen also makes different fruit gelées, know as Kulaga Berlorusskaya. The Tort po kievski (Kiev torte) was also delicious, and consisted of hazelnut meringue coffee buttercream with chocolate ganache.
Final Thoughts & Dining Tips
Reservations are required at least 48 hours in advance, and for the Russian Tea Experience only, you must call (503) 790-7752 to make your reservation; online reservations are only available for regular dining times. Because there are only two seatings each Saturday, and this is a popular service, I highly recommend making your reservations in as far advance as possible.
What to wear: many diners are already making this a family or friends tradition and it's fun to see groups of families and women friends all dressed up to the nines. That said, it's Portland, so nice jeans are a-okay too.
Visit Headwaters
1001 SW Broadway
Portland, Oregon
503-790-7752
Make reservations via Open Table for regular dining times; call at least 48 hours in advance for Russian Tea Experience reservations.
HOURS
Monday - Thursday
Breakfast 6:30am to 11am; Lunch 11am to 2pm; Happy hour 2pm to 6pm (bar only); Dinner 5pm to 10pm
Late Night Happy Hour 10pm to 11pm (bar only)
Friday
Breakfast 6:30am to 11am; Lunch 11am to 2pm; Happy Hour 2pm to 6pm -bar menu-; Dinner 5pm to 11pm
Late Night Happy Hour 11pm to 12am (bar only)
Saturday
Brunch 8am to 3pm; Happy Hour 3pm to 6pm (bar only); Dinner 5pm to 11pm; Late Night Happy Hour 11pm to 12am (bar only)
Sunday
Brunch 8am to 3pm ; Happy Hour 3pm to 6pm (bar only); Dinner menu 5pm to 10pm; Late Night Happy Hour 10pm to 11pm (bar only)
Have you ever experienced Russian Tea Service or would you like to?
---
If you're looking for a unique high tea experience (with cocktails!) in Portland, Oregon, be sure to check out my review of Gracie's afternoon tea service in Hotel deLuxe!
---
Many thanks to Headwaters for hosting our Russian Tea. As always, all opinions and photos are my own.
More Portland Oregon Restaurants