In the heart of downtown, Red Star Tavern in Portland, Oregon is a bustling restaurant serving updated Pacific Northwest cuisine.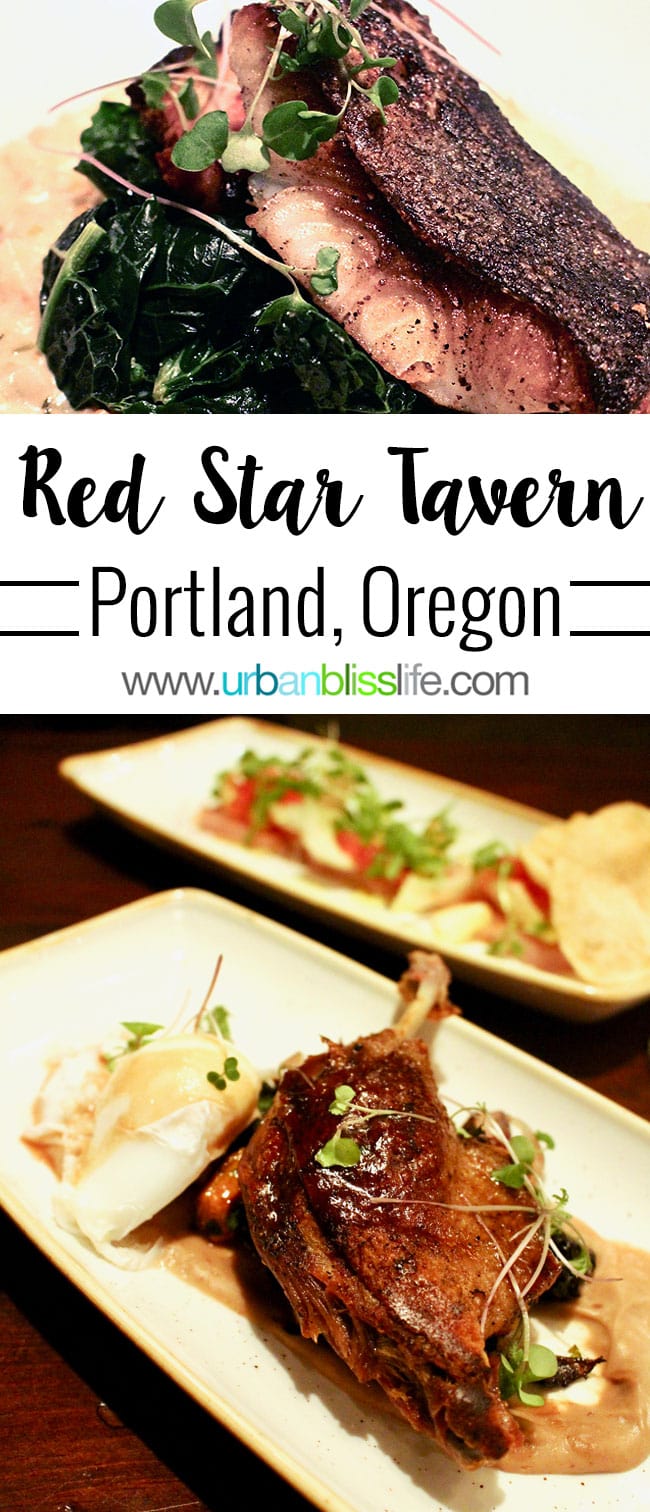 When I first moved back to Portland, Oregon after college, I worked at a small private college downtown on SW Washington Street. A block away, a new restaurant called Red Star Tavern was opening up. It was very exciting, and quickly became the place we'd celebrate work birthdays and hold important business lunches.
Fast forward to just a few (okay, fine: nearly *gulp* 20!) years later. It was a crisp cold fall evening and I found myself walking through the doors of Red Star Tavern for the first time in several years.
It was like a scene from a movie where the past is black and white and the main character steps into the future, as the screen blooms into full color.
Red Star Tavern was everything I remembered - but more.
Red Star Tavern
Red Star Tavern is located in the first floor level of Kimpton Hotel Monaco, facing the bus mall in downtown Portland. With high back leather booths, studded leather chairs, and dark grain wood everywhere, it looks like a fancy upscale restaurant but has that classic Pacific Northwest casual vibe.
Here, business deals are made over suit and tie lunches and dinner. Co-workers gather for after-work happy hours. Families fuel up on the restaurant's hearty breakfast before touring the town. It's a bustling scene, and rightfully so: the drinks and the food are fantastic.
Drinks
I was invited to try out Red Star Tavern's fall menu (I know, it's winter now, but not to worry: many items you see here still remain on the menu). This was one of those wonderful treats where my husband was able to accompany me so we made a date night out of it. Gotta love date night!
---
Pause for a brief New Year's Goal declaration: to have at least one scheduled date night each month. This means more restaurant reviews here for YOU! Where should we go next, folks?!
---
We were told the cocktails created by head bartender Brandon Lockman were NOT to be missed. How could we refuse?
We each agreed their beer and wine list is admirable: not too long as to be overwhelming, but you have plenty of excellent options on each. My husband enjoyed a seasonal beer from Bend, Oregon-based Cruz brewing, while I sipped on a delicious glass of Poema Cava Brut Rosé from Spain.
Then it was time to taste test the big guns: the cocktails.
Our amuse bouche on this night was a sampling of wickedly delicious chicken wings. The wings were flash fried at the last minute, giving them a crispy crunch coating. They're finished in Lil' Mamas Pepper Jelly Sauce (one of my favorite local treats!) and were soooo good.
For our first course, we split two dishes that we felt were opposite of each other: one hearty dish and one lighter dish.
First was the Yellowtail Crudo ($14). Served with ruby red grapefruit, endive, castelvetrano olives, and house made lime chips. I really enjoyed the balance of this dish: the delicate fish was bursting with big bright flavors. And those lime chips... if our kids were there, they would have asked for a whole plate full of those lime chips!
Dessert
Of course, we couldn't forget the third and arguably most important course of date night: dessert.
Neither of these desserts are on the current menu, but keep in mind that the menu does change. And my husband and I enjoyed both of these very much, so I have no doubt that whatever you order, you will love it!
Brown sugar cheesecake with carrot cake, walnut toffee, and carrot curd. Yes: carrot curd. It was divine!!

Finally, we enjoyed this dark chocolate mousse, caramel cremeux, salted pretzel crunch, and banana ice cream.
As you can imagine, I couldn't have much of these because of my dairy intolerance, but even a couple of bites of each sent my tastebuds soaring. I love how each dessert contained elements of soft sugary sweetness combined with crunchy goodness.
Wrap up
Many thanks to Executive Chef Dolan Lane (pictured above) for his and his team's incredible hospitality during our meal. It was wonderful meeting him and learning more about his inspiration behind the dishes. He is committed to serving guests top quality ingredients served in unexpected, yet comforting combinations. He's succeeded wildly, and I think you'll very much enjoy a meal at Red Star Tavern, no matter what the occasion.
Visit
503 S.W. Alder Street
Portland, Oregon, 97204
What dish or cocktail looks the most delicious to you?
Many thanks to Red Star Tavern for this complimentary meal. As always, all opinions and photos are my own. I only write about items I personally enjoy and believe that you will enjoy, too!
More Portland Oregon restaurants