Banh Mi and I have had a rocky relationship. It called to me, I answered...and then I ran away fast and furiously. Banh Mi was putting on just too much heat, too soon, for my taste.
Then I tasted the Banh Mi crostini that Double Dragon provided at the Portland Bloggers Holiday Mingle event this year. I hesitated: I mean, there was Banh Mi, staring up at me with hope, asking me for another chance. I was still jaded from our last encounter, but this time I dove in... and noticed a change: this Banh Mi was different. Still spicy, but this was more complex and intriguing, and, dare I say, a little softer around the edges (I like my Banh Mi to be non-aggressive). Like the sucker girlfriend who gives the ex another go, I gave Banh Mi another shot. But unlike those traditional tales that usually end in month-long crying jags and unexplainable trips to Vegas (oh what: like you didn't do that too?), this second time around ended with a sweet, lovely friendship that I think will last for quite some time.
Double Dragon Bar in Portland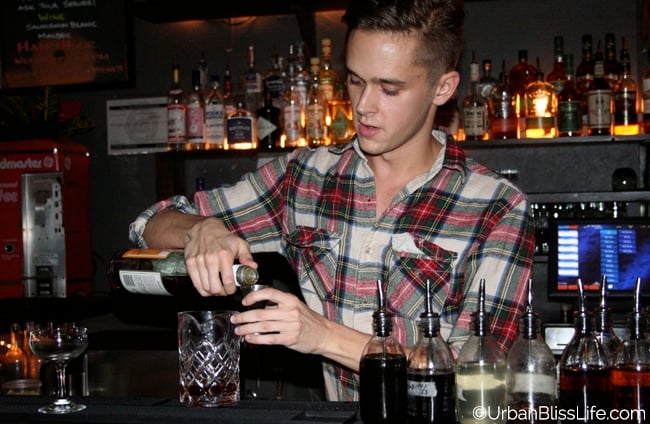 The Double Dragon Bar & Restaurant in SE Portland, Oregon is an outstanding bar that happens to also offer a small but mighty menu.
Double Dragon chef and owner Rob Walls offers a menu with heavy Asian influences that go beyond the traditional and expected. In addition to Vietnamese Beef Noodle soups and Kimchi Dogs, you can also get tasty appetizers like the Miso Disco Fries pictured below. While you can get your burger fix here with either the Szechuan Burger (pictured below and delicious!) or the Banh Mi Burger, Double Dragon also offers seven different types of what they call "non-traditional" Banh Mi sandwiches. From meatball to pulled pork to the amazingly awesome Pork Belly Banh Mi (I don't have a photo but GET IT. Trust me.), you're sure to find a Banh Mi that satisfies your tastebuds.
Miso Disco Fries ($7) - miso bacon gravy, queso fresco, french fries
Szechuan Burger ($9) - Painted Hills Beef, 5-spice bacon, szechuan peppercorn relish,aioli, butter lettuce
Double Dragon shines both in the kitchen and behind the bar. The drinks here are so affordable, and so well made, that you might be enticed to stay for another round. There are four beers on tap, in addition to bottled and canned brews, as well as a list of carefully crafted cocktails that range from just $5 to $9.
I suggest you try at least two different cocktails on your first visit. We tried a few among the group, and my personal faves:
The A & B at the Same Time - gin, lemon, grapefruit, Aquavit, Peychaudӳ, salt. It's pictured above in a pint size version, which Dan the bartender was so kind as to make for me since I didn't want a full size. It normally comes in a tall, thin glass.
And the Nightswimming - sweet vermouth, rye, Angostura, orange peel. I love this even more since it's the name of my fave R.E.M. song.
Double Dragon also hosts live music, and I am told that the Baby Ketten Karaoke every Saturday night from 9pm – 2am is a can't miss event in Portland.
Double Dragon Bar - Portland
1235 SE Division Street
Portland, Oregon 97202
503-230-8340