Tucked into the glorious Chehalem Mountains AVA in Sherwood, Oregon (just a few minutes outside of Portland, Oregon) is Hawks View Cellars. A family vineyard that was established in 1991, the 50-acre vineyard produces all single vineyard wines.
The property consists of 44 acres of seven different types of pinot noir grapes and six acres of pinot gris. Eighty-five percent of their grapes are hand-picked. The beautiful venue is also open for corporate events and private events.
Now let's talk about the true heart of winemaking and what I find to be the most important part of the story: the people behind the wines.
Meet the Kemps
Hawks View Cellars was founded by Jack Kemp, a lifelong Oregonian who was the first in his family to go to college, and, as his son and co-founder A.J. Kemp will tell you, probably one of the hardest working men around. Jack worked his way up from being a bank teller to a Vice President in banking, and then when he retired, purchased the property that is now Hawks View Cellars. As A.J. lovingly says of his father: "Dad was a rule maker, not a rule taker."
A.J. Kemp joined the vineyard in 2003 "as the low man on the totem pole." Today he and his mother and a small, equally passionate crew lovingly make approximately 2,500 cases of approximately 10 types of wine each year. A.J. is also the general manager, and enjoys leading the appointment-only tastings in the tasting room.
Hawks View Tasting Room
My husband and I recently visited Hawks View Cellars for a tasting. If you live in or are visiting Portland, Oregon, I highly recommend making a reservation for a wine tasting here. When you walk into the Hawks View Cellars tasting room, you feel like just shedding all those Pacific Northwest layers and cozying up by the fire. It's a lovely space with high ceilings and a comfortable, home feeling.
The comfort factor continues as you meet A.J. and the staff, and realize that this really is a close-knit family that is happy to welcome you into their home and show you around. One of my favorite little moments of our recent wine tasting: A.J. decanting a bottle of red into a plastic pitcher. Perfection.
Winery Tour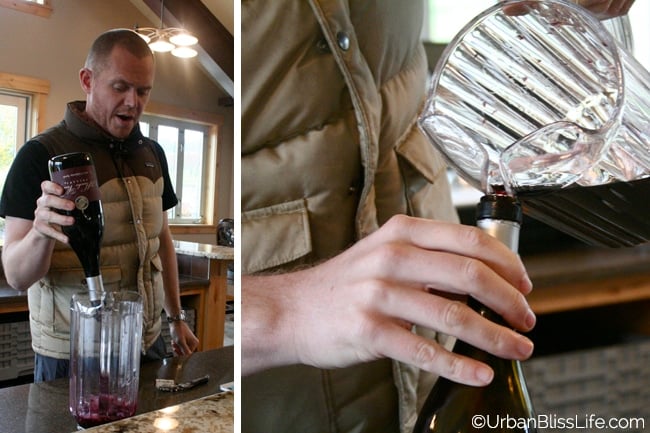 On our tour we got to taste some wines in the middle of fermentation. We've been on many wine tours, and I have to say I think this was the first time we've ever been offered to try a wine mid-fermentation. It was an eye opening experience, to see how much the grapes change from this point to the bottle.
So let's talk about the wine...
White Pinot Noir
My personal favorite is a wine that is so special, so rare, it can only be known as... The Unicorn.
Okay, okay, it is also known as the Hawks View Cellars White Pinot Noir. At press date, they were currently sold out; we were told you could place a special order for this rare beautiful wine for a future vintage. I'm tempted, friends. Very tempted.
The Hawks View Cellars White Pinot Noir is made with red wine grapes, so it is richer and fuller than most other white wines. It has heavy fruit notes and is very much a red wine lover's white wine. You can read more about the white pinot noir in one of my previous posts about Feast Portland and in my recap of the Hawks View Cellars and Irving Street Kitchen dinner pairings.
2011 Hawks View Cellars California Syrah ($40)
This is a deliciously smooth Syrah with rich, lovely berry notes that glides over the tongue like soft velvet. The grapes come from Garys' Vineyard in the Santa Lucia Highlands in Northern California. This is a fantastic wine to serve at Thanksgiving or Christmas, with a heavy meal, or even to drink on its own. It is absolutely one of my favorite red wines of the moment, and you bet we'll be back for more. Soon.
2012 Pinot Gris ($26)
The 2012 Pinot Gris is bright and fruity -- a delightful wine to enjoy with appetizers, salads, or light main courses. The grapes that went into this wine came from three different lots at three different times, to give it the right acidity and ripeness. It is 100% steel feremented for six months before being prepped for bottling.
Hawks View Cellars
20210 SW Conzelmann Road
Sherwood, Oregon 97140
503-625-1591