If you live in, or are visiting, Portland, Oregon, consider a day trip to Cascade Locks along the Columbia River Gorge. With beautiful recreation areas, fresh seafood, and new breweries, it's a fun family stop!
Oregonians know: you don't have to go far from home to go on an exciting outdoor adventure. A drive along the Columbia River Highway alone is a gorgeous day trip. The Columbia River Gorge area has so much to offer - from amazing hiking trails and waterfalls, to recreational activities like fishing, windsurfing, and biking, to some of the best restaurants, markets, breweries, and wineries in the state.
During my last post from a recent Hood-Gorge adventure, I shared a scenic and easy day hike along the Latourell Falls Loop. Today, we're going to explore just a few fun favorites that Cascade Locks has to offer.
Day Trip: Cascade Locks along the Columbia River Gorge
When I was kid, my family would often drive along Highway 84, the Historic Columbia River Highway, out to Cascade Locks. The little fishing town was known for the massive Bridge of the Gods (pictured above), and incredibly delicious freshly caught wild fish. We'd drive out, fish along the banks, stop at most of the roadside fruit and fish stands, and then get an enormous soft serve cone at the Eastwind Drive-In.
One place I hadn't visited since I was a kid, but was so excited to visit again, was the Bonneville Fish Hatchery.
Bonneville Fish Hatchery & Dam
70543 NE Herman Loop
Cascade Locks, OR 97014
(541) 374-8393
HOURS: Daily (except for Thanksgiving and Christmas Day)
November 1 to March 1: 7:00 am to 5:00 pm
March 1 to October 31: 7:00 am to 8:00 pm
The Visitor Center to Bonneville Dam is open from 7:00 am to 5:00 pm daily, except for Thanksgiving and Christmas.
There are many aspects of the fish hatchery that are appealing for both kids and adults. There's the fish hatchery itself -- the hatchery raises 6.6 million fall chinook, 900,000 spring chinook, 750,000 coho, 250,000 summer steelhead and 60,000 winter steelhead.
In the information center, you can take a self-guided tour which shows you the whole lifecycle of the fish, from the time they are incubated to the time they leave and come back. It's fascinating, and would be an especially interesting tour for animal-loving kiddos.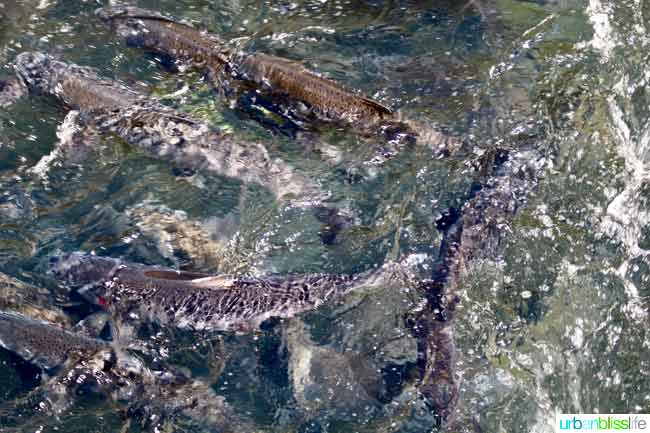 There are also trout ponds, sturgeon ponds, and the sturgeon viewing center.
Herman the Sturgeon is one of the main attractions in the Sturgeon Viewing Center. He's reportedly around 60- years old, and is 10-feet long and weighs 425 pounds. He's truly an awesome sight to see, for kids and adults!
You could spend about an hour at the Bonneville Fish Hatchery and then head over just outside of the parking lot to Bonneville Dam. We didn't have time to head over there on this last visit, but if you get the chance, it's also a fun and education experience for families!
Afterward, you'll want to make a stop at the Brigham Fish Market for - you guessed it - some fresh caught fish. I know, it may seem weird to some, since you just admired these beautiful creatures at the hatchery, but: circle of life, y'all. Obviously, if you're a vegetarian, you can skip the next stop.
Brigham Fish Market
681 WaNaPa St.
Cascade Locks, OR 97014
541-374-9340
HOURS:
Monday – Tuesday noon to 6:00
Wednesday closed
Thursday, Friday, Saturday 10:00 to 6:00
Sunday 10:00 to 5:00
http://brighamfish.com/
brighamfishproducts@gmail.com
For generations, the Brigham family - members of the Confederated Tribes of the Umatilla Indian Reservation - have fished in the Columbia River. In 2014, sisters Terri and Kim Brigham opened the first native-owned fish market along the Columbia: Brigham Fish Market.
Here, you'll find wild, native-caught fish fresh from the Columbia River. The offerings vary depending on the season: spring yields spring salmon and sturgeon; summer yields chinook, sockeye, and steelhead; in the fall, you'll find coho, steelhead, and chinooksalmon.
In addition to bringing home some fresh salmon, Brigham Market sells shrimp, house made ceviche, oysters, and a delicious house made salmon dip.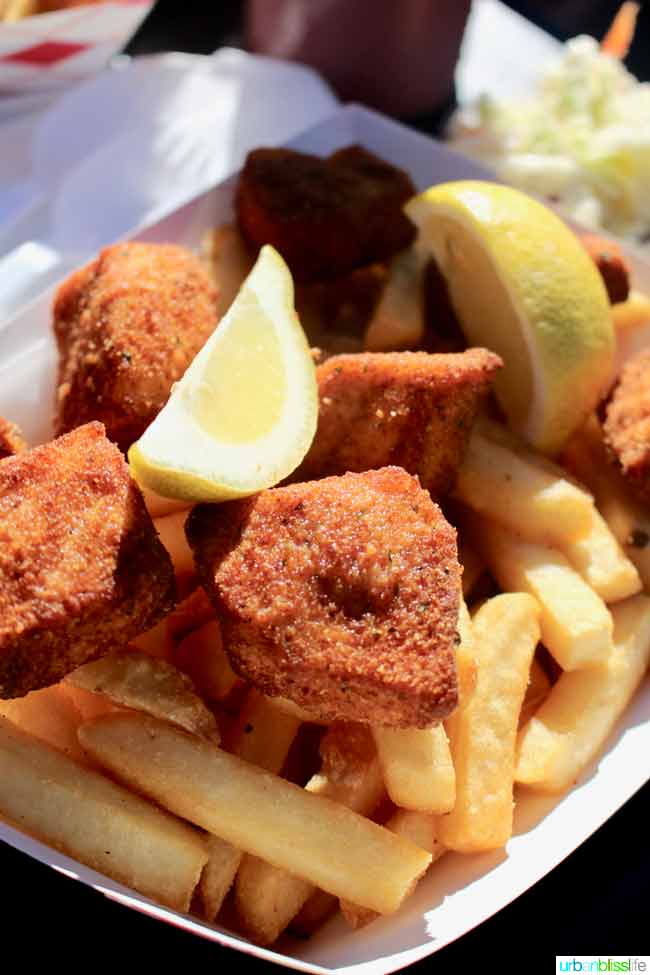 This is also a great stop for lunch during your adventures along the Columbia River Gorge. Brigham Fish Market serves fresh chowder, fish and chips, and more.
Sit at one of the few tables they have inside the market, where photos of the Brigham family fishing adorn the walls along with native artifacts and decorations.
Or enjoy your meal outside with a stunning view of the Columbia River and surrounding mountains and hillsides.
You can also check out Cascade Locks' relatively new brewery, Thunder Island Brewing. We unfortunately did not have a chance to stop there, but I hope to soon!
After you've had some delicious fish & chips and chowder, you've earned dessert. And there's only ONE place in Cascade Locks that you NEED to know about for dessert: the Eastwind Drive-In!
Eastwind Drive-In
395 Wa Na Pa Street
Cascade Locks, OR 97014
(541) 374-8380

Growing up in Oregon, I remember stopping at the Eastwind Drive-In anytime we would pass through Cascade Locks.
This Hood Gorge institution continues to be THE place to stop during outdoor adventures all year round. There's limited counter seating inside and a few tables outside, or you can order through the drive-through and enjoy your meal on the road.
While the Eastwind serves classic diner fare, such as burgers, hot dogs, and fries, the true shining star here: the soft serve cones.
The one pictured above is a SMALL. Yep. That's a SMALL cone. The large size is piled as high as a foot and a half. It's so delicious and on a warm spring or summer day, these are the perfect treats to enjoy with the stunning Gorge in the background.
More Columbia River Gorge Oregon Bliss:
Day Trip: Hiking the Latourell Falls Loop
Travel Bliss: Historic Columbia River Highway to Hood River
Have you been to any of these places along the Columbia River Gorge in Oregon? Which place would you like to stop at first if you were to visit here?