One of the most beautiful drives in the world (yes, the whole world!) is along the Columbia River Gorge from Portland to Hood River. Recently, a group of friends and I were road tripping to Tri-Cities, Washington for a wine country weekend (more posts on that to come soon) and enjoyed this gorgeous scenic drive from the comfort of a 2013 Mazda CX-9 (courtesy of Drive STI; read my car review here).
Most exits along the I-84 Columbia River Gorge route either take you into beautiful wilderness camping areas or lovely small towns that slow your pace with a slice of classic Americana.
One of the largest towns along the I-84 Columbia River Gorge corridor that you'll want to stop in is Hood River. Home to a growing number of breweries and vineyards, Hood River is also home to many cute local shops full of handmade, artisan products and artwork, as well as impressive restaurants and cafes.
Pfriem Brewers
We stopped at Pfriem Family Brewers, located in a new development along the Hood River Waterfront.
The Pfriem brewery itself is stunning. I'm kicking myself for not taking more photos of the space: high ceilings, rustic yet modern lighting, gorgeous traditional Pacific Northwest wooden tables, benches, and chairs. Don't forget to look up, or you'll miss the wooden train tracks that go around the perimeter of the dining area toward the ceiling.
Pfriem currently brews five different artisanal, Belgian-style beers, from an IPA to their Belgian Strong Dark.
I enjoyed a delightfully crisp Strong Blonde with my lunch. Pfriem has a decent menu for a new, small brewery. It was nice to see their food selection match their overall aesthetic & style: comfortable, yet creative, artisan, above the traditional. I enjoyed what is one of the best mac & cheese dishes I have ever tasted.
Made with Gouda, cream, house mustard, and Strong Blond, this mac and cheese was insanely delicious. I'm sure I don't have to tell you, but just in case: be sure to add the bacon when you order this.
My husband ordered the Salmon Croquettes - Wild Alaskan Salmon cakes with a fennel cabbage slaw - along with the seasonal pilsner.
Hood River Waterfront Park
After lunch we played along the Hood River Waterfront Park, which is an awesome park that kids and adults alike can enjoy. Complete with rock climbing walls, a large xylophone, and various other playground fun, I know this is a park our kids would have enjoyed. A running trail borders the park and takes you along the banks of the Columbia River, and there's a nice swimming area near the park.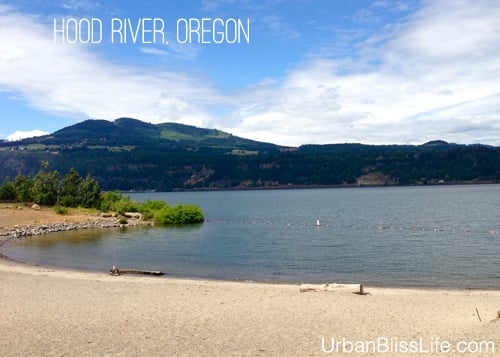 We had a lot of fun stopping in Hood River, driving the Columbia River Gorge, and visiting Pfriem Family Brewers. I would highly recommend these destinations for family travel plans as well as travel for individuals, couples, and friends. It's a beautiful drive, and also a wonderful way to head into Portland, Oregon if that is your final travel destination.
TRAVEL RESOURCES:
Pfriem Family Brewers
Hood River Waterfront Park
Thanks to Drive STI for providing us with an awesome 2013 Mazda CX-9 Grand Touring AWD that we used for our road trip. No other compensation was received, and all opinions, as always, are my own.