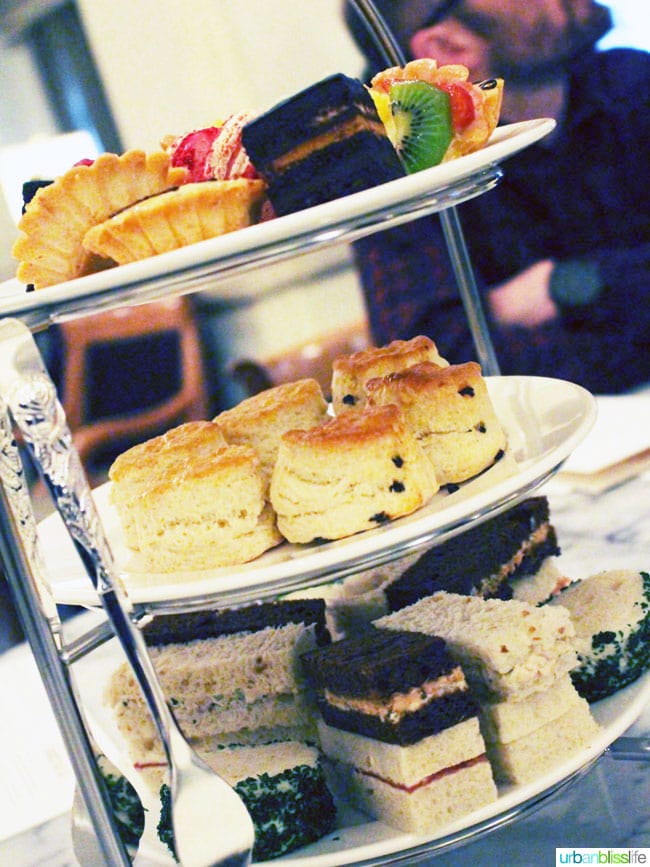 Combining aspects of a traditional English tea with modern Portland twists, the new Hotel deLuxe Tea service is a delightful, family-friendly offering that locals and visitors alike are sure to love.
I've always been intrigued by the idea of High Tea, but it always sounded somewhat stuffy and rigid to me. But a come-as-you-are afternoon tea with cocktails, now THAT I can whole heartedly support! In fact, it wasn't until after I left the media preview of Hotel deLuxe's new Afternoon Tea service that I realized: I didn't get any photos of the actual tea portion of the event... In my defense, I was sitting at the cocktail table (imagine that!), and I'm fairly certain you all know what tea looks like, right?
But perhaps, that's the story: that the Afternoon Tea at Hotel deLuxe is so much more than just tea – it's an entire experience. It's a lovely affair that combines the traditions of a good ol' English tea with the traditions of cocktail-and-locally-made-loving Portland.
Afternoon tea at Hotel deLuxe
Hotel deLuxe (729 SW 15th Avenue, Portland, OR 97205) debuted its new Afternoon Tea on Tuesday, December 1st. I was invited to a media preview event the evening prior, and I enjoyed every aspect of the service. From the tea to the food to the cocktails, I love the attention to detail the Hotel deLuxe team and their local partners invested into creating an absolutely lovely, playful, inventive, and delicious Afternoon Tea.

The Tea
Renowned Portland-based tea company Smith Teamaker developed two exclusive teas for Hotel deLuxe: the Green Deluxe and the Provenance Black. Both teas are available at Afternoon Tea, along with a small collection of carefully curated teas including two of my personal favorites: Lord Bergamot and Bungalow.
The teas are described in accurate detail on the menu, but if you're uncertain about which tea you should try, do inquire and the staff is happy to help you find a tea that suits your personal preference.
The Tastes
English scones and tea sandwiches are traditionally served at afternoon teas. Hotel deLuxe scones are made using a traditional English recipe – much smaller, flakier, and a whole lot more butter than dense American scones. They're delicious! The tea sandwich options include classic cucumber, chicken salad, salmon, and prosciutto and cheese sandwiches, as well as a special Vidalia onions tea sandwich that is divine.
Petite Provence creates these beautiful pastries each day for Afternoon Tea, and you'll get quite the assortment of bite-size desserts to satisfy your sweet tooth.
Before you leave, each person receives some truffles from Portland-based Moonstruck Chocolates.
The Cocktails
Perhaps the greatest departure from English tradition is the addition of tableside a la carte cocktail service. The expert cocktail curators of Portland's Bull in China have crafted a fantastic selection of cocktails to compliment the food menu and to add the Portland spin on the Afternoon Tea experience.
My favorite cocktail: Smoke and Mirrors.
The show that accompanies the drink when brought to you is worthy of applause alone. It's presented in a classic cocktail glass with a dome over it, trapping the smoke, which helps infuse the aroma into the cocktail. When the dome is lifted, there's a KAPOW! moment when the smoky scent hits you pretty hard and fast, before just as quickly retreating and then slowly fading.
Aside from the show, the drink tastes fabulous, and there's just a hint of the smoke at the end of each sip. Smoke + Mirrors consists of Henry McKenna bourbon, Luxardo maraschino, Townshend's Amaro, lavender bitters, and Meadow Tea Smoke.
The Cascade Collins, featuring Townshend's White Rose spirits, Clear Creek Doug Fir Eau De Vie, Pimm's, lemon juice, powdered sugar, and tonic water. I'm told the powdered sugar, instead of granulated sugar as traditionally used in simple syrups, makes all the difference in this unique twist on a classic vodka collins.
The Violet Fizz, pictured above, consists of gin, creme de violette, maraschino, lemon juice, soda, and whiskey cream.
The Bubbly
Finally, Hotel deLuxe also offers a selection of creative champagne concoctions if you would like to order some bubbly in addition to your tea and pastries.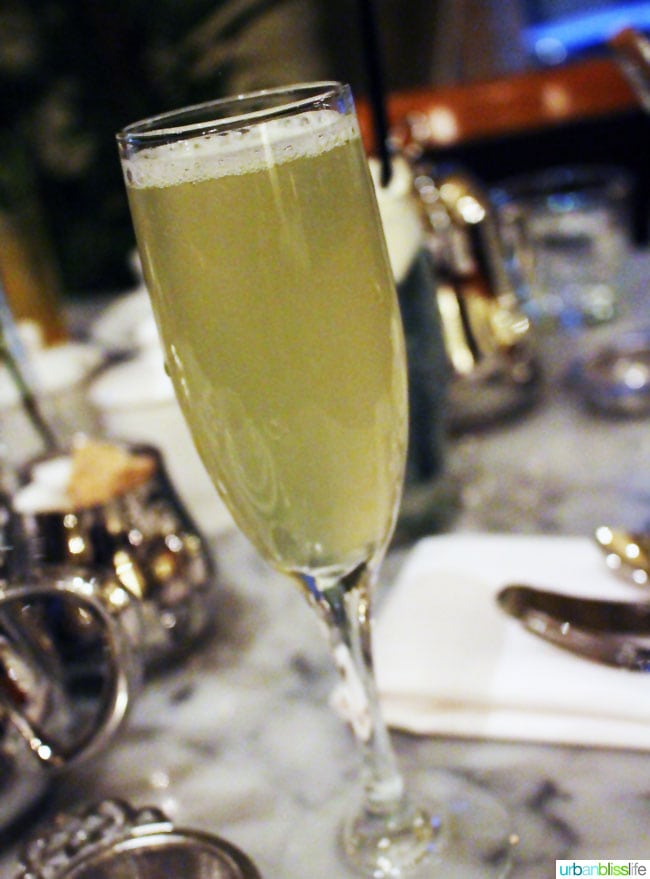 I was most intrigued by the St. Germaine + matcha tea combination (pictured above), and I must admit, I was surprised by how AMAZING the combination is! There is also a cranberry maple shrub + sparkling wine drink, and an apple juice + honey + sparkling wine combo.
Know before you go
Plan for approximately 90 minutes for your afternoon tea time, from start to finish.
Reservations are required, and because the pastries are made to order and delivered daily, you need to make your reservations by noon the day before.
As far as attire goes, you can feel free to dress up if you'd like, but you are also free to dress casually and comfortably. It was specifically mentioned that they want everyone to feel comfortable coming to Afternoon Tea; they want you to feel pampered and enjoy a little luxury in your day without stuffy formalities.
Finally, keep in mind that, like most restaurant offerings in Portland, the food and drink may change from season to season because of the fresh ingredients used.
I can't wait to go back with some friends, and maybe my daughter and her friends, for Afternoon Tea. This is also an excellent idea for out-of-town guests, because you get to try some of Portland's finest local food and beverage artisans in one sitting. Every detail, truly, is thoughtful and well executed, and I am so happy to now have this in Portland!
Reservations
Afternoon Tea
729 SW 15th Ave
Portland OR 97205
503.219.2094
Cost: $39 for adults, $18 for children age 12 and under
This includes the food and tea; cocktails, bubbly, and gratuity are separate.
Hours: Sunday- Thursday with seatings available at 3 p.m., 3:15 p.m. and 3:30 p.m.
Length of tea service: 90-minutes
Reservations: required, and must be made by noon one day prior to your intended visit
---
Have YOU ever attended a traditional afternoon/high tea before? If so where, and what did you love most about it?
---
More Tea Bliss
Thanks so much to Hotel deLuxe for inviting me to the media preview of Afternoon Tea. As always, all opinions and photos are my own.