Whether you are a cruise champion or you're new-to-cruise, Royal Caribbean has a new cruise ship - Anthem of the Seas - that will delight travelers of all ages.
From dynamic dining experiences to extreme on-board adventures to a focus on highly advanced technology, the Anthem of the Seas is built to entertain and impress, and I think you'll love it. Join me over the next few Travel Tuesdays in this special travel series as I share a look at Royal Caribbean's latest adventure in my Anthem of the Seas review.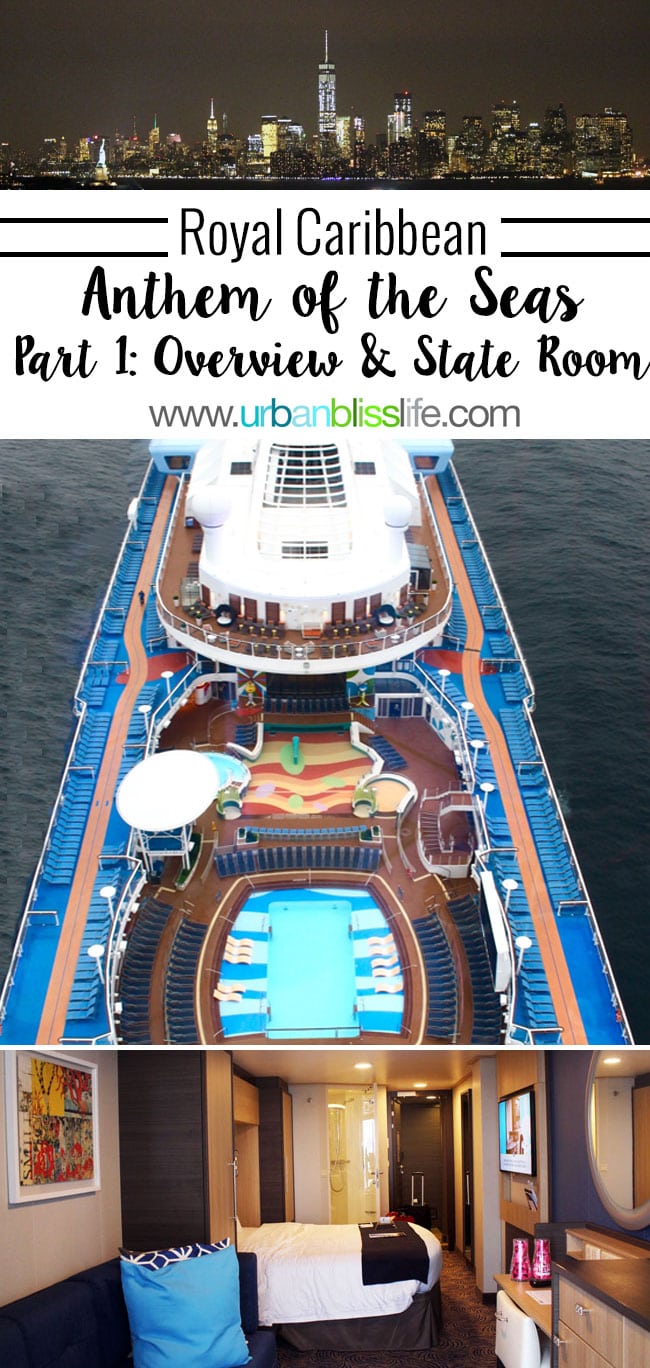 PDX -> NYC
I admit: I've never thought of myself as a "cruise person," so I was intrigued and excited when I received an invitation to a media sneak peek of Royal Caribbean's newest cruise ship, Anthem of the Seas, for a pre-inaugural sail last month.
I brought my mom with me, who loves cruises, and could do more of a comparison in experiences than I could, having had no experience at all with cruising. Also: she had never been to New York before. LOVED having the opportunity to have a mother-daughter cross-country adventure, and I can't wait to show you our very quick trip to Manhattan as well in a future post!

After a fairly smooth day of traveling from Portland, Oregon to Newark, New Jersey, and a really nice relaxing night at the wonderful Marriott Newark, we were off for our Royal Caribbean adventure.
Since there is SO much to share with you, I'll be breaking coverage of Anthem of the Seas into a blog series with several posts. This post gives you a general overview of the newest cruise ship in the Royal Caribbean line, and a look at the staterooms.
Royal Caribbean's Anthem of the Seas
The Anthem of the Seas is the third cruise ship in Royal Caribbean's Quantam Class of ships. At 168,666 GRT (gross registered tonage), the massive ship completed its maiden voyage in April of 2015 from Southampton, England and spent the next few months cruising through the Mediterranean and Canary Islands.
Now, Anthem was coming home – to its permanent home port of Cape Liberty, New Jersey.
Anthem is a truly gorgeous creature. She's well designed, from the inside out, and I'm honestly impressed. There's SO much to do on this ship, but also a lot of space to just lounge and simply relax, whether at one of the many pools or out on one of the 16 decks simply enjoying the view of the ocean.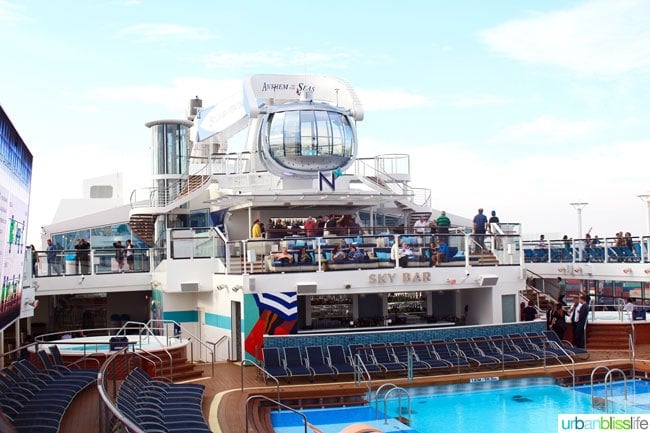 One of the exciting additions on Anthem of the Seas is NorthStar, which gives you the opportunity to rise 300 feet above sea level for amazing views.
More than 1,500 crew members, who hail from all over the world, are ready with big smiles to help you with anything you need during your time on Anthem of the Seas. We had the best time chatting with crew members; mostly my mom, who speaks fluent Tagalog still and automatically hit it off with several Filipino crew members. I definitely get my social side from her ;).
A glass of bubbly to welcome you as you board Anthem of the Seas? Don't mind if I do.
Cape Liberty is such an incredible port on its own from which to depart. As we set sail that first night, we had absolutely unbelievable views of the Statue of Liberty and the New York City skyline.
I was in complete awe. This experience alone makes an Anthem of the Seas cruise one to consider for your future travels.
Anthem of the Seas Cruise Options
While we sailed the Atlantic Ocean for this media cruise, the Anthem of the Seas offers several cruise options, starting from a 3-night weekend getaway cruise to 7-8 night Bahamas cruise options, and 10-12 night Caribbean cruise options. Prices vary, and start as low as $668 per person on up. You can learn more and get detailed current rates and sail dates by visiting RoyalCaribbean.com.
State Rooms
Anthem of the Seas has 2,090 staterooms total, including 1,571 with balconies, 147 full ocean-view staterooms, and 1373 inside staterooms with virtual balconies, and 34 wheelchair accessible staterooms. With a few 2-story loft staterooms (the ultimate in cruising luxury) and studio staterooms for single travelers, there are accommodation options that would please pretty much everyone.
My mom and I stayed in a deluxe stateroom with private balcony. Now, never having been on a cruise ship before, I had visions of super cramped space with low ceilings and no room to walk around. You get nothing of the sort in an Anthem of the Seas stateroom. It's a very comfortable space where you can truly relax for a few days.
I really loved our stateroom. It was SO comfortable and felt like a cozy home away from home. The furnishings were just my style - very Urban Bliss Life - and there was plenty of storage space, surface space, and general breathing space for two people in one room.
Our room had one large king bed (which was very comfortable), a couch, desk, two tall closets, drawers, half bathroom, flat screen television, and private balcony.
The bathroom had beautiful finishes, and had a good amount of shelving and storage space.
What I loved the most were the beautiful decorating details throughout the staterooms. The artwork on the wall was modern, bright, and still refined. The geometric light fixtures and sparkling jewel drawer hardware were fabulous touches and gave the staterooms a modern, luxurious feel.
And, the private balcony wasn't too shabby.

If we had been on a typical 7-12 night cruise, I would have spent more time just sitting out on our balcony, breathing in the ocean air. My schedule was packed so I only had a few brief opportunities to sit out here, but boy is that private balcony worth it – especially to enjoy the sun rising and setting over the ocean.
BLISS, my friends.
For those who book inside cabins, you actually have rooms with virtual balconies that show real-time video of what you would be seeing out of a balcony. It's such a smart idea to help those with interior rooms not feel so boxed in.
WiFi and WOWbands
Anthem of the Seas reportedly has the fastest internet on the seas. Because I work online 24/7, I sort of expect fast internet access wherever I go. I'm a dork like that. Apparently, according to several cruise friends I met on this trip, internet access on cruise ships is famous for being slow, non-existent, and expensive. I found the internet access to be fairly fast and mostly reliable while on the ship, even when we were way out at sea.
There are different internet packages you can purchase when you make your reservation, but let's be honest: if you're on a cruise for vacation purposes (and not for work, as we were), even *I* would be disappointed in you if all you wanted to do was be on your phone all day.

Much like Disneyland or Disneyworld or other large attractions, on Royal Caribbean's Anthem of the Seas, you get what are called WOW bands. These bands are customized with your information and give you access to your stateroom, to various activities around the ship, such as the Bionic Bar (oh you bet I have photos & video to show you of that soon!), and to purchase items on the ship.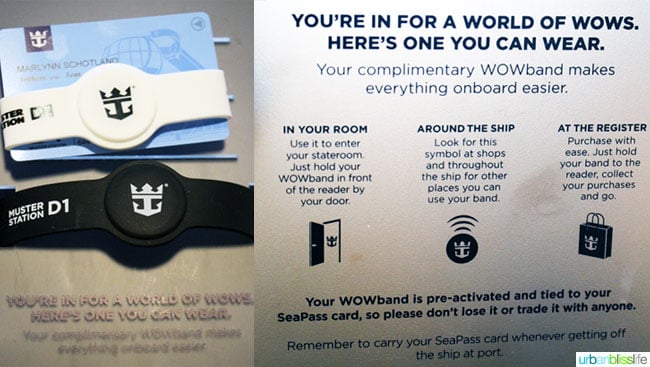 As a first-time cruiser, I have to admit: I sort of loved wearing my WOW band. I felt like one of the cool kids.
Anthem of the Seas videos
I have a LOT more to share about Royal Caribbean's Anthem of the Seas, but for now, feel free to check out (and subscribe to) my Urban Bliss Life YouTube Channel and see the videos I made while on the ship with the incredible crew there:
Anthem of the Seas: Family Fun at Sea
Anthem of the Seas: Culinary Tour
Up next, I'll share photos and video from our sail away party and the Anchored in Anthem ceremony, as well as some of my favorite art pieces on the ship.
Have you ever been on a cruise? What do you like most about cruising?
Anthem of the Seas articles