From bold red wines to zingy white wines and everything in-between, I'm sharing my list of recommendations for holiday wines to enjoy with your various holiday meals and parties. Cheers!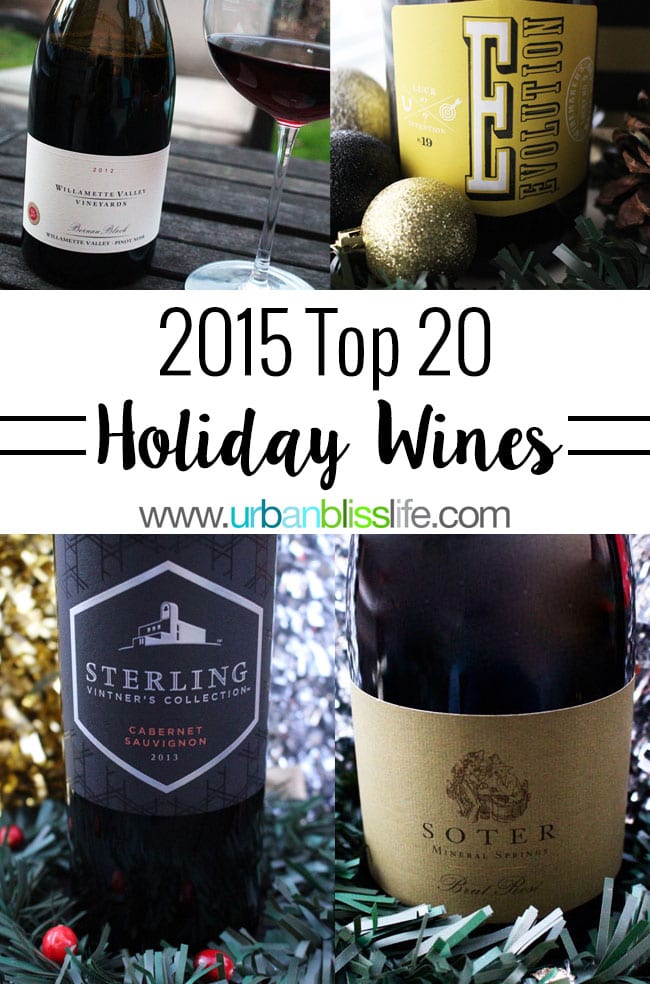 I love the holidays! The gathering of friends and family, the big meals, the decorations, the family snuggles by a warm fire and the twinkling lights of the Christmas tree... I love all of it!
We're preparing to host Christmas dinner and our annual New Year's Day party, and that means starting to stockpile the pantry with wine (a lot of wine) to prepare. Now, while I love wine and learning all about it, I am no high brow wine snob. In the end, all that truly matters, is this: is the wine good or bad? Do you like the wine or not? Do you like it with food or on its own?
Just like with food, I wholeheartedly believe you should always trust your instincts and your personal taste. I also know it can be totally confusing when you're standing in the wine section of the grocery store, staring at all of the labels that start to blend into one another after a while, and choose wines for special occasions.
To help narrow down the confusion a bit, I've compiled this list of my Top 20 recommendations for wines to serve this holiday season. Some of these are more special occasion wines, in the $50-65 range, but I also have some fabulous wines listed here in the $10-20 range. It's a red-heavy list, since most holiday meals tend to go well with various red wines, but there are some good whites and rosés here too. NOTE: there's no bubbly on this list (the Brut Rosé is close), and that's because I've got a special Top 5 New Year's Day Bubbly post coming up!
I'm also including some pairing ideas, but feel free to follow the course, or pair them with completely opposite food. I always appreciate a fellow wine rebel ;)
Here are my Top 20 Holiday Wines for 2015:
---
Red Wines + Main Course
---
I'm a red wine girl. Love my reds: Oregon Pinot Noir, Cabernet Sauvignons, Syrahs... I like them big, bold, and slightly brooding. And, I'll pair a red with almost any dish. Here are some great ones to try this holiday season.
2014 Hawks View Cellars Pinot Noir ($38)
2014 was an incredible year for Oregon wines in general, but for some wineries, 2014 has produced stellar Pinot Noirs that are wonderful to enjoy right now with your holiday meals. Hawks View Cellars always does such a superb job of developing elegant, lively wines, and I love their 2014 Oregon Pinot Noir. This Pinot Noir is absolutely delicious enjoyed on its own, by a warm fire, or ... Pairs well with: a roasted chicken or turkey, charcuterie meats and hard cheeses. Visit Hawks View Cellars online.
Phelps Creek Vineyard Cuvee Alexandrine Pinot Noir ($54)
I enjoy Phelps Creek Vineyard wines but the Cuvée Alexandrine is always my favorite. It's a big wine with rich dark cherry notes and a bold, smooth finish. Love this for so many different main courses. Pairs well with: bourbon smoked turkey, herb crusted lamb, bacon-wrapped dates. Visit Phelps Creek Vineyards online.
2012 Willamette Valley Vineyards Bernau Block Pinot Noir ($55)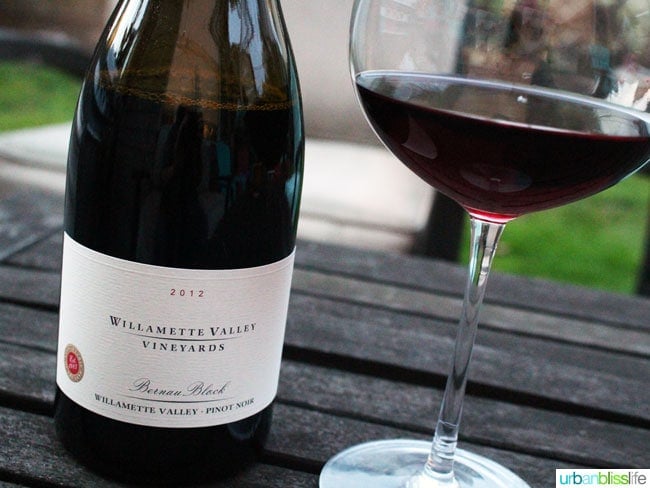 Another delicious Oregon Pinot Noir to try this holiday season is the 2012 Bernau Block Pinot Noir from Willamette Valley Vineyards. With a rich, deep, almost violet color, this is a full-bodied Pinot Noir compared to other Pinots of the region. It has elegant blackberry and plum notes with a bright finish. Pairs well with: steak, herb crusted pork tenderloin, beef stew. Visit Willamette Valley Vineyards online.
2014 Raptor Ridge Estate Pinot Noir ($45)
You could choose almost any Raptor Ridge Winery Pinot Noir and you would be happy. This Oregon winery produces incredible Pinot Noirs and I have to admit, the 2014 Whole Cluster Pinot Noir ($50) is my favorite. However, since those are in limited supply, I'm recommending the 2014 Estate Pinot Noir, which will be easier for you to find. Visit Raptor Ridge Winery online.
2010 Ross Andrew Winery Syrah ($40)
This Syrah is incredible. It has the dark, rich color and full-bodied, dark fruit flavors commonly found in Syrahs, but it is also bright and aromatic with a super smooth finish. Pairs well with: beef, lamb, or pasta with a hearty ragú sauce.
2013 Va Piano Les Collines Syrah ($65)
During a recent Walla Walla wine country trip, I discovered Va Piano Vineyards, and fell madly in love with the 2013 Les Collines Syrah. As part of the winery's black label reserve collection, this divine deep purple wine is made for special occasion drinking. It is a rich blend of dark berries, subtle pepper, chocolate, and bacon. Pairs well with: a hearty main course, such as bacon-wrapped pork tenderloin, beef wellington, osso bucco, or a rich chocolate dessert.
Mandarossa Nero D'Avola ($11)
If you're looking for a bold, full-bodied red that is below $20 to serve this holiday season, I recommend the 2014 MandraRossa Nero D'Avola. This unique wine is bursting with dark fruits, licorice, and has a smooth vanilla finish. For authentic Sicilian wines, be sure to look for the Sicilia DOC label. Pairs well with: hard cheeses, beef tenderloin, lamb, fried chicken (oh yes, fried chicken!).
2013 Sterling Vintner's Collection Cabernet Sauvignon ($15.99)

This Cabernet Sauvignon is so tasty: dark fruit notes, easy on the tannins, smooth finish. It's pretty darn delightful on its own, and at $15.99, you can buy two: one for straight drinking, one to go with the food! Pairs well with: any red meat or roasted chicken or turkey.
2013 Tamarack Cellars Cabernet Sauvignon ($36)
A big, full-bodied red, the 2013 Tamarack Cellars Cabernet Sauvignon is a brooding wine that sings of thick historical novels filled with misunderstood characters who have dark, mysterious pasts. I feel like this is a wine that should be enjoyed in a leather-rich study with a cigar. Or, on the couch watching House of Cards. It's an intense wine, but in the best possible way. Pairs well with: lamb, steak, blue cheese, and bacon-wrapped anything.
2013 Katherine Corkrum Cabernet Franc ($50)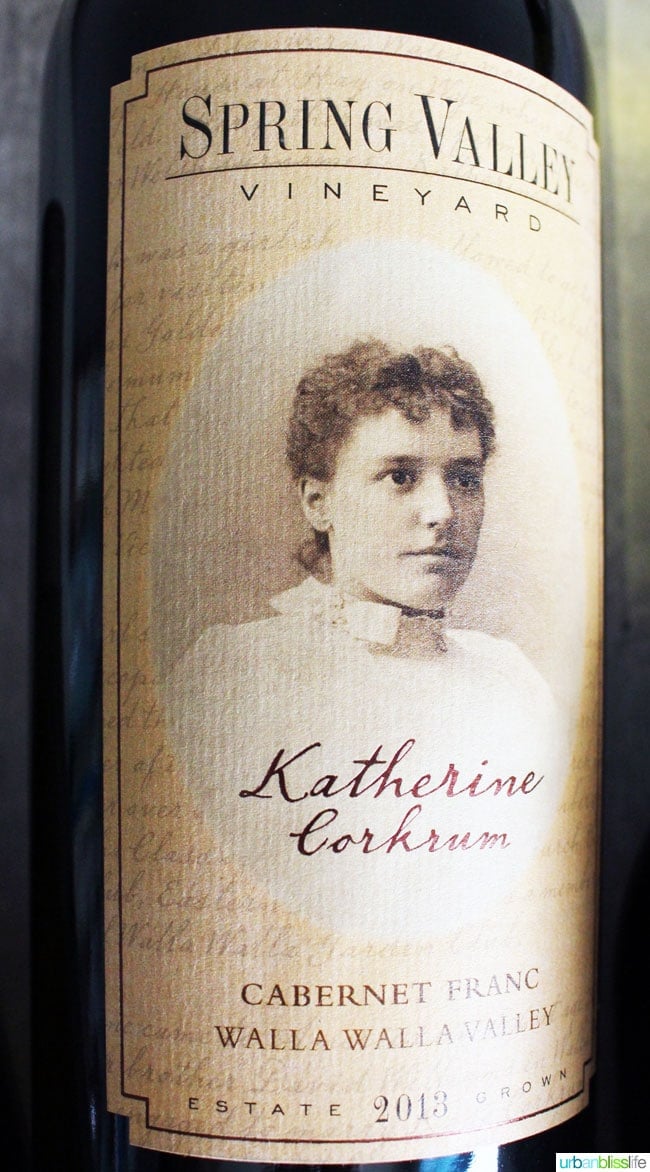 Don't let the old-timey label fool you: this is a modern, complex red wine. Given 93 points by both Wine Advocate and Wine Enthusiast, this Cabernet Franc is lighter than the Cabernet Sauvignons mentioned above and has light peppery, herbal notes with bright raspberry and strawberry flavors. Pairs well with: chicken, salmon, roasted vegetables.
2013 Columbia Crest Grand Estate Merlot ($12)

Barrel-aged in ½ new oak for 15 months, this Merlot is ruby red, with rich notes of dark cherries and chocolate. It's a solid red wine that is a good safe bet to bring as a hostess wine to holiday parties, or to serve as at the beginning of dinner. Pairs well with: hearty roasted and fried appetizers.
---
Rosé
---
Did you know that Rosé is back - and better, oh so much better, than ever before? It most definitely is the cool "new" kid in the wine world right now. Today's Rosé wines are much more refined, elegant, and bolder than the cheesy, cheap light pink sweetness of decades past. These Rosés listed here will knock your jolly ol' socks off!
Soter Vineyards Brute Rosé ($65)
I have always loved Soter Vineyard wines, but this is the wine that convinced me to finally join their wine club. The Soter Mineral Springs Brut Rosé is a complex character with a happy soul. It is slightly more orange in color than neighboring Rosés, and each sip brings you different flavors comingling happily on your tongue: sweet raspberry, tart cranberry, creamy vanilla, warm apple spice... it's all there, just not always all at once. Pairs well with: scalloped potatoes, risotto, smoked salmon salad. Visit Soter Vineyards online.
2014 Brooks Winery Pinot Noir Rosé ($18)
Perfect for picnics and a sweet afternoon holiday gathering with friends, the Brooks Winery Pinot Noir Rosé is light, bright, and sings of summer. You get lively strawberry, raspberry, and a hint of peach, making this great to enjoy with light appetizers, salads, or light entree. Pairs well with: chicken salad, tea sandwiches, brie popovers. Visit Brooks Wine online.
---
White Wines
---
White wines, I must admit, have only been welcome into my pantry within the last few years, since I began writing about wine. I've come to appreciate a crisp Pinot Gris, elegant Pinot Blanc, and especially love stainless steel, unoaked Chardonnay. Here are some of my favorite white wines that I think would be great to compliment your holiday menus!
2014 Sokol Blosser Evolution White ($15)
The go-to white wine in our household is Sokol Blosser's Evolution White. At just $15 (and sometimes $9.99 at Costco!), this is a fabulous, versatile everyday white wine that pairs well with so many dishes, as well as being a delightful wine to sip on its own. It has hints of nectarine and lime, with a bright acidity, and clean finish. Stock up on this one, for sure. Pairs well with: everything except really rich, meaty dishes. Visit Sokol Blosser Evolution online.
2013 Stoller Dundee Hills Chardonnay ($25)
My favorite local Chardonnay, the Stoller Dundee Hills Chardonnay, is sourced entirely of estate fruit and fermented and aged 100% in stainless steel. The result is a really nice, crisp white wine with lively apple and pear flavors. So clean, with balanced acidity. Pairs well with: smoked trout apple appetizers and soft cheeses. Visit Stoller Family Estate online.
2014 Maryhill Viognier ($18)
Viogniers are definitely finding their place in Pacific Northwest wineries. This 2014 from Maryhill Winery in Washington is well balanced: you get a bolder, oak mouthfeel with pear and apricot flavors, that simmers to a clean finish. Pairs well with: grilled shrimp, cod or halibut, and hard cheeses. Visit Maryhill Winery online.
2014 Estate Grüner Veltliner
Primarily grown in Austria, Slovakia and in the Czech Republic, Grüner Veltliner is a white wine that has bright acidity and is very food-friendly. Raptor Ridge Winery is one of a handful of Grüner grape growers in the region, and theirs is absolutely delicious. Bursting with grapefruit and peaches, this is a bold white wine that sort of tap dances happily on your tongue. Pairs well with: spicy dishes, oysters. Visit Raptor Ridge Winery online.
2013 Eroica Riesling ($20)
This is for all of you sweet wine fans out there. Eroica's Riesling is sinfully sweet, with really bright fruit flavors and subtle minerality. Pairs well with: Thai food, spicy chicken wings, anything with a little bit of a kick to balance the acidity of the wine. Visit Eroica Wine online.
A to Z Pinot Gris ($14)
For a while, Mr. Bliss and I always kept a bottle of A to Z Pinot Gris in stock. It's a solid white wine with a golden color, which hints at the wine's complex mix of floral aromatics, citrus flavors and herbal, almost mineral notes. Pairs well with: smoked salmon, balsamic glazed mushrooms, pork chops. Visit A to Z Wineworks online.
Cheers!
There are many more I could recommend, depending on your particular menu and tastes, but I hope you find a few on this list of Top 20 Holiday Wines to bring you and your guests joy this holiday season!
Which wine or wines sound the most interesting to you?