Walla Walla wine country in Eastern Washington state is rich in variety, with more than 100 wineries throughout four main wine regions within the Walla Walla AVA: Downtown/North, West, East, and South. Today, we explore Va Piano Winery, located in the South region of Walla Walla Wine Country.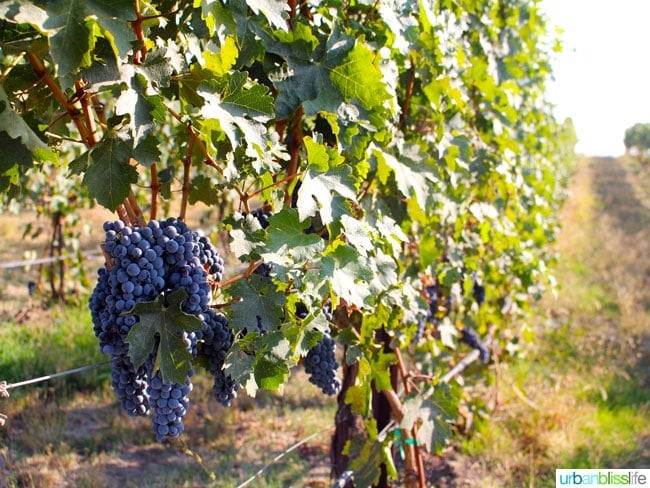 Jump to:
🍇 Va Piano Winery
During my recent Walla Walla wine weekend girls' getaway, we we were treated to a lunch and tasting at Va Piano Vineyards. As we drove along the gravel road, the vines eventually parted and a beautiful Tuscan-style villa greeted us.
Couples and families were sitting outside on the picnic tables, porch chairs, in the rocking chairs around the firepit, with lots of laughter and excited conversation... it was a very welcoming feeling before we even stepped inside the tasting room.

You will also likely be greeted by one or both of the vineyard dogs, who are as easy to fall in love with as the wines.
The 7,500 square foot Va Piano winery and tasting room buildings, and the wines created here, are inspired by owner Justin Wylie's year studying abroad in Florence, Italy. He, like so many of us when we visit Italy, fell in love with the architecture, hospitality, and way of life. Va Piano means Go Slowly in Italian. Touring the property, the Wylies did a nice job of creating a Tuscan feel without going overboard and feeling manufactured.
As a fourth-generation Walla Wallan, Justing returned to his hometown and started working on bringing his vision of a relaxed, inviting, familial wine business to life. In 1999, he and his wife Liz planted their first vines, and in 2005, Va Piano's tasting room was open to the public, serving their first vintages: a 2003 Cabernet Sauvignon and 2003 Syrah.
🍷 Big bold reds
The Walla Walla AVA is known for its big, bold red wines. and Va Piano's reds were certainly some of our favorites of this trip. Most of the grapes used in Va Piano wines are estate grown, and Justin says he likes to use grapes from different soil because he believes it adds complexity to his wines.
Of the wines we tasted, my personal favorite is the 2013 Les Collines Syrah.
2013 Va Piano Les Collines Syrah
The 2013 Les Collines Syrah ($65) is part of the winery's black label reserve collection, and it is absolutely divine. To me, this Syrah embodies the truest profile of Walla Walla wines: it's a deep purple with a robust mouthfeel that stays with you to the smooth finish. Every sip is a rich blend of dark berries, subtle pepper, and, I swear, bacon, which may or may not have been influenced by pairing it at the time with prosciutto-wrapped chicken. This is a wine that stands beautifully on its own, or paired with a hearty main course or chocolate dessert.
I love the 2013 Les Collines Syrah. I brought one bottle home; I should have purchased a case!
2012 Walla Walla Valley Cabernet Sauvignon
I also enjoyed the 2012 Walla Walla Valley Cabernet Sauvignon ($45). It had the acidic profile and bit of spice to it that I expect from Walla Walla Cabs, with some bright fruit.
2013 Sauvignon Blanc
Va Piano also makes some standout white wines, including my favorite of their whites: the 2013 Sauvignon Blanc ($20). It has a lovely bright acidity with pear, honeysuckle, and citrusy notes of lemon and orange with each sip. Not too tart, not too sweet. Just lovely. I brought a bottle of this home as well!
Olive Marketplace & Cafe
The wines were paired with a picnic lunch prepared for us by Olive Marketplace and Cafe, a local cafe that also caters to what seems like the majority of wineries in town. The charcuterie and cheese plate was filled with lovely local eats, and we also enjoyed a delicious pear, walnut and beet salad along with prosciutto-wrapped chicken skewers. This is definitely the way to picnic at a winery!
Many thanks to Justin for his hospitality during our trip. My friends and I loved visiting Va Piano, and I highly recommend visiting if you are traveling to Walla Walla wine country.
Cheers!
🍇 Visit Va Piano Vineyards
1793 J.B. George Rd. Walla Walla, WA 99362
(509) 529-0900
info@vapianovineyards.com
vapianovineyards.com
More wineries nearby
Where to stay nearby
Where to eat nearby
Walla Walla, Washington is definitely a foodie town. With new restaurants popping up and local culinary talent abound, there are so many great places to eat!