I'm always on the lookout for new places for my family to stay along the Oregon Coast. While there are many camping options, we're not a camping family, and sometimes hotel costs can add up. Enter Oregon Coast Glamping!
Traveling to the Oregon Coast is a quick road trip for my family. The drive from Portland usually takes no longer than about an hour and a half to the central and northern coast. We have many family travel adventures to the Oregon Coast a year, and if you've ever visited, it's no surprise why we go there so often.
As soon as we drive just 30 minutes west of our home in the greater Portland area, we're submerged into the forest. Then through the lush green, comes a brief clearing before the salty smell of the Pacific Ocean and the slight shock of the crisp coastal winds.
And then, there's the sand massaging your weary feet, the rythmic waves washing away your stress. It is my ultimate BLISS.
The beach has long been my sanctuary, my sanity. While I would travel over every inch of Earth possible, I could never call a place home if it were more than a couple of hours away from a coastline; I honestly do not think I would be able to breathe.
GlampingHub
Recently, I was approached by GlampingHub to try out their site, and I was surprised by just how many different types of lodging accommodations there were. Glamping = Glamorous Camping. On the site, you can find yurts, deluxe treehouses, extremely fancy "tents," and even vintage campers. You will also find several different price options, as well as locations throughout the world – there are glamping sites in the city, suburbs, country, mountains, beaches, you name it. Each property is individually owned, and then listed on GlampingHub.com.
I found a few different options that I thought my family would be interested in, and showed the kids some of the listings. The site itself is easy to use, has great photos, and a really well-designed interface.
In the end, we reserved The Montgomery House in Bay City, Oregon.
The Montgomery House
Tucked into a corner lot of a quiet, small residential neighborhood, the Montgomery House is managed by the original owner's grand-daughter. Lodging rates here start at $176 per night, and it's big enough for two families with 2-3 kids each to stay. It has clearly been remodeled and updated, and has a true cabin-like feel, with beautiful wood paneling throughout, wood floors, and a gorgeous wood stove. The perfect spot for some Oregon Coast glamping.
There are three bedrooms: a large master bedroom and with attached half bath on the main floor; a cozy second bedroom on the same floor, which is across the hallway from a full bath; and a third bedroom downstairs with two twin beds. The bed in the master bedroom is so incredibly comfortable. Once, the kids and I just piled onto the bed and played Uno there because it was so cozy!

I don't have a photo of the downstairs bedroom or laundry room (it's a little dark down there and creeped out my kids a bit at night), but the full washer and dryer is great to have if you're staying here with lots of people for a few days or a week. I did snap a photo of the downstairs family room, which is right next to the downstairs bedroom and laundry room. It has a large TV (no cable, but there is access to Netflix, Hulu, and Apple TV), comfy couches, and some board games.
We spent most of our time in the main, upstairs living space. There's an open floor plan that includes the kitchen, dining area, and living room.
As someone who spends a lot of time in the kitchen at home, I really liked the modern appliances and finishings in this kitchen. I was also able to find everything I needed to cook and bake meals that we could enjoy while there - it's well stocked with glassware, plates, utensils, cooking utensils, pots and pans, a coffee maker, slow cooker, toaster, and more.
I loved being able to make breakfast there in my pajamas and no make up and just stay in late, all cozied up with my family.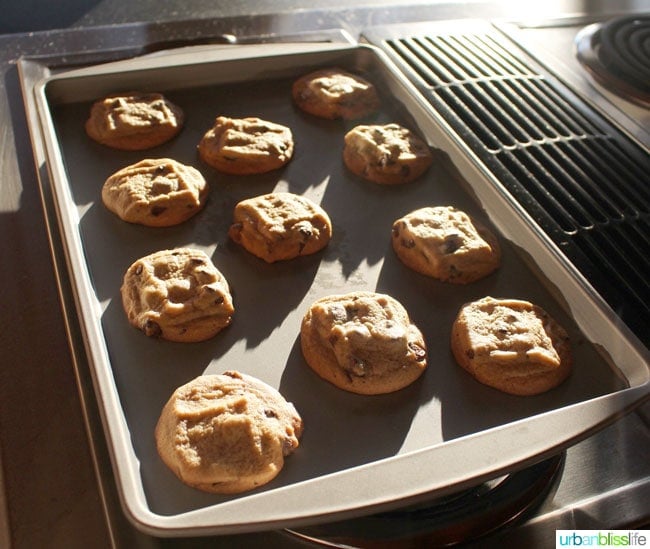 We made popcorn and watched movies. We made cookies and played many serious Uno games.
I was even able to teach my son how to play the piano during that weekend. What a joy that was, to teach him and watch him play.
We also explored the nearby beach towns of Tillamook, Garibaldi, and Cannon Beach, which are all within 30 minutes of the Montgomery House.
The house is semi-private, as it's set a bit out and above the rest of the neighborhood. So there were no curtains for the main living area, which, being used to having neighbors right next to us, made me nervous at first. But it really is private, and having an unobstructed view looking out from inside, you really do feel like you're in a cabin in the woods. There's a large yard where the kids can run around, with easy access from the downstairs family room.
If it were warmer out, I think we would have enjoyed sitting out on the wrap-around deck, taking in the views of the sun rising through the trees and setting over the bay.
It was SUCH a beautiful, sunny weekend to enjoy the coast, and a really lovely time away with my family. We had all of the comforts of home, but still felt worlds away from the hustle and bustle of everyday life.
No matter where you live in this great big world, I hope that you are able to take a few days away from the daily grind. You don't have to totally rough it camping in the woods, or spend an extravagant amount in a cramped hotel room. There are a lot of really cool, unique glamping accommodations that you can find all over the world on GlampingHub.com.
Thanks to GlampingHub for providing complimentary accommodations. All opinions, and photos are, as always, my own.