NOTE: Yellowhawk Resort is now in the former Basel Cellars location. We'll have an updated article about Yellowhawk soon!
Basel Cellars Estate Winery in Eastern Washington offers full-bodied red wines and a stunning property on which to enjoy their wines.
Happy Wine Wednesday!
Washington wine country is certainly beautiful. With its towering mountains and varied terrain, the Walla Walla AVA in particular produces beautiful bold red wines.
It's not uncommon to be driving around the Walla Walla, Washington countryside and suddenly stumble upon a gorgeous vineyard (or two, or three in a row). While many have tasting rooms downtown on Main Street, such as Browne Family Vineyards, there are several dozen scenic wineries located on or near their vineyards throughout the town.
Basel Cellars Winery
In the case of Basel Cellars Estate Winery, massive gates greet you, leading to a castle-like setting.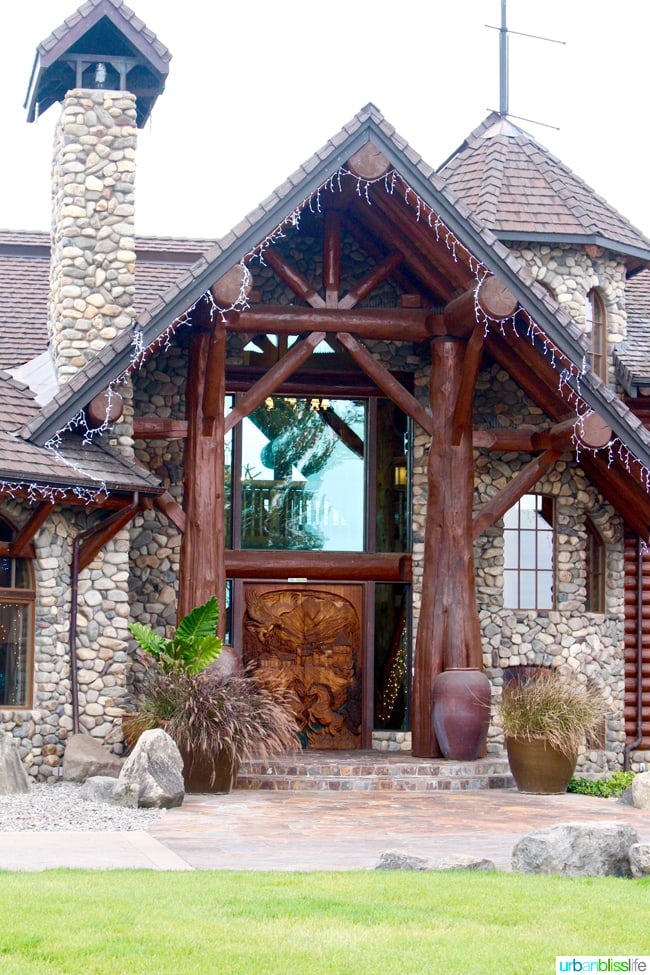 In the middle of 85 acres of vineyards and farmland, at the top of a winding hillside, sits Basel Cellars Estate Winery.
The main building, known as the Estate House, and was built in 1997 as the original owner's home. What a home!
Custom woodwork can be found throughout the home, giving you a real feel for the Pacific Northwest. Notice the home carved in the main door - look familiar?
There are also gorgeous carvings of horses and eagles in the main door. Because of course, right? The detailed woodwork is incredible.
You can rent out the entire house, which has 8 bedrooms and sleeps up to 16 adults.
It's perfect for family reunions, weddings, work retreats, yoga retreats, and other special events.
You get full access to the massive, fully equipped chef's kitchen. If you don't feel like cooking, you can also speak to the Basel Cellars Hospitality Manager about catering and/or an in-house chef to hire.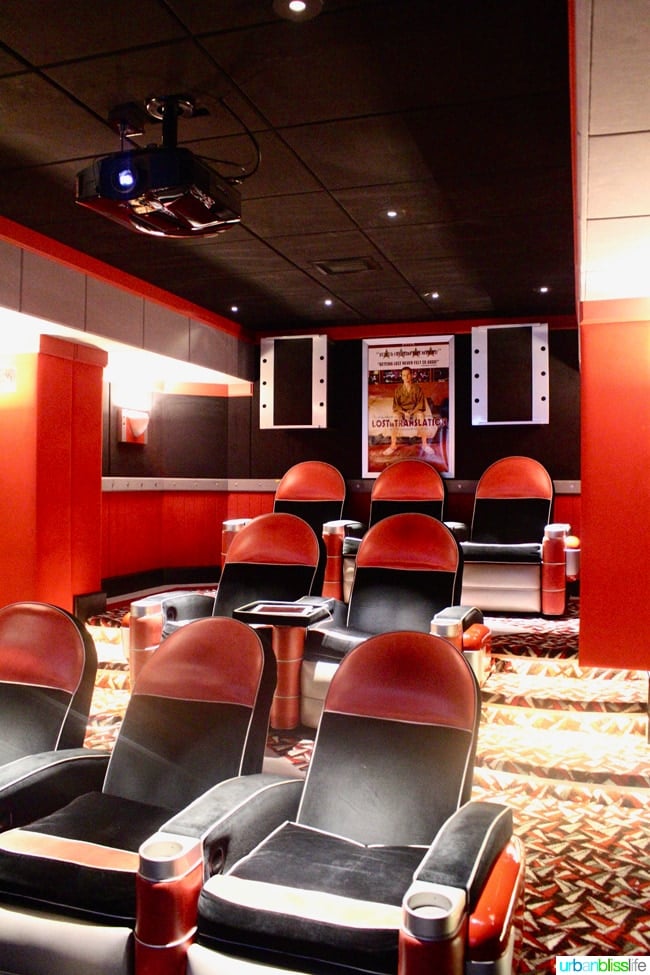 The 9-person movie theater is posh with comfortable large theater seats and incredible surround sound system.
There's a cool Harley Davison themed room with full bar, karaoke stage, several tall tables, and a pool table.
If you're here for work, you can feel super VIP in the posh 20-person conference room.
Cabana
For smaller parties of four or more, you can rent the Cabana in the back of the house.
Here, you have a full outdoor gourmet kitchen at your disposal.
The Cabana is like a rustic log cabin rental, with full amenities: stocked kitchen, two bedrooms, two bathrooms, and cozy living space. It's located right next to the outdoor heated pool, which is available for use by all guests.
Tasting Room
In the end wing of the Basel Cellars Estate Winery house, is the tasting room. This spacious tasting room was once the 7-car garage of the Estate House. Now, there is a large wine tasting bar, as well as several tables for seated tastings.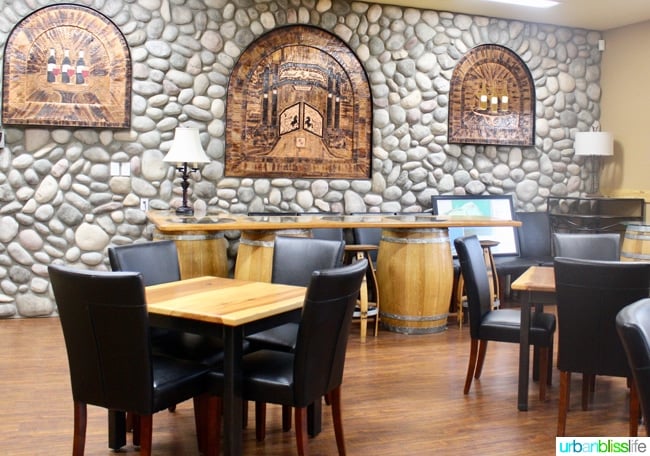 During warmer weather, there is outdoor seating. You can even partake in a couple of games of cornhole while enjoying your wine.
The wines
And of course, Basel Cellars Estate Winery offers tastings of their wines. They distinguish their wines by three categories: House Wines, Estate Wines, and Winemaker's Vault.
While Basel Cellars produces an ice wine, two white wines, and a rosé, the winery's primary focus is on a variety of red wines.
One of my husband's and my favorite when we visited Basel Cellars Estate Winery was the 2011 Claret. This now sold out Bordeaux is a blend of Cabernet Sauvignon, Cabernet Franc, Malbec, and Merlot. It's a big, rich, full bodied red wine with ripe cherry flavors and smooth tannins.
Another one we enjoyed was the 2012 Estate Cabernet Sauvignon ($36). Cabernet Sauvignon is king in the Walla Walla AVA, and Basel Cellars Estate Winery produces one that is indicative of the region: full of ripe cherries, raspberries, hints of tobacco and leather.
Other wines to try:
The Basel Cellars Estate Winery's 2013 Syrah was awarded 92 points by Wine Spectator (as a rule, anything above 90 points is generally considered top notch).
We found all of the Basel Cellars wines to be an incredible value for the region. Most are in the mid-$30 price range, which is below the $45-50 average price of most red wines in Walla Walla.
Visit
If you're wine tasting in Walla Walla, Washington, I recommend a stop at Basel Cellars Estate Winery. It's a gorgeous location, with lots of space to enjoy their wines.
2901 Old Milton Highway
Walla Walla, WA , 99362
(509) 522-0200
info@baselcellars.com
http://baselcellars.com/
More Walla Walla wineries
Where to Eat & Drink in Walla Walla, WA
Thanks to Visit Walla Walla for hosting our tasting and tour of Basel Cellars Estate Winery. As always, all opinions and photos are my own.