Walla Walla wine country in Eastern Washington state is rich in variety, with more than 100 wineries throughout four main wine regions within the Walla Walla AVA: Downtown/North, West, East, and South. Today, we explore Pepper Bridge Winery, one of the founding wineries in Walla Walla Wine Country.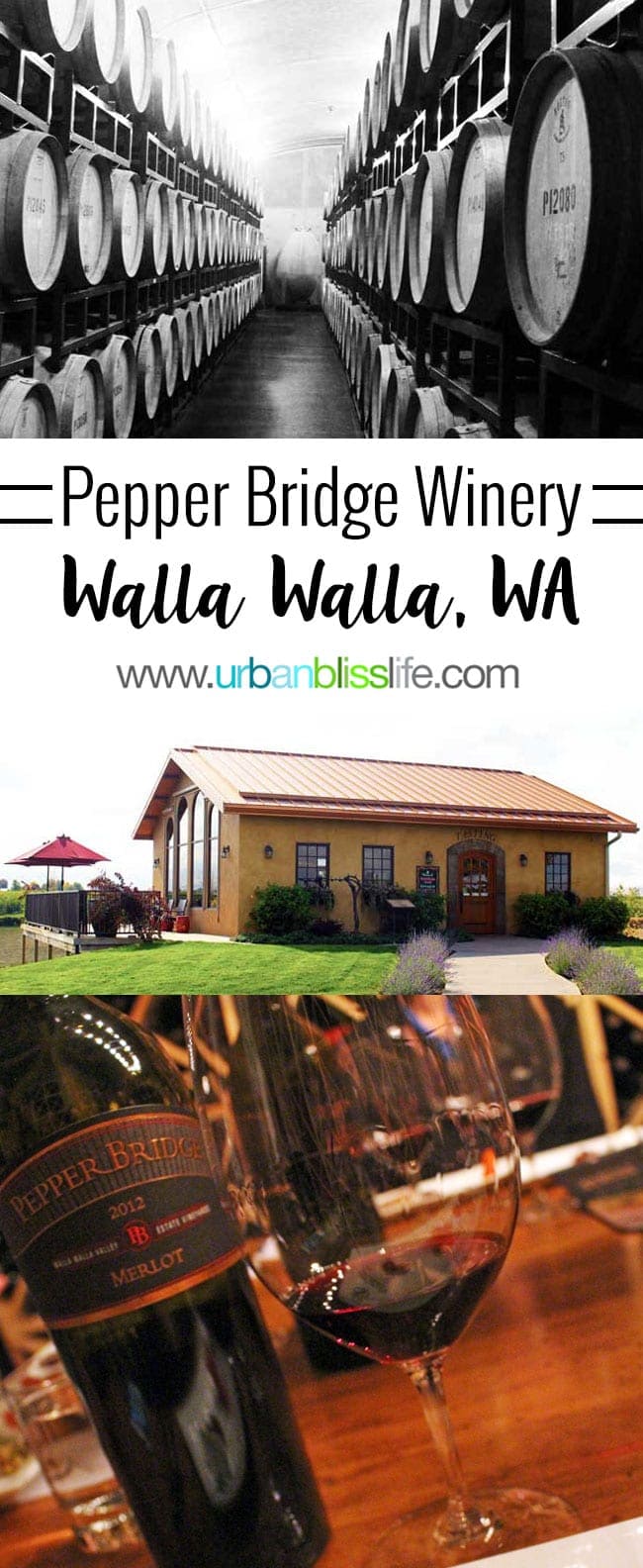 In the world of winemaking, Walla Walla, Washington is still very much an infant compared to the rest of the world, or even compared to other great winemaking regions of the West Coast. Yet with an incredibly diverse appellation and terroir, Walla Walla produces world class wines that are rapidly gaining favor with wine lovers everywhere.
During my girls' weekend wine getaway to Walla Walla, I had the opportunity to visit one of the pioneering wineries of the Walla Walla Valley AVA: Pepper Bridge Winery. It was a very educational, enlightening experience, and I am delighted to share it here with you.
Pepper Bridge Winery

Pepper Bridge Winery, like many wineries, is run as a family business; what makes this family-owned business unique, however, is that it is owned not by one family, but by three families: the McKibbon, Goff, and Pellet families.
Launched in 1998 by Norm McKibbon, who is known as one of the Founding Fathers of the Walla Walla wine industry, Pepper Bridge Winery now has two generations actively working in the day-to-day operations. The winery focuses exclusively on estate-grown Bordeaux-style wines. It is one of only a handful of wineries in the state that produces 100 percent estate grown wines. Their vineyards are Certified Sustainable and Salmon Safe.
To give you an idea of how distinguished this winery is, Pepper Bridge Winery recently was the recipient of two important 2015 Washington Wine Awards.
Pepper Bridge Winery's winemaker/partner, and third-generation Swiss winemaker, Jean-Francois Pellet (pictured above) was named the 2015 Winemaker of the Year. In addition to being one of the nicest guys, he's also madly passionate and meticulous about his craft – and it shows.
The second Washington Wine Award: Les Collines Vineyard was given the title of 2015 Vineyard of the Year. This vineyard is a partnership between Norm McKibben, other family members, and Michael Murr, owner of Garrison Creek Cellars. If you'll recall: the 2013 Va Piano Les Collines Syrah was one of my favorite wines from this trip, so I don't doubt the quality of grapes that grow on those vines.
Winery tour
Located right next to the winemaking facility is the Pepper Bridge Winery tasting room. Adorned in Tuscan-yellow sunshine and warm wood and leather accents, the tasting room is open daily from 10am to 4pm. You can stop by without a reservation (but please do call ahead out of courtesy if you have a large party), and enjoy your wines out on the deck with views of the vineyards rising up to the Blue Mountains, or you can grab a spot on one of the comfy couches or armchairs inside.
Director of Sales Jennifer Clapp was the gracious host of our tour and tasting. Jennifer is a wealth of knowledge when it comes to wine; I could listen to her talk about wine all day. A current member of the Guild of Sommeliers, she has completed the Certified Level for the Master Court of Sommeliers and currently is working toward Advanced Level Certification.
After sharing the history of Pepper Bridge Winery with us while we enjoyed a delicious Sauvignon Blanc on the deck, she walked us over to the winemaking facility where we were lucky enough to catch the winery's high tech optical grape sorting machine in action.
In a nutshell, this sorting machine allows wineries to specify attributes such as size, shape, and color of grapes to sort. It is very similar to the sorting machines that have been used in other industries, such as in fruit facilities, like the one at Oregon Fruit Products. There's debate in the industry about the effectiveness of these machines, but we won't go into that here.
Back to the tour!
We then walked through the zero-gravity facility, and through the barrel rooms.
The barrel rooms are sometimes the most breathtaking part of any winery tour for me.
One by one, row by row, aisle by aisle...these vessels hold stories that wine lovers will eventually guess at, make their own, or often, sadly, completely ignore and swill down. No matter how glamorous the final product is dressed up, winemaking is and always will be (fingers crossed) farming, and what we drink is the result of long, long hours, where science meets hope and sometimes heartbreak, perseverance, and love.
My heart skips a beat whenever I catch sight of a barrel room. It's like a nursery full of smiling babies, cooing at you to pick them up.
But sitting staring lovingly at wine barrels is a little odd to most people, and likely frowned upon during a group wine tour, so we move on.
Food and wine pairing class
Near the barrel rooms is the underground library room, where all of the new Private Tours and Tastings and new Food and Wine Pairing Classes are held. It's a beautiful, dimly lit room filled with library wines.
The Food and Wine Pairing Class lasts 90 minutes and costs $50 per person, or $40 per Club Member.
Chef Jake Crenshaw of Olive Catering (who also catered our meal at Va Piano Vineyards) offers a menu that changes seasonally and features fresh ingredients to give guests a chance to learn how the aromas, flavors, and tasting profiles of Pepper Bridge Winery estate wines work with food.
Here's a look at what was in season during our visit.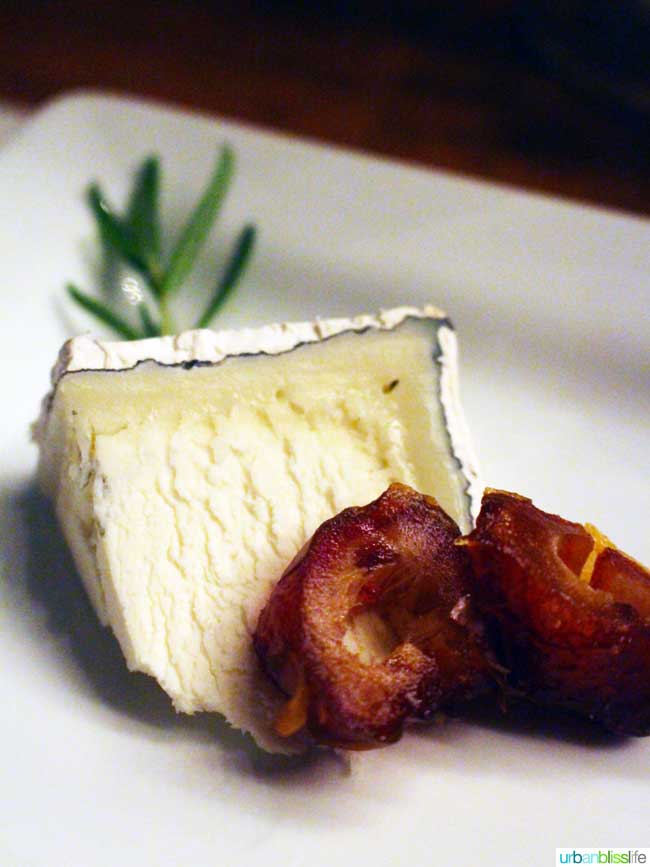 First pairing: Humboldt Fog Cheese with Dates and Rosemary Sprig, with 2012 Pepper Bridge Winery Merlot ($50).
Second Pairing: Cold Smoked Salmon (see picture of trio above) with basil infused oil, creme fraiche, and house cracker, with a 2012 Pepper Bridge Winery Trine ($65).
Third Pairing: Olympia Provisions Pork Rillette (I was so excited to see this Oregon-based company on the menu!) with blackberry compote and fresh fig, with a 2012 Pepper Bridge Winery Cabernet Sauvignon ($60).
I enjoyed both the Merlot and the Cabernet Sauvignon. The Merlot actually drinks like a Cab, which is probably why I enjoyed it so much, not being a huge fan of most Pacific Northwest Merlots. Awarded 91 points by both Wine & Spirits and Wine Advocate, this Merlot is a sultry siren with complex rich flavors of coffee, then blackberries, then blueberries.
Cabernet Sauvignon is the winery's flagship wine, and with 2012 being the year that it was, this wine is bursting with summer berries and rich chocolate, spices, herbs, and a super smooth velvet finish.
Visit
My friends and I enjoyed our time at Pepper Bridge Winery. If you're visiting Walla Walla Wine Country, I recommend stopping by. I think it's always good to visit at least one of the founding wineries of any area. It helps give you insight into the history of the winemaking industry of the region, and a better understanding of what drives the people in that particular area. Plus: it's a gorgeous winery with some hearty Bordeaux-style wines!
1704 J.B. George Road
Walla Walla WA 99362
Tasting Room Hours: 10 am to 4 pm
Tasting Fee: $10 per person, refundable with wine purchase
Private Tour & Tasting: $20 per person ($16 per Club Member)
Food & Wine Pairing: $50 per person ($40 per Club Member)
See the Pepper Bridge Winery website for the latest tour hours and information.
Have you ever taken a food and wine pairing class? If so, what did you like most about it? If not, would you ever consider taking one?
More Walla Walla wine ideas
Many thanks to Pepper Bridge Winery for the complimentary food and wine pairing class. As always, all opinions and photos are my own. I only write about places and products I enjoy and think you will too!