Visiting Walla Walla, Washington? Here are some of my favorite Things to Do in Walla Walla!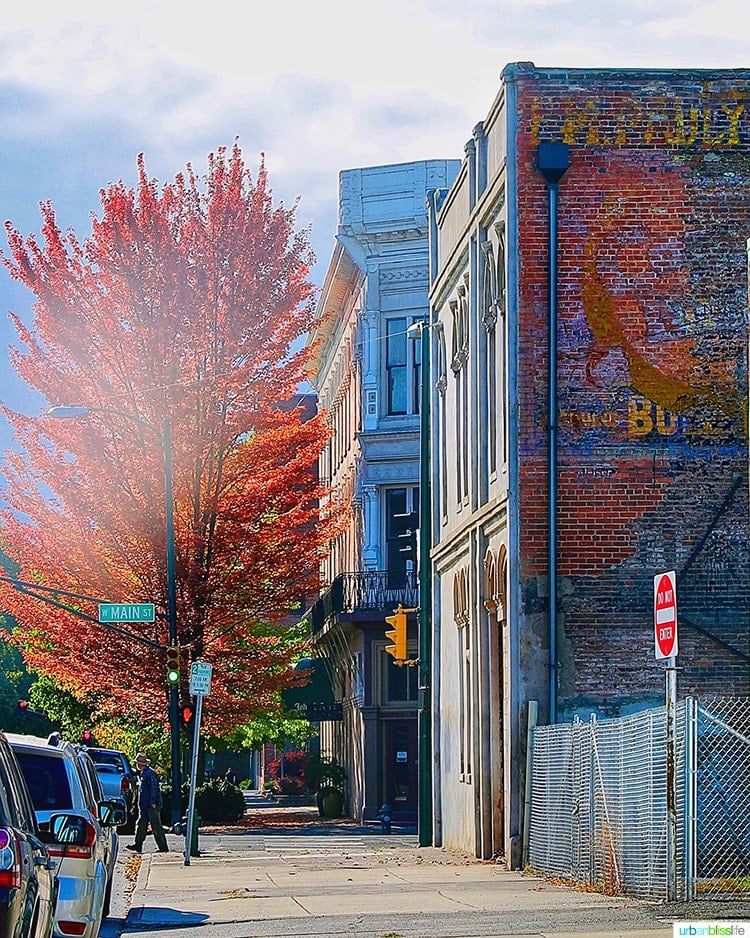 If you enjoy wine travel in the beautiful Pacific Northwest, you'll love a trip to Walla Walla, Washington. Located in the southeastern part of the state, this agriculture town is a well-known wine region that produces some incredible wines.
I've made an annual trip to Walla Walla almost every year for the past four years. Even though it's a small town, there is always something new to explore: new wineries and wine tasting rooms, new restaurants, new shops.
Check out this list of some of my favorite things to do in Walla Walla. If you're not quite ready to plan a trip to Washington just yet, be sure to PIN it to Pinterest so you can refer back to it!
Best Things To Do in Walla Walla: Table of Contents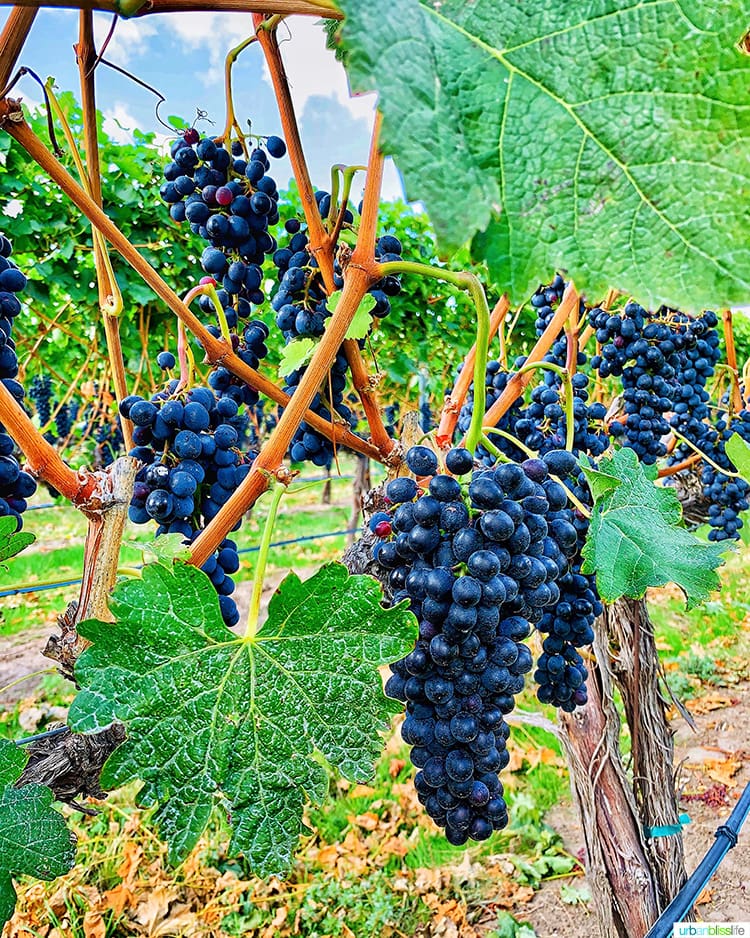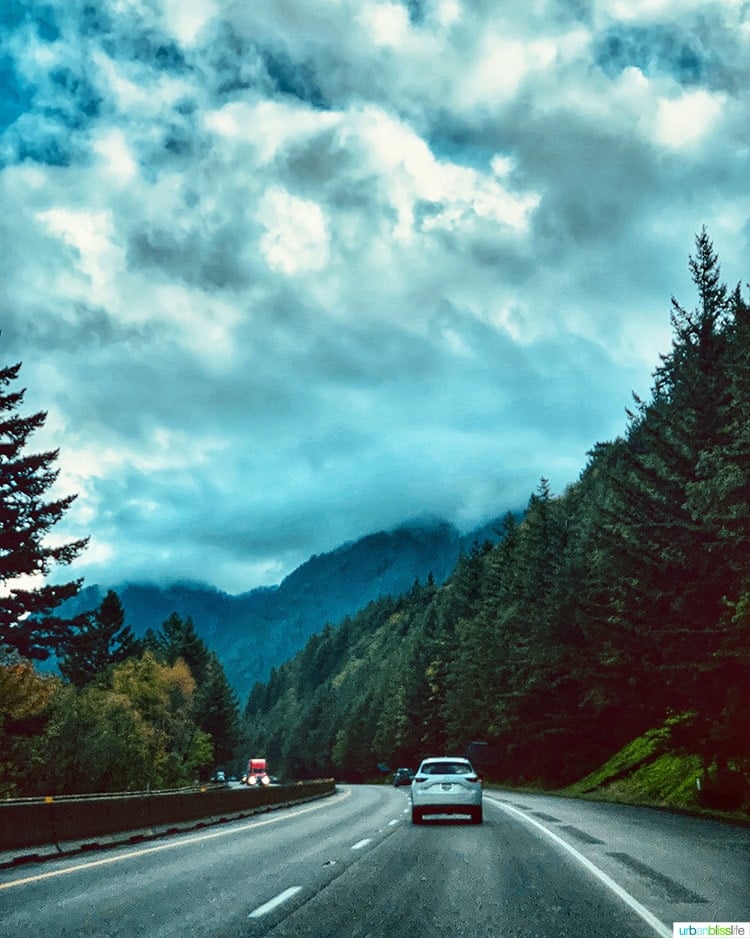 Walla Walla, Washington is a beautiful, scenic 4-hour drive from downtown Portland, Oregon. From Portland, go east on I-84 for approximately 243 miles (depending on your exact starting point). Take Exit 179 for I-82 West toward Umatilla. Continue on I-82 West for about 9 miles, then take Exit 1 for to US395S/US 730E toward Umatilla Irigon. Follow US730E and US12E to North 5th Avenue in Walla Walla.
Breakfast at Bacon and Eggs
Bacon and Eggs
57 E Main St, Walla Walla, WA 99362
Open 8am - 2pm Thursday through Tuesday; closed Wednesday
This is a hot brunch spot for tourists and locals alike. More than just the namesake classic breakfast combo, here you'll find hearty Pacific Northwest faves like crab crake benedict (pictured above, right). Bacon and Eggs does traditional breakfast and lunch dishes well, in a casual, relaxed environment. You'll find this right in the middle of Main Street in downtown Walla Walla.
Lunch from Andrae's Kitchen
Andrae's Kitchen
706 W Rose St, Walla Walla, WA 99362
Open 6am to 8pm Monday through Saturday; open Sunday 6am - 4pm
Seems like some of the best food in the United States is served at gas stations these days. Andrae's Kitchen is a counter service restaurant at the back lot of a gas station right next to the Courtyard Marriott.
I've had the pleasure of enjoying meals from Andrae's Kitchen three times now, and I look forward to trying new menu items each time. From tacos to burgers to shrimp po boys, everything I've tried has been full of big flavors and super fresh.
Andrae's also delivers and caters!
Dinner at Passatempo Taverna
Passatempo
215 W Main St
Walla Walla, WA 99362
Open Thursday through Monday, 4pm - 10pm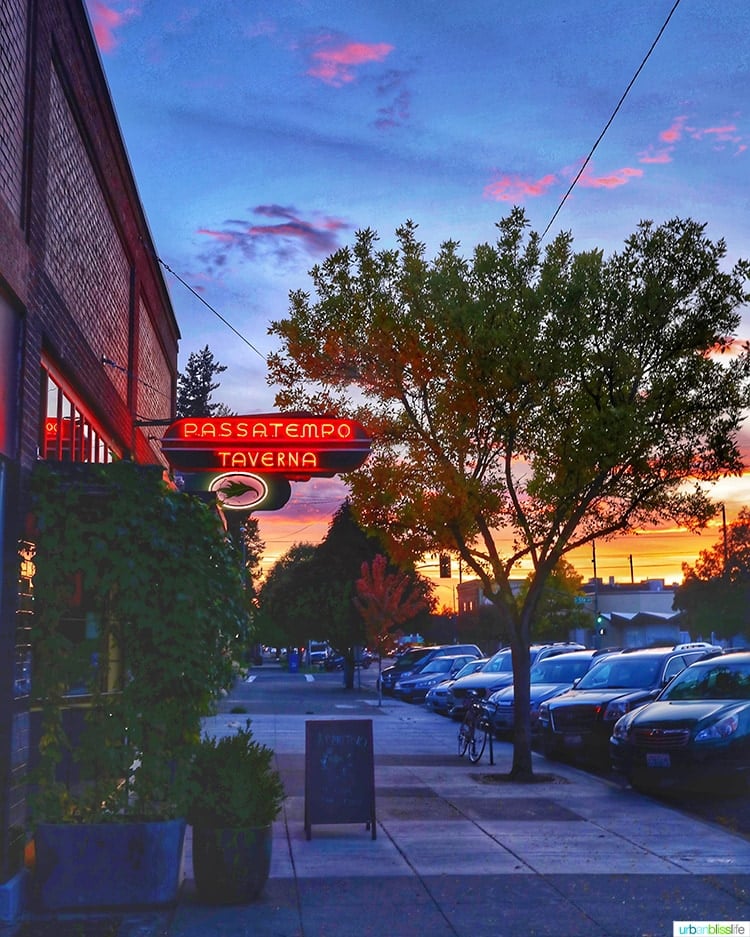 For a lovely dinner out in Walla Walla, I have two favorite restaurants: Saffron Kitchen (which you can read about in my post Where to Eat in Walla Walla), and Passatempo.
You can't go wrong with any dish you order at Passatempo. Located right at the edge of Main Street in downtown Walla Walla, this rustic Italian restaurant is known for serving fresh, beautiful salads, pastas, and pizzas.
I've enjoyed two dinners at Passatempo over the years. I feel like the food has only gotten better! My picks: the beet salad and the clam linguine.
Lunch or Dinner at Brasserie Four
Brasserie Four
4 E Main St
Walla Walla, WA 99362
Open 4-9pm Tuesday through Thursday; Friday & Saturday 11:30am - 9:30pm
This casual French cafe is always bustling. Here you'll find French classics such as salad nicoise and steak frites (both pictured above), escargot, and Bœuf Bourguignon.
Dinner at Walla Walla Steak Co.
Walla Walla Steak Co.
416 N 2nd Ave
Walla Walla, WA 99362
Open 4:30 - 10pm
Walla Walla Steak Company was recently named one of Wine Enthusiast Magazine's Best Wine Restaurants of the Year. Located in the old train depot, you'll find classic appetizers, like steak bites, crab cakes, and spinach artichoke dip to start your meal. Then move on to one of their signatures steaks. Or, try the seafood pasta or roasted chicken.
The Harvest Celebration Dinner I attended last fall was catered by Walla Walla Steak Co. The food was beautifully presented and tasted delicious!
The Walla Walla AVA actually straddles the Oregon-Washington Border. Currently, this AVA includes nearly 80 wineries on the Washington side and eight (8) wineries on the Oregon side.
This region tends to be known for its big reds, such as Cabernet Sauvignon and Syrah. Wine lovers, you'll want to travel to Walla Walla wine country this April. The region will be celebrating its first annual Wine Month, and there are sure to be lots of excellent events at local wineries, restaurants, and breweries.
In Walla Walla, you have many options for wine tasting. They make it so easy for you! If you are short on time and want to visit several different wineries, there are wine tasting rooms throughout downtown Walla Walla. You can walk to several within blocks!
If you have more time, want to enjoy wines with a view, and preferably have a designated driver, you'll love wine tasting in Walla Walla Wineries at their vineyards.
Here are a few of the wineries we visited on our last trip. Be sure to read my previous posts about these Walla Walla wineries: Va Piano, Pepper Bridge Winery, Waterbook Winery, L'Ecole Winery, Basel Cellars, Charles Smith Wines, and Browne Family Vineyards.
Kontos Cellars
Kontos Cellars
10 N 2nd Ave
Walla Walla, WA 99362
A new-to-us winery that my husband and I absolutely fell in love with on our last wine travels, was Kontos Cellars. Owner Cameron Kontos poured the wines at our tasting, and let me tell you: we enjoyed every single one of them. Which is rare! This family-owned and operated winery makes a stellar Syrah, but we also fully enjoyed a lovely Gossamer white wine here.
Tertulia Cellars
Tertulia Cellars
1564 Whiteley Road, Walla Walla, WA 99362
And in Oregon: 1326 OR-99W #104, Dundee, OR 97115
Tertulia Cellars is such a fun winery to go wine tasting. The entire crew here is F-U-N, and they make wine tasting the enjoyable adventure that it should be. Director of Hospitality Kristine Bono leads an energetic, knowledgable tasting room staff who make sure you have a memorable experience -- and that you find wines you love! My husband's favorite was the CC Red Blend. I liked too many to count... Luckily, Tertulia also has a wine tasting room near me in Dundee, Oregon!
Walla Walla Vintners
Walla Walla Vintners
225 Vineyard Ln
Walla Walla, WA 99362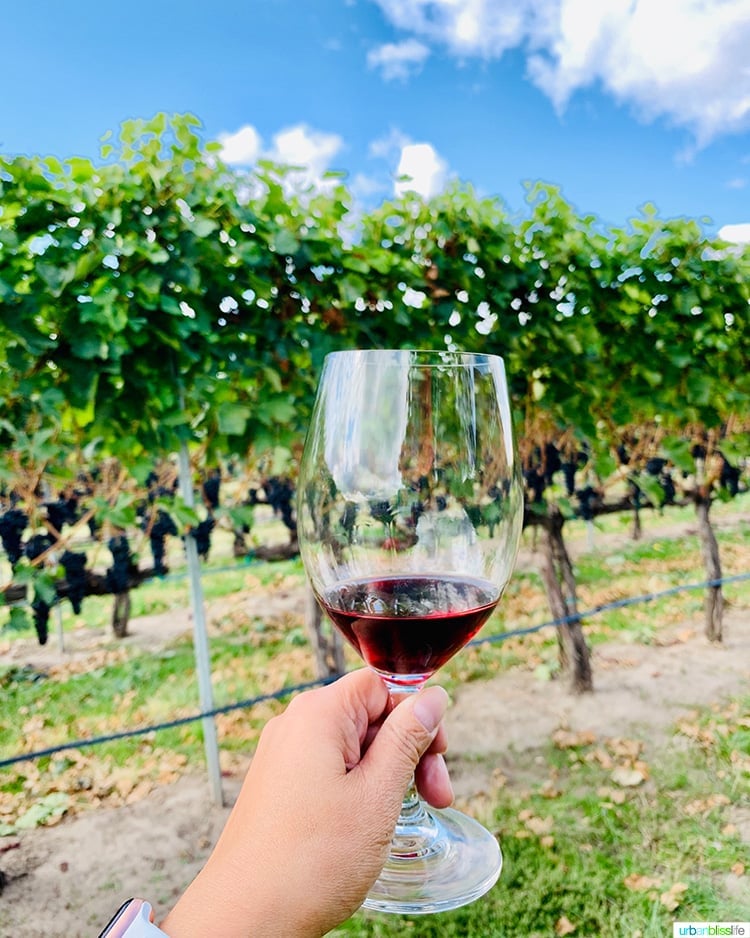 If you're out and about Walla Walla, stop by Walla Walla Vintners. This beautiful historic property is a lovely backdrop to taste some of the wines that, I believe, relay the essence of Walla Walla as a wine region. The newer tasting room is cozy and modern, and opens up to a picnic area beside the vineyards. My fave is their Cabernet Franc.
The Foundry
Foundry Vineyards
1111 Abadie St
Walla Walla, WA 99362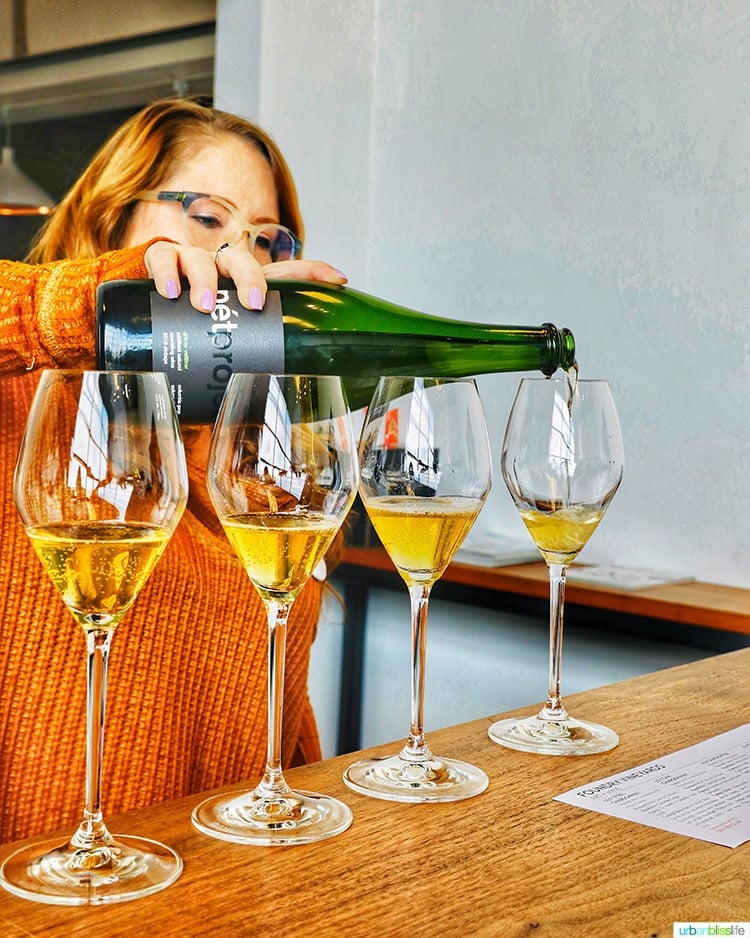 For a totally different wine tasting experience, check out Foundry Vineyards. Lisa and Jay Anderson are the sister and brother team behind Foundry. As second generation winemakers and lifelong Walla Wallans, these two creatives are shaking up the wine scene with small lot, low intervention wines.
If they are available to taste when you visit, don't miss a chance to try the three wines from their Pet Project line. These Pét Nat (pétillant-natural) sparkling wines are made from 100% organic vineyards. They make a Grüner Veltliner Pét Nat, a Rosé Pét Nat, and a Roussane Pét Nat.
While you're wine tasting, enjoy a glass out back in the sculpture garden. Or, take in the current exhibit in the art gallery. Then pick up some beautiful handcrafted artisan products in the shop adjacent to the tasting bar.
The Walls Vineyards
The Walls Vineyard
1015 W Pine Street
Walla Walla, WA 99362
The name of the Walls Vineyard comes from the defunct town penitentiary. With names like Concrete Mama (there's a Syrah and a Grenache in this line), and wall art that mimcs the fun bottle art, you know the tasting experience will be unique at The Walls.
Other Great Walla Walla Wines to Try
In addition to the ones listed in this post, and ones I have covered in the past, here are a few more Walla Walla wine faves:
The Thief Fine Wine and Beer
Thief Fine Wine and Beer
102 E Main Street
Walla Walla, WA 99362
While you're exploring downtown Walla Walla, be sure to stop by The Thief Fine Wine and Beer shop. This spacious bottle shop also has comfy spaces and a wine tasting bar. It's a great spot to pop in for a glass of wine or two while you're shopping downtown. Then be sure to pick up a bottle or two of some new fab wines or beer to take home!
Make Reservations to a Farm to Table Vineyard Dinner
These are scenes from the Harvest Celebration Dinner I attended in the fall. It was an incredible night in a stunning venue (Seven Hills Vineyard), with delectable dinner catered by Walla Walla Steak Co., and wines by Vital Wines and Brook & Bull Cellars.
Thanks to the growing wine industry and the amazing agriculture in this region, you can find similar farm to table types of dinner throughout the year. For instance, there's a Collaborative Winemaker Dinner Series in July. If you are visiting Walla Walla during the late spring, summer, or early fall, be sure to check out the local winemaker dinners and vineyard dinners!
Visit the Farmers Market
The downtown farmer's market in Walla Walla is open May through October. It's located at the edge of downtown Walla Walla, on Main Street and Fourth. Here you'll find fresh produce, baked goods, meats, beverages, and artisan food products from local vendors. The 4H was at the market on my last visit and had some farm animals with them!
There are a variety of accommodations to suite your taste in Walla Walla. I've stayed at hotels, as well as in an Airbnb owned by a local winery. Here are a few options for hotels in Walla Walla.
Courtyard by Marriott
Courtyard by Marriott
550 West Rose Street
Walla Walla, WA 99362
The last two times I've traveled to Walla Walla, Washington, I've stayed at the Courtyard Marriott. The location is awesome - just a short 5-minute walk from downtown shops, wine tasting rooms, and restaurants. The rooms are comfortable and reasonably priced, and the staff is great!
Read my full hotel review: Hotels in Walla Walla: the Courtyard Marriott.
Other hotels in Walla Walla include:
Marcus Whitman Hotel
6 West Rose Street, Walla Walla, WA
(509) 525-2200
Basel Cellars Estate
2901 Old Milton Highway, Walla Walla, WA
(509) 522-0200
I had the pleasure of visiting Basel Cellars a few years ago and got tour of their amazing space. Read all about the winery and estate tour, and see photos of the estate.
More Things to Do in Walla Walla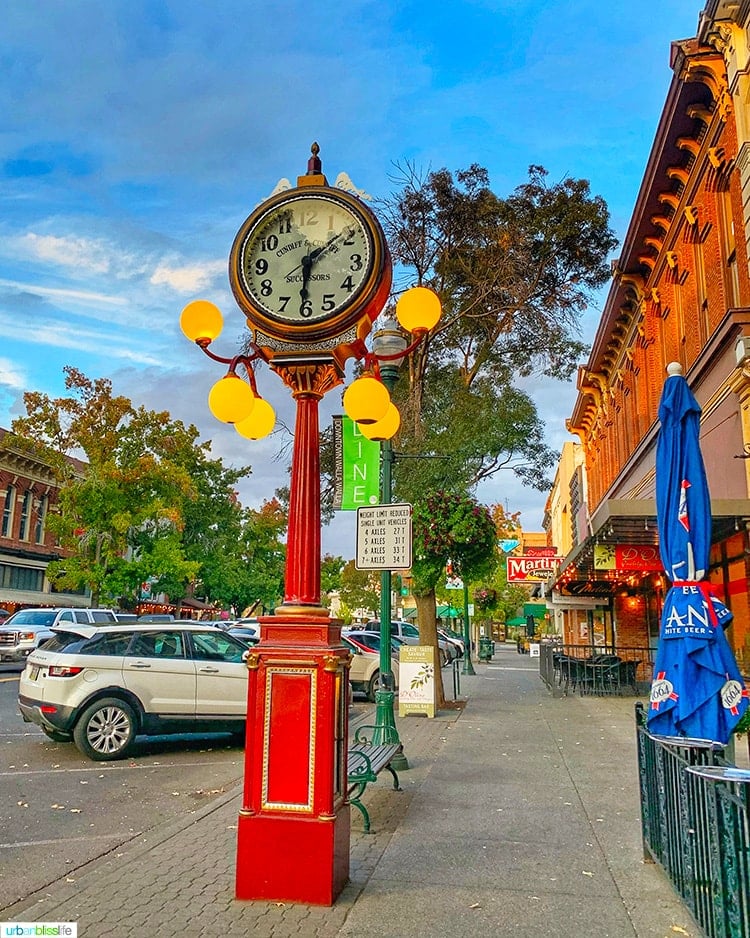 For even more things to do in Walla Walla, check out these past food, wine, and travel articles:
Another great resource to help you plan your visit is Visit Walla Walla, and the Walla Walla Wine Alliance.
PIN IT:
Many of the places featured in this post were part of a hosted press trip sponsored by the Walla Walla Valley Wine Alliance. As always, all opinions and photos are my own.