If you're looking for an extraordinary wine tasting experience in Walla Walla, Washington, definitely add Caprio Cellars to your itinerary. It is hands down one of the best wineries in Walla Walla to visit!
With an in-house chef, spacious modern tasting room, and wine varietals from sparkling to rosé, whites and reds, Caprio Cellars is one of our favorite wine tasting experiences in the Walla Walla AVA.
It is absolutely in our Top 10 Walla Walla Wineries to visit, and we think you'll love it, too!
Jump to:
🥂A sparkling welcome
As soon as you arrive at Caprio Cellars, you are greeted with a smile and a glass of sparkling wine. Always a lovely way to start off a food and wine experience!
🥂 Wine tasting experience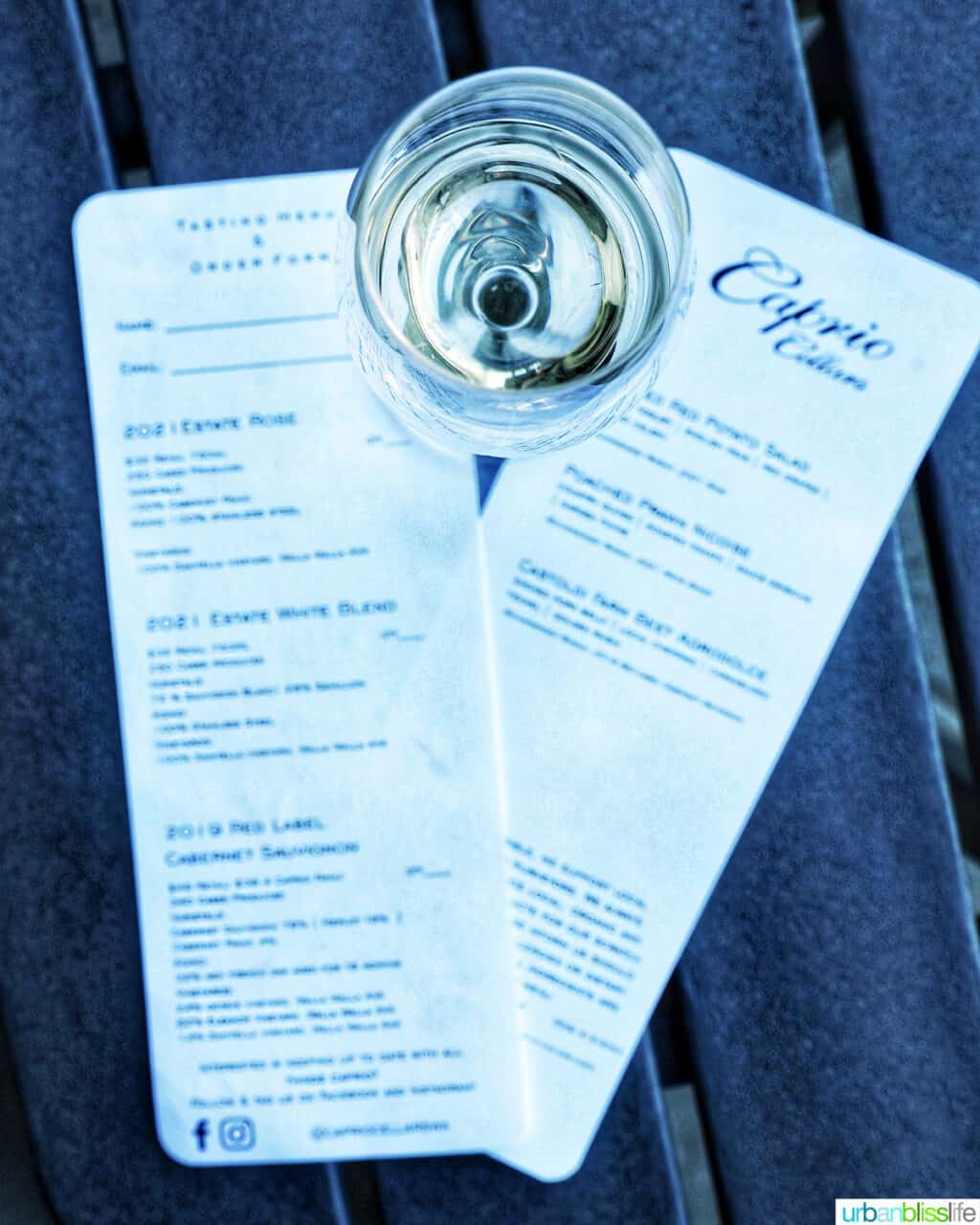 At Caprio Cellars, wine tastings are complimentary. That is a rarity in most US wine regions these days, including wineries in Walla Walla. But, it is especially amazing considering all that Caprio Cellars offers guests with each and every wine tasting.
Not only do you get to enjoy their current wine releases, but you also get the pleasure of noshing on delectable bites prepared by their in-house chef, Chef Ian Williams.
A Walla Walla local, Chef Williams has a knack for creating stunning, artfully prepared small plates. These dishes not only pair beautifully with the wines, but also tell the story of Walla Walla's strong agriculture community through his use of local produce, meats, and cheeses.
For the dishes pictured here, Chef has partnered with local farms such as Rowley Farms, Castoldi Farms, and A.R Teal's Produce. And you'll find an olive oil drizzle over many of the dishes, using an olive oil from local shop D'olivio Tasting Bar in downtown Walla Walla.
🍷🥗 Food and wine pairings
I've had the pleasure of experiencing Caprio Cellars' out-of-this-world food and wine tasting experience at this Walla Walla winery twice so far. Each time, I was completely blown away by the experience.
Chef Williams changes the menu about once a month, using in-season local ingredients. Here's a look at the most recent tasting menu that I enjoyed, which featured summer dishes.
🥔 Caprio Cellars Estate Rosé + Spiced Red Potato Salad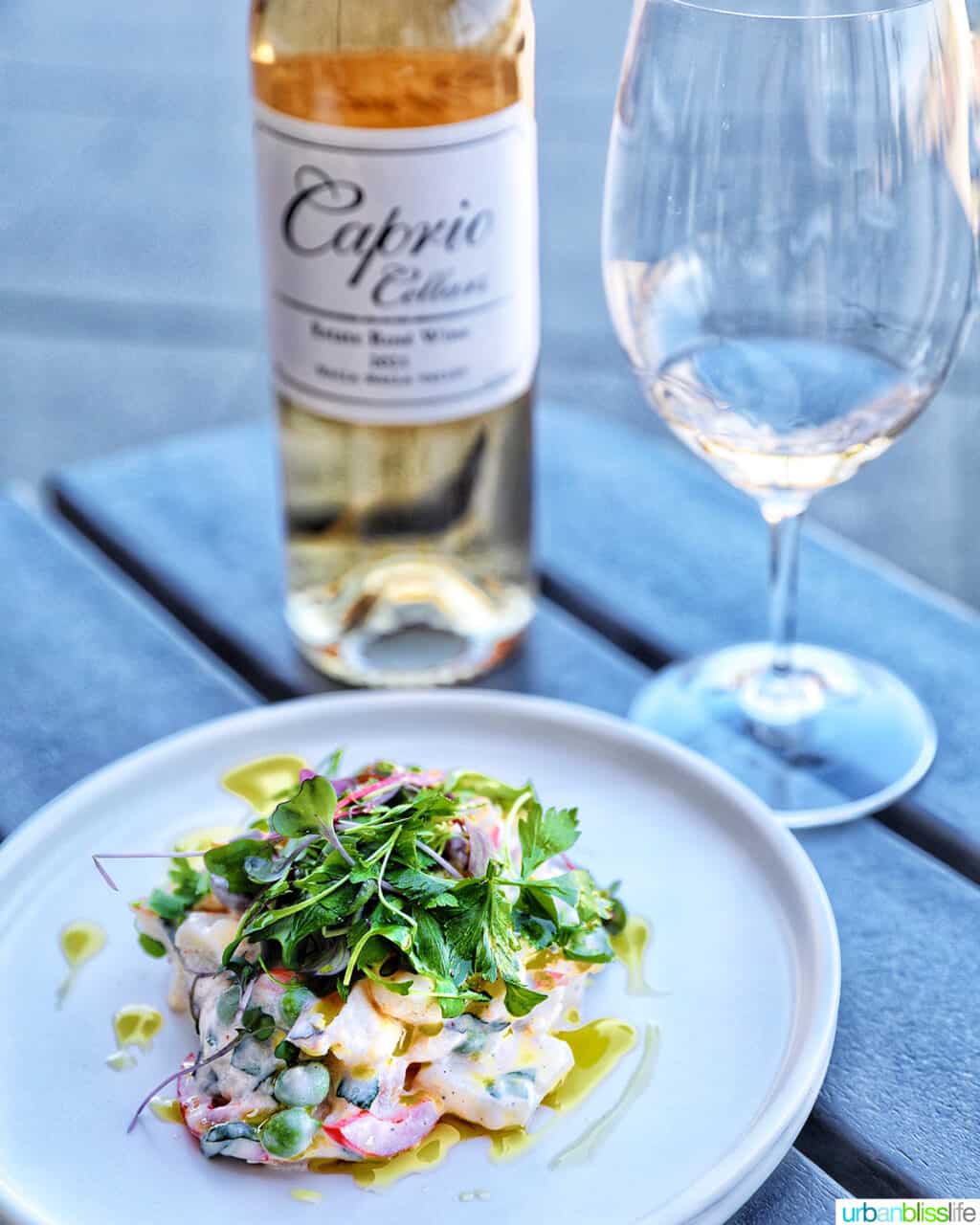 The 2021 Estate Rosé ($32) is made with 100% Cabernet Franc grapes from Sanitella Vineyards, one of three Caprio Cellars estate vineyards. Aged in stainless steel, this light salmon-colored wine has lovely light floral and watermelon aromas and summery red fruit flavors.
This delightful rosé was paired with a playful spiced red potato salad. With greek yogurt, amazingly fresh English peas, red grapes, and micro celery (AKA celery microgreens), there's a nice balance of textures. This makes what tastes like a light and refreshing salad feel hearty and satisfying.
🦐 Estate White Wine with Poached Prawn Nicoise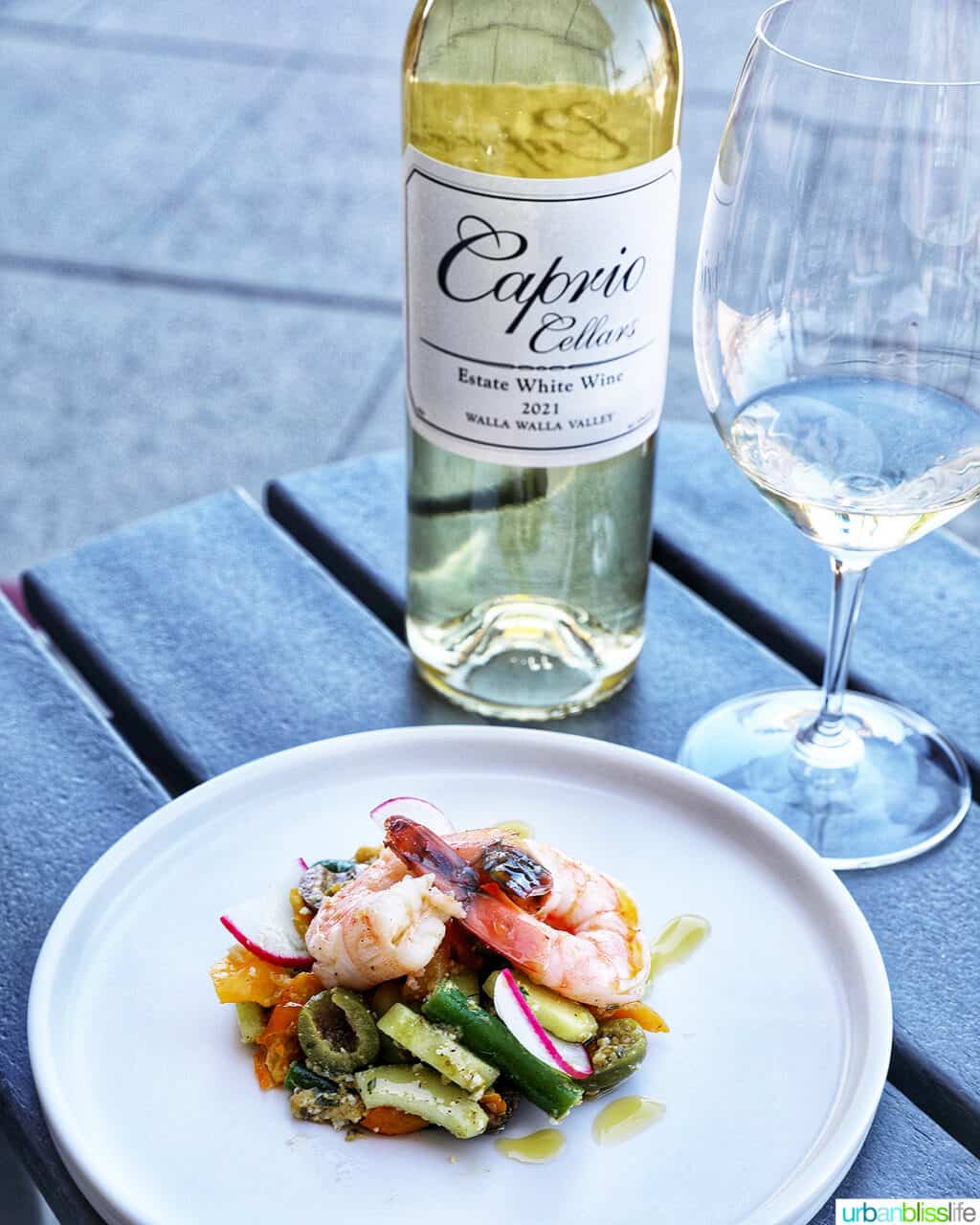 The 2021 Estate White Wine from Caprio Cellars ($32) is made with grapes also from the Sanitella Vineyard. It's made from 72% Sauvignon Blanc and 28% Semillion, giving it some nice acidity and minerality, with soft light tropical and apple notes.
Chef Williams pairs this wine with a medley of cucumbers, green beans, radishes, olives, roasted tomato, and succulent shrimp. It's tossed with sauce gribiche, which is a French sauce made with emulsified egg yolks and mustard.
🍒 Red Label Cabernet Sauvignon with Castoldi Farm Beet Agrodolce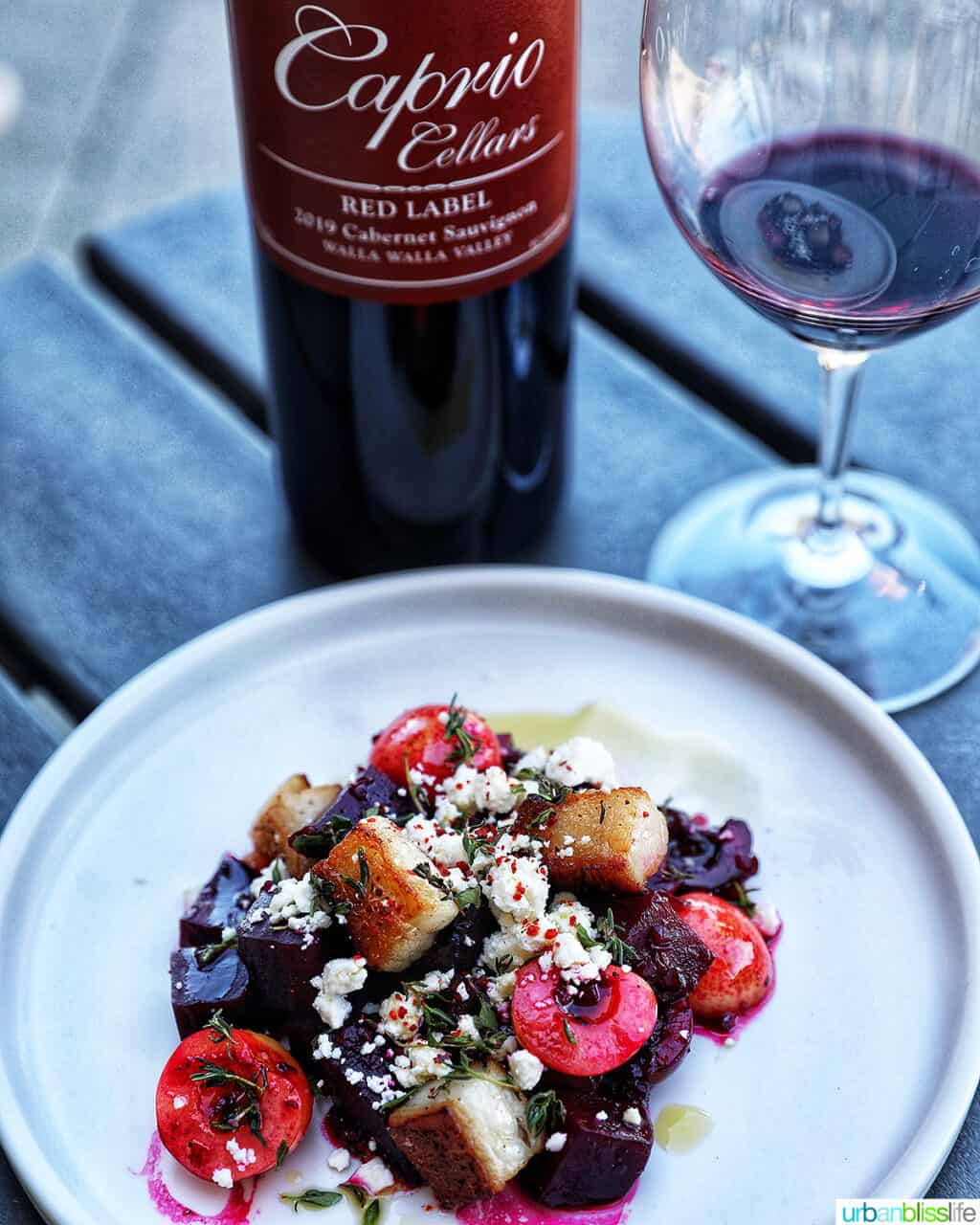 The 2019 Red Label Cabernet Sauvignon ($48) was our favorite wine of this tasting. The aromas and flavors of black cherry and violet paired deliciously with the Castoldi Farm Beet Agrodolce prepared by Chef Williams.
This stunning final food pairing was another study in complimentary textures and flavors. The softened beets joined sweet local cherries, caramelized fennel and thyme, golden raisins, and crispy smoked pork belly. It was as enjoyable to devour as it was to gaze at.
🍷 Family member exclusive wines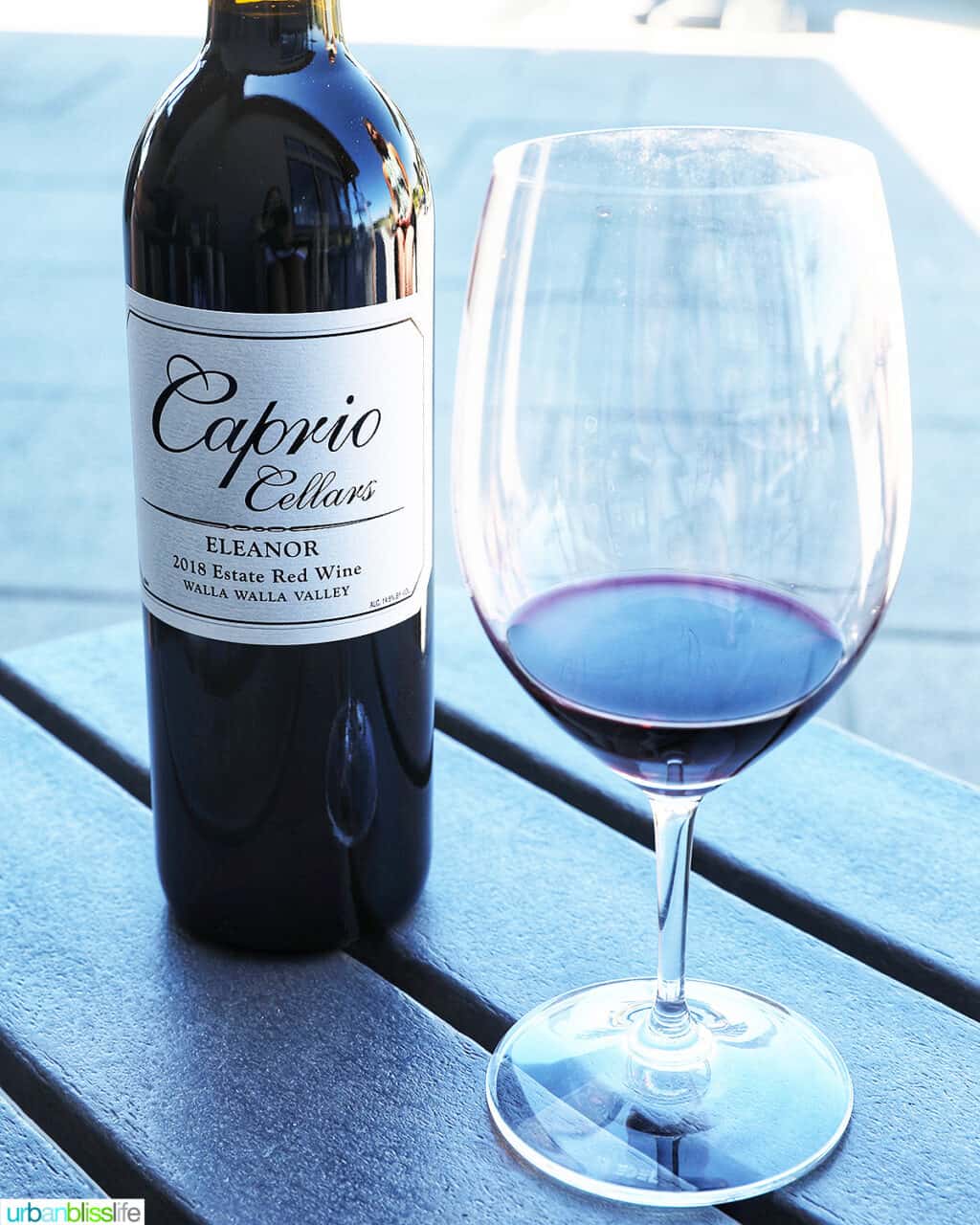 Caprio Cellars currently produces 2,200 cases of wine per year. They have plans to increase production up to 4,000 over the next few years.
The wines offered in the tasting experience reflect the current release wines - usually a rosé, a white, and a red. There are also two other wines of note made by Caprio Cellars: The Eleanor and the Sanitella. Both are blends of the four red varietals grown on estate vineyards.
Eleanor Vineyard (planted in 2005) and the winery's Eleanor red blend wine, are named after owner and winemaker Dennis Murphy's late grandmother, Eleanor Caprio. The 2018 Eleanor Estate Red Blend ($60) is a blend of 62% Cabernet Sauvignon, 20% Merlot, 12% Malbec, and 6% Cabernet Franc.
This wine is sourced from all three Caprio Cellars estate vineyards: Octave Vineyard, Eleanor Vineyard, and Sanitella Vineyard. It's a higher tannin, rich bold red with soft cherry and earthy undertones. With a nice lingering finish, I suspect this wine has some nice potential to become even more complex with age, but it's also fantastic to drink now.
Sanitella Vineyard (planted in 2015) and the winery's Sanitella red blend wine are named after Murphy's great grandmother, Sanitella Caprio. The 2019 Sanitella Red Blend ($88) is a wine club exclusive, and is also a blend of Cabernet Sauvignon, Merlot, Malbec, and Cabernet Franc.
🪑Indoor and outdoor seating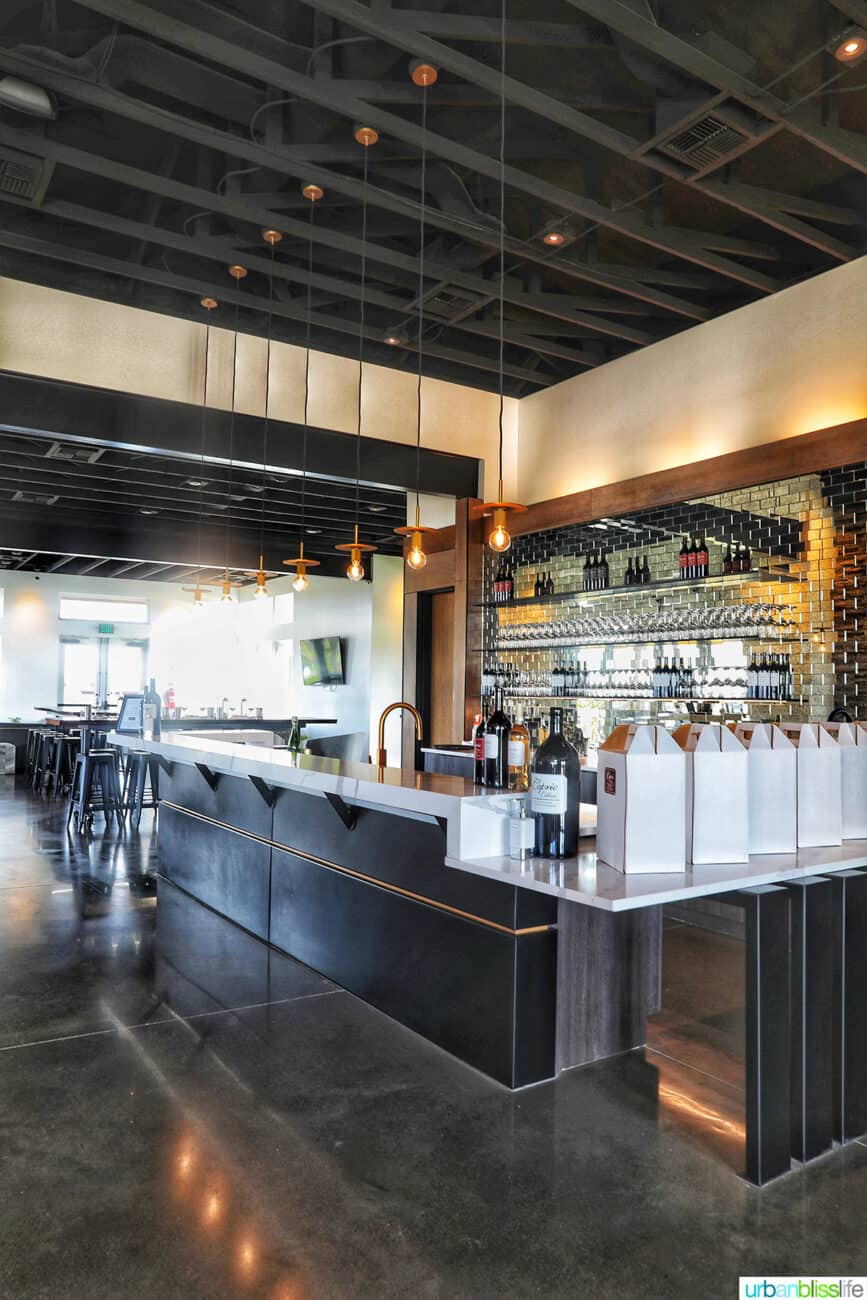 As a home builder, Murphy has created a modern, inviting tasting room with the comforting touches of home. You have a variety of seating options from which to choose, both inside and outside of the tasting room.
The inside is spacious, with a variety of table arrangements and couches available.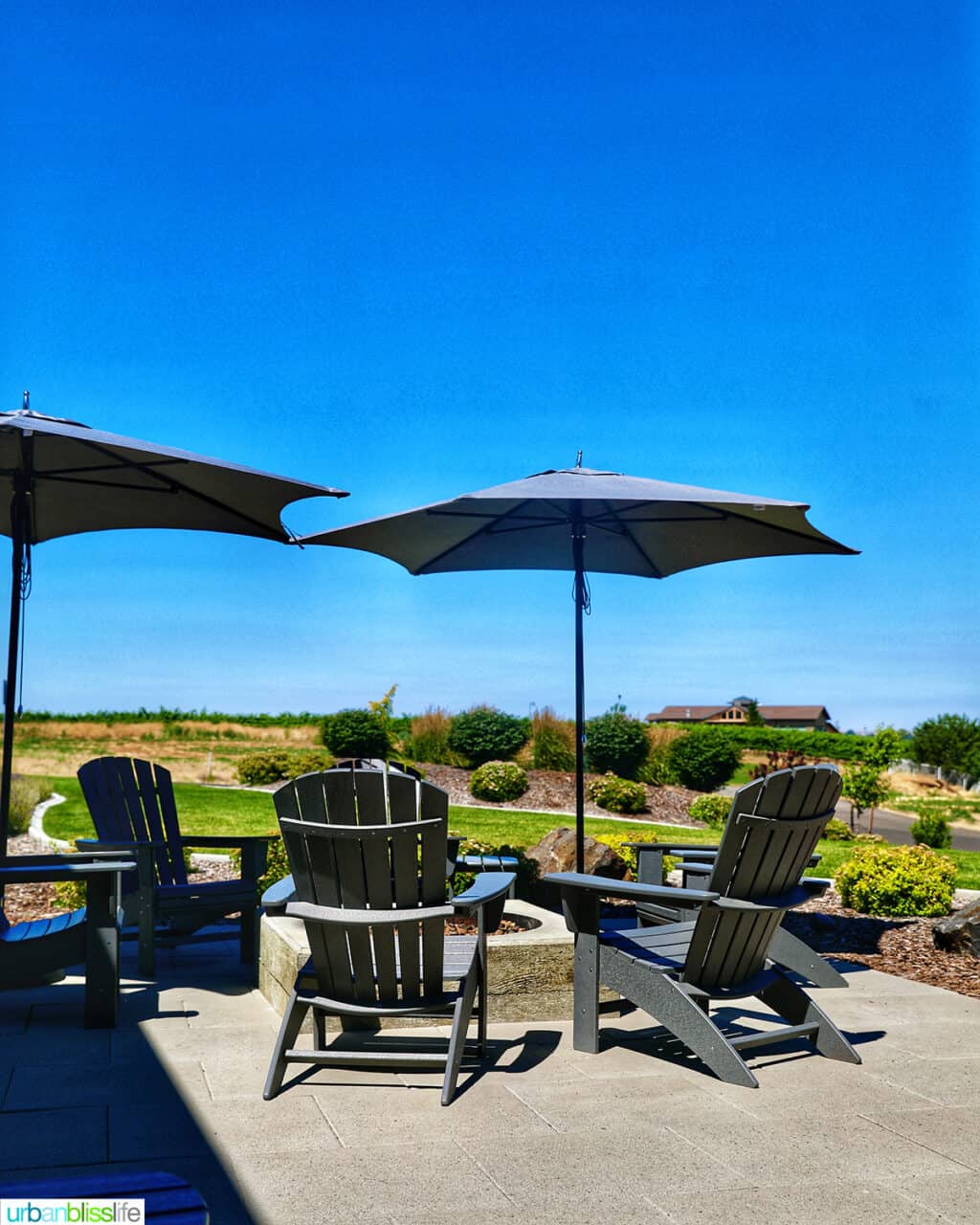 Outside seating options are plentiful, with intimate adirondack chair seatings for parties of two, to larger adirondack group seatings around fire pits.
There are also high-top bar tables and chairs and traditional outdoor tables and chairs available. Outdoor seating is spread around the entire building, which allows for some nice privacy between groups.
🍇 Winery FAQs
What is the dress code for this winery?
Similar to other Walla Walla wineries, the dress code is casual to business casual. The tasting room is mostly on flat land with no stairs, so heels are fine here unless you venture out into the vineyard for a tour. If you're visiting more wineries, I still suggest wearing wedges, flats, or sneakers.
Is there a tasting fee?
All tastings are complimentary, and include small bites. I personally find the portions big enough to cover lunch for two. However, if you have a larger appetite like my husband, you'll likely find the food pairings to be a delicious snack in-between your meals elsewhere.
Are reservations required?
Yes, tastings are by appointment only. They are available daily at 11:00am, 12:30pm, 2:00pm, and 3:30pm.
Is this winery kid-friendly?
Yes. I've known people to bring their kids here and they've had great experiences. There is a lot of space for kids outside. And, there's good comfy seating inside as well.
Is this winery dog-friendly?
Yes. Friendly, well-behaved leashed dogs are welcome to stay with their owners at all times. Be aware that other winery dogs may be on the premises.
Is there outdoor seating?
Yes! Caprio Cellars has several different options for outdoor seating. There are larger group seatings around fire pits. And there are high-top bar tables, and standard four-top tables surrounding the tasting room building.
🍇 Visit Caprio Cellars
1603 Whitely Rd
Walla Walla, WA 99362
509-412-3054
info@capriocellars.com
For more information or to reserve your tasting experience, visit the Caprio Cellars website.
More Walla Walla wineries
Walla Walla hotels
Best Walla Walla restaurants
Walla Walla, Washington is definitely a foodie town. With new restaurants popping up and local culinary talent abound, there are so many great places to eat!