The Walla Walla Courtyard Marriott offers wine country travelers a modern, comfortable place to stay within walking distance of restaurants, wine tasting rooms, and shops.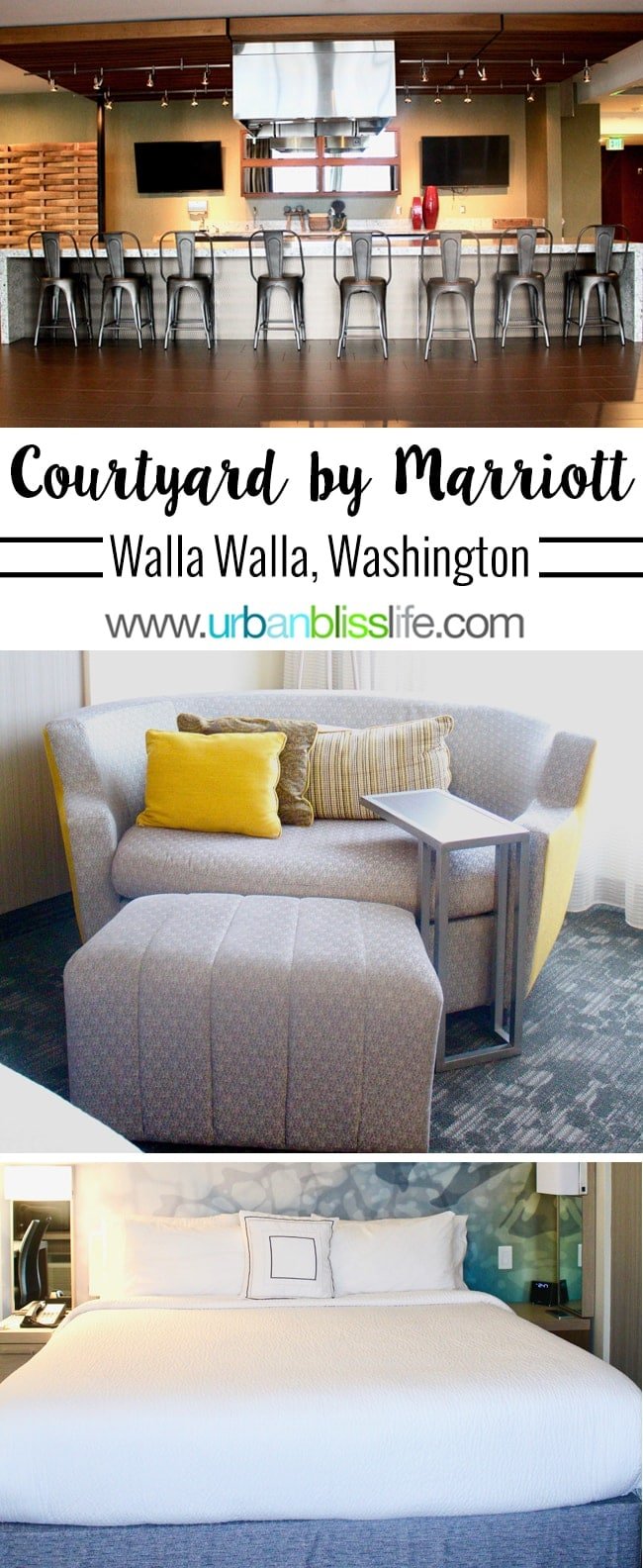 As Walla Walla, Washington wine country continues to grow, you'll find a nice variety of lodging options. I've stayed at the adorable and cozy Sapolil House during one girls' weekend wine country getaway to Walla Walla.
During my most recent couples' weekend getaway with my husband, we stayed at the Courtyard by Marriott.
Walla Walla Courtyard Marriott
If you haven't been to a Courtyard by Marriott hotel recently, I definitely encourage checking it out. I've been impressed in the past two years by not only the modern furnishings and interior design work in Courtyard by Marriott hotels I've stayed in around the United States, but also the level of service.
The Courtyard by Marriott in Walla Walla has several large gathering areas for guests on the main floor.
There are casual lounge areas where your group can gather or you can sit solo and enjoy your morning cup of coffee while reading the newspaper.
There is also a business center area that has a slight separation for partial privacy. Here you'll find community computers and charging stations, as well as a small meeting area.
The Exhibition Kitchen is a cool addition to this Courtyard by Marriott. Here, you can enjoy local wines and cooking demonstrations. Be sure to ask the front desk if there will be any kitchen demonstrations during your stay.
The main dining room is larger than the dining rooms at a few other Courtyard by Marriott hotels I have stayed at. You can order breakfast and dinner at the Bistro and either take it to go, or enjoy your meal in the spacious dining room.
Guest rooms
My husband and I stayed in the standard Guest Room with one king bed.
Each Courtyard by Marriott guest room is decorated slightly differently.
Ours had a main wall with abstract art in soothing cool blue hues. The king bed was comfortable for two nights' stay.
My favorite piece of furniture in our guest room was the contemporary half-moon sofa bed. I loved the contrast of the bright yellow with the cool grays and blues in the room.
Each guest room also has at least one desk area, mini fridge, flat screen TV, and built-in charging stations.
There is also a coffee station with Keurig machine in each room.
Details
What makes this Courtyard by Marriott truly wonderful for a wine weekend getaway are all of the details throughout the hotel - especially in the guest rooms.
The warm throw pillows and lumbar pillows add a comforting touch, making each guest room feel like a little home away from home.
I also loved the complementary but striking patterns throughout, such as this modern design on the standing lampshade in our guest room.
Stay
The location of the Walla Walla Courtyard Marriott can't be beat. It's close enough to walk a few blocks to wine tasting rooms, restaurants, and cute shops along Main Street. It's also close to freeway exits and entrances, but far enough away from the busy intersections that it's super quiet and peaceful during your stay.
We really liked our stay at the Walla Walla Courtyard by Marriott. The staff was kind and helpful, and it really felt like a comfortable little home away from home.
Guest room rates vary between approximately $110 and $175 per night, depending on the night(s) and the season. It's super reasonable for a great place to stay!
550 West Rose Street
Walla Walla, Washington 99362
Reservations: 1-509-876-8100
Courtyard by Marriott Walla Walla Website
Our stay was complimentary thanks to Visit Walla Walla and the Walla Walla Courtyard Marriott. All opinions and photos are my own.
More Walla Walla wine
Where to Eat & Drink in Walla Walla, Washington