The boutique AC Hotel offers sophisticated travelers a modern, artistic retreat in the heart of downtown Portland, Oregon.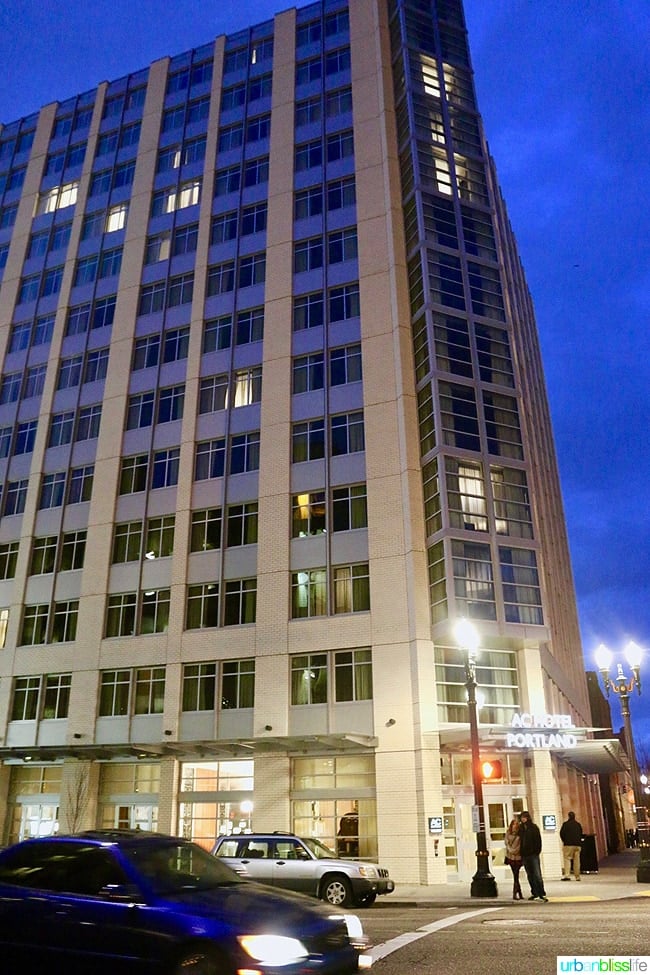 If you have traveled even a bit over the past few years, you'll likely have noticed that most large hotel groups have several brands within the main brand. Some hotel groups call them "lines" others "collections," but the idea is the same: create mini-brands within the same company to offer distinctly different types of travelers different experiences... all while maintaining the core brand values and customer service.
Marriott International has done this with their Courtyard by Marriott experience hotels, which are contemporary but warm and cozy. We enjoy the Courtyard by Marriott hotels when we are traveling as a family, since there are large gathering spaces and the rooms are designed to feel more like a comfortable retreat. Read about our latest stay at the Walla Walla Courtyard Marriott.
And, most recently, they have created the AC Hotel experience, new boutique hotel in downtown Portland.
Boutique hotel Portland - AC Hotels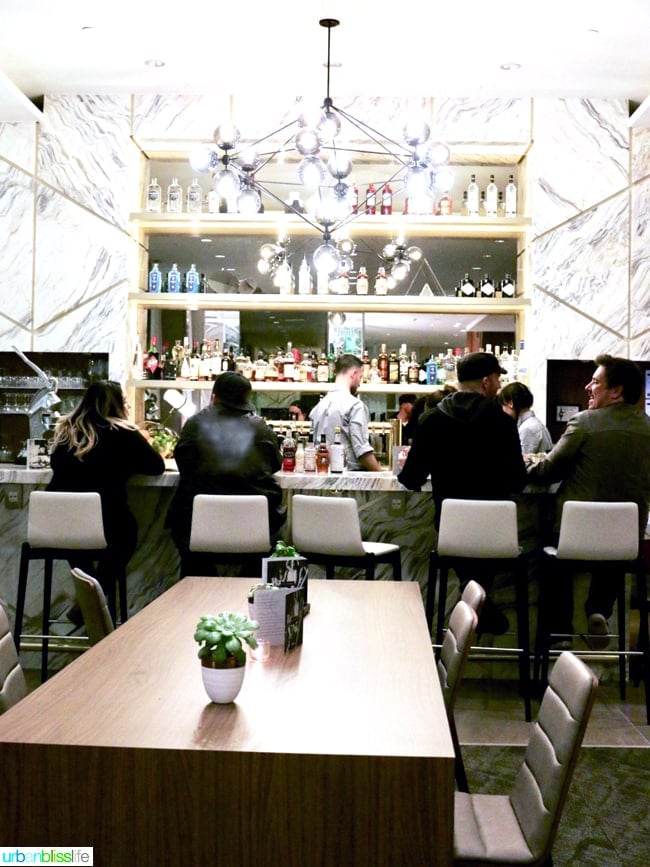 Named after its founder, Antonio Catalán, a Spanish hotelier, the AC Hotel brand is a European-style line of boutique hotels largely aimed at Millennials and business travelers. AC Hotel Portland is one of the first AC Hotels to open up in the United States, and officially opened on February 20, 2017. The hotel will celebrate tomorrow, April 13th, with a grand opening event.
While it is an excellent hotel for Millennial travelers and business travelers, my family and I had the opportunity to experience a complimentary stay there. If you have older kids like we do (ages 10 and almost 13), it's a nice central place to stay and enjoy downtown Portland!
AC Hotel overview
The AC Hotel Portland is located right in central downtown Portland on the corner of SW Third Avenue and Taylor. It's within walking distance to excellent restaurants, like Q Restaurant and Bar, Departure restaurant, and one of my kids' favorite spots downtown, The Yard House.
The interior of AC Hotel Portland is sleek and minimal, with the AC Lounge and breakfast areas to the left of the lobby.

It's also within walking distance from Pioneer Square, Portland's large outdoor "living room," and Pioneer Place, a large downtown shopping mall.
The lower level, which houses the Fitness Center, among other gathering spaces, has some lovely seating arrangements that are perfect for travelers to quickly sneak some emails in or even to just sit and enjoy some peace and quiet before heading out to the busy downtown streets.
This hotel is beautifully designed and decorated, with modern touches throughout the hotel, which I will elaborate on in a bit. First, let's take a look at the guest rooms.
Guest rooms
The AC Hotel Portland has 13 floors with 204 rooms. There are three main types of guest rooms here:
King bed
King bed with sofa bed
Two queen beds
There are also some King bed rooms that are Corner Rooms (more privacy) and some that have a river view. Depending on the nights you travel and the season, rooms are generally between $125 and $200 per night.
The double queen bed guest room we stayed in was spacious enough for our family of four. While many downtown hotels offer teeny tiny rooms, I was rather impressed by the size of our double room. There was enough room for the kids to roam about, with a few different seating options throughout the room.
It was minimally decorated - no muss, no fuss. Just clean lines, black and white, and some interesting local artwork on the walls. My kids loved the wood floors, which were more of an interesting grey color than they appear in the nighttime photo above.
And, they LOVED the view of downtown Portland from our room on the 13th floor.
One thing that impressed me was the lack of noise we usually hear and have come to expect from staying in downtown hotels. Granted, we were on a higher level, but we were able to get a great night's sleep at the AC Hotel Portland. The blackout shades are perfect for downtown, and the walls were built to really drown out the noise of the surrounding busy downtown streets.
Local cuisine
Each AC Hotel throughout the country features specialty food and beverage companies local to the area.
At the downtown Portland hotel, you can wake up and wander downstairs to the AC Coffee Shop in the lobby. Here, you can enjoy local Water Avenue Coffee from this cool-looking coffee stand. You can also pick up local teas, fruit, and a small selection of pastries to go.
If you have time in the morning before you jet off to a day full of meetings or sightseeing, you can add-on a breakfast package in the breakfast room. Those start around $15 per person.
At night, the AC Lounge offers travelers a large area to rest, catch up with friends, and enjoy some light bites and tasty beverages. My husband and I enjoyed delicious local wine and beer during our stay here. Each week, the lounge offers a signature craft cocktail inspired by a local ingredient and using local spirits.

Local art
Each AC Hotel works closely with local artists to truly give visitors a good feel for the city in which they are staying.
Our daughter, who is an avid artist, really loved the backlit flora & fauna installation across from the AC Lounge.
This bright, vibrant pencil installation, however, was our family favorite of the art pieces.
Fitness center
Even though we only stayed here for one night, my family loved working out in the AC Hotel's Fitness Center.
Located on the lower level, the fitness center is actually a decent size for a central downtown hotel, and it has everything you need to stay in shape while you are traveling. There are several treadmills, ellipticals, a full body workout station, weights, Bosu balls, towels, water stations, flat screen televisions, and more.
Visit
I recommend the AC Hotel Portland for single travelers, couples, and friends visiting Portland. If you have babies or toddlers, this might not be the best hotel choice for you. However, if your kids are about 9 and older, and you plan to walk around downtown, this is a fun hotel. Our kids loved all of the art, especially, and the modern furnishings.
The location can't be beat - you're within walking distance of so many great spots, and in the heart of easy public transportation. While there is no shuttle service offered by the hotel, you can park for $40 per night if you choose to drive here or rent a car.
888 SW Third Avenue
Portland, OR 97204
Reservations: +1-503-223-2100 or 1-844-200-1028
AC Hotel Portland Website
More travel ideas
Travel Bliss: Where to Stay in Amsterdam
Travel Bliss: prAna Travel Clothing
Hotel Review: Walla Walla Courtyard by Marriott
Hotel Review: The Chateaux, Park City, Utah
Hotel Review: Outrigger Waikiki Beach Resort, Oahu, Hawaii
Thanks to the AC Hotel for providing our family with a complimentary one-night stay. As always, all opinions and photos are my own.