Portland's Q Restaurant and Bar is one of the best things to happen to downtown Portland in a long time.
Downtown Portland, Oregon is an interesting collage of businesses. It's a mishmash of big business and tech startups, fine dining and old school diners, vacant spaces with seemingly forever For Lease signs and food cart pods. It's where people go to work but not necessarily to play.
A few new restaurants opened in downtown Portland last year. My favorite: Q Restaurant and Bar, which opened in November of last year.
Q Restaurant & Bar
Located in the heart of downtown Portland, Q is open daily for lunch and dinner, and weekend brunch.
Stepping in from loud, busy downtown 2nd street, you are greeted by a warm, inviting atmosphere. There are two main dining areas: the first has a long bar (perfect for after work drinks and bites!) and row of tables. You then wind the corner to another dining room with tables for larger groups and chef's counter dining.
Q is run by Executive Chef Annie Cuggino, who was the culinary goddess behind the 20+ year transformation of the former Veritable Quandry (VQ) into a Portland institution. Together with former VQ teammates Sous Chefs Victor Martinez and Natalie Gullish, Cuggino serves "hyper seasonal food, sourced locally."
The menus change daily, based on what's available and in season. Each plate is a satisfying combination of flavors and artful presentation.
Here's a look at what my friends and I enjoyed during a media dinner.
Starters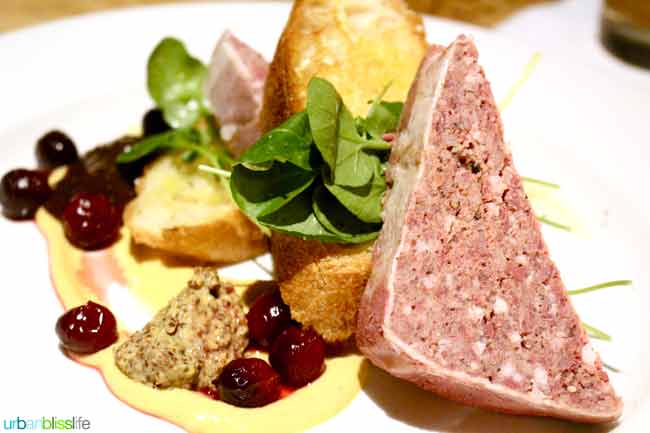 House Made Rabbit Pâté ($15) with prune jam, two different mustards (Dijon and a Stone Ground Mustard), house pickles, and toasted baguette. I definitely recommend this starter if you enjoy pâté.
The chef also brought out a plate of beef carpaccio for us to try. The thinly sliced beef was delicate and delicious.
There is usually a seasonal Artisan Cheese Plate ($22) available. During our meal, we enjoyed the winter burrata with roasted pumpkin, aged balsamic, honey, and crispy copa.
Dinner Entrees
My friend ordered the Buttermilk Chicken ($27) which was served with white cheddar biscuit, candied pecans, and a warm bacon bourbon vinaigrette.
Oh my. THIS was it.
This was the dish that put me over the edge into the I HEART Q 4EVER category.
My favorite dish, the dish that I have been dreaming about ever since devouring it in all of its delicious glory, is the lobster and scallops-filled ravioli. In a luscious cream sauce that probably made my dairy-sensitive self break out two days later, but I don't care. WORTH IT. I can't wait to suffer through this divine dish again and again this year.
Once again, please keep in mind that the items pictured here may not be available the day you dine at Q because their menu changes regularly. However, they give you a good idea of the types of dishes you can expect to enjoy here.
Lunch and Brunch
The lunch crowd can look forward to soups, salads, and sandwiches, as well as daily entree specials such as House Made Saffron Spaghetti alla Chitarra ($18) and Petit Hanger Steak with Asian Rub ($18).
I also look forward to trying Q's Weekend Brunch someday. Brunch classics such as Brioche French Toast ($14) and the Q Burger ($15) co-mingle on the menu with Corned Beef Hash & Over Easy Duck Egg ($18) and Rain Shadow El Rancho Poached Egg* & House Bacon Salad ($15).
Drinks and Dessert
The wine, beer, and cocktail list is excellent. I enjoyed a glass of my favorite Soter Vineyards Brute Rosé, but just like the food menu, the wine list changes.
And you MUST try their chocolate soufflé. It's the sweetest ending to an outrageously divine meal!
Final Thoughts
Q is the kind of restaurant I personally love and find myself recommending to anyone and everyone. It's refined elegance that still holds a casual Pacific Northwest vibe... upscale without being stuffy. Q is the ideal place to meet up with a friend for drinks after work, absolutely ideal for date night, and also an excellent spot to take out of town guests who want to enjoy local cuisine. Wear your best dress or wear your best jeans - just come hungry and you will leave happy!
Now I just need to go back and take photos during the day so you can see the food in better lighting :) When I do, I will come back and update this post!
Visit Q Restaurant & Bar
828 SW Second Ave.
Portland, Oregon 97204
503.850.8915
www.q-portland.com
HOURS:
MON - FRI: 11:00am to 10:00pm
SAT-SUN 9:30am to 10:00pm

Reservations accepted online for parties of four and under; for parties of five or more, call the restaurant directly.
Many thanks to Q Restaurant and Bar for the invitation to a media preview of Q's grand opening. As always, all opinions and photos are my own. I think you will LOVE Q as much as I do!