Hood River, Oregon is a scenic, growing Pacific Northwest city 40 miles outside of Portland. It has so much to offer travelers seeking outdoor adventures, as well as local craft beer and wine. Here are some of my favorite things to do in Hood River...
Hood River, Oregon is an outdoor adventurer's paradise.
Located just about 40 miles east of Portland, Oregon, Hood River is a haven for windsurfers, hikers, mountain bikers, craft brew enthusiasts, wine lovers, and artists. Long established as an agricultural region, fourth and fifth generation families still farm in this area. Hood River continues to produce some of the state's tastiest apples, pears, cherries, and multitudes of other fresh fruits and vegetables. Meanwhile, the city center is expanding as more and more craft breweries, restaurants, and wineries decide to call Hood River home.
Things to do in Hood River, Oregon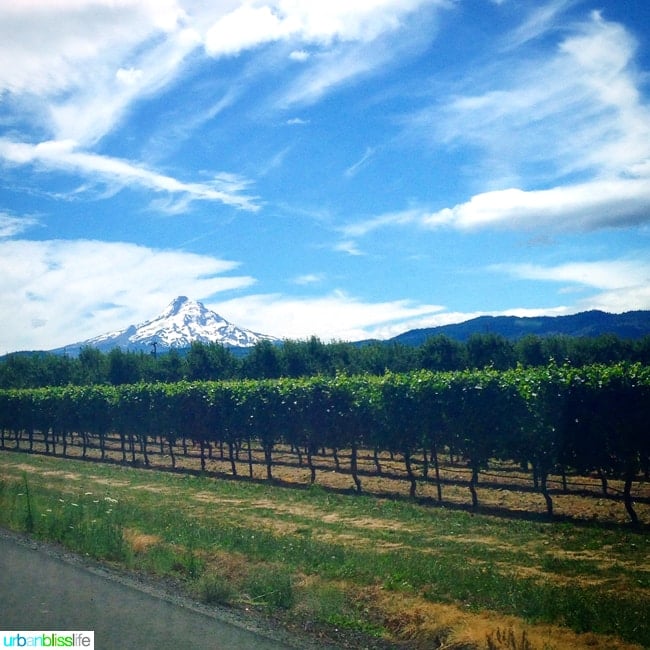 Because Hood River is in-between the city of Portland and the state's iconic mountain, Mount Hood, many travelers come here to take advantage of its outdoor activities.
1. Visit the Waterfront
Hood River Waterfront Park is located just off of Interstate 84 Columbia River Highway, at exit 62. In recent years, this area has been booming. The waterfront has developed into a gorgeous, spacious park that sits along the banks of the river.
Here, on almost any given day, you can sit and watch masses of windsurfers and kiteboarders. The wind tunnel along the Columbia Gorge in Hood River, Oregon creates an ideal water recreation environment here.

Hood River Waterfront Park has tons of fun play structures for kids of all ages. There are tunnels the kids can run through, bridges they can cross, webs they can climb, and a large xylophone I've seen adults play more than kids. There's also a large climbing rock on top of a softened turf. It really is the perfect place to let the kids play off some energy while parents soak up the beauty of the Hood River waterfront.
There is also a small beach with shallow wading area. It's a fun spot to cool off on hot summer days.
2. Check out the Fruit Loop
Another one of my favorite things to do in Hood River is the Hood River Fruit Loop, a 35-mile stretch packed with beautiful working orchards, wineries, farms, breweries, cideries, farm stands, and more. Simply print out the map and select a few places you'd like to visit, and then hop in the car for a fun day trip!
I especially love the Hood River Fruit Loop during the summer. This is when we can visit the alpacas and go wine tasting (see below for both), and then stop by some U-Pick farms to pick fresh Oregon strawberries (the best!), blueberries, raspberries, and more. During the fall, you can pick fresh apples and pears. So tasty!
The Kiyokawa Family Orchards is my favorite of these farms. They are closed for the season, but they open up again July 1, 2017. I'll have a full post on this beautiful and bountiful orchard later this spring, closer to then they are ready to open for the season.
3. Make Some Alpaca Friends
Alpaca farms in Oregon are just the best, and they come in at number 3 on my list of things to do in Hood River. You'll see alpaca farms throughout the state, dotting the countryside. The Cascade Alpacas of Oregon is just a few minutes outside of Hood River city center.
These furry, fluffy animals are so ridiculously adorable! The little guy you see in the photo above? He was ONE DAY OLD when we visited and I snapped that photo. It took all my strength not to try to bring him home with me.
They have beautiful views and you can feed the alpacas while you are there!
4. Savor the Local Food Scene
As Hood River continues to grow, you'll find so many fabulous new options for dining now. Most cafes and restaurants are casual, but there are a few where you can dress up if you're feeling a little fancy. Most places are also family-friendly.
pFriem
pFriem (pronouned "freem") is my favorite place to eat and drink in Hood River, Oregon. It's grown so much since it first opened, so there's a wait now if you dine here at peak meal times. However, it's worth it. The beer is solid and there's always an option that peaks my curiosity because it's so different and experimental compared to other area breweries. The food is amazing. Get the mac & cheese here (pictured above) - it's SO rich, buttery, cheesy and loaded with texture from the bacon panko breadcrumbs.
Celilo
If you're looking for a nice special occasion meal or an excuse to dress up a bit in Hood River, dine at Celilo Restaurant and Bar. Now, since it's Hood River, casual attire is absolutely acceptable here - but you can also dress up, too. The chic decor and elegant menu stand out. They focus on fresh local ingredients and elegant dishes.
Apple Valley BBQ
Apple Valley BBQ is technically outside of Hood River, in the small town of Parkdale. However, you may pass by it on the way to Mount Hood, or on your way back from visiting one of the area farms, so I'm including it here. It's a super casual, side of the road BBQ joint with excellent ribs, fries, and coleslaw. They have a good selection of other food and drink, but really: get the ribs!
Solstice Woodfire Cafe

Solstice Woodfire Cafe is right along the waterfront business area, and serves up - what else? - fantastic wood-fired pizzas. You'll also find delicious soups, salads, sandwiches, and more here. It's a bustling, casual, fun spot if you and your family are spending some time across the street playing on the waterfront.
5. Drink in the Local Coffee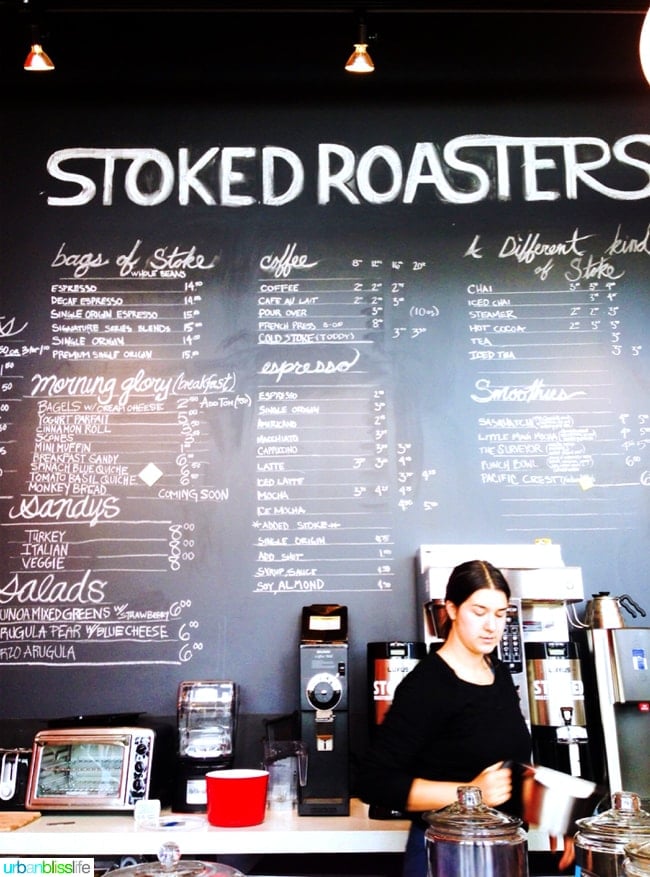 Also right across the street from the Waterfront Park is Stoked Roasters. This coffee shop is hip and modern, with not only my favorite coffee and espresso drinks in town, but also excellent smoothies (Bliss Kids approved!). You can also choose from a small selection of tasty lunch sandwiches and salads, as well as yummy morning pastries.
6. Taste the Local Wines
Coming in at number 6 on my list of things to do in Hood River: Wineries! The Hood River/Columbia Gorge area is home to more than 25 wineries - and that number keeps growing. This area tends to produce wonderful red wines, but there are also some stand out white wines and rosés as well. Some highlights include Marchesi Vineyards, Cathedral Ridge Winery, Springhouse Cellars, and Maryhill Winery, which is technically across the river in Goldendale, Washington.

My favorite of all of the Hood River wineries: Phelps Creek Vineyards
We were wine club members at Phelps Creek Vineyards for several years. In my opinion, they produce some of the best wines in this area. You get beautiful views from their highest vineyards (be sure to sign up for a full tour and tasting for this view), and the most elegant Pinot Noirs in this area.
7. Buy a Beer or Two
Hood River is also a haven for craft beer, with more breweries opening up locations in this destination town. Currently, there are five main breweries in central Hood River, with a few more in surrounding towns.
Full Sail Brewing
Full Sail Brewing was established in 1987, and is the oldest and largest brewery in Hood River. You can grab a delicious meal along with their award-winning beer while looking out at views of the town and the Washington mountains and hills across the river.
Double Mountain Brewery
Double Moutain Brewery, founded in 2007, is a fun brewery that has lots of seating, and excellent beer. You can also, like the other breweries in town, grab a bite to eat while enjoying some of their craft brews.
pFriem
pFriem is one of the newer breweries, having sprouted up along the budding waterfront area in 2012. It's honestly my favorite spot to eat and drink in Hood River, Oregon. It's super kid-friendly, the food is delicious, and there is always a good variety of beer to try. Plus: can't beat the location right across from the Hood River Waterfront Park.
8. Chill Out with Some Cider
In the land of incredibly fresh apples, it's no surprise that there are some great cideries in Hood River. The Gorge White House is my favorite spot to try local house made ciders. You can read about it and view more photos in my recent post.
9. Experience the Local Lodging
I rarely stay overnight in Hood River since it's a quick drive for us from Portland. However, there are numerous cool Airbnbs, some traditional bed & breakfasts (usually not my thing), and larger chain hotels throughout the area.
Recently, during a Hood Gorge press trip with Travel Oregon, we stayed at the Historic Hood River Hotel. This hotel is the oldest in town, and has tons of vintage charm throughout. It's right by the train tracks, which is why they give you ear plugs when you check in. It's good for solo travelers and couples, but the walls might be too thin and the floors a little creaky if you're traveling with the whole family. The bonus of staying here is that you just need to head downstairs for an amazing meal at Broder Øst! And, it's located right off one of the main streets, making it super easy to walk to shops, breweries, coffee shops, and more.
How to Get to Hood River, Oregon
Hood River, Oregon is about 60 miles from the Portland International Airport. To drive here from Portland, simply head east on Interstate 84 toward Mount Hood. Depending on your final destination in town, you'll want to take Exit 62, 63, or 64.
For more information about Hood River, Oregon, visit the Hood River Chamber of Commerce or Travel Oregon.
I visited some of the places featured here during a Hood Gorge press trip with Travel Oregon. However, I do travel to Hood River a few times a year, and love exploring this growing town! As always, all opinions and photos are my own.