Among my favorite Hillsboro Wineries is Blizzard Wines, and their tasting room in one-of-a-kind. It features a large patio, event space, and beautiful views of the Willamette Valley.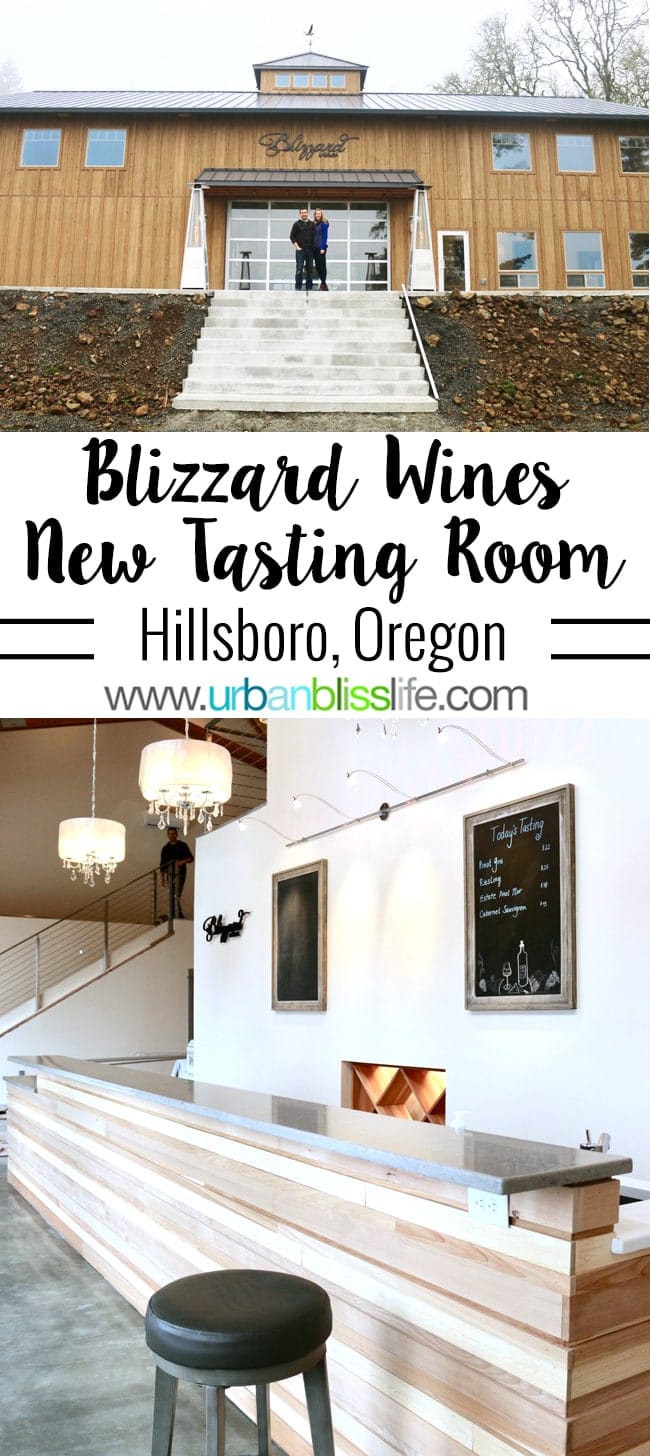 The honor of watching someone else's dreams come to fruition has to be one of the greatest joys in life.
The first time I visited Blizzard Wines in May of 2015, owners Dana and Nick Blizzard had just started the process of planning for their expanded winery and new tasting room. It would be located on the land right next to their current home, which was on the estate vineyard site and also served as the tasting room by appointment only.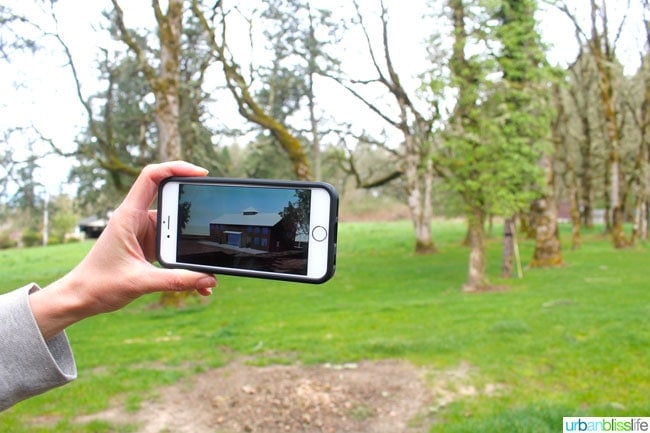 Back then, nearly two years ago, Dana showed me a photo of the plans for their winery and held it up to where it would be located.
Jump to:
Tasting room exterior
In nearly two years, those plans for that land pictured above have turned into this:
Isn't it stunning? What a thrill to see their hard work and dreams become reality!
By the way, that's Nick and Dana Blizzard pictured above, standing in front of the large roll-up door which will open up the space even more during warmer weather.
The Blizzard Wines new tasting room can be accessed by its own driveway, just past the original driveway which led up to their home.
At the top of the driveway, there's a nice size gravel parking lot, with steps leading up to a large patio flanked by two large outdoor heaters.
Even though it was foggy on the day of my recent visit, it was still a gorgeous view. I can only imagine it's even more incredible when the sun is shining!
The outdoor space is going to be a favorite of many Oregon wine lovers, I'm sure, and certainly among the Hillsboro Wineries. This is where I can picture sitting with a glass of Blizzard Wines crisp Pinot Gris, their delicious not-too-sweet Riesling, or their lovely Estate Pinot Noir, snacking on some crackers and cheese, soaking up the unparalleled beauty of the Willamette Valley.
Tasting room interior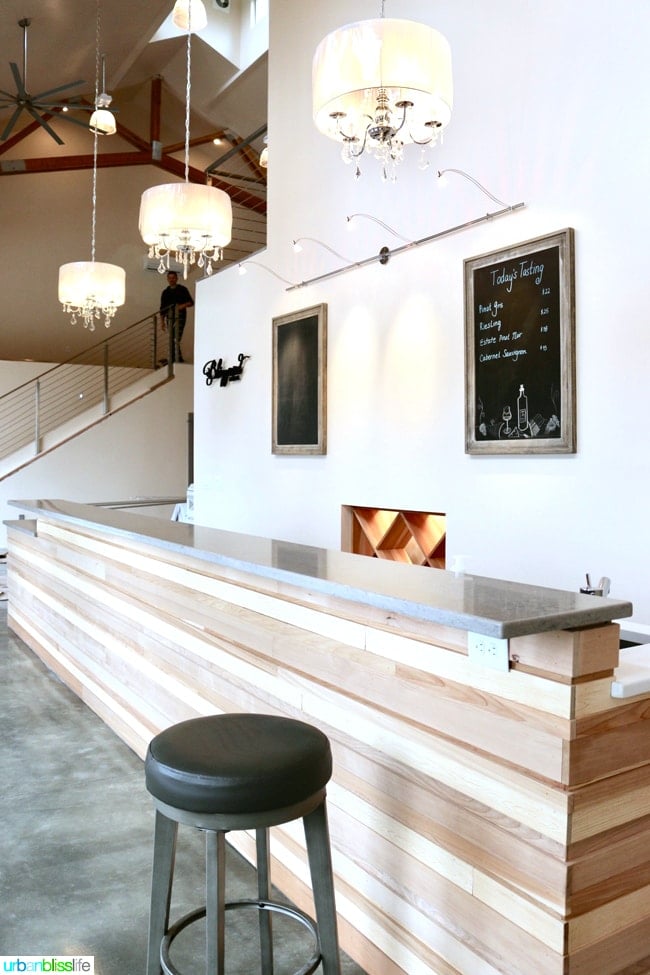 Stepping into the tasting room, you'll see the large tasting room bar. There will be bar stools for regular tastings, which can easily be moved away for events. There's a temperature controlled wine storage in the wall behind the bar, and the service side of the bar includes plenty of custom wine glass storage, a sink, and dishwasher.
Note the outlets underneath the bar - that's always one feature I truly appreciate whenever I go wine tasting. Gotta juice up the ol' phone for all of the Instagram shots you're going to want to take here!
The building has incredibly high ceilings, with beautiful beam work and fans to keep the space cool during summer months and events.
I love the chandeliers that hang over the tasting room bar area, and the floors add a modern industrial feel to space.
The first floor totals about 1200 square feet. That includes the tasting bar and production hall. There is also a kitchen, additional wine storage space, and two ADA compliant restrooms.
Upstairs, there is office space and event space. The Estate Room pictured above is 600 square feet (what you see is just one small corner of it). It will be used for formal seated tastings for up to 20 people. I fell in love with those soft grey chairs and the gorgeous wood floors, which also had to be special ordered.
A labor of love
Nick and Dana have done much of the work themselves, along with friends and family who have helped along the way. In fact, during my last visit, Nick was working on finishing installation of the custom railings the couple ordered from overseas. You can see him peeking out from the second floor in one of the photos above.
The attention to detail and care for quality materials is evident throughout the Blizzard Wines new tasting room. They've added lovely personal touches throughout the space. Each detail makes it feel very warm and inviting.
The Blizzard Wines story
Dana and Nick met in high school, in Oregon, in 1995. Dana's parents purchased the vineyard property in 1981. They began growing grapes which were sold to various local wineries for several years. Dana and Nick were married at the vineyard in 2003, and launched Blizzard Wines in 2011.
The two continue to live in the house on the property with their two children and an adorable Old English Sheepdog named Hailey.
Wine production
When I first met the Blizzards in 2015, they were producing about 1,000 cases of wine. Each year, they increase production by a few hundred. This new facility will help them continue to produce more wine to meet their growing market.
Currently, Blizzard Wines produces an Estate Chardonnay, Pinot Gris, Riesling, Pinot Noir, Cabernet Sauvignon, Carmenere, and a Wedding Blend. The Wedding Blend began when Dana made a special wine for her brother's wedding in 2013. She has continued to make a special Wedding Blend each year since.
The 2015 Pinot Gris ($22) is a crisp white wine with bright apple and pear flavors. I also love the 2014 Riesling ($25). The Blizzard Winds Riesling is off-dry with light peach flavors and a hint of floral.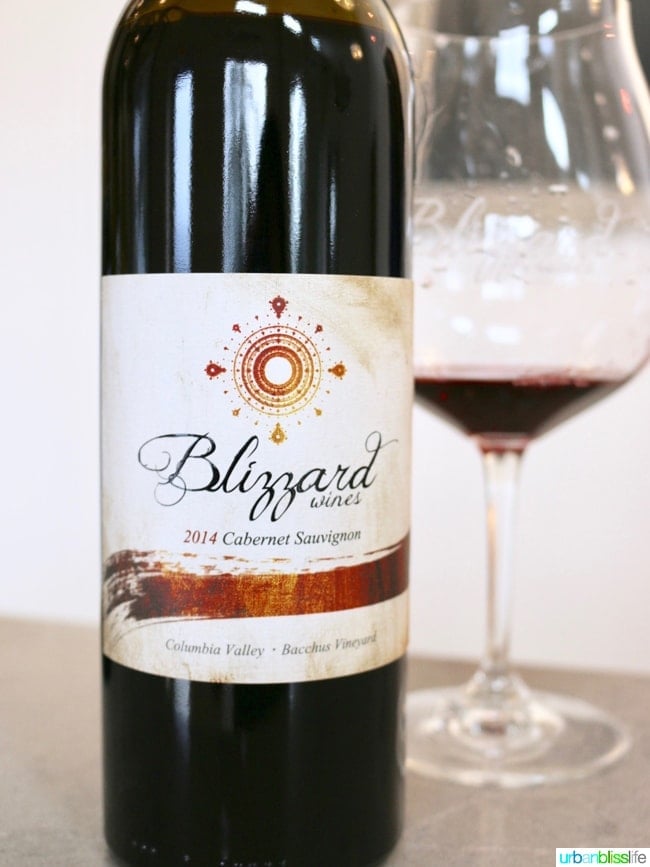 The 2014 Cabernet Sauvignon is a lovely wine for the Pacific Northwest's current grey and rainy weather. This is an elegant, deep red with classic Bacchus Vineyard dark cherry and blueberry flavors.
Visit
The Blizzard Wines new tasting room is located at:
29495 SW Burkhalter Rd.
Hillsboro, Oregon 97123
503.985.6386
http://blizzardwines.com/
Check their website and Facebook page for more information.