Wine Wednesday! It's Wine Wednesday! I feel like skipping through Oregon Wine Country singing "Hooray for Wine Wednesday!" In honor of Mother's Day coming up this Sunday, I'm so excited to share with you the story of a sweet family-owned Oregon winery I had the pleasure of visiting recently: Blizzard Wines, headed up by Oregon winemaker and mom of two, Dana Blizzard.
Jump to:
Blizzard wines
In 1981, Dave and Carol VanSchepen moved to Oregon with their children and purchased land just south of downtown Hillsboro. The property had a small vineyard on it, and the VanSchepen family harvested the grapes and sold them to local wineries each year.
Daughter Dana helped with each harvest, and soon she discovered a passion for the farming and science behind winemaking. After attending the Northwest Center for Wine Studies, she and her husband Nick officially opened Blizzard Wines in 2011.
In chatting with Dana, it's clear that there is a strong sentimental connection for her, running a winery in the house in which she grew up. The original vineyard has been restructured and has expanded to accommodate new vines for greater production, but the house and much of the land has stayed the same throughout the years.
There's something very special about watching Dana talk passionately about her wines while her own two adorable children and the family dogs (also adorable) run happily about the property, and her husband tests the wines in the barrel room. It's the kind of feeling that makes me feel like I'm at home, in their home; a cozy, welcoming atmosphere that I find more common in Oregon vineyards than anywhere else I've been. Blizzard is a special place, indeed, and their wines offer a few surprises that will delight Oregon wine lovers.
The wines
Blizzard Wines produced 700 cases of wine last year, and expects to produce 1,000 cases this year.


Wines are made from grapes on the Blizzard Wines property, which are farmed organically, as well as from other vineyards in Oregon and Eastern Washington.
Blizzard makes a Pinot Gris, Estate Chardonnay, Syrah, Carménère, Riesling, Merlot, Pinot Noir, and Wedding Blend. Wines are priced between $20 and $40 -- an extreme value for the quality and creativity of the wine.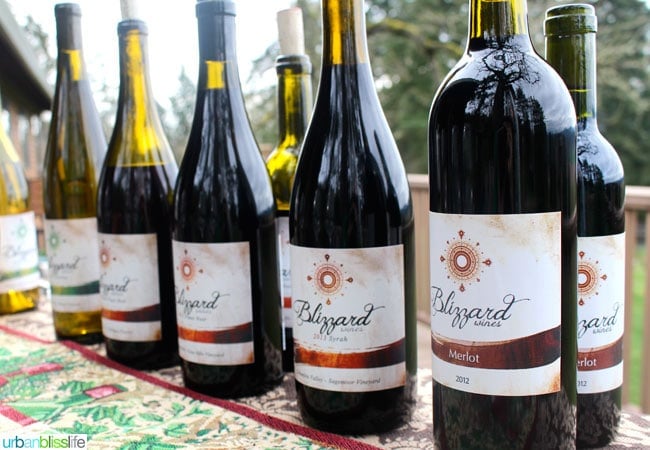 My wine picks
2014 Riesling ($25)
If you know me or read this blog often, you know that I am NOT a fan of Rieslings. They are usually way too sweet for me. Yet the Blizzard Wines Riesling wowed me from first sip. It has elegant floral notes and a smooth finish. There's no saccharine bite to this one, and I love that. I imagine this would be an excellent picnic wine for the summer, since it drinks beautifully on its on and the tamed sugars would make this a great picnic food companion.
2012 Carménère ($32)
Carménére is a grape that I have not been as familiar with, mainly because it is normally used as a blending grape and is not as well-known as other wines from the Bordeaux region. Blizzard Wines, however, has given their Carménére a full showcase in its own bottle, and the result is amazing. This medium-bodied red wine is less tannic than most, and every sip offers a unique taste of different spices.
Coming up
As the vineyard grows, production increase, and interest in Blizzard Wines blooms, the vineyard simply needs more space. Dana and Nick currently are building a new facility, which will sit at the top of the property overlooking the vineyard.
In the photo below, Dana holds up a preliminary rendering of the new facility in front of the land that will house the facility.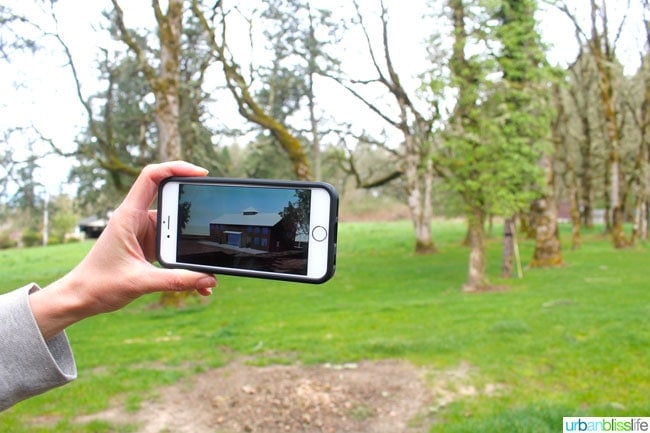 If you're visiting Oregon wine country, whether from out-of-state or during an impromptu weekend wine excursion, I recommend giving Blizzard Wines a call to set up a visit. Their small batch production wines are made with love, and Dana's expert hand. She is definitely an Oregon winemaker to watch.
Visit Blizzard Wines
29495 SW Burkhalter Road, Hillsboro, Oregon 97123
Blizzard currently is open by appointment only.
Call (503) 985-6386 or email Dana at dana@blizzardwines.com