Wondering where to stay in Honolulu? The Outrigger Waikiki Beach Resort is a full-service luxury hotel with spacious oceanview accommodations, modern amenities, restaurants, bars, world class entertainment, event space, beachside pool, and beachfront access.
Hawaii is one of my happy places. I love the sunshine, miles and miles of sandy beaches, warm ocean, the diverse culture and Hawaiian vibe. I also love how each island offers travelers a diverse range of vacation options: from the volcanoes of Hilo to the large amount of family-friendly fun on Maui. The island of Oahu, and more specifically, the capital city of Honolulu, offers both a bustling city atmosphere and a casual beach vibe, making it a fabulous destination for travelers who are looking for a bit of both.
When I traveled to Honolulu at the end of April to cover the 14th annual Spam Jam, I was hosted by Spam Jam sponsor Outrigger Resorts. They graciously hosted me at one of the properties (they have several!) in Honolulu, at the oceanfront Outrigger Waikiki Beach Resort.
I could not have been more pleased with my stay here! The largest draw of this amazing hotel: its picture perfect location right on Waikiki Beach.
Jump to:
Waikiki Beach
Waikiki is one of the world's most renowned beaches, and with good reason: miles of sandy beach, ocean waters that are mild enough for SUP boarding, boat tours, kayaking, canoeing, and splashing along the water's edge, yet also exciting enough for some decent surfing (for the best surf, I hear the North Shore is the place to go). Because of its location along the capital city, adjacent to Hawaii's best shopping and close to Diamond Head, it's also often one of the busiest and most crowded.
TRAVEL TIP: if you don't want to fight the crowds for a spot on the beach, go early, and go in April. I was told by locals that March is packed because of Spring Break, and starting early May, the summer vacationers descend upon Waikiki Beach en masse.

Here are a few photos I snapped of Waikiki Beach right from Outrigger Waikiki Beach Resort property.
You can rent most equipment - surf boards, inflatable tubes, kayaks, you name it - from Outrigger business partners who have stands right on the beach outside of the hotel. Prices vary, and you will want to be sure to check it out a day or two before you plan to do your activities. Some require reservations, and most offer a first-come-first-serve basis rental service.
Accommodations
When you're considering where to stay in Honolulu, put the Outrigger Waikiki Beach Resort on your list. It offers a wide variety of rooms and suites available to meet your travel needs, whether you are traveling here solo for work, vacationing with the whole family, or traveling with friends.
I stayed in a gorgeous, spacious oceanfront suite, which had a stunning view of Waikiki Beach and the Pacific Ocean, as well as a fantastic city view as well.

With two queen beds and an ample sitting area with sofa and work desk by the balcony, it is the perfect suite configuration for a family of four or friends traveling together. The furniture is beautifully styled in subtle colors and there are little touches of Hawaii throughout, from the weaved texture of the drawers, lighting, and mirrors, to the hula girl lamps.
Guests are treated SO well here. The hospitality is second to none, and all guests receive this complimentary bag to take home. It's also great to use as a beach bag during your stay!
Hotel features
Onsite at the Outrigger Waikiki Beach Resort, you'll find pretty much everything you need to make your vacation amazing. There are concierge services who can help you plan your day's adventures; they helped me plan my splurge on a helicopter tour over the entire island of Oahu, which I HIGHLY recommend and cannot wait to show you videos and photos from that tour in an upcoming post! There are also several restaurants on site, bars, plenty of lounge space in the lobbies, coffee bar and sandwich shop on the first level, a few shops where you can purchase Hawaiian souveniers and snacks, and even a UPS store so you can ship all of those extra purchases back home.
And, of course, one of the best features is the pool, located right on Waikiki Beach, and Duke's restaurant and bar, the only truly beachfront restaurant on Waikiki.
Here are a few shots I took from my phone while working poolside. It's a rough life, I know. ;)
Duke's Waikiki
You can also order drinks and food poolside from Duke's if you are a guest of Outrigger Waikiki Beach Resort.
The beachside pool is the perfect spot to spend an afternoon relaxing after a busy day exploring and adventuring in Honolulu, and I highly recommend ordering the chicken katsu (pictured above) if you're looking to enjoy lunch by the pool.
Of course, dining inside Duke's is also an amazing experience, because you have a gorgeous view of the beach and ocean from almost any seat inside and the restaurant is wide open to allow you the full Hawaiian breeze experience.
My favorite dish at Duke's: the street tacos, pictured above. SO. GOOD.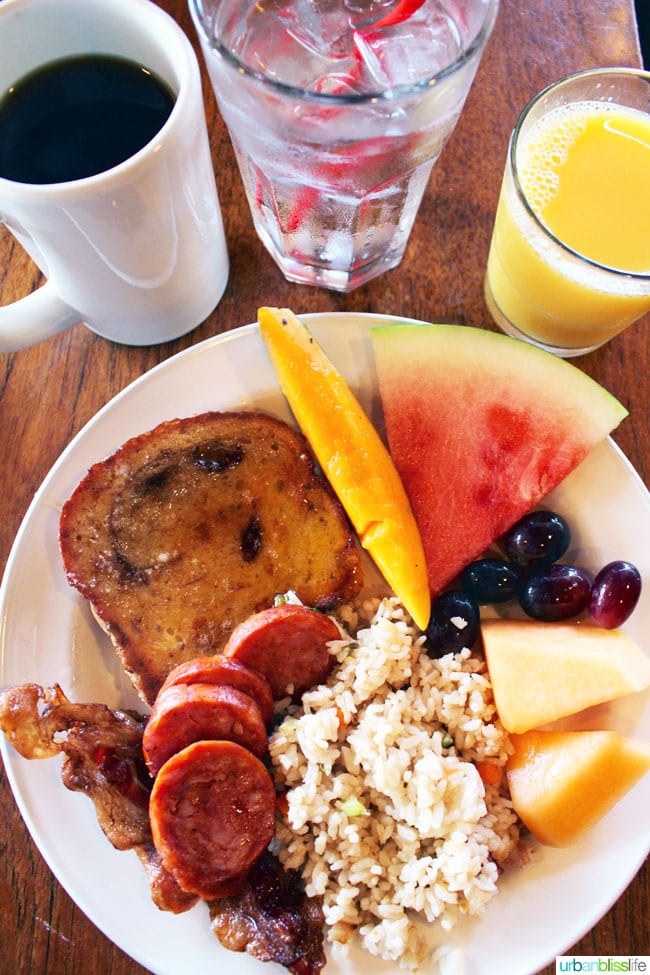 Outrigger guests also can enjoy the legendary Duke's breakfast buffet, which includes one of my all-time favorite breakfasts as a fellow Pacific Islander: fried rice with Portuguese sausage. I wish I could find this on the menu at more places stateside!
Getting around Honolulu
Guests of Outrigger Waikiki Beach Resort have the advantage of being centrally located to the city's best shopping, and being close to Diamond Head. There are several FREE trolleys that you can catch right near the hotel, and any hotel staff member can help you find the stop on their trolley maps.
Wrap up
I am totally in love with the Outrigger Waikiki Beach Resort, and I cannot wait to take my whole family back here for a much needed family vacation some day (hopefully soon!). From the moment I arrived, I was welcomed with huge smiles and that famous Aloha spirit. The food options are fantastic, the rooms and suites are comfortable and spacious, and you absolutely cannot beat the beautiful beach right outside the hotel doors.
No matter why you may be traveling to Honolulu, definitely check out the Outrigger Waikiki Beach Resort for your next stay!
Outrigger Waikiki Beach Resort
2335 Kalakaua Ave

Honolulu
,
Hawaii

96815
Phone: 808-923-0711
Email: reservations@outrigger.com
http://www.outriggerwaikikihotel.com/
Many thanks to Outrigger Enterprises Group and the Outrigger Waikiki Beach Resort for hosting my stay and flying me out to cover the 14th Annual Spam Jam Festival! As always, all opinions and photos are my own. I LOVE this hotel, folks. Stay here!!
More Hawaii Bliss: