The 14th Annual Waikiki SPAM Jam was a feast for all senses, as chefs served up some of the most creative culinary concoctions utilizing Hawaii's favorite ingredient: SPAM.
I was born on the beautiful island of Guam, a territory of the United States in the Pacific Ocean. My parents, along with my great-grandmother and I, moved to Portland, Oregon when I was two years old.
In Guam, SPAM is a very popular food. Even after we moved to the States, I would eat SPAM, rice, and eggs for breakfast and sometimes lunch, several times a week. It was my favorite meal, and to this day, even though I hadn't eaten SPAM in many years (until last weekend!), the thought of SPAM, rice, and eggs brings feelings of comfort, warmth, happiness... home.
So when I had the opportunity to travel to Honolulu, Hawaii for the 14th Annual SPAM Jam, I was SO excited.
Jump to:
What is Spam?
If you are unfamiliar with SPAM, it's a canned meat product that was introduced in 1937. The ingredients are: pork with ham, chicken, water, salt, potato starch, and sugar.
Basically, it's sort of like sausage in a can. It's not a health food by any means, but it has a long shelf life, which brings me to why it's such a big deal on the Islands.
Why do Pacific Islanders love Spam?
Because it has a long shelf life, SPAM was shipped over to our military bases as a protein source during World War II. During the war and the occupations that followed, SPAM was introduced to Hawaii, Guam, the Philippines, and other Pacific Islands. If you live on any of the Pacific Islands, food is rather expensive. It's also difficult for many foods to grow on the islands, and shipping large food items is very expensive. SPAM found its way into the regular diets of these places, and people learned how to cook it in many different ways to make it interesting.
By the end of the war, the military purchased over 150 million pounds of SPAM.
That's a lot of SPAM! And I bet back then, they would never have imagined it the way SPAM was presented at the 14th Annual SPAM Jam.
Waikiki Spam Jam VIP reception
The 14th Annual Waikiki SPAM Jam took place on Saturday, April 30th, from 4-10pm along Waikiki's bustling Kalakaua Avenue. It's a free event, open to the public. However, food is available for purchase at individual stands, and all proceeds generated benefit the Hawaii Foodbank and other local charities, including the Waikiki Community Center and Visitor Aloha Society.
I was so fortunate to be able to attend thanks to the event's presenting sponsor, Outrigger Hotels and Resorts.
The festivities actually kicked off with a VIP reception the night before at Outrigger Waikiki Beach Resort's in a beautiful suite with large outdoor terrace with sweeping ocean views. The suite is #123 and is often rented for weddings and special events, so if you're thinking about getting married here, check it out!
Guests were treated to an incredible buffet, filled with some SPAM and non-SPAM dishes, including my favorite: ahi tuna tacos.
These pork ribs were another favorite of the night.

And this Hello Kitty SPAM Musubi was adorable!
Tweet Up
On Saturday, there was a SPAM Jam Tweet Up right before the festival started. I got to meet SPAM Can himself!
He also photobombed by picture with Hello Kitty.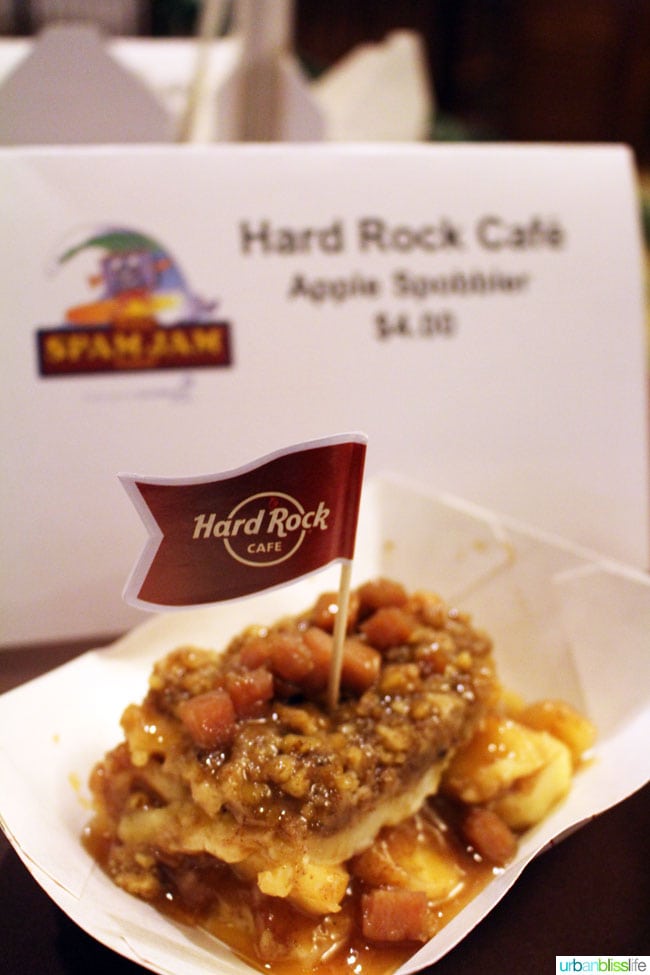 We were also able to try all of the dishes that would be served at SPAM Jam beforehand and do our Instagram/Snapchat/Twitter/Facebook thang without the throngs of people around us. That was a nice touch.
At the end of the Tweet Up, many prizes were raffled off, including two big prizes from sponsor Alaska Airlines: 80,000 miles, and MVP Gold status through 2017. Oh how I wanted to win either of those! I love flying Alaska Air!!
Alas, I did not win those... but I did with one of the SPAM Hello Kitty Musubi kits pictured above, and I am honestly SO excited. I can make a Hello Kitty SPAM Musubi like the one pictured above from the VIP reception! So fun!
14th Annual Waikiki Spam Jam
When it was time for the main event, Kalakaua Avenue outside of Outrigger Waikiki Beach Resort transformed from a bustling shopping district to a busy festival.
More than 25,000 people were expected to attend this year's SPAM Jam. I love how the festival went from afternoon into night, allowing for more of the family-friendly atmosphere during the day and more of a party mode at night.
The event was family-friendly and dog-friendly. This SPAM dog was my personal hero of the night. Check him out, riding in style with a fan inside his stroller!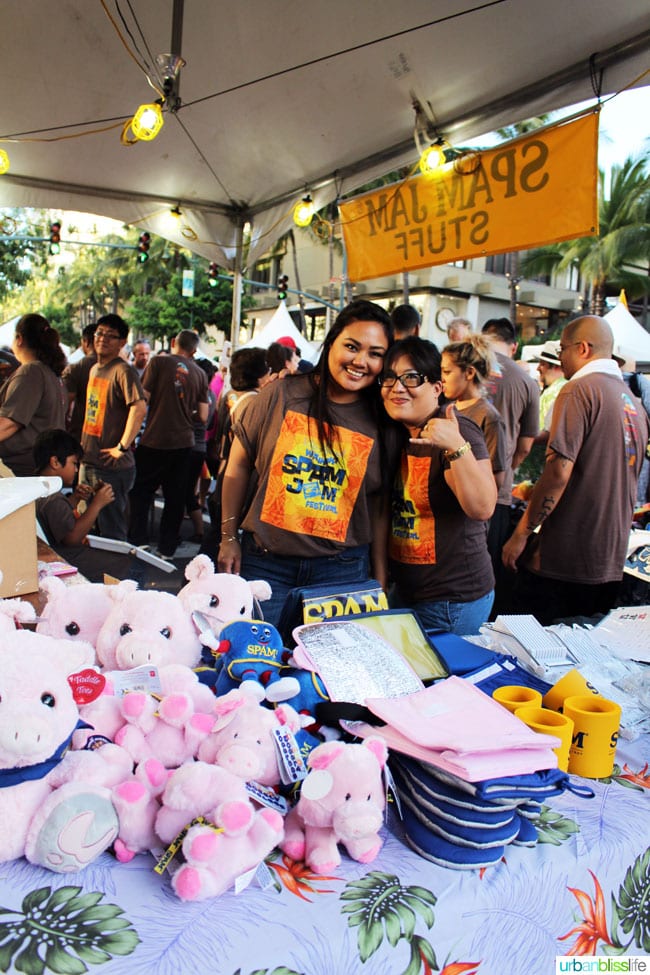 You could find ALL THINGS SPAM at this festival, folks. T-shirts, stuffed animals, bags, stickers, oven mits... you name it! I'm kicking myself for not getting one of the I Heart Spam trucker caps.
Like all festivals, there were long lines at times for certain booths. And it wasn't just the food booths; the line above was for Long's Drugs, which was giving out some really cool prizes after you played one of their booth games.
And of course, I can't forget the SPAM-filled glorious food served up at the SPAM Jam. Fifteen food vendors served up some truly creative dishes, all using SPAM as the main ingredient. Here are a few of my favorites:
BUHO created these SPAM Tacos which were one of my favorites. I loved the fresh pineapple salsa!
Chai Waikiki presented these cool looking SPAM fritters with fresh pineapple.
The Hard Rock Cafe made these inventive and tasty SPAM Mac & Cheese bites.
SPAM chips, anyone? These were also from the Hard Rock Cafe.
This dish won my vote for most beautiful dish: Mac 24/7 made a coconut SPAM flan with Kona coffee salted caramel and candied SPAM. What a way to transform SPAM!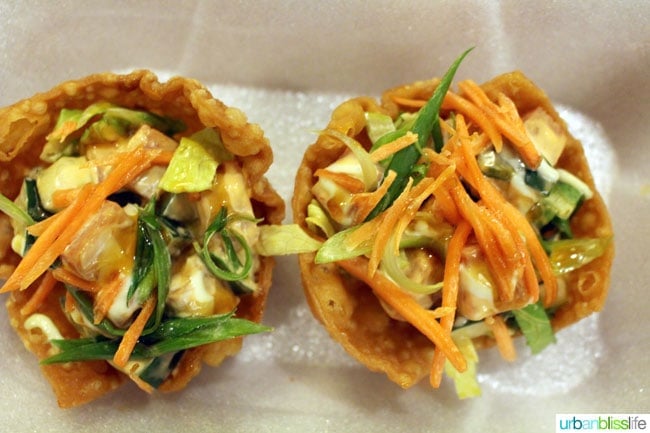 PF Chang's was on hand with a SPAMified version of their popular lettuce wraps.
The popular chain souvenir store ABC Stores served these beautiful and tasty SPAM Kamikazes.
There were many more dishes and two live stages with bands performing throughout the event. It was a fun, lively, highly entertaining festival that I definitely recommend attending if you are planning to visit Honolulu, Hawaii next year.
Spam Jam Tips
If you are planning to attend in the future, here are five quick tips:
Bring cash. Most vendors only take cash.
Bring water. Although it was hotter than most food festivals I have attended, I didn't feel as cramped and sweaty as I have at other food festivals. Still: you want to bring your own water to make sure you stay hydrated while eating all of that SPAM.
Make a plan ahead of time. Take a look at the SPAM Jam website before you go and mark off the booths you definitely want to check out. That way, you can be sure not to miss them.
Give yourself enough time. Since the event is six hours, you might be tempted to drop in for just a bit and then head out. Take time to listed to some of the live musicians because they really do a good job of booking highly talented acts for this event. I was blown away by the live music!
Wear comfortable shoes. SPAM Jam takes place on one of Honolulu's busiest and most popular main avenues, which is closed off for the event, but there aren't a lot of places to sit down. You will be spending most of your time walking from one booth to the next.
The date has already been set for next year's event: mark your calendars for April 29, 2017!
---
I'll be sharing more TRAVEL BLISS from this trip next month, including a look at the Outrigger Waikiki Beach Resort and my amazing flight over Oahu with Novictor Helicopters!
---
Have you ever tried SPAM before? Which of these dishes looks the most interesting to you?
Many thanks to Outrigger Enterprises Group for sponsoring my trip to Honolulu and Waikiki SPAM JAM. As always, all opinions and photos are my own.