It's cold here. My feet are freezing as I type this. Do you know where it's warm? Hawaii.
There are so many things I love about Hawaii: the relaxed pace of life, the incredibly fresh and healthy food, the sand and the surf, being outdoors from the moment you wake until the moment you sleep.
Each Hawaiian island has its own treasures, and over the next four weeks, I am going to take you on a journey to the location of my most recent Hawaii trip: Hawaii Island.
Jump to:
Hawaii Island
Nearly twice the size of all of the other Hawaiian islands combined, Hawaii Island -- or, as it is often called, The Big Island -- is a study in contrasts.
The eastern side of Hawaii island, where the city of Hilo is located, is lush with green rainforests and can go from cloudy, windy, and rainy, to pleasant and sunny within minutes.
The western side of Hawaii island, where the city of Kona is located, is the sunny, hotter side of the island.
We'll be visiting Kona later in this series. Today, we're going to take a look at a few highlights in the Hilo area.
Where to Stay in Hawaii the Big Island
On Hawaii Island, you'll find a wide variety of lodging options. From vacation home rentals to condos, from boutique hotels to massive resorts, there is a lodging style to fit your budget and type of vacation.
During my time on the eastern side of Hawaii Island, I stayed at the Kilauea Lodge, a former YMCA camp turned inn and restaurant.
In the small, quiet village of Volcano just one mile from Hawaii Volcanoes National Park, Kilauea Lodge offers a comfortable place to rest your head after a busy day exploring and adventuring.
The 12 rooms on property, as well as four off property units located nearby, are decorated in traditional Hawaiian decor. You'll find bright, comfortable bedding (it does get chilly at night here), stained glass and Volcano art, and plenty of space to stretch out and relax.
Standard rooms sleep between two and four people, and start at $195 per night. The four larger, deluxe rooms on the property all include lanais, WiFi, fireplaces, and start at $215 per night.
Full breakfast at the lodge restaurant is included with all room reservation rates, and all guests have access to the lodge hot tub and gazebo.
Dining at Kilauea Lodge
The Kilauea Lodge restaurant is open for breakfast, lunch, dinner, and Sunday brunch, and offers hungry travelers and locals hearty dishes.
I recommend starting with the fried zucchini and sauteed mushrooms, both of which I could have snacked on all night long. The catch of the day is usually a good bet. You can choose to have it prepared in one of three different ways:
sauteed in piccata sauce
broiled and topped with mango chutney glaze with crushed macadamia nuts (this is SO good)
blackened Cajun style with papaya salsa.
I regret that I did not try their Sunday Brunch, but word on the street is that it is just as expertly prepared as the restaurant's dinners. If you get the chance to go, please enjoy this dish for me and report back: Crossing Lava. It's Smoked salmon and poached eggs served on grilled English muffins with Hollandaise sauce. Doesn't that sound amazing?
A fun conversation piece stands as a centerpiece in the lodge restaurant: the International Fireplace of Friendship, a fireplace constructed in the 1930s that holds coins and stones from all over the world.
Kilauea Lodge
19-3948 Old Volcano Road
Volcano Village, HI 96785
808-967-7366
http://www.kilauealodge.com
What to Do on the Big Island
Want to bike down a volcano? Zipline through a rainforest? Explore a black sand beach? You can do all and more activities on the eastern side of Hawaii Island.
One of my favorite experiences was ziplining for my very first time. I KNOW. How can it be my first time ziplining? I can't believe it took me this long either. But: it will most definitely not be my last. I am hooked! Thanks to the awesome crew at KapohoKine Zipline Through Paradise!
Ziplining in Hilo
My group arrived at KapohoKine Adventures headquarters in downtown Hilo. We signed waivers, checked out the cool gear they have in the store (you can rent GoPro equipment for your adventures here if you don't have your own).
Then we were off on a very (very) bumpy but beautiful drive up to Honoli'i Mountain. There, our guides Alex, Mike D., and Mike H. took great care of us. We commenced gearing up while listening to safety instructions.
Then it was time for the first zipline. If you've never ziplined before, the rocky footbridge up to the first can seem a little intimidating. Thank goodness for our guide Alex, who helped put everyone at ease.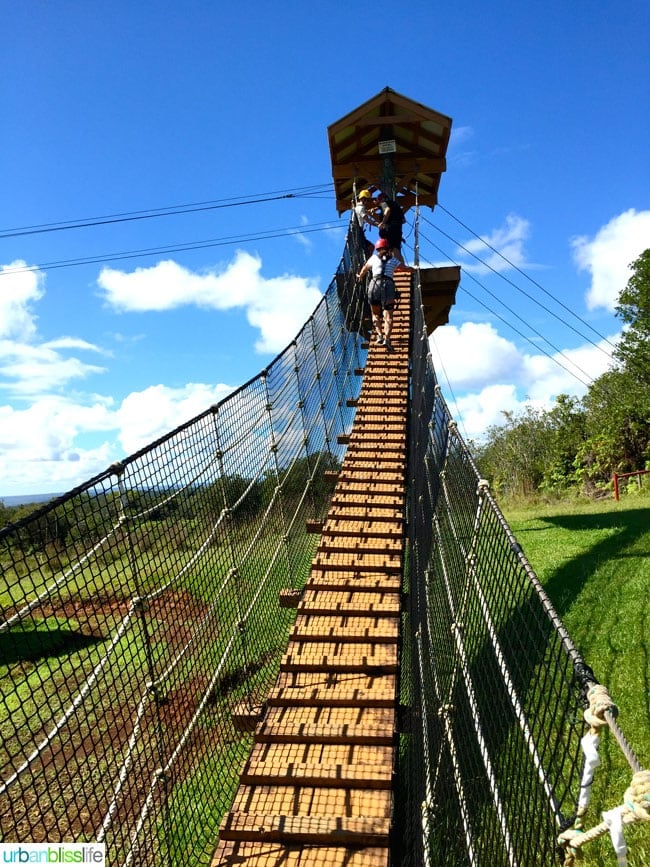 My turn!
The experience was AMAZING. Zipline Through Paradise has eight zipline runs of varying lengths, all tandem runs, each with a different gorgeous view.
This is the fun crew I had the pleasure of zipling with: fellow travel writers Adam Sawyer and Diane Merlino, and Erin Kinoshita, who represented our trip hosts, the Big Island Visitors Bureau.
I took several GoPro videos (which mostly consist of over-excited, rookie zipliner moves like screaming "WOOOOOHOOO!!!" for much of the video), and I wish I took more photos while ziplining, but here's one of the GoPro videos I took where I am somewhat composed:
Ziplining was probably my favorite experience of this trip to Hawaii, the Big Island. It was such a fun, exhilirating way to kick off the week-long adventure, it was a gorgeous sunny day, and my trip mates were so friendly and hilarious. I loved every bit of this experience, and the guides just made it all the more wonderful. If you're looking to zipline on your next trip to Hawaii Island, I can definitely recommend KapohoKine Zipline Through Paradise.
Tours operate rain or shine. Prices vary, but at press date, children ages 12 and younger can zipline for $169 each and adults can zipline for $179 each. If you're on vacation and one of your friends doesn't want to zipline, there is also the Walk Along option for $49, where you can follow your friends along on foot at watch them zip over you.
You must weigh between 35 and 275 pounds to zipline, and be able to navigate stairs and lift 15 pounds. Light snacks and beverages are provided. There is a boxed lunch option for purchase as well. Find more information, including tips on what to wear and bring, at the KapohoKine website.
Secrets of Puna Tour
On our next adventure in the eastern side of Hawaii island, we embarked on the Secrets of Puna tour, also offered by KapohoKine Adventures.
First stop: The Painted Church, a decommissioned church that was moved by locals twice to avoid molten lava flows.
Inside, you'll find wall paintings, photos, and written memorabilia that weave together the many stories of the region. Across the street, there is a Noni Juice factory, which I will share later in another post in this series.
In the gravel lot of the decommissioned church, we enjoyed a delicious barbecue lunch prepared by our guide. The shoes pictured below were not part of the lunch, although I had worked up enough of an appetite that I might have considered taking a bite had it not been for the fantastic barbecue lunch prepared ;)
Black Sand Beaches
After lunch we went to explore the newest black sand beaches, formed from the 1983 volcanic eruption. The stark contrast of the sparkly black molten lava rock against the bright blue sky is absolutely stunning, but also slightly unsettling . . . to realize that the ground you are walking on was once someone's house or business or a light sandy beach.
I took so many photos here - I just couldn't get enough of this mass display of nature's ability to completely change not only the landscape, but the lives of its people. However, so as not to bore you (or add to site loading time), I'll just share two photos:
The tour continues into Mackenzie Park, where you can snorkel and explore lava coves. The tour wraps up at Lava Tree State Park, where you can view incredible lava formations.
Throughout the entire tour, our guide kept us intrigued by fascinating local history, lore, and legend. He was incredibly knowledgeable and very entertaining. The Secrets of Puna tour is available by special request, and lasts about six hours or so. Contact KapohoKine Adventures for more information or to book your tour.
My question for you today: have you ever ziplined before and what was your experience doing so? If not, would you ever want to go ziplining?
Many thanks to the Big Island Visitors Bureau for this complimentary press trip to Hawaii Island, so I could share more travel stories and tips with you. All opinions and photos are, as always, my own.