Planning a New Year's Day party? Here's how we throw our annual New Year's Day Pajama Party, complete with a waffle bar!
Every year, my husband and I host an annual New Year's Day Pajama Party. It's always loads of fun to celebrate the fresh start of a new year with good friends and family. And, of course, with good food!
If you're thinking about hosting a New Year's Day party, here's how we did ours this past year.
Jump to:
New Year's Day Pajama Party
In addition to lots of water carafes everywhere (to help those who may have imbibed the night before), we also set out other beverages.
We had a huge container full of mimosas. This is so much easier than making individual mimosas for everyone!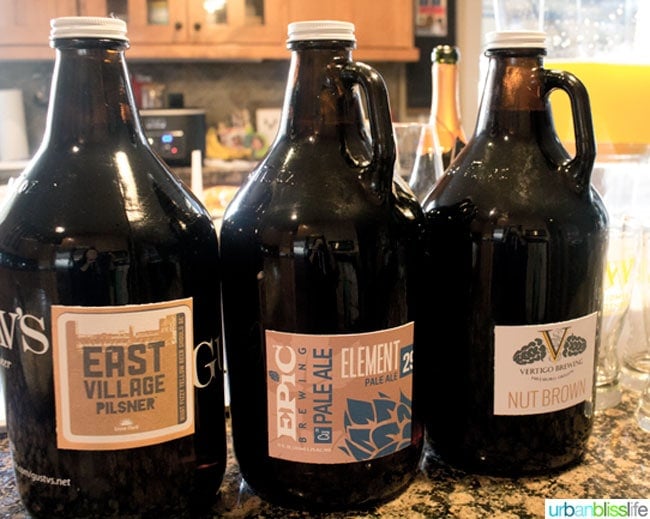 We also had beer growlers offering a variety of beers.
Finally, we offered some red, white, and sparkling wine.
The Menu
Our main table was packed with food.
We had
urbanblisslife.com/2014/07/11/avocado-corn-salad-recipe/(opens in a new tab)
Plus, guests brought some delicious eats. One guest brought Christmas Crack and another brought Krispy Kreme doughnuts. One friend brought a tasty tayberry & cream cheese croissant. Nobody goes home hungry from my house!
Party planning
We keep it casual, kid-friendly, and open house style. This way people can stop by anytime during a four-hour period of time.
Pajamas are welcome, as are party dresses from the night before (we don't judge). However, I am noticing as we all get older that fewer friends are actually arriving in pajamas. . . I might have to just change the theme next year.
One of my favorite things from our New Year's Day party was the waffle bar we set up. It was SO easy, and so much fun. Great for kids and grown-ups alike!
Our Breakfast Waffle Bar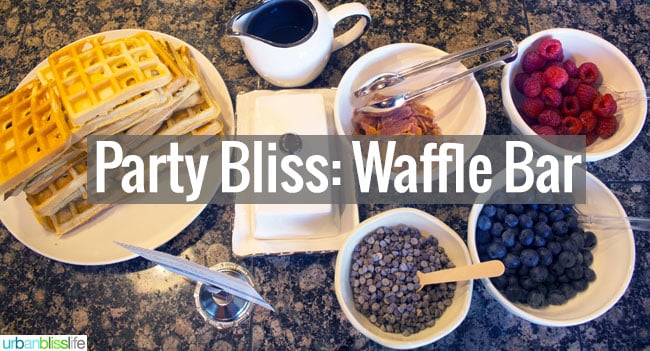 I originally had the idea of having some batter pre-mixed and ready for guests to choose add-ins, and then they would make their own waffles.
However, we decided to pre-make the waffles ourselves. Then guests can simply choose their own toppings. It turned out to work really well, but I think the original idea would work if you have a small group.
Waffle Bar Toppings
Next to the waffles, we set out bowls filled with various toppings. These included:
blueberries
raspberries
whipped cream
mini chocolate chips
fresh bacon crumbles
maple syrup
butter
Other topping ideas:
strawberries
pecan pieces
toffee pieces
blackberries
apples
peaches
honey

Tips for hosting a waffle bar
Cut the butter into small thin squares to make it easy for guests to serve themselves.
If you have guests with food allergies or sensitivities, consider setting out labels to let them know which items might be gluten-free, dairy-free, nut-free, etc.
Have a small batch of pre-mixed waffle batter ready to go, in case guests go through all of the waffles you made.
Have a bar towel on hand right next to the batter to help quickly clean up any batter spills.
Waffle makers can get pretty hot quickly. Be sure to keep them on a counter high enough away from little kid hands.

The waffle bar was definitely a wonderful addition to our annual New Year's Day party. I would highly recommend it for small brunch gatherings or baby showers, birthdays, even bridal luncheons. It was a great way to start the new year!
What would you include in your waffle bar?
More Breakfast Recipes