A minivan that exceeds expectations: the Sienna has luxury car features to meet modern family travel needs. Check out my 2016 Toyota Sienna Review.
When I was in my early hip, happening, exciting 20s, I drove a company car – it was a minivan.
Let that sink in for a moment: I drove a minivan, in my early 20s. A time in life when you're still trying to find love, find yourself, and you sort of still care about impressing your friends and strangers alike. Granted, you can't beat a free car (especially at that stage in life) but the cool factor definitely did NOT surround me as I drove around town.
Minivans have come a long way since then. Recently, I had the opportunity to test drive the 2016 Toyota Sienna for a week.
My kids didn't want to give it back. They loved it. And, I was actually impressed... with a minivan! Let's take a look at some of the cool features that make this the original Swagger Wagon.
Jump to:
Intro
The 2016 Toyota Sienna seats up to eight people. Eight! That's almost my kid's whole softball team. My brother and his wife are about to welcome their fifth child into the world, and this minivan would actually allow their whole family to ride together in one vehicle, in style.
Exterior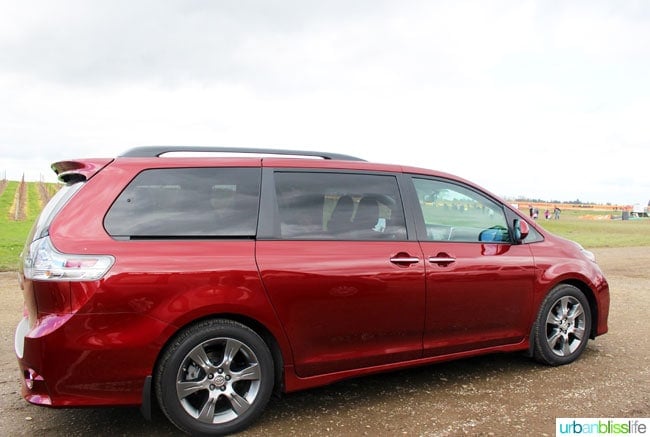 The 2016 Toyota Sienna is well-designed and looks like a beautiful, sleek bullet racing down the road. The exterior styling is inspired by sports sedans: you have a sport mesh front grill with unique front and rear underbody spoilers that you don't see on most other minivans, giving it a slightly elevated level of cool.
Interior
Inside, the 2016 Toyota Sienna is comfortable and streamlined. The dual moonroof makes the space feel even more spacious, which is always appreciated on especially long road trips.
The dashboard on this minivan puts everything at the driver's fingertips.
Storage
Of course, one of the best features with any minivan is the storage and cargo space. The 2016 Toyota Sienna sports PLENTY of flexible space and makes it super easy for busy families to configure the interior seats and cargo room as needed, quickly.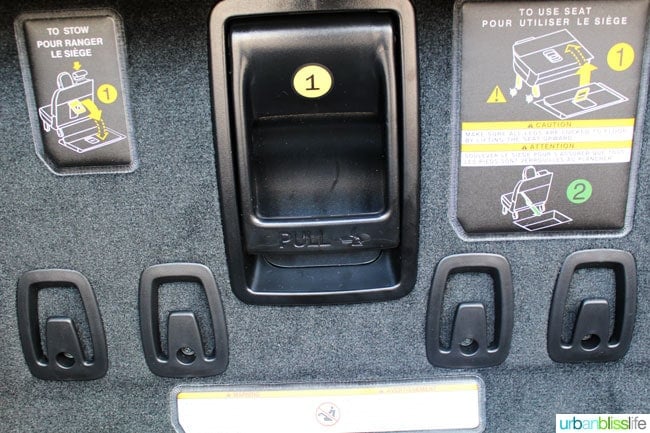 The kids decided to test out how much room there was in the backseat with the third row up and our dog jumped in to join them ;)
There are also well thought-out extras, such as this awesome space in the front mid-seat console for bags, purses, or road-trip snacks.
There's also a HUGE glove compartment, perfect for easily storing valuables that you don't want to leave in plain sight when you're quickly running into the store, as well as ample dash storage space above the glove compartment.
Safety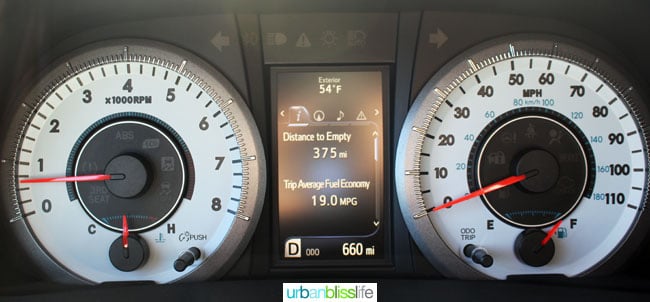 The 2016 Toyota Sienna is the only minivan in its class with available All Wheel Drive (AWD), which I personally love living in an area that has steep hills, mountains, rough terrain, and windy roads.
It also comes with a clear, large rear safety camera in-dash, eight airbags, and the STAR Safety System.
Wrap up
The 2016 Toyota Sienna is a fabulous vehicle choice for the modern family. It is a very smooth ride - not at all like the clunky minivan I drove back in my 20s for work. The interior space is so well-designed for ultimate comfort and style; it's an optimal choice for road trips and for daily parental shuttle duties between work, school, and after-school activities. If your kids are in sports, you'll have ample space for all of their gear, the family game gear (stadium seats, umbrellas, blankets, coolers) - with room to spare!
The base model starts at $28,850, which is more than many families can afford, but also, in my opinion, a decent price for everything you get with this minivan. And, if you're going to get a minivan, why not get one loaded with modern features and sleek styling, right?
I test drove this vehicle for a week as part of a media loan program. As always, all opinions and photos are my own.