If you're looking for a breathtaking scenic adventure while in paradise, consider an Oahu helicopter tour. And don't be afraid to go "doors off!"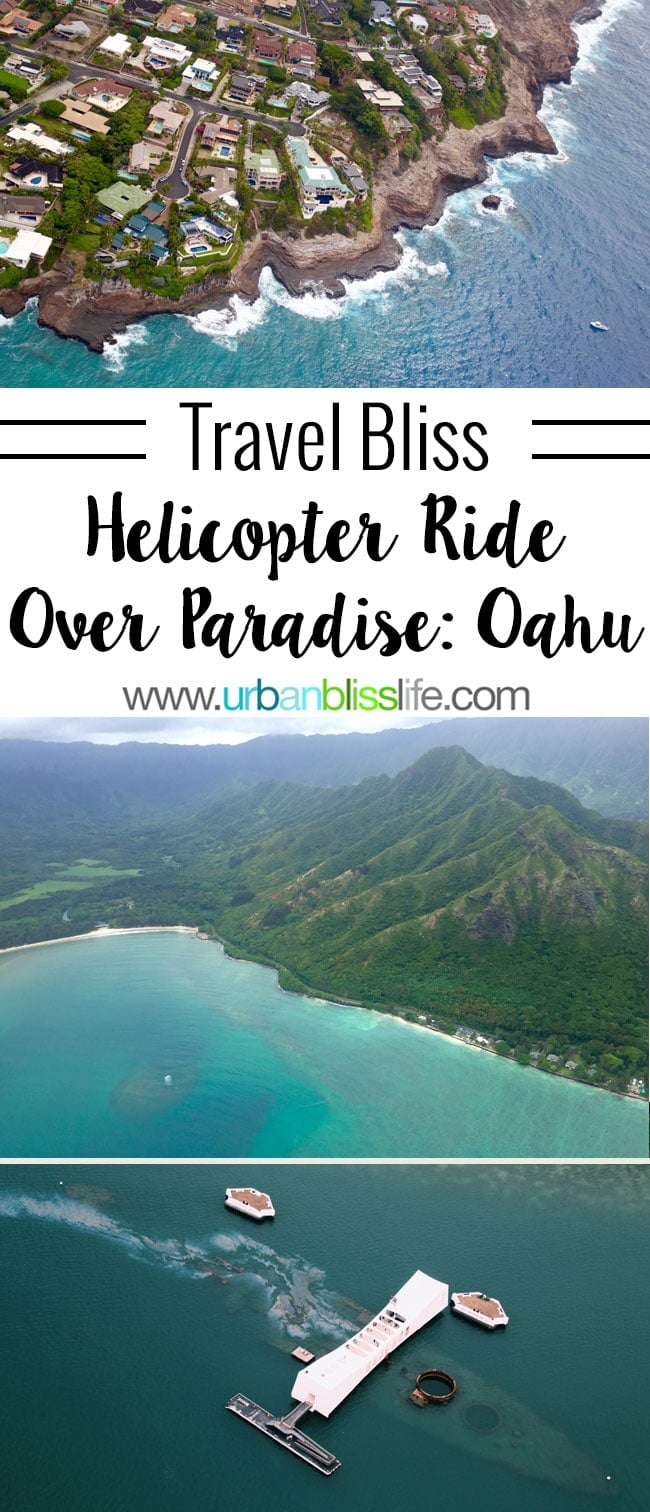 It was seeing the USS Arizona clearly and in full peeking out beneath the waters, below the memorial.
Or maybe it was our first approach toward Diamond Head, and seeing the massive majestic beast of Oahu up close.
Perhaps it was looking down in wonder at how so very clear the aqua blended smoothly into the teal into the cerulean blue.
No, it was all of it. Every minute of it.
The 60-minute helicopter ride over Oahu was an awe-inspiring experience from beginning to end.
Jump to:
Oahu helicopter tour
While I was working on Oahu recently to cover the 14th Annual Spam Jam, graciously hosted by presenting sponsor Outrigger Waikiki Beach Resort, I had some time to explore on my own. I took a couple of hours one day to walk from the hotel over to Diamond Head. I contemplated surf lessons, but the timing never seemed right. One suggestion by the helpful concierge at Outrigger Waikiki Beach Resort was to take a helicopter ride over the island.
In my 42 years on this beautiful earth, I had never ridden in a helicopter. Crazy, right? This Oahu helicopter tour was the (picture) perfect opportunity! I was SO excited! It was an easy decision: booked and done.
The next morning, I enjoyed my Portuguese sausage & fried rice at Duke's famous breakfast buffet, then headed out to meet the complimentary shuttle that would take me and guests from other hotels to Novictor Helicopters, about 30 minutes away from Outrigger Waikiki Beach Resort.
I had chosen to do the 60-minute Royal Crown of Oahu Day Tour, with doors OFF. That means exactly what you think it means: the doors are off and you're sitting there with the open air by your side for the whole flight. You can also choose to do a doors ON tour, if you are apprehensive about riding with doors off. However, I can tell you from experience: if you want the best, unobstructed photos/videos, and the best experience EVER -- opt for doors off. You won't regret it!
After a safety briefing, we walked out to the helicopters and settled in for take off. Three passengers are allowed on the helicopter, so it was me and a lovely couple from Australia.
I GOT TO SIT SHOTGUN! Best seat in the house, aside from the pilot! This is also when I learned that the woman seated behind me was deathly afraid of heights. That's right. I thought, "well, this should make for an interesting flight!"
Our pilot was Fred, and he's pretty much everything you imagine a Hawaiian helicopter pilot to be: super tan, fit, and extremely laid back. Maybe too laid back for the woman who was afraid of heights... We were each given a set of headphones to wear throughout the flight so that we could easily chat with one another or ask Fred questions, because it gets quite a bit noisy up in the helicopter.
Take-off was surprisingly smooth and I had to glance down a couple of times to be sure we had actually lifted off the ground. Once we achieved a high enough altitude to cruise a little, however, that's when things could get bumpy.
Our Oahu helicopter tour first took us past the city. I love these shots because so many people who have never been to Oahu don't realize how truly populated it is, and how cosmopolitan Honolulu is. These are the tallest buildings allowed on any of the Hawaiian islands, and because the port is so slim, I was told you will usually only see one cruise ship docked at a time.
We rounded out to Waikiki and Fred pointed out many of the important buildings and talked about the history along the way.
Breathtaking. I was smiling so hard throughout this whole trip. How could I not? LOOK at these views!
We closed in on Diamond Head, which is an incredible sight from the ground, but is even more jaw-dropping from the air.
We flew by Hanauma Bay and million dollar mansions on perfectly sculpted cliffs that dove into the ocean.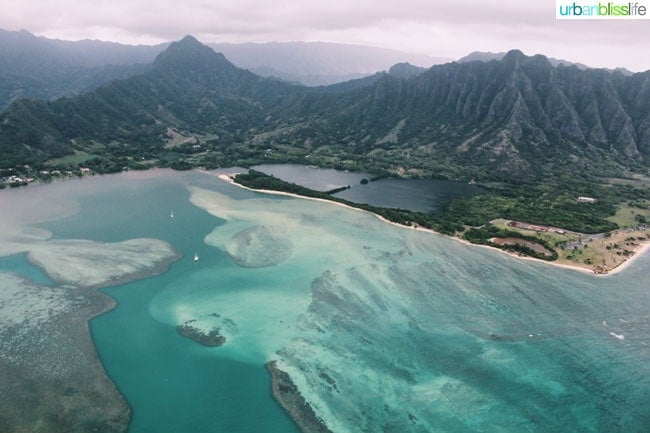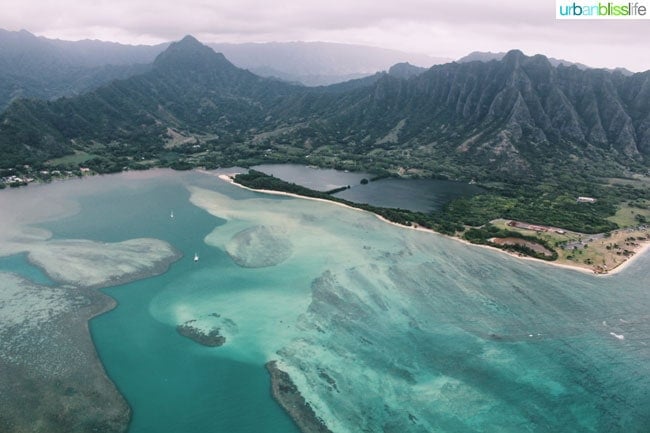 Fred pointed out several spots where popular movies and television shows were filmed, as well as the military practice base that consisted of entire fake community with building shells. So cool!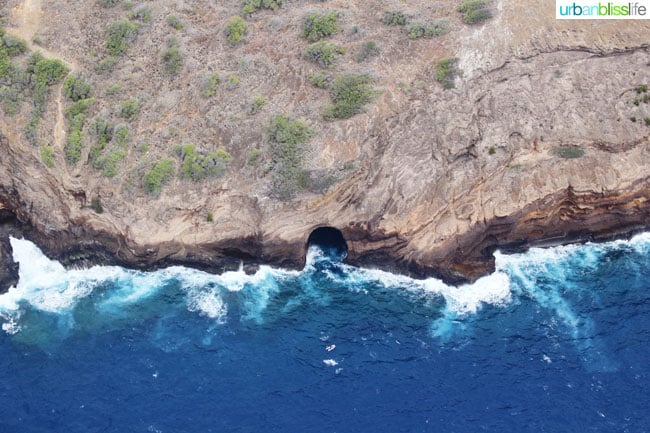 To watch the landscape change from city to beach to suburb to cliffs to mountains, and to see how it all flows out to the most gorgeous ocean that is more perfect than any painting could ever do justice... it's so incredible that these words, these pictures will never fully capture the whole breathtaking experience.
One of my favorite moments was when we flew right into the mountains and got a very close-up look at Sacred Falls.
Very close up. So close at times that I felt like I could reach out and touch the mountain. Of course, that would have been close enough that we would have crashed so obviously we were not THAT close. We were, however, close enough to make the helicopter bumpier than the rest of the rise. And, I'm pretty sure the woman behind me was close to having a very real panic attack onboard in that little helicopter.
There used to be roads up to see Sacred Falls but apparently they ruined the land too much so this is the only way you can see Sacred Falls nowadays: from the sky. I've seen some amazing waterfalls in my life, but Sacred Falls truly tops them all.
We continued to fly all around to the North Shore, and then over the Dole Plantation (pictured above). I didn't visit the Dole Plantation on this last visit, but I did on a previous visit and I recommend it if it's your first time to Oahu. Or, you could go on a more private coffee plantation tour and get to pick a pineapple from the ground like I did. ;)
As our helicopter ride was close to the end, we reached a more somber and thoughtful time of our trip as we flew over Pearl Harbor.
There's the USS Missouri, pictured above.
According to Fred, the flight pattern we took going in was the same one the Japanese took when they bombed Pearl Harbor. It's knowledge that was a little disconcerting at the time of our flight.
I was absolutely in awe of the sight of the USS Arizona beneath the waters. It's one thing to see it from the observation areas on the floating memorial (the white structure you see above). But to see it from the sky, where you can make out the full outline of the sunken ship and see the trail of oil still seeping into the ocean... there are no words. Just look at that picture.
Facebook live video from the air
Somehow, I managed to snag internet connection while in the air, and I did a quick 1-minute Facebook Live video, showing you what it was like to be riding shotgun on that helicopter over Oahu.
Oahu helicopter tour travel tips
If you are thinking about taking one of the many different helicopter rides available from Novictor Helicopters, here are some tips to help make your experience amazing:
Bring your camera. Photography is encouraged! But make sure your expensive camera has a solid neck strap on it. You can also bring your cell phone with you.
Dress casually and wear comfortable athletic shoes. This is not the time for heels, and in my opinion, even flip flops are a bit iffy, because you can easily lose one over the ocean. Wear secure, closed toed shoes.
Dress in layers and wear long pants. A lightweight sweater, sweatshirt, or jacket is perfect. You may be flying on the hottest day of the year, but up in the sky, it gets cold and windy. It even rained a bit when we were out.
Empty your pockets before flight, take off your hat, and be prepared to leave your purse/bag behind. The staff will also go over this with you during the safety check beforehand. You want to make sure you don't have anything loose that can fall out of the helicopter during flight. Your valuables can be stored in a locked cabinet and returned to you after the flight.
Bring some cash to tip your shuttle driver and to tip your driver.
If you have long hair, put it back in a ponytail or braid (or manbun, you hipster traveler, you).
Enjoy every second of your trip. Honestly, every single second - not just minute, not just moment, but every second - held a new opportunity for wonder, for appreciation, for bliss.
Novictor Helicopters
While I said the decision to book this helicopter ride was an easy one, it also came easily after I had quickly researched reviews of Novictor Helicopters online. After all, any time you are placing your life in someone else's hands several thousand feet in the air, it's nice to know you're in capable hands.
I highly recommend booking a tour with Novictor Helicopters. Their entire staff is warm, welcoming, fun, and extremely knowledgeable and experienced. I felt completely safe the entire time, which allowed me to have the best time of my life.
They have day tours, sunset tours, and city lights tours available, all at different prices. I dug deep into my hard-earned cash and splurged on the $285 60-minute Royal Crown Tour, and can attest that it was worth every penny, but there are shorter trips at different, lower price points available as well.
Novictor Helicopters is located at the Castle & Cook Aviation Building at the Honolulu International Airport
155 Kapalulu Pl. Ste. 197
Honolulu, HI 96819
1-888-779-7724
1-808-492-8706
http://novictorhelicopters.com/
You guys. The 60-minute doors off tour over all of Oahu was truly one of the most breathtaking experiences of my life. It gave me such an appreciation for the island that I wouldn't have felt just from my visits on the ground. I can look back on each moment of that tour, and feel the adrenaline rush mixed with gratitude and sprinkled with feelings of pure bliss.
Have you done a helicopter tour before? If so, where, and what was your experience?
More Hawaii travel ideas