Traveling to the Hawaiian island of Kauai? Consider a stay at the Sheraton Kauai Resort, one of the only beachfront and oceanfront properties on beautiful Poipu Beach!
The Hawaiian island of Kauai truly is a magical place.
During my visit to this tropical island paradise, I had the pleasure of staying and exploring both the North Shore and the South Shore. While exploring the North Shore, I enjoyed a pleasant hotel stay at the Westin Princeville Ocean Resort Villas.
While exploring the South Shore, I stayed at the Sheraton Kauai Resort.
Sheraton Kauai Resort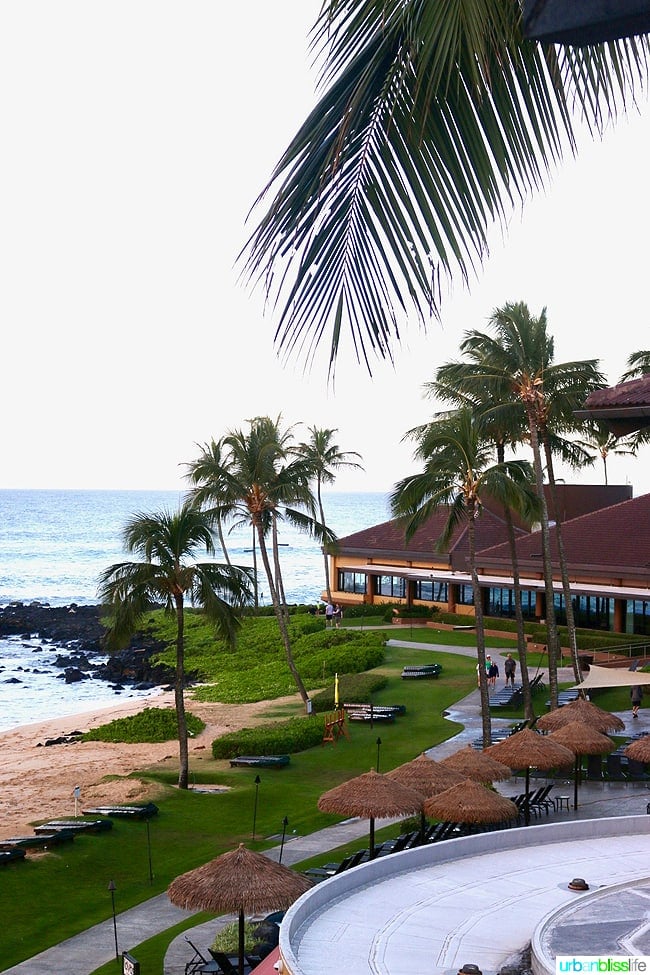 The Sheraton Kauai Resort is one of only two hotel properties that has direct beach and ocean access to the beautiful Poipu Beach.
Located on 20 acres on Kauai's southern shoreline, this hotel offers travelers an absolutely stunning view, delicious Hawaiian cuisine, and a warm aloha spirit. It is also centrally located, near shopping centers, some of the area's best restaurants such as Merriman's Fish House, and cultural activities.
The property itself feels massive -- give yourself time to walk from the lobby to your room or suite -- and is a gorgeous property during the day...
...and at night!
Beautiful Poipu Beach
The white sand beaches of Poipu Beach have been named as one of the best Hawaiian beaches by the Travel Channel and other travel media, and are among a favorite of locals.
The Pacific Ocean brings gentle waves and mild conditions most of the year, making this beach ideal for swimming, snorkeling, boogie boarding and surfing.

Here, you may also find on-shore wildlife, such as endangered monk seals. From December through April, you can enjoy whale watching right from the beach and get an even better view from one of the ocean front rooms!
Pods of Spinner Dolphins reportedly often trail in the wake of fishing/snorkeling boats and Green Sea Turtles - another endangered species - can be seen swimming just offshore.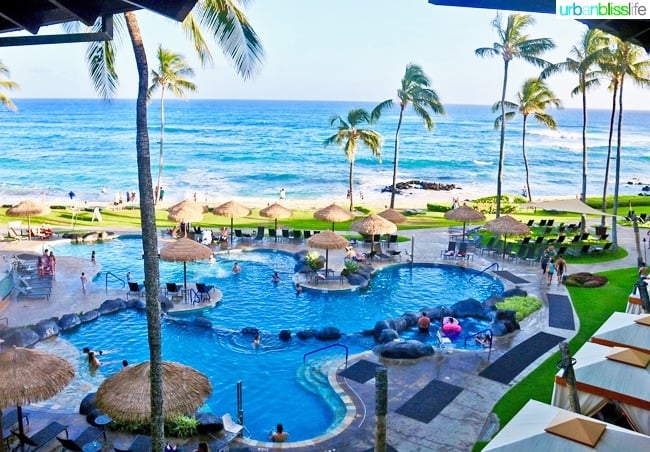 Rooms and Suites
Sheraton Kauai Resort's 391 rooms, including its 11 suites, are housed in eight buildings. Grouped together in two locations in the 20-acre resort: you'll stay in either the Garden Wing or the Ocean Wing.
Lucky me, I got to stay in the Ocean Wing with AMAZING ocean views! This is the view from my pretty spacious balcony:
I have to say: working from this balcony with a cocktail is not a bad way to work. The waves were so soothing, but I didn't hear them at all with the balcony sliding doors closed, which is perfect.
Rooms offer either one king or two double beds. Children (17 and younger) stay free and cribs are complimentary. There is an additional $70 per night charge for rollaway beds.
As a business traveler AND as a family travel writer, I am always judging hotel rooms based on the amount and power of outlets offered. The Sheraton Kauai Resort has a fabulous charging station in each room with enough power outlets and USB outlets to keep the whole family charged up and ready to capture the day's adventures!
Dining at the Sheraton Kauai Resort
The Sheraton Kauai Resort offers several dining options, to suit your dining mood.
The resort's signature restaurant, RumFire Poipu Beach, is my favorite. You simply MUST dine here if you stay here. I love this restaurant so much that I am going to write a full separate post about it later this week!
For more casual dining, you can opt for Lava's on Poipu Beach, which is the poolside bar & grill. You can also enjoy grab-and-go food and drink options at the Link@Sheraton shop located near the lobby. They have yummy smoothies there!
Sheraton Kauai Resort Pools
Of course, right by the gorgeous ocean and Poipu Beach, is the hotel's Oceanfront Pool.
Their cabanas are AMAZING, and you can rent these ahead of time to secure your prime spot for the day. These cabanas include amenities like flat screen TVs, ceiling fans, and ultra comfortable and chic seating for up to six people.
Poolside Bungalow Full-Day Rental: $100 | 8:00 AM-5:00 PM
Poolside Bungalow Half-Day Rental: $75 | 1:00 PM-5:00 PM
The above is a shot of the Ocean Pool. As you can see, it's super family-friendly, with lots of room for kids and adults to enjoy. There is also a Garden Pool on property in the Garden Wing, that offers a serene setting among the lush gardens and by a koi pond.
Visit the Sheraton Kauai Resort
I fully enjoyed my stay at the Sheraton Kauai Resort and honestly cannot WAIT to go back with my whole family! I know my husband and kids would love the beautiful beach, the incredible pools, the delicious dining experience at Rumfire, and the lovely rooms and balconies with a view. If you're traveling to Kauai, I can highly recommend a stay here at Sheraton Kauai Resort!

2440 Hoonani Rd, Koloa, HI 96756
More Hawaii Travel Bliss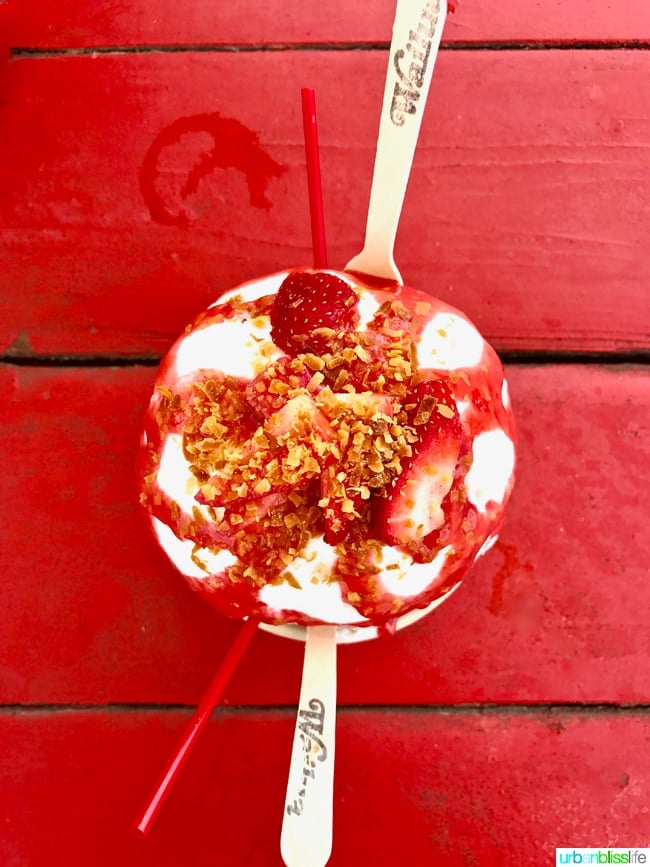 ---
Disclosure: Thanks to the Sheraton Kauai Resort for the complimentary media trip stay. As always, all opinions and photos are my own. I loved my short stay here and cannot wait to take my whole family here someday!