The Hawaiian island of Kauai has so much delicious food to offer that sings of the island culture and history. If you are traveling here soon, be sure to check out this Where to Eat in Kauai restaurant guide.
Jump to:
Where to Eat in Kauai
Eating in Hawaii is always an adventure. I adore the vibrant colors of the island fruits, the wide variety of fresh vegetables, and, of course, I can never resist the abundance of incredible, fresh seafood you can enjoy on any of the Hawaiian islands.
During my recent trip to the island of Kauai, I dined at some amazing restaurants, bakeries, bars, and food trucks. Here's a look at some of my favorite places to eat in Kauai!
Merriman's Fish House - Poipu

Merriman's Fish House - Poipu

2829 Ala Kalanikaumaka Street #G-149
Koloa, Kauai, Hawaii 96756
https://www.merrimanshawaii.com/fish-house/
HOURS
Dinner: Daily 5:30pm - 9:00pm
Happy Hour: Daily 5:30pm - 6:30pm

Chef and Restaurateur Pete Merriman owns four restaurants that carry his name in Hawaii. The Merriman's on Poipu, on the south shore of Kauai, is a casual yet elegant setting. It's absolutely perfect for a family dinner out or date night. At least 90% of the food that is served here is locally grown or caught, using sustainable methods.

This was one of my favorite meals that I enjoyed while visiting Kauai. I loved every bite.
Choose from a delicious array of tantalizing starters, like the Sauteed Kauai Shrimp ($17) pictured above, the Ahi Ginger Poke ($19), or the Kona Lobster & Crab Cakes ($21).
Then move onto the Macadamia Nut Crusted Kampachi, a Hawaiian fish ($41) or the Jumbo Fresh Lobster ($49). You really can't go wrong with ANY dish you try at Merriman's. Trust me: I think we ordered one of almost everything! I'll have more photos and details of our mouthwatering meal in a separate post.
Full restaurant review of Merriman's Poipu coming soon!
RumFire
2440 Hoonani Rd, Poipu Beach
Koloa, HI 96756
http://www.rumfirekauai.com/
HOURS:
Tuesday to Saturday – Dinner 5:30 p.m. to 9 p.m., Bar 5:30 p.m. to 10 p.m.
Located on the south side of Kauai island, RumFire offers Kauai travelers one of the best beach front restaurant views on the whole island. The atmosphere is upscale but casual, and the food features contemporary twists on classic Hawaiian cuisine.
Start with one of four different types of classic Hawaiian Mai Tai cocktails, including Kauai's Best Mai Tai by bartender Nilo Badua. The stunning creation you see above received over 1,000 votes during the Kauai Bartenders Challenge 2015.
Choose from delicious salads, appetizers, and entrees. My picks: the Shrimp Lumpia starter and the Miyosaki Butterfish entree.
Finish your meal with one of RumFire's stunning desserts. The Baked Hawaiian pictured above is a true tableside show and delicious treat!
Full restaurant review of RumFire coming soon!
Bar Acuda
5-5161 Kuhio Highway
Hanalei, HI 96714
http://www.restaurantbaracuda.com/
HOURS
kitchen: 5:30-9:30 pm
bar: 5:30-10pm
Bar Acuda is a great hot spot for date nights and girls night out. The menu features tapas-style dishes, meant to be shared. They have a great wine list and tasty cocktails too!
My fave picks: the Roasted Beet Salad ($14) and the Seared Sea Scallop Molokai ($14). You'll learn that the scallop is, indeed, singular, but don't be frightened by that: it is a HUGE scallop and it's absolutely delicious!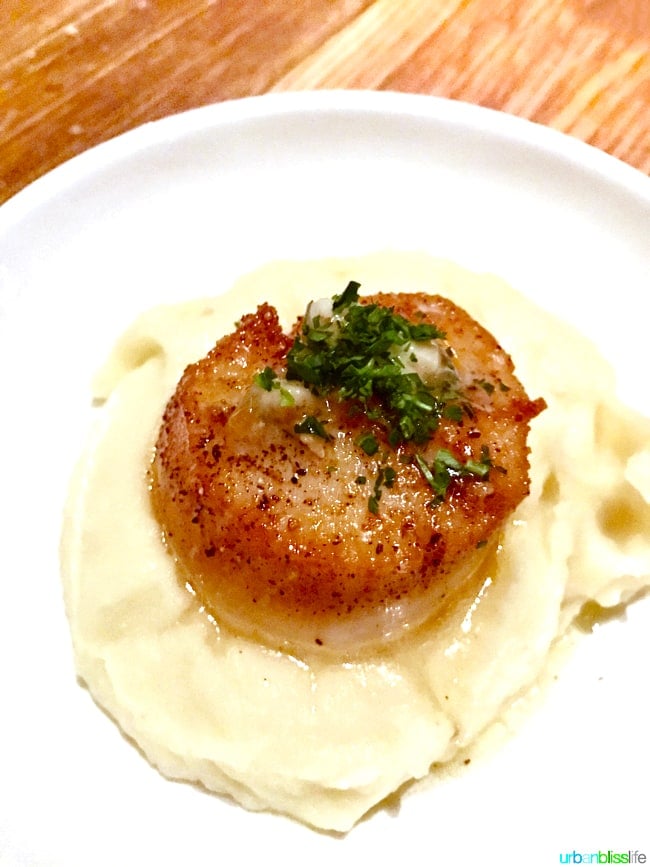 Gaylord's
3-2087 Kaumualii Hwy
Lihue, HI 96766
http://www.gaylordskauai.com/
HOURS
Lunch: Mon.-Sat. 11:00am - 2:30pm
Dinner: Mon.-Sat. 5:30pm - 8:30pm
Sunday Brunch: Sunday only, 9:00am - 1:30pm
A Hawaiian institution, Gaylord's Restaurant is located in the 1935 Plantation House of Gaylord Parke Wilcox. Here, you can enjoy lunch, dinner, or Sunday brunch on the covered lanai and enjoy dishes featuring many of the produce and herbs grown on the 67-acre sustainable farm.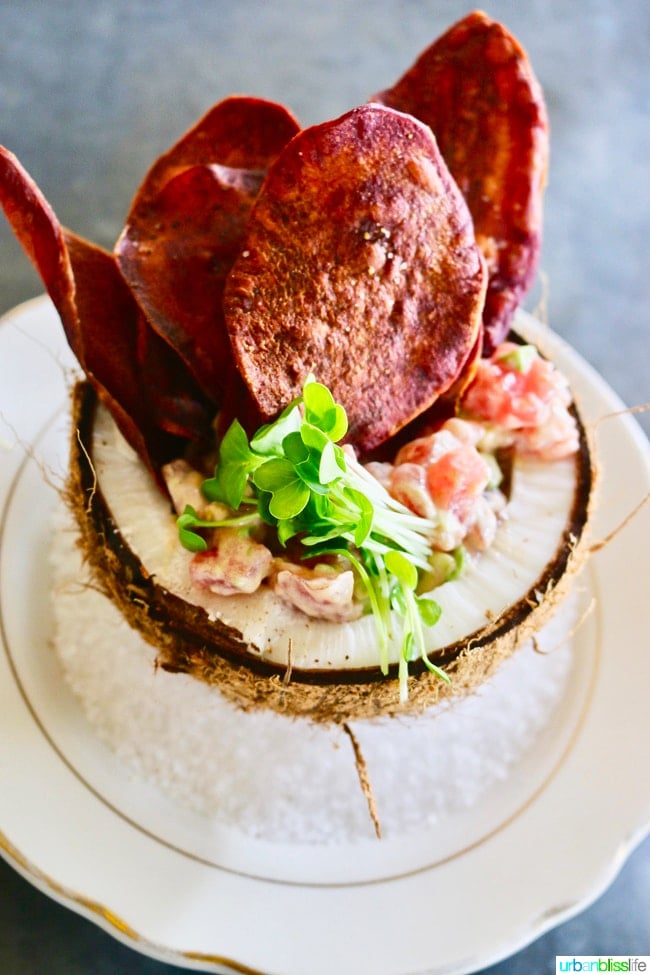 We dined here for lunch one day, and also enjoyed some cocktails in the lounge. For lunch, I recommend trying their ahi poke ($14) which is served beautifully in a split coconut.
More about Gaylord's cocktail program in a future post coming soon!
Wailua Shave Ice
4-1306 Kuhio Hwy
Kapaa, HI 96746
http://www.wailuashaveice.com/
HOURS: 11am - 9pm
You cannot visit Hawaii without enjoying a shave ice. No matter which island you venture to, you're bound to find at least a dozen different shave ice trucks or shoppes.
On the island of Kauai, the top recommended spot for us to visit was Wailua Shave Ice. It did not disappoint.
Located in the adorable shopping district of Kapaa, in a 1970s style camper, the Wailua Shave Ice menu changes weekly. Their shave ice is made with all local fruits, no dyes, no artificial colors, and no high fructose corn syrup.
It's all amazing. Truly.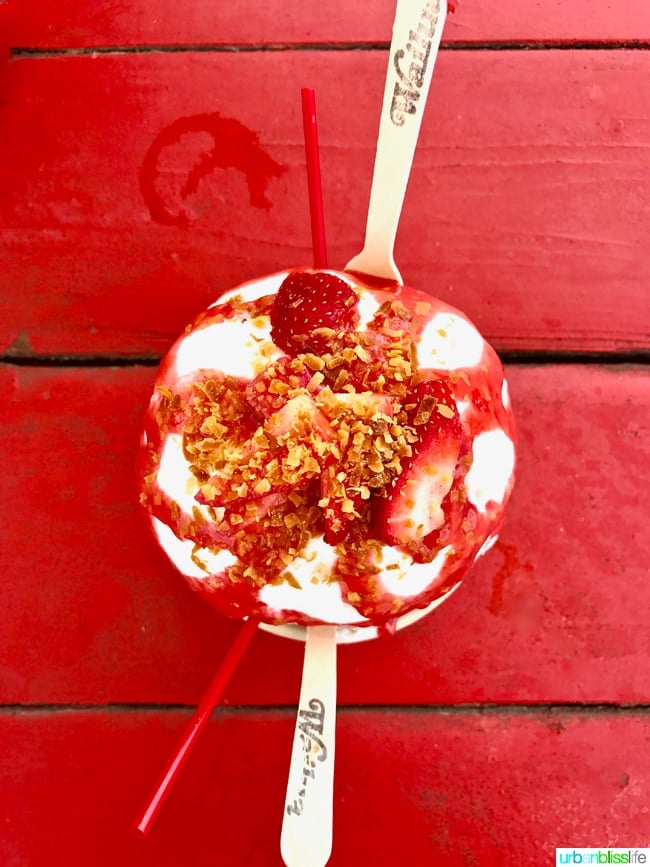 During our visit, I split the strawberry coconut shave ice because I thought I wouldn't be able to finish one on my own. I was wrong. I could have devoured that huge mound of shave ice on my own because it was SO crazy delicious!! I have also heard the Orange Dream flavor and the Wailua Sunrise flavors are also a crowd favorite.
PORTLAND readers, heads up: Wailua Shave Ice PORTLAND finally has a permanent home on Burnside! There is also a location in San Diego, California.
---
Tasting Kauai Food Tour
Food tours are continuing to grow in popularity as travel tour options throughout the world, and I think they're one of the best ways to get a taste of a location, its culture, its people, in a shorter amount of time. While on Kauai, we were treated to a Tasting Kauai food tour, and the places below were some of the highlights of that tour.
---
Hanalei Taro & Juice Company
Find all locations listed here: http://www.hanaleitaro.com/
The W.T. Haraguchi Farm is a 6th generation family farm on the island of Kauai. In 2000, the family launched a new venture: Hanalei Taro & Juice Company. Serving seasonal dishes featuring crops from the family farm, Hanalei Taro & Juice Company food truck currently services four roving locations on the island of Kauai and five locations on the island of Oahu.
Menu items vary per ingredient availability, but some customer favorites include Taro Mochi Cake, Zesty Taro Hummus, Hanalei Taro Veggie Burgers, Taro Smoothies, and Kahlua pork tacos (the Kahlua pork filling is shown below with taro chips and poi).
Trucking Delicious
5100 Kuhio Hwy
Hanalei, HI 96714
http://www.truckingdeliciouskauai.com/
HOURS: Tuesday - Saturday, 11am - 4pm
You can't miss this popular food truck. Located behind the Hanalei liquor store, the vibrant aqua-colored truck serves up local style plate lunches with gourmet flare. Run by 23-year-old
One fun special that Chef Chloe offers from time to time: this beautifully bright sweet potato haupia cupcake.
Kailauea Bakery
2484 Keneke St.
Kilauea, HI — 96754
http://www.kilaueabakery.com/
HOURS: daily 6am - 9pm
With a 25-year history of creating and serving delicious pastries, pizzas, desserts, and breads to customers on Kauai, Chef/Owner Tom Pickett's Kailauea Bakery is a must stop in town. This eatery offers a large, impressive amount of vegan, vegetarian, gluten-free, nut-free, and dairy-free options for a bakery.
Tiki Iniki
Located in the Princeville Shopping Center
http://www.tikiiniki.com/
Tiki Iniki is the dream tiki bar of singer, songwriter, and record producer Todd Rundgren and his wife Michele (pictured below). It's a fun, lively tiki bar that serves up Hawaiian bar food for lunch and dinner. We had the ribs along with a Mai Tai during our Taste of Kauai tour stop here, and the ribs were fall-off-the-bone tender and so good!
It's a great place to stop in for a drink and a bite. If you're lucky, Michele will be there - she is a happy vibrant personality that lights up Tiki Iniki!
Disclosure: All of the food shown here was complementary thanks to the Kauai Visitors Bureau. Many thanks to the restaurants for sharing their time, history, and food and drinks with us! Special thanks to Tasting Kauai for including us in one of their delicious food tours. I highly recommend taking one of their tours if you visit Kauai! As always, all opinions and photos are my own.