Traveling to the beautiful Hawaiian island of Maui? Be sure to check out some of my faves: the best places to eat in Maui!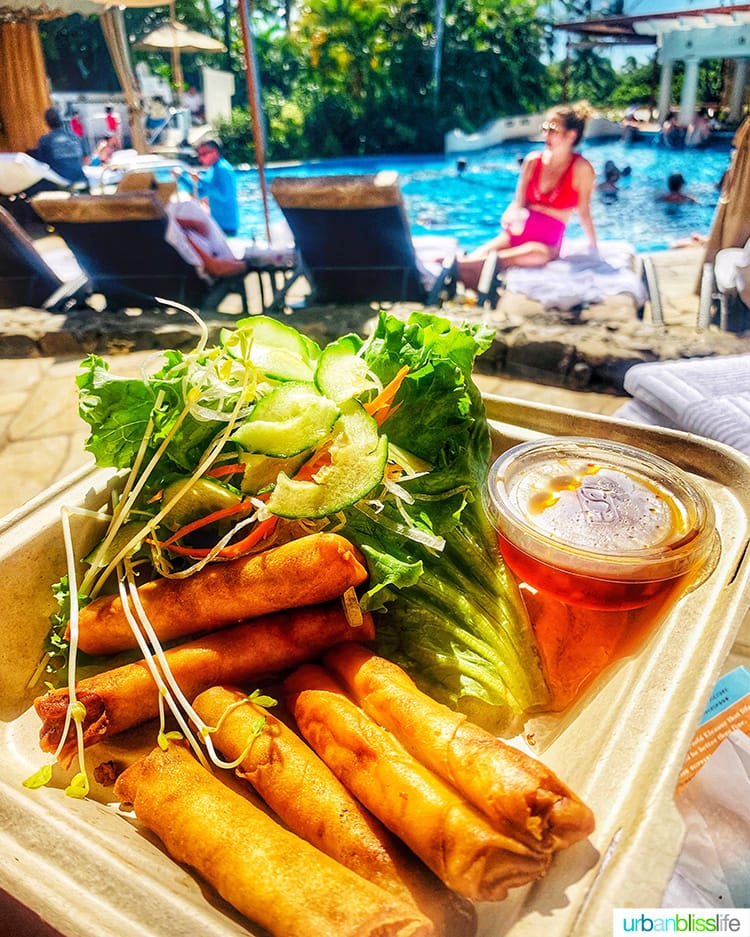 We love Hawaiian vacations, and the island of Maui in particular is a magical destination.
The beaches are stunning, and the sun is always shining. Even when there's rain in the forecast, it's only for a short while, and then the sun is back.
It's one of my favorite places for family travel. But it's also a foodie's paradise!
Jump to:
🏝 Food to eat in Maui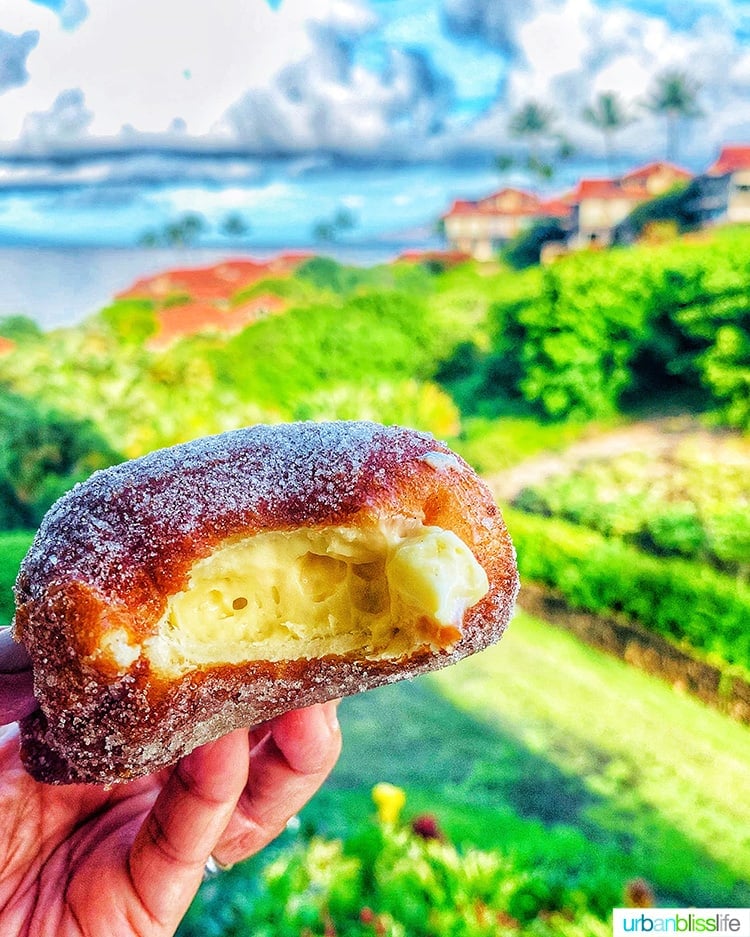 Like most Hawaiian islands, Maui is a beautiful blend of so many different cultures. Maui food reflects this diversity. You'll find a fantastic range of cuisines and styles of cooking here. Some of my favorite things to eat in Maui:
Malasadas - a Hawaiian doughnut (pictured above) that's super fluffy and light.
Shave Ice - the best of all Hawaiian desserts, in my opinion! Similar to snow cones, but the ice is very small, light, and fluffier than snow cones. Most Hawaiian shave ice is available with different flavored syrups and toppings.
Lumpia - this Filipino egg roll can be found on many menus throughout the island, which makes my Filipino-American heart so happy! I've also got a lumpia recipe on the blog so you can make it at home!
Spam Musubi - if you've shied away from Spam, you need to try it when you visit any of the Hawaiian islands. I found the best fried spam musibi on Maui... read on to learn where you can find it! And, check out my Spam Musubi recipe to learn how to make your own at home!
Poke - You haven't had poke until you've had it in Hawaii, and you'll find so many amazing poke dishes in Maui!
Here are some of the best places to eat in Maui. You'll find some of the best foods to eat featured at some of these top Maui restaurants!
✨ Must-try experiences in Maui
🍽 Best Places to Eat in Maui
We have been to Maui a few times now, for Hawaiian family vacations and I've been a few times for work. Here are some of my favorite Maui restaurants.
This is by no means an exhaustive list, but if you're planning a trip to Maui, it will help give you some yummy ideas for the best places to eat. If you're looking to enjoy some of the best Hawaiian food, you'll find it in these fantastic restaurants!
🍧 Ululani Shave Ice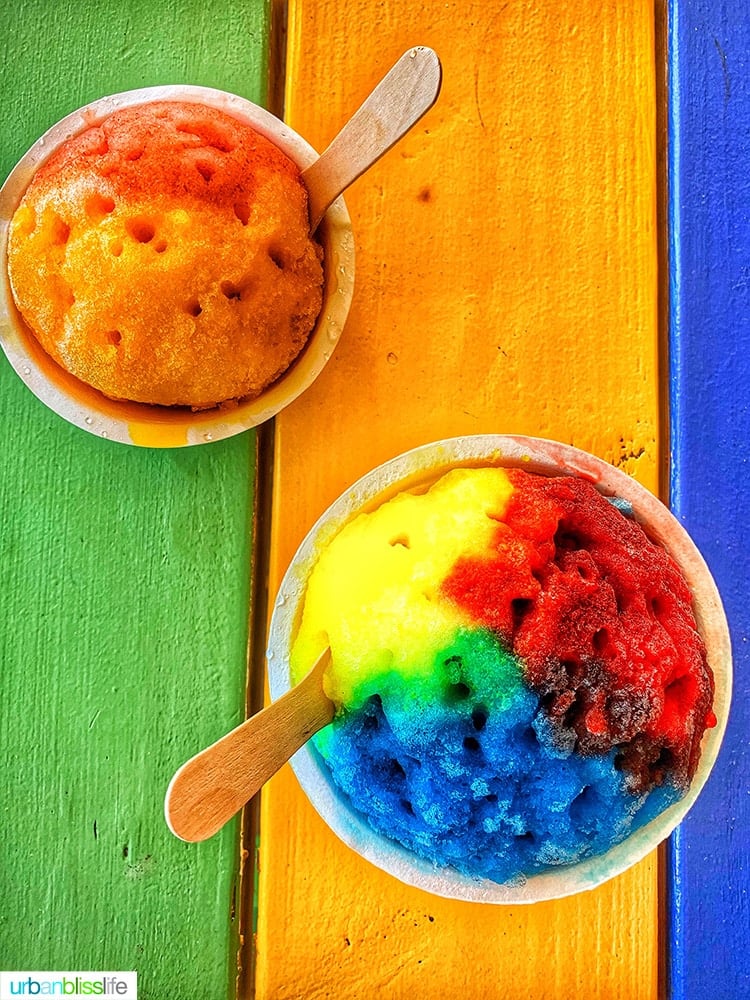 Ululani Hawaii Shave Ice
SIX locations on Maui
We went to the Kihei beachfront location:
Kihei, Maui
61 South Kihei Rd.
Kihei, HI 96753
7 Days 10:30am-6:30pm
There are many amazing spots to find delicious Hawaiian shave ice. One of the best places to eat shave is on Maui is Ululani Shave Ice. There are six locations on Maui. The one I like is the location across from the beach at Kihei. There may be a line but it moves pretty quickly. Plus, it gives you time to decide which of their luscious flavor combos you are feeling like that day.
🍚 Da Kitchen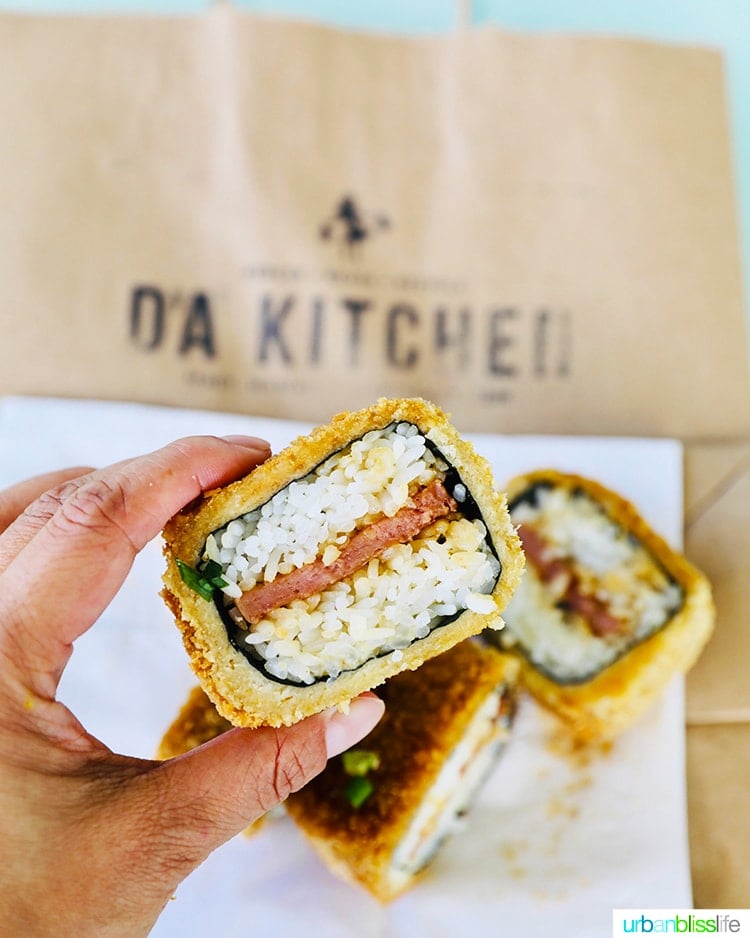 Da Kitchen
TWO Locations
We visited the location in Kihei:
Rainbow Mall
2439 South Kihei Rd. #A107
Kihei, HI 96753
808.875.7782
HOURS: Daily, 11am to 9pm
Da Kitchen has been serving up classic Hawaiian plate lunches, noodles, and sandwiches since 1988. It opened its second Maui restaurant location in Kahului in 2000.
The atmosphere is super casual, and it's a great spot for take-out. My fave dish here: the fried spam musibi. If you've never had spam musubi, I encourage you to give it a try. The salty Spam is sandwiched by fluffy rice, wrapped in seaweed and fried.
🦐 Down the Hatch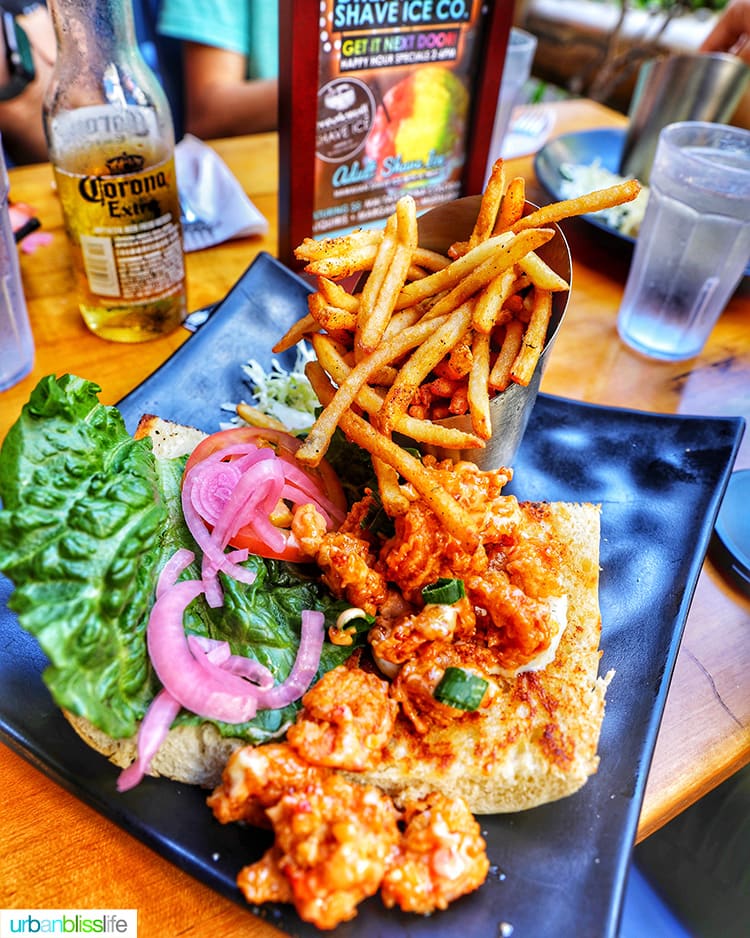 Down the Hatch
658 Front St #102
Lahaina, HI 96761
HOURS: Daily
Breakfast 7:30-10:30am
Lunch/Dinner 10:30am-Midnight
Kitchen open till midnight
Bar 8am-2am
Happy Hour 2p–6p
Down the Hatch is located across the street from the Old Banyan Tree in Lahaina. The open-air restaurant/bar is a fun spot for all. You can belly up to the outdoor bar and watch the game with friends, or grab a table in the courtyard. It's very kid-friendly, with lots of yummy options for people of all ages.
My menu pick: the shrimp po boy (pictured above). The po boy is made with Down the Hatch's lava lava shrimp. The sweet chili sauce gives it a lovely sweet/tangy flavor. Love this dish!
Down the Hatch offers Adult Shave Ice (read: shave ice with alcohol) during Happy Hour from 2-6pm every day. You do need to enjoy these on site; you can't take these beverages to go.
🍕 Monkeypod Kitchen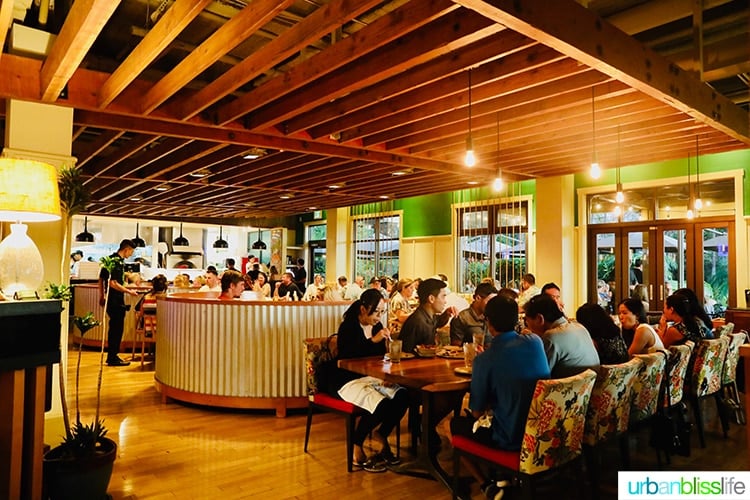 Monkeypod Kitchen
TWO locations on Maui:
Wailea
10 Wailea Gateway Place
Kihei, HI 96753
HOURS: Everyday 11a–11p
Happy Hour 3p–5:30p & 9p–11p
Ka'anapali
2435 Kaanapali Parkway
Lahaina, HI 96761
HOURS: Everyday 11a–11p
Happy Hour 3p–5:30p & 9p–11p
Monkeypod Kitchen is a classic Hawaiian restaurant. It is pretty popular and fills up, so be sure to make reservations in advance.
They serve an award-winning Mai Tai (reportedly one of the best on the island), which I ordered (pictured above). It's delicious! This family-friendly Maui restaurant serves wood-fired pizzas, burgers and sandwiches, and a variety of fish dishes. You'll also find a couple of noodle options and steak entrees.
🍤 Ko Restaurant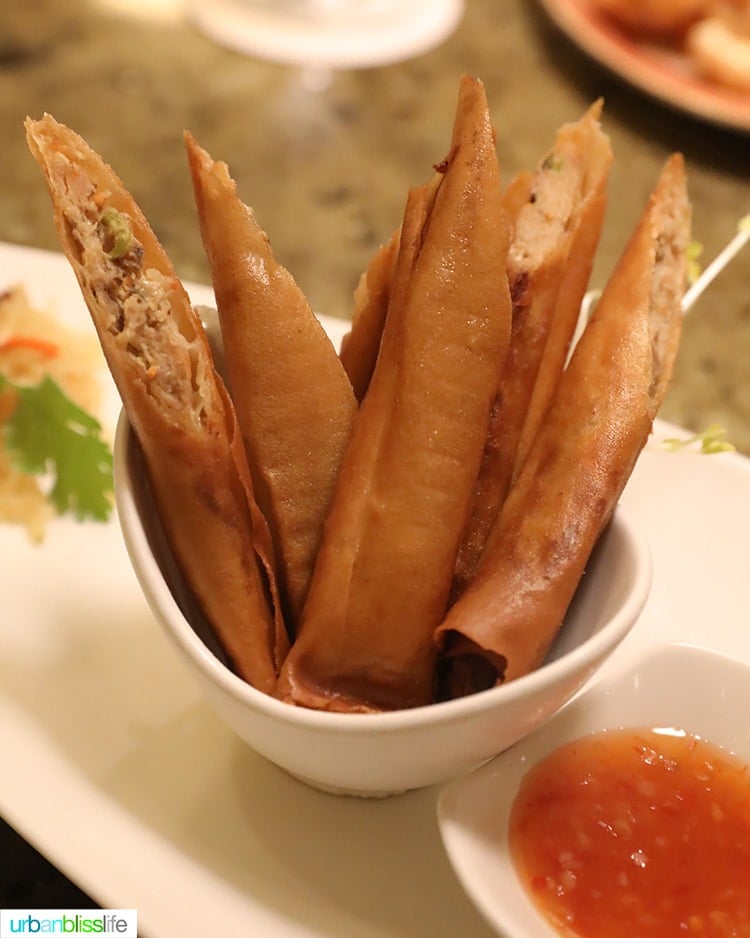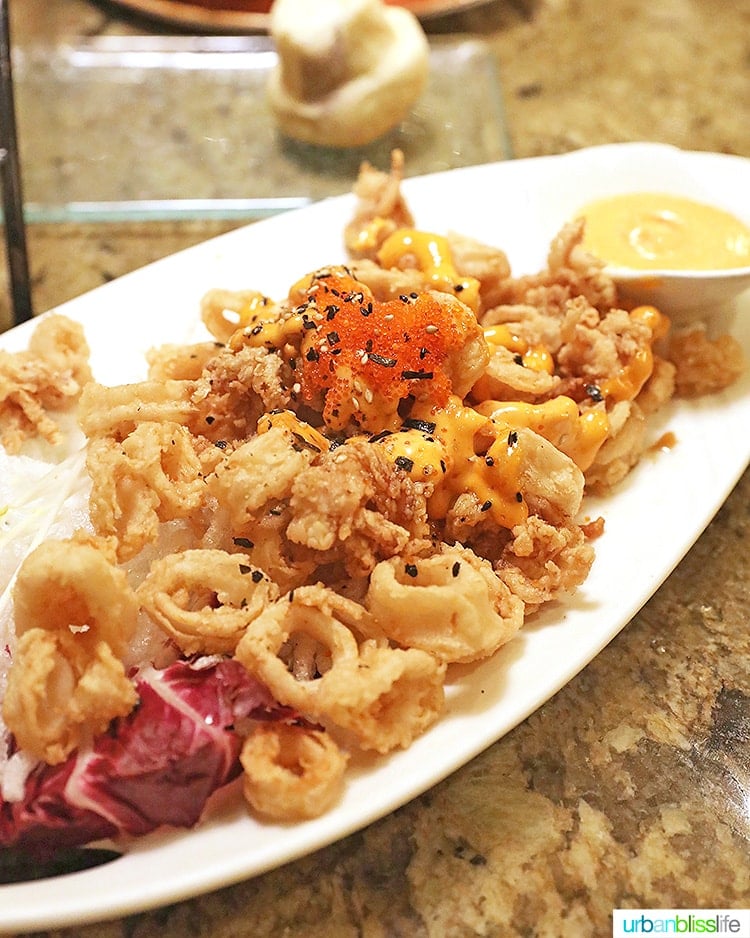 Ko Restaurant
Within Fairmont Kea Lani Resort
4100 Wailea Alanui,
Maui, Hawaii 96753
808-875-2210
HOURS: Lunch 11:30am - 2:30pm
Dinner 5:00pm - 9:00pm
Kō Bar 11:00am - 9:00pm
Happy Hour 3:00pm - 5:00pm
We love Fairmont Kea Lani, and one of the on-site restaurants, Ko, is always fabulous. It's truly one of the best places to eat in Maui.
The Filipino lumpia here is beautifully prepared, and I highly recommend ordering it as a starter. For entrees, you'll find a nice selection of seafood, steak, and vegetarian options.
The service at Ko is impeccable, and the view looking out over the beautiful grounds of Fairmont Kea Lani Resort is stunning.
Is Ko family-friendly?
Yes! It is a more upscale restaurant, but it's also at a resort. This is one of the restaurants our kids would dress up just a bit for dinner. Although, we also saw kids in shorts and t-shirts.
🐟 Mama's Fish House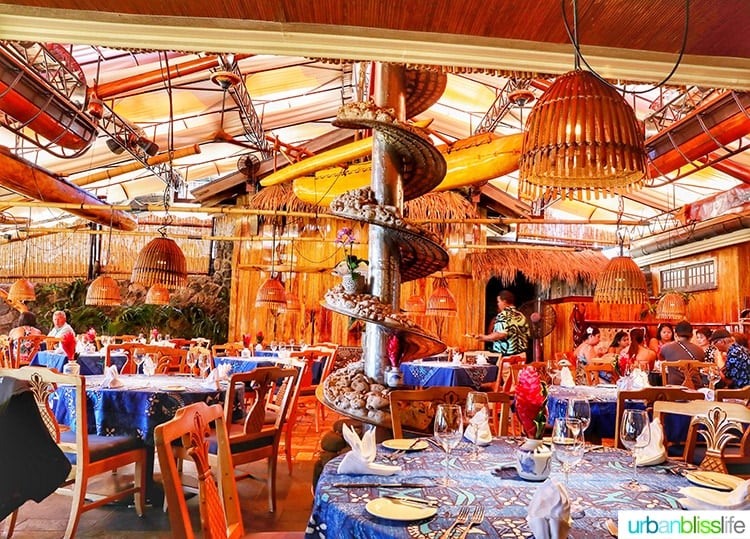 Mama's Fish House
799 Poho Place
Paia, HI 96779
(800) 860-4852
HOURS: Open Daily, 11am - 9pm
Perhaps one of the most popular tourist attractions in Maui is Mama's Fish House. Located on beautiful beachfront property in Poipu, the restaurant is connected to a hotel as well.
What to order at Mama's Fish House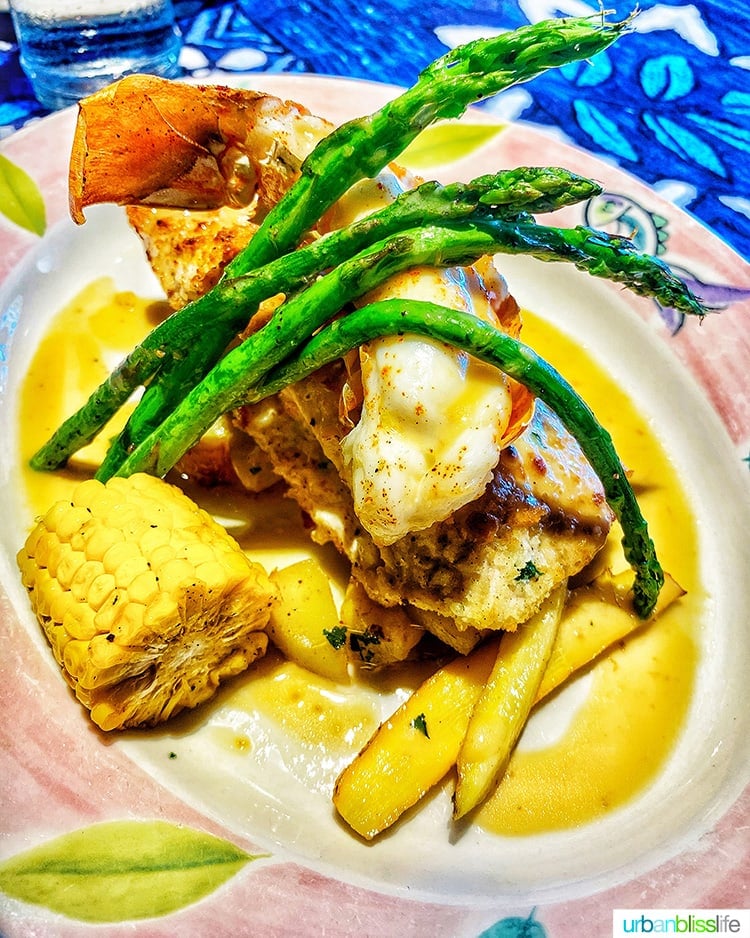 Mama's Fish House is somewhat famous for the Mama's Stuffed Fish dish. This has lobster and crab baked in a macadamia nut crust. Served with a small corn on the cob and topped with some asparagus, the dish is on the expensive side at $60 per plate.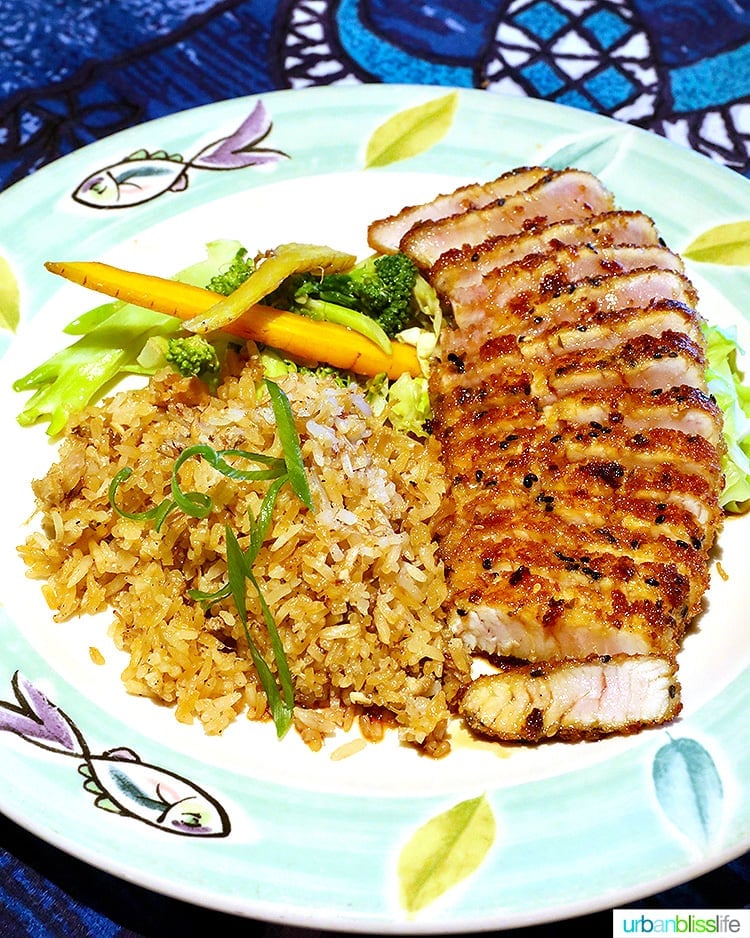 The Kanpachi with Kalua pig fried rice ($56) is also delicious. This dish comes in a fairly large portion.
Is Mama's Fish House Kid-Friendly?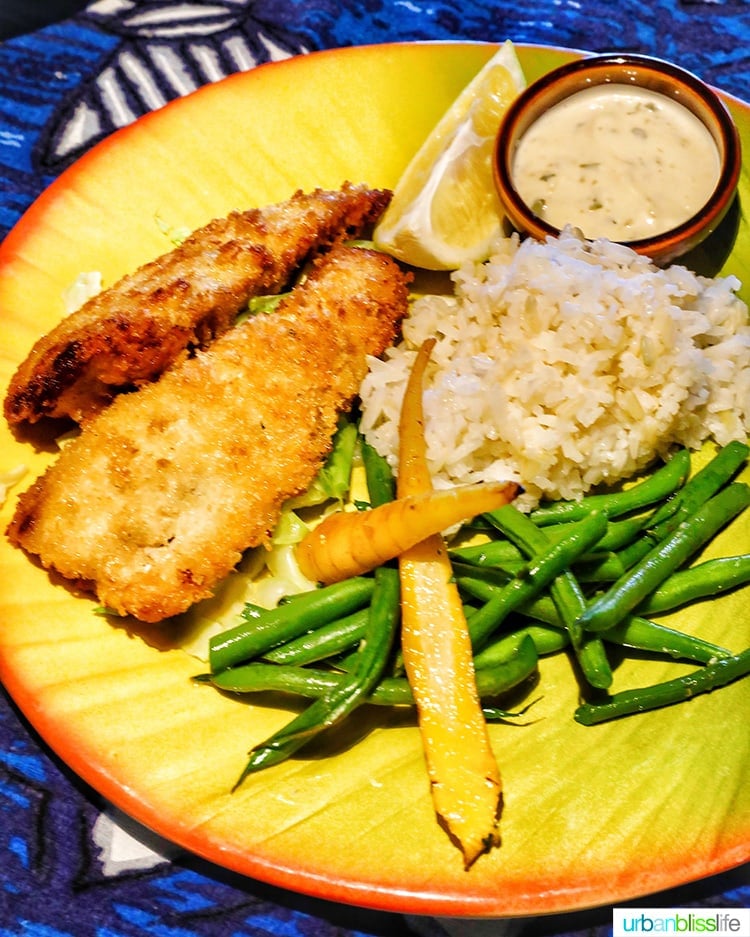 There is not a printed kid's menu but they do offer two items for children. The dish pictured above is the child's fish with rice and vegetables ($30).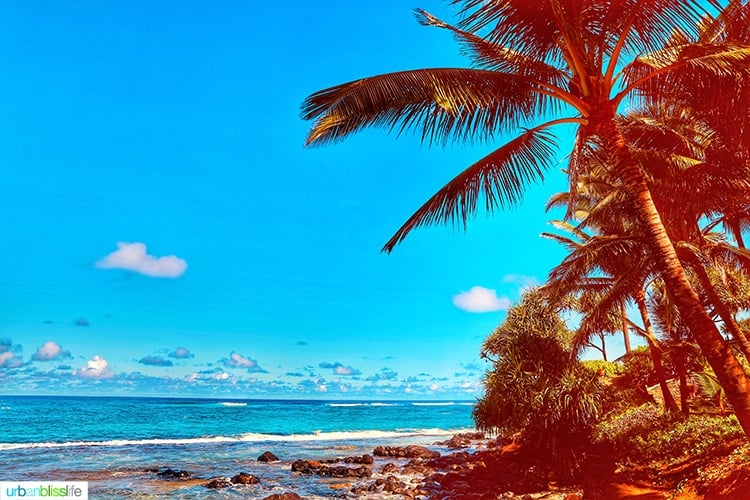 Overall, we found Mama's Fish House to be underwhelming. It is quite expensive for the average quality of food and service we received.
However, the fish was very fresh and the beachfront view (as seen in the photo above) was absolutely gorgeous. And, loads of tourists seem to love this place, so we felt obliged to include it. Just know: it's not our personal favorite, but you might enjoy it! This is definitely a special occasion splurge restaurant.
🍝 Matteo's Osteria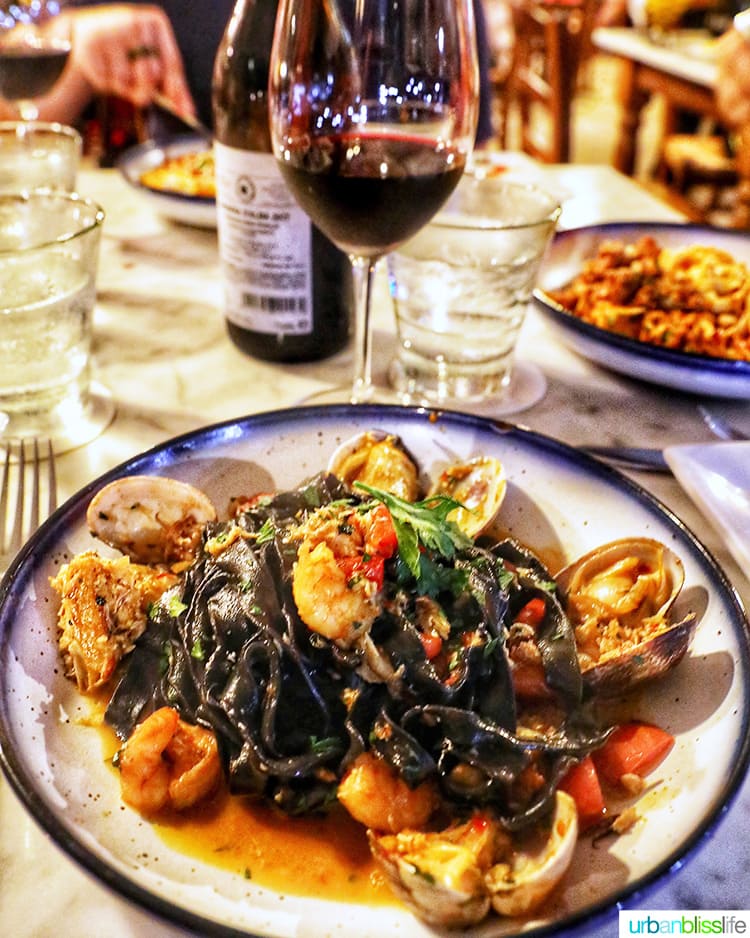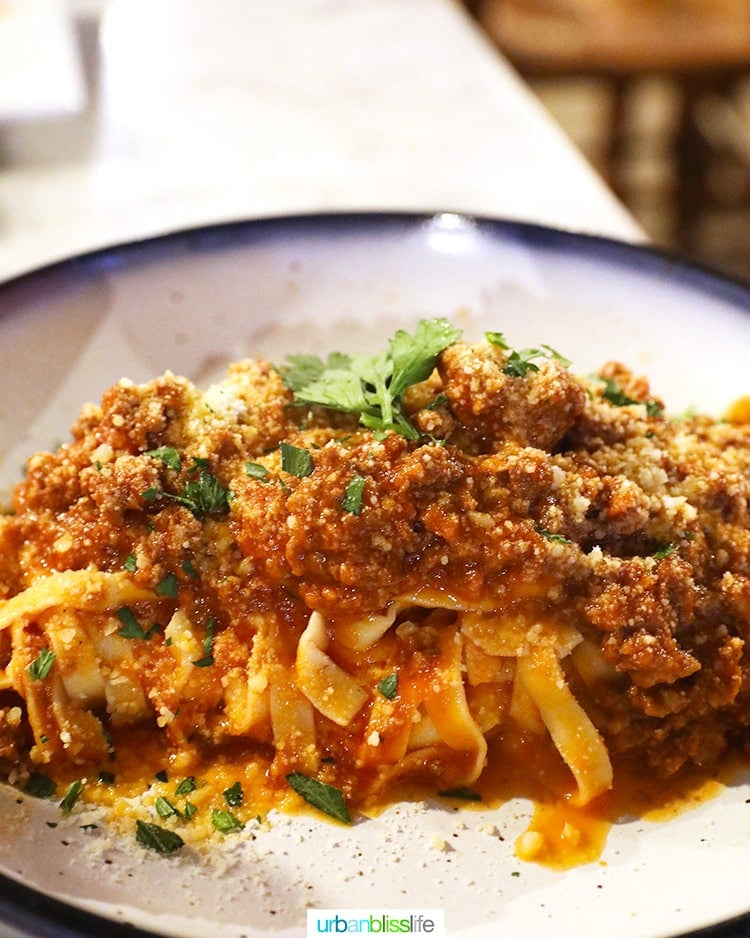 Matteo's Osteria
161 Wailea Ike Place
Wailea
info@matteosmaui.com
808.891.VINO (8466)
HOURS:
Dinner, 5 - 9:30pm
Happy Hour Mon-Fri 3-5pm, Sat-Sun 4-5pm
Yes, you should eat all of the fresh fish, poke, and kahlua pig that you can when visiting Maui. But if you're hungry for the best places to eat Italian food in Maui, you will find it at Matteo's Osteria.
We've been here on two different Maui trips, and each time has been spectacular. The service is always attentive and friendly. The wine list is one of the best on the island. And of course, the food is superb.
What to order at Matteo's Osteria
The obvious choice is to order pizza or pasta. You can also find large salads here. The standout dinner item for me is the Fettuccine Frutti di Mare. This hearty Italian pasta dish is made with squid ink pasta and overflowing with fresh crab, shrimp, and clams. It's all tossed together in a tomato white wine sauce. Delicious.
Is Matteo's Osteria kid-friendly?
Matteo's is very family-friendly! You'll find lots of families dining here, with children of all ages. They have a separate kid's menu with items such as pizzas, mac and cheese, and spaghetti.
🍺 Maui Brewing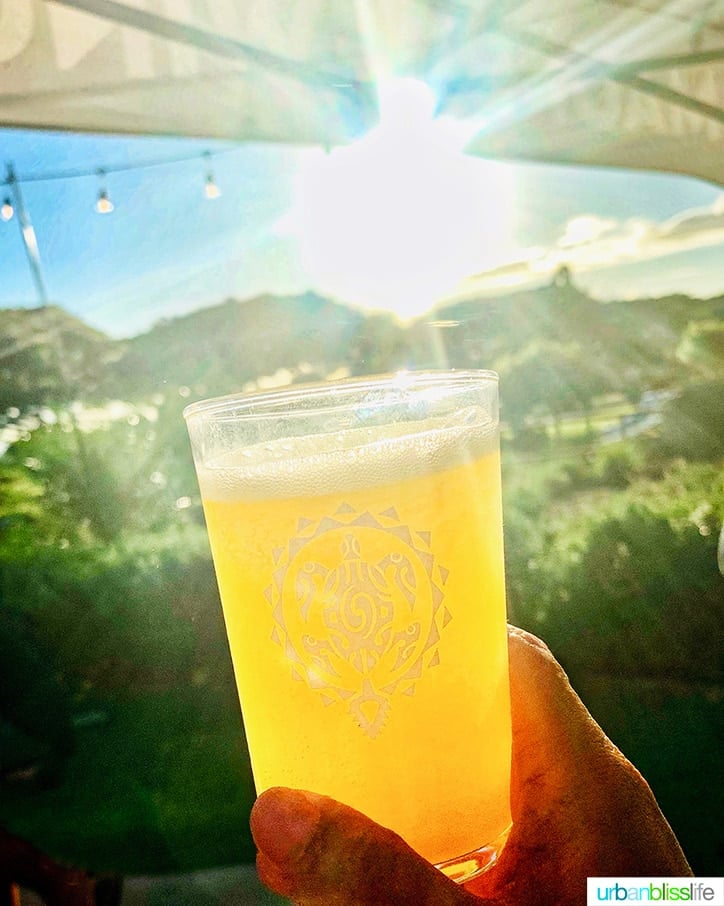 Maui Brewing - Kihei Location
605 Lipoa Parkway
Kihei, Maui, HI 96753
(808) 201-BEER (2337)
HOURS: daily, 11am - 11pm
Maui Brewing - Lahaina Location
Kahana Gateway Center
4405 Honoapiilani Highway
Lahaina, Maui, HI 96761
(808) 669.3474
HOURS: daily, 11am - 10pm
Maui Brewing's Kihei location is a fantastic place to enjoy lunch or dinner. It's spacious, totally kid-friendly, and has a nice selection of food to go along with your beer. We love the super casual atmosphere, perfect for lounging around with a local beer and bites after a day at the beach!
More Hawaii travel guides
Looking for a fantastic place to stay in Maui? Check out our family's favorite Maui hotel: the Fairmont Kea Lani Resort.
If you visit, please be sure to let them know that you read about it on Urban Bliss Life! And if you snap some pics, tag us @UrbanBlissLife and #UrbanBlissLife on Instagram, TikTok, Twitter, and Facebook.