Offering breathtaking oceanfront views and delightful dishes representative of the diverse cultures of the island, RumFire Poipu Beach is one of the best places to eat in Kauai.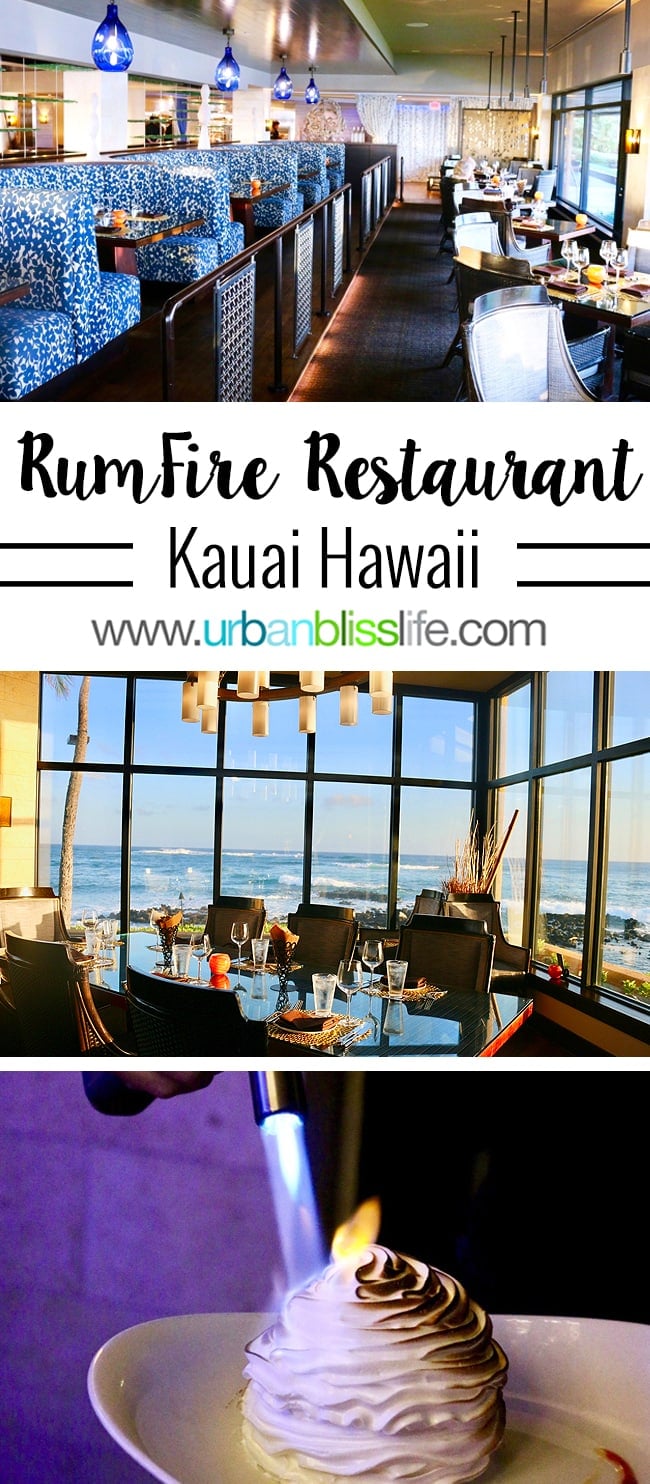 Dining at a restaurant that serves expertly prepared dishes is a fabulous experience. Dining at such a restaurant that also includes fantastic service is even better. Now combine those two with the added bonus of stunning oceanfront views and you have one of the best places to eat in Kauai.
That's the terrific trifecta restaurant experience I enjoyed at RumFire Poipu Beach.
RumFire Poipu Beach Kauai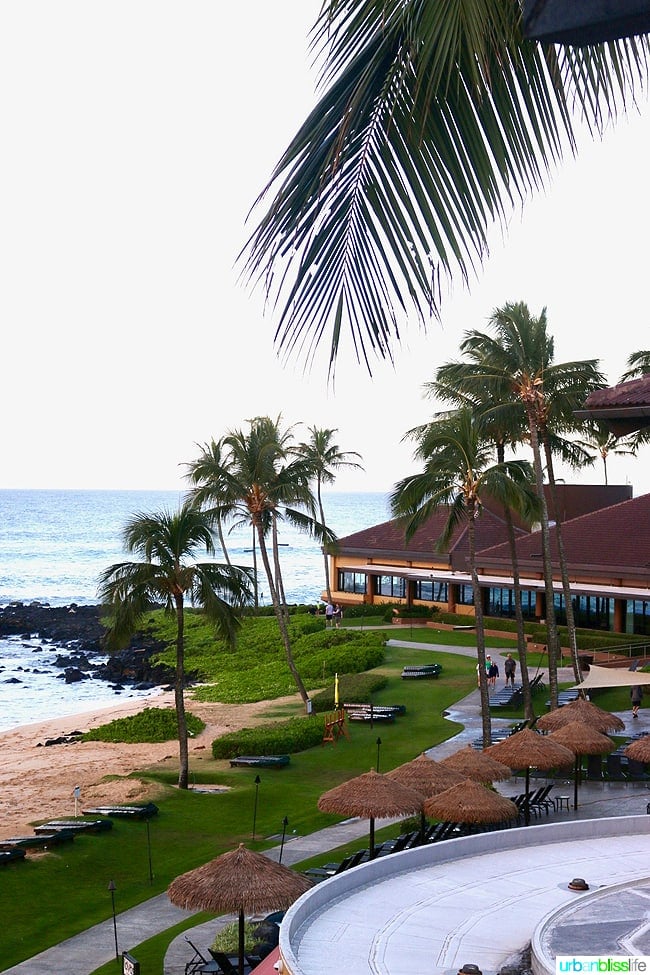 RumFire Poipu Beach restaurant is located inside of the Sheraton Kauai Resort, which is one of only two hotels with beachfront access to beautiful Poipu Beach.
Enjoy dinner at RumFire, and you can soak up stunning sunset views like this: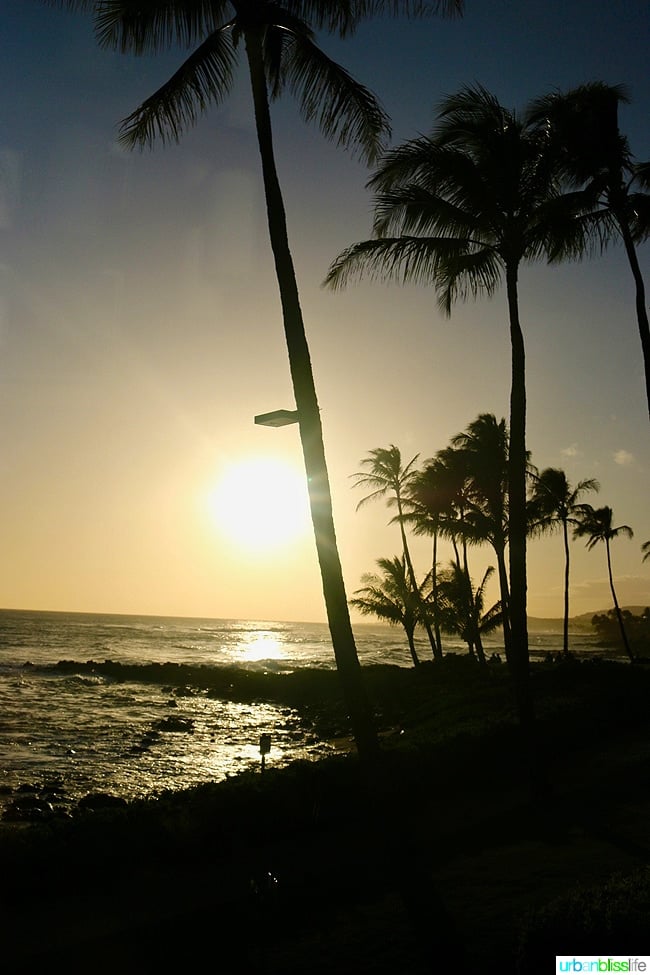 This was the view from my seat at this gorgeous table with a breathtaking view of the ocean.
But this table isn't the only table with a view at RumFire Poipu Beach. There are 180-degree ocean views from every single one of the restaurant's 240 seats.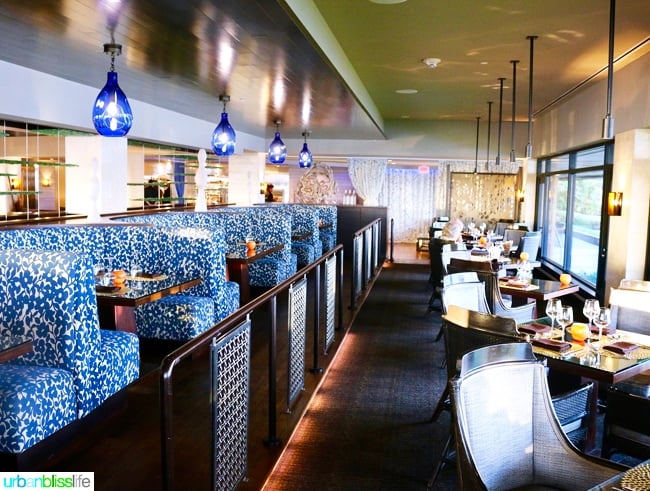 The atmosphere here is elegant, but casual and cozy. It's a great spot for dinner dates and family dinners.
Drinks
I really enjoyed the cocktails served at RumFire.
We all got to try Kauai's Best Mai Tai by Nilo Badua ($14). This Mai Tai received over 1,000 votes during the Kauai Bartenders Challenge 2015. It includes Mount Gay XO Rum, lime juice, spiced Falernum, and an herb infused simple syrup. I usually find Mai Tais too sweet, but I really enjoyed this one!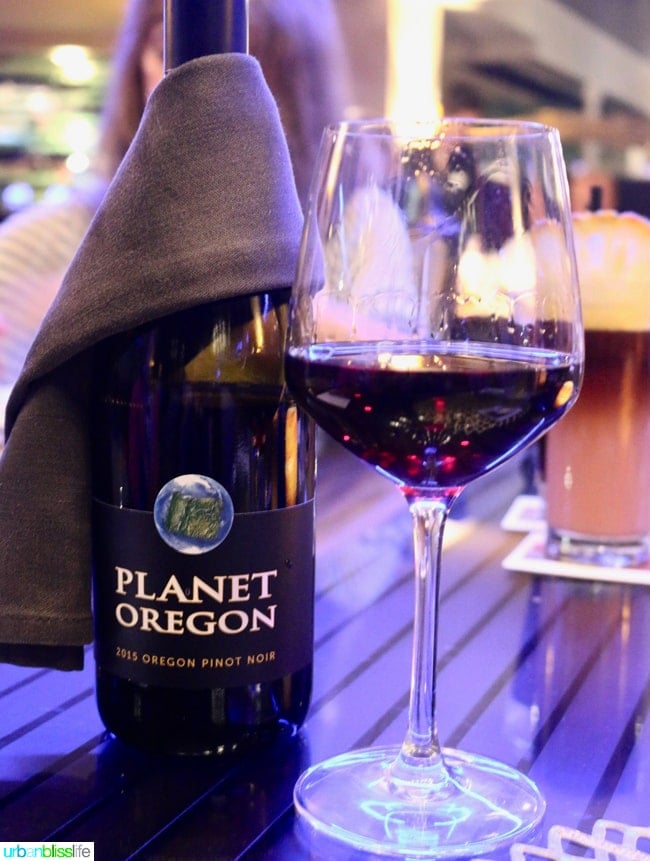 Being more of a wine lover, I was delighted to hear our server recommend an Oregon wine: the Planet Oregon Pinot Noir.
Starters
When you dine at RumFire, you instantly get a taste for the creative cuisine to come. Instead of a basket of bread, you're offered a snack mix of spiced popcorn and pretzels.
It's a fun, salty, spicy, unique beginning to a wonderful meal ahead!
Then I was super excited to see lumpia on the menu here. I love how the menu at RumFire Poipu Beach reflects the mix of different cultures that make up Hawaiian culture. This Shrimp Lumpia with Cilantro-Ginger Soy ($14) is a wonderful starter!
Check out my Cooking Class: How to Make Filipino Lumpia to learn how to make your own lumpia at home.
If you're looking for lighter fare, the North Shore Baby Romaine salad ($17) comes with crab, avocado, cherry tomatoes, sprinkled with parmesan cheese and topped with a wasabi dressing.
One of the more creative and visually interesting starters is the Beet Stained Maui Nui Venison Tartare ($18). This is topped with a 65 degree sous vide egg, and served with red onion, sea asparagus, mango dijon, and crispy herb baguette slices. Yummy and an Instagram-worthy dish!
The Fried Brussels Sprouts ($11) are served with Portuguese sausage, spiced macadamia nuts, and a miso Vinaigrette.
Entrees
Moving on to the main entrees, we started with trying the newest dish at the time, which was a tasty cast iron chicken dish with fresh spring vegetables.
I chose to have a split of two main dishes: the Scallops special and the Misoyaki Butterfish.
The scallops were seared perfectly and I found the corn risotto that came with it to be incredibly flavorful.
The Misoyaki Butterfish was glazed with a rice wine chili and topped with tobiko. It was easy to understand how the butterfish is one of the most popular dishes at Rumfire. The fish was absolutely tender and full of sweet tangy flavor.
Dessert
And of course, you can't leave without having one of the delectable desserts at RumFire Poipu Beach.
The star of the night for me was a true table-side show stopper: the Baked Kauai for Two ($15). This is RumFire's take on the classic Baked Alaskan dessert. It's torched table-side by an able-bodied server to give the outer meringue layer the signature browned look.
The Baked Kauai is given a Hawaiian twist with inside layers of coconut ice cream, pineapple cake, and then a Lilikoi anglaise. It's as tasty as it looks and sounds!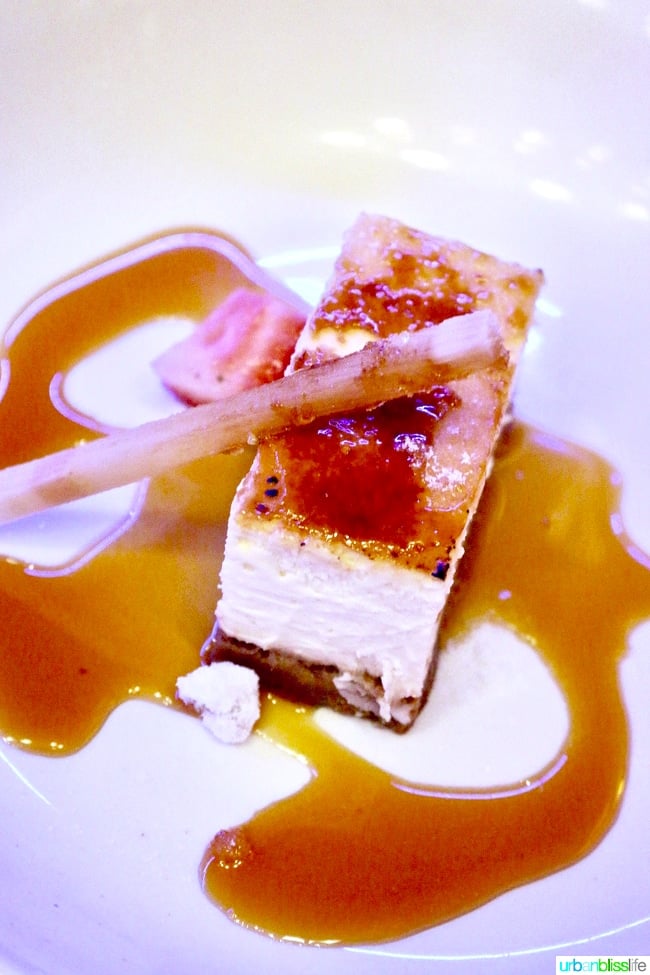 Another dessert that was popular at our table was the Brûléed Cheesecake with caramel sauce ($10)
Executive chef Michael Young
RumFire's program is headed up by Executive Chef Michael Young. If he looks familiar, it's because he appeared in a November 2015 episode of "Cutthroat Kitchen" on the Food Network. Chef Young has over 25 years of restaurant experience and his philosophy is to let the ingredients he works with speak for themselves. His inspiration can be seen throughout Sheraton Kauai Resort's restaurant menus through the introduction of new, locally sourced items such as Niihau lamb and Makaweli beef.
Thanks for an incredible meal and dining experience, Chef Young!
Visit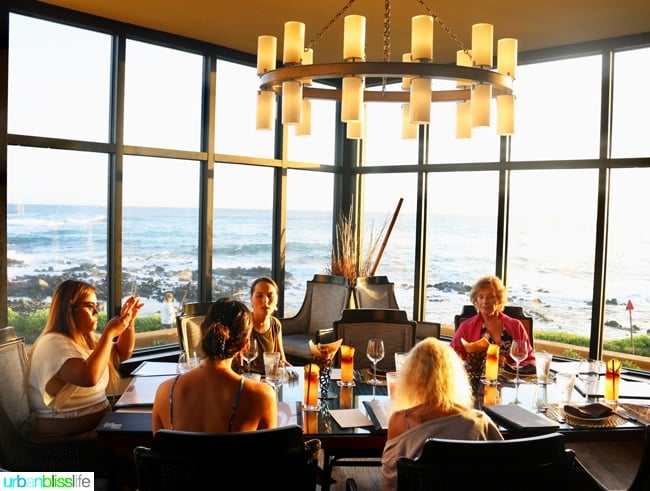 Dining at RumFire Poipu Beach is a fabulous multisensory experience. From the beautiful restaurant interior to the creative and flavorful cuisine to the stunning beach sunset, if you dine at RumFire, you are in for a memorable evening!
2440 Hoonani Rd
Poipu Beach
Koloa, HI 96756
808-742-4RUM (4786)
HOURS
Tuesday to Saturday
Dinner 5:30 p.m. to 9 p.m. | Bar 5:30 p.m. to 10 p.m.
Liquid Aloha Hour Specials 5:30 to 6:30 p.m. Bar only | 8:30 p.m. to 10:30 p.m. Full restaurant
For more information, visit the RumFire Kauai website.
More Hawaii travel ideas
Where to Stay in Kauai: Sheraton Kauai Resort
Where to Stay in Kauai: Westin Princeville Ocean Resort Villas
Disclosure: my meal was complimentary as part of a Kauai press trip. As always, all opinions and photos are my own. I only write about subjects I personally enjoy and believe you will, too!