The Hawaiian island of Kauai offers awesome adventures amid incredible beauty. Check out my Kauai ziplining, kayaking, snorkeling adventures!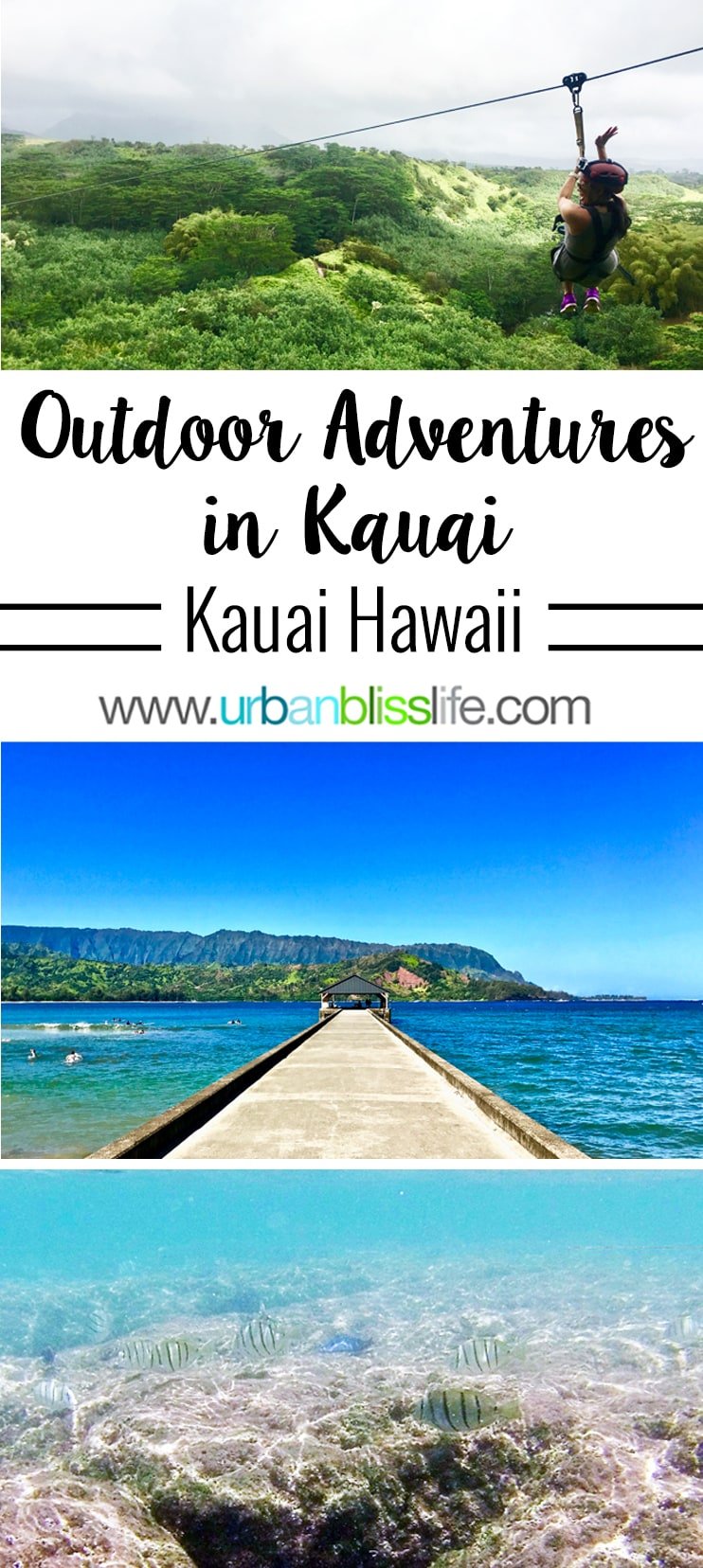 The island of Kauai may be known as the quieter of the Hawaiian islands - less flashier than the capital of Honolulu on Oahu and less resort-filled than Maui. But that doesn't mean you won't find excitement here. On the contrary, Kauai offers a soul-filling balance of serene beauty and active adventures.
During my trip to Kauai, I had the pleasure of ziplining in the mountains and kayaking and snorkeling in Hanalei Bay. Here's a peek at my adventures so you can see just how much fun you can have here too!
Jump to:
Hanalei Bay
Forever immortalized in the Puff the Magic Dragon song, Hanalei Bay is found in the North Shore of Kauai island. With lush green towering cliffs and mesmerizing blue waters, the awe-inspiring beauty of Hanalei Bay can be appreciated by lounging on the sandy shores...
or soaking in the views while you embark on one of the area's many fun activities.
Surfing is king here, and you can take lessons any day of the week. Hanalei Bay is also a great place for kayaking and snorkeling. I'll share my adventures in kayaking and snorkeling in a bit.
First, let's take a trip up to the mountains to see just how diverse and beautiful the island of Kauai really is.
Kauai ziplining
I get such a huge rush from ziplining. Have you been ziplining before?
You may remember that I had a blast ziplining on another Hawaiian island (see my ziplining adventures on Hawaii, the Big Island, on my YouTube channel). Ziplining in Kauai is an incredible experience that I highly recommend if you are vacationing here. Check out this quick video of my Kauai ziplining experience:
Ziplining is not the same experience everywhere. Each location offers something a little different, and policies can be different from one location to the next. If you've never been ziplining with Kauai Backcountry Adventures before, here's how it works.

You'll want to make reservations in advance. Be sure to arrive at the Kauai Backcountry Adventures headquarters in the town of Lihue at least 30 minutes prior to your scheduled time. This will give you enough time to check in, sign waivers, get fitted with your gear, and go through the safety presentation.
Then you'll get into one of their all terrain vehicles and head on out for the approximately 20-mile drive to the zipline location. The ride gets very bumpy for the last half, when you enter the countryside and drive over farmland, so if you get motion sick at all, be sure to come prepared.
You're rewarded with these gorgeous mountain views. There are seven lines that will have you flying over lush rainforest, and the whole experience takes about 3 hours from the time you leave the main building to the time you return.
One of the things I love most about ziplining while traveling is that it gives you the chance to meet other travelers and sometimes locals too. We had such a fun crew on this Kauai ziplining adventure: a couple and their teenage son from Canada, a father with his two teenage sons and nephew, and a newlywed couple who was hilarious.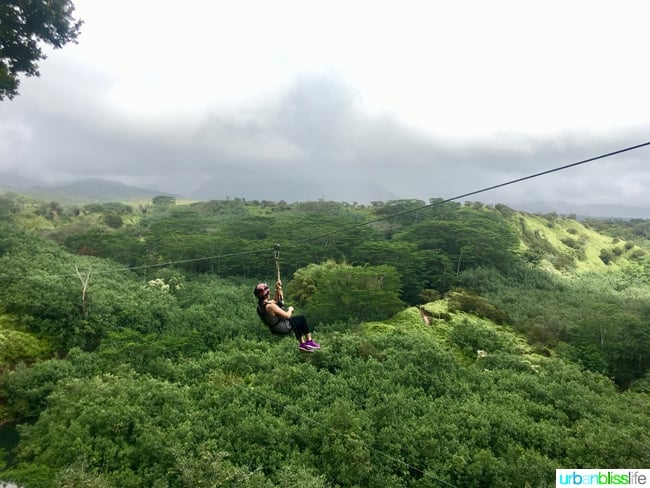 It's also such a memorable way to experience the place you are visiting. I loved soaring above the rainforest and soaking up views of waterfalls, rivers... it feels so freeing and calming while also exhilarating at the same time.
On a couple of the later lines, our guides told us we were able to do some freestyle fun. Some of us flipped upside down during our zipline runs. It was so much fun!
At the end of the zipline adventure, there's a cold lake you can jump into and cool off and a picnic area where we refueled with water and granola bars.
Some things you should know before you go:
Must be age 12 or older and weigh between 100 and 250 pounds in order to zipline.
Children under the age of 16 must be accompanied by an adult.
$125 per person
Wear long shorts or pants and closed toe shoes.
Bring your own GoPro, or your phone, but make sure you have a way to secure your technology when ziplining.
For more details, visit the Kauai Backcountry Adventures website.
I would definitely go ziplining again in Kauai. The guides made it so much fun (thank you, guides!!) and the views are unbelievably beautiful.
Kayaking in Kauai
If you're looking for an active adventure closer to the ground, there are a lot of kayaking and snorkeling options on the island. Our group went with Kayak Kauai, who offers a variety of kayaking and snorkeling tours, as well as hiking tours.
We chose the Hanalei Bay tour, which is a 5-hour tour and includes lunch.
After meeting with our guide and fellow tour adventurers, we received a brief safety review and then we were on our way.
You'll want to be sure you are comfortable on the water and in decent physical shape for this tour, as it is a bit more challenging than others. The waters can be rough at times, and during some days in the winter, Hanalei Bay is closed due to high surf so the tour may opt to explore calmer waters in those situations.
After kayaking for a while, we paddled over to a small beach for lunch and snorkeling.
Snorkeling
When we were here, there was great snorkeling so close to the shoreline. I was amazed! The fish here are absolutely comfortable with crowds, and it was an incredible experience.
Here are some photos I took with my (super old, second gen) GoPro:
Visit Kauai
Clearly, you can find adventure all over this gorgeous Hawaiian island! I had a blast and I can't wait to go back and experience these adventures all over again with my family.
Have you been to Kauai before to do any of these activities? Do you love ziplining, snorkeling, or kayaking? Tell me where you love to adventure!
Disclosure: The activities here were complimentary as part of a press trip. Thanks to the Kauai Visitors Bureau, Kauai Backcountry Adventures, and Kayak Kauai.