Llamas, an artisan shop, and wonderful wines... if you're visiting the Willamette Valley in Oregon, be sure to stop by Rain Dance Vineyards for a truly unique wine tasting experience!
When headed out toward the heart of Oregon Wine Country along my favorite main back road, Bell Road, you can't miss the big red barn on the corner of Bell and Herd Road in Newberg, Oregon.
I had driven by the vibrant Rain Dance Vineyards tasting room many times during my travels out to Oregon Wine Country, and was always curious what was behind those big barn doors. When I was invited to a media wine pairing luncheon here, I was so excited! At last, I could quench my curiosity and learn more about their wines.
A woolly welcome
Immediately upon parking at the tasting room, two beautiful, regal llamas greeted me. What a welcome!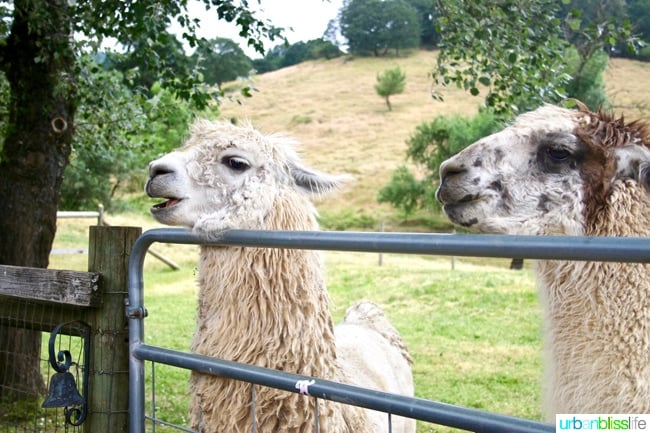 Llamas Oscar and Bonzi are usually the winery greeting committee, and I dare you to try to not fall in love with them. These two are so friendly and you can feed them some food pellets too -- perfect for getting the kiddos to immediately feel comfortable at the winery.
In fact, Rain Dance Vineyard owners also raise between 125-150 llamas on their property. They have taken some llamas to shows, and they also sell llama wool locally.
Of course, most people coming to Rain Dance Vineyards are here to taste wines, and the inside of the big red barn is a gorgeous and inviting contemporary tasting room with plenty of seating options inside and outside on the patio.
Much of the incredible woodwork you see throughout the tasting room was crafted by Rain Dance Vineyards co-owner, Ken Austin. The Austins are incredible creative, multi-talented, passionate people who enjoy supporting their fellow local artisans, and use their tasting room as one venue to do so.
The Rain Dance Vineyards tasting room includes a large store in one half of the barn. Here, you'll find a large number of artisan food products, home decor, clothing, jewelry, and gifts, almost all crafted by local artisans. I already plan to go back not just for the wine and to visit the llamas, but to do some quality local holiday shopping here!
Meet the Austins
At the heart of Rain Dance Vineyards are the owners, Ken and Celia Austin.
The Austin family has deep roots in Oregon. They built the Allison Inn & Spa in 2008, and in 2009, two of the Austins - Ken and Celia - purchased a former Christmas tree farm and planted their first seven acres of pinot noir.
The vineyards
Rain Dance Vineyards owns seven estate vineyard sites totaling 120 acres, 73 of which are currently planted. All of Rain Dance Vineyards are dry farmed using sustainable practices, and are Salmon Safe & LIVE Certified.
Their first, namesake vineyard consists mainly of Pinot Noir: Pommard, Wadenswil, and Dijon clones 115, 667, 777 and 943. Their flagship Estate Pinot Noir and Member Exclusive Reserve Pinot Noir are produced from the Rain Dance Vineyard.
In 2012, the Austins purchased land from their neighbor, Lee. Lee's Vineyard produces small lot, single barrel wines made exclusively for Rain Dance Preservation Members.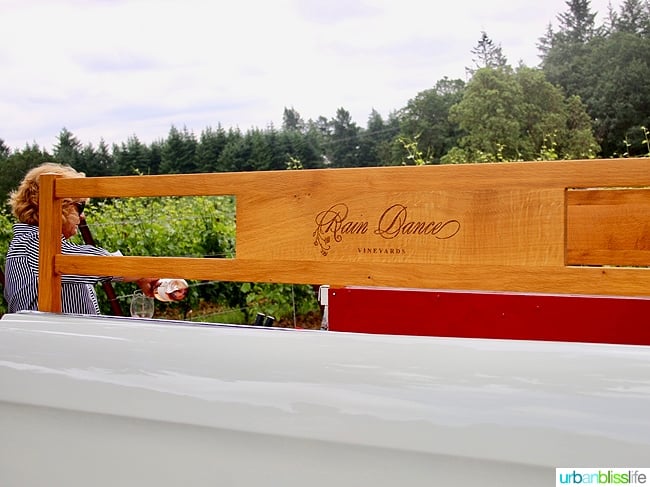 In 2014, they purchased 40 acres in the Chehalem Mountains. Nicholas Vineyards produces Rain Dance Chardonnay, Riesling, Rosé and Pinot Noir wines.
The wines
The first Rain Dance Vineyard wine was released in May of 2015.
Since then, they have gone on to produce a Rose, Riesling, Gewürztraminer, Chardonnay, and several Pinot Noirs.
Wine pairing luncheon
During my visit, we were treated to a delightful wine pairing luncheon prepared and presented by Travis Bird, the Sous Chef at Jory restaurant in the nearby Allison Inn & Spa.
We started with appetizers of light cheese bites, prosciutto & melon, and chilled summer melon soup. The soup was a blend of cantaloupe, honeydew, with pineapple, and topped with either house granola or, for gluten-free guests, candied cashews.
I fell in love with the soup and am SO going to try to recreate this dish, friends. I'll let you know how it goes!
The refreshingly light summer melon soup paired beautifully with Rain Dance Vineyards' second release of Riesling. We also enjoyed their first release of Gewürztraminer, which had a nice bright acidity and minerality to it.
The salad we enjoyed is something worth recreating as well. It had spiced pepita, pickled strawberries, and house made pancetta that was out of this world.
That pancetta is worth singling out. Wow.
We enjoyed the salad with a 2015 Chardonnay which was barrel aged in 50% new oak.
For the main course, we enjoyed succulent pork loin served on a bed of farro with red onions and greens.
This was enjoyed with two of their Pinot Noir wines, both of which exuded classic Oregon Pinot Noir characteristics: soft blackberry and raspberry flavors with slight earthy notes.
The vineyards
When planning a visit to Rain Dance Vineyards, I recommend setting aside time to truly enjoy the full experience. This is not a quick stop in-between two other wineries kind of tasting room. This is a place you'll want to bring friends & family, pack a picnic, open up a bottle of your favorite wine after doing a tasting, and soaking up the wine country views.
Hang out with the llamas.
Shop the beautiful local goods in the store.
Chat with Ken and Celia, or Marketing Director Meghann Weil (married to winemaker Bryan Weil). The story of their journey to Rain Dance Vineyards is a layered tapestry of curious and interesting paths. And their wine is worthy of revisiting over and over again.
Go. Visit. Enjoy Rain Dance Vineyards for yourself and let me know about your experience!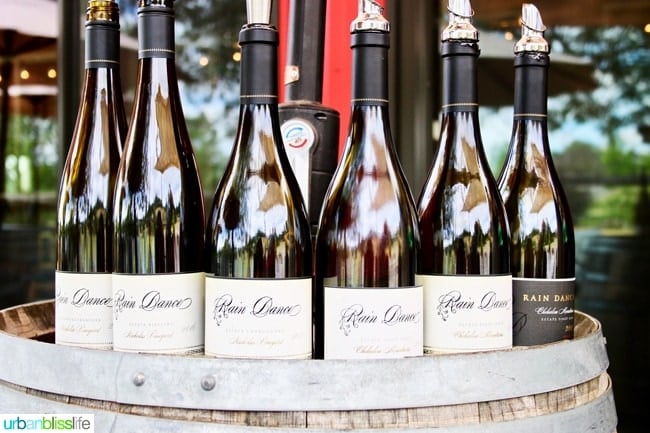 Rain Dance Vineyards
26355 NE Bell Rd
Newberg, OR 97132
(503) 538-0197
HOURS: Open Daily, 11 am -5 pm. If you have a party of 8 or more, please call them in advance.
Vineyard Tours are available 11 am - 3 pm by appointment only. Please call or email to schedule your tour at least one week in advance.
For more info, visit the Rain Dance Vineyards website.
PS: Ken also collects classic cars, and you'll see this beauty parked near Rain Dance Vineyard if you take a vineyard tour. You'll find at least one other classic car parked out in front of the barn.
---
Disclosure: I attended a complimentary media wine pairing luncheon at Rain Dance Vineyards. As always, all opinions and photos are my own.