The gear you choose can make or break your travel experience. Travel is made easier thanks to these must-have 5 Favorite Travel Products of 2017!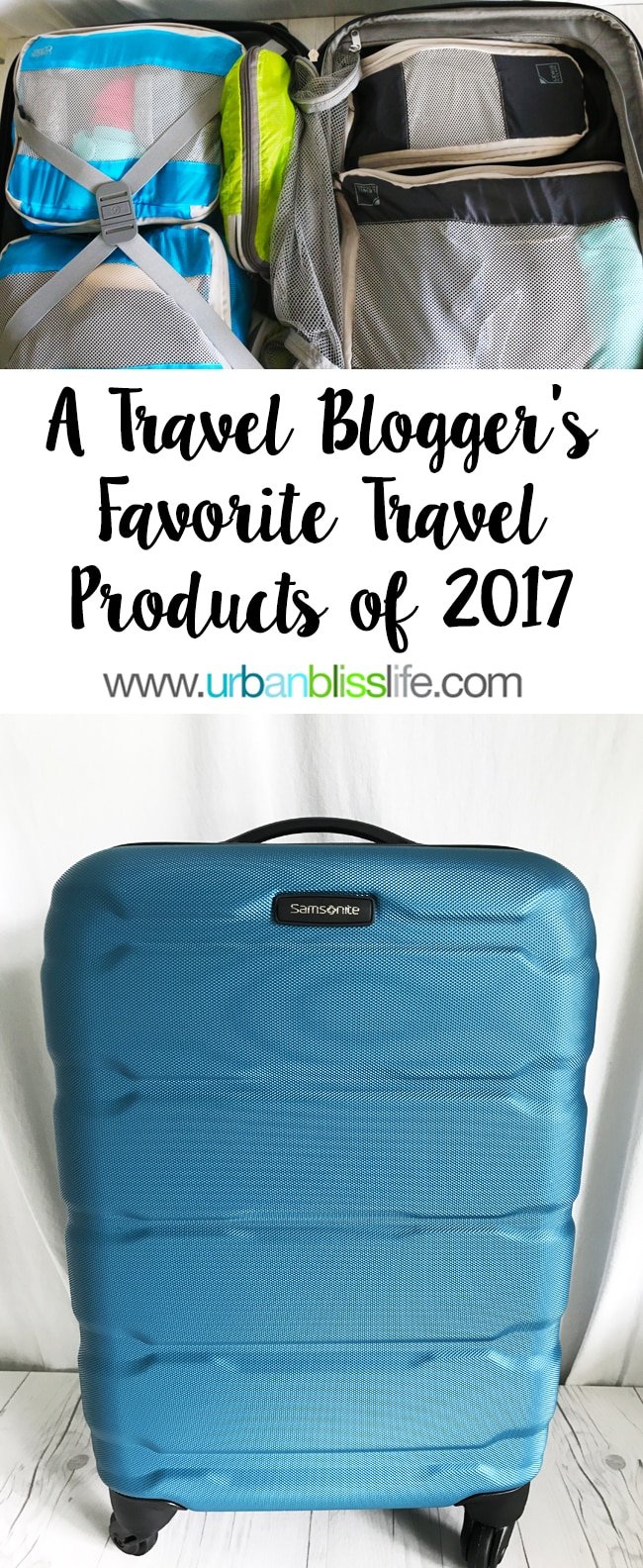 Traveling is exhilarating, and offers unparalleled life lessons and incredible memories. I love to travel whenever I can, and whenever my family can travel all together. The adventures are priceless!
But let's get real: there are some parts of traveling that aren't as glamorous or exciting. And sometimes, the gear we choose can either help us enjoy travel as its meant to be enjoyed... or it can create unnecessary burdens and aggravations.
As this food, wine, and travel blog of mine approaches its 13th birthday this fall, I can look back and see the graveyard of travel gear that I went through over the years. I've tried it all! So many suitcases. Countless laptop bags. So many failed products that barely lasted one trip, much less the multiple trips each season that being a travel blogger requires.
Jump to:
My 5 favorite travel products of 2017
So today, I am sharing my 5 favorite travel products that have withstood multiple trips. I love these products, and give them my personal travel blogger stamp of approval! If you're looking for new travel gear, these are at the top of the list for my recommendations.
1. Hardcase Spinner Carry-On Suitcase
Since I try to travel with only carry-ons whenever possible, I look for high quality, hard case spinner suitcases that are lightweight but can hold a lot.
This Samsonite Omni PC 24" Spinner in Carribean Blue is my current constant companion. It's been on all of my trips lately, and it has held up like a champ!
First, let's talk about the color of this suitcase. I used to just have black luggage because I thought it was more streamlined and sophisticated. But I learned a long time ago that it's so much nicer to have suitcases with designs that fit your personality - and unique colors, patterns, and styles that, if you've decided to check your luggage, make it easier to spot on the baggage claim belt.
The only complaint I have is that from time to time, the bottom back wheels don't roll as smoothly as I'd prefer when on thick carpet. Otherwise, this suitcase is perfection! It fits all of the overhead bins of the US airlines I've flown, and I'll be taking it on my upcoming international flight as well. It has the ability to expand as needed, has a TSA lock on the side, and is much more spacious than you'd imagine.
I recently was able to fit ALL of my clothes, shoes, and toiletries, PLUS my tween and teenager kids' clothes, shoes, and toiletries, into this one little suitcase for a 3-day trip. Love it!
2. Packing cubes
I love and live by packing cubes when I travel.
My mind works best when items are clearly compartmentalized, and packing cubes in several sizes help compartmentalize all of our items so nicely.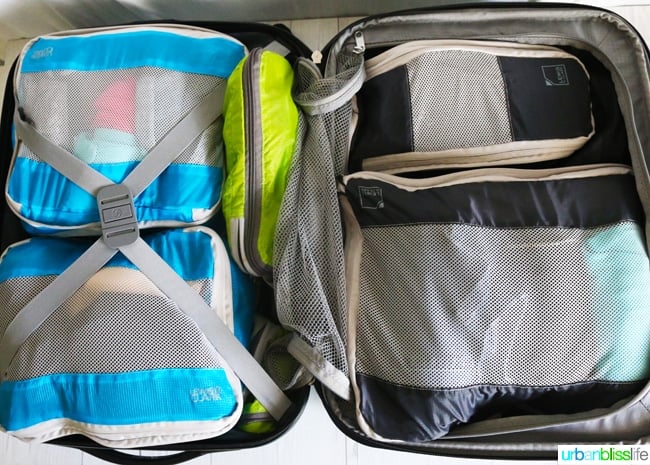 The above photo is from our recent trip to Salishan Spa & Golf Resort on the Oregon Coast (blog post coming soon!). The Lewis N Clark Electrolite Medium Expandable Packing Cube 2 Pack (shown above, on the left) is my standard for trips. When I travel with family, each kid fits all of their clothes into one cube. The large packing cube (shown above, on the right bottom corner) holds all of my clothes.
The middle green Eagle Creek packing cube shown above holds all of our toiletries. I love this one because it has a loop at the top that makes it easy to hang in hotel bathrooms.
Then I use my Lewis N Clark Electrolite Small Expandable Packing Cube (pictured above, left) for all of our (many, many) electronic chargers. Finally, I use the Lewis N Clark Electrolite Expandable Shoe Packing Cube to hold extra shoes; it usually holds two of my shoes.
3. Laptop carry-on bag
As someone who has traveled for work for the past 20 years, I've gone through SEVERAL different laptop bags.
For the past year, this Lewis N Clark WEA RFID-Blocking Tote has been my constant companion. It's been with me through my trip to Kauai, Hawaii, New Orleans, Louisiana, and on trips to the Oregon Coast and, most recently, a girls' getaway trip to the Oregon Garden Resort.
This gorgeous Lewis N Clark WEA RFID-Blocking Tote in Teal coordinates beautifully with the Samsonite spinner suitcase featured above, and it is the perfect size for a weekend bag: not too big, not too small.
It fits nicely in the space underneath the seat in front of you on flights, and has a detachable strap that turns it into a crossbody/messenger bag for easier wear when you're running through the airport. There are side pockets perfect for water bottles, phones, and snacks; a front pocket perfect for pens, a wristlet, wallet; inside padded section for your laptop; interior pockets; a back zip pocket that can be used for more storage or use the opening to glide over the suitcase handle to easily roll your luggage around; and a large open compartment in the middle.
4. Laundry bag
At first, I bought this just as a random impulse buy. For the past three years, this laundry bag has been on nearly every single trip. The bag folds easily into a tiny matching bag with snap close that is slightly larger than a mini hand sanitizer container. It's so nice to have a separate, easy to wash bag that can hold all the dirty clothes in one neat area while traveling.
I purchased the above bag at The Container Store, but you can find similar Travel Laundry Bags on Amazon.
5. Global adapter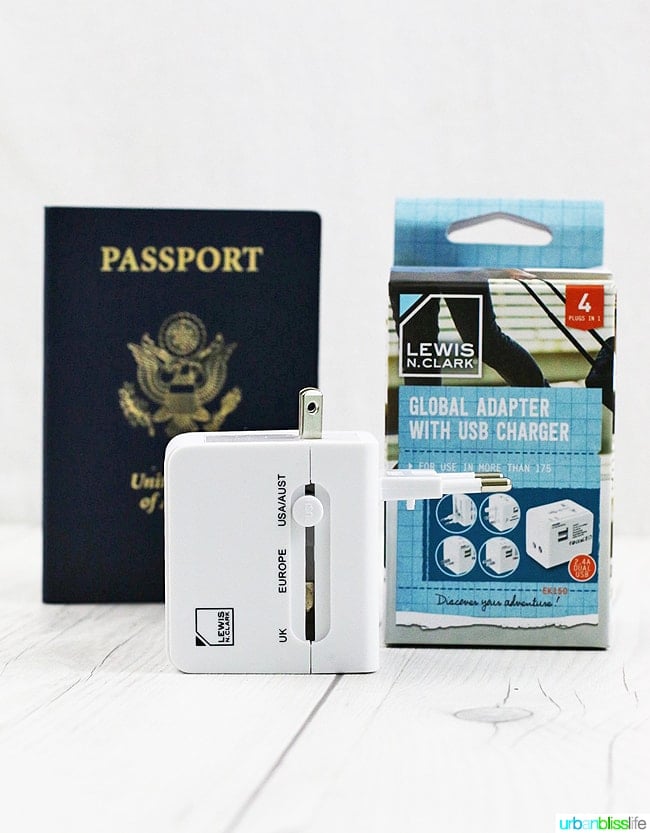 While this isn't a packing-related product, this is probably one of the most important travel products you can pack when traveling to different countries. I've tried a lot of different ones and this one by Lewis N Clark so far is my favorite. It has a USB charger, which is a nice bonus compared to other global adapters, plus the four most commonly used plug configurations that will allow you to plug in your electronics in more than 175 countries.
When traveling, the gear you choose is crucial. It can make or break a vacation or work trip. I've learned through hard experience that you do always get what you pay for... but that doesn't mean you have to get the most expensive products. Mid-range travel gear tends to do very well for most regular, light adventure travel and family travel.
Do you use similar products when you travel? Do you have gear that has withstood the test of time and elements throughout your travels? I'd love to hear what has worked for you!
More travel tips
Road Trip Travel Tips Plus a Free Travel Packing List Printable
Tips for Long Distance Flights With Kids
2019 Best Black Friday Deals for Foodies and Travel Lovers
Travel Photo Storage: Fast, Tiny Portable SSD Drive
Lewis N. Clark Travel Bags and Accessories
Tech Gear Review: Swagger Tags
---
Disclosure: Some of the items featured here were purchased on my own dime and some were sent as media samples. ALL items featured here have been tested out by me on several travels, and are my person Go To travel products. As always, all opinions and photos are my own.