Planning a family road trip? Prepare ahead of time with these best family road trip tips. Plus: a free travel printable to keep you organized!
This article was originally published on July 17, 2015. It has since been updated over the years, and most recently was updated with helpful content and new photos on July 23, 2023.
My family of five - me, my husband, the two kids, and our dog - LOVE traveling. They are the best traveling companions a mom with wanderlust could ever hope for!
When I was a kid, my family used to go on a lot of road trips. We frequently drove up to Tacoma, Washington or down to Stockton, California to visit relatives. We'd drove to the coast, to the mountains, to the desert. My family camped and stayed at relatives' homes; we did Disneyland and the Redwoods and the Space Needle.
But this summer marks my own little family's longest road trip to date: 11 days and 2,000+ miles through four states.
It was an incredible adventure! And, one that I know we're looking forward to doing again in the future with new destinations and itineraries.
If you're preparing to go on a road trip, here are some road trip tips I have found most helpful over the years.
Jump to:
Involve the whole family
When possible, give kids ownership of a few decisions.
Let them choose where to eat for dinner on the second night. Or ask them to help with the order of places to go on the third day. This helps them feel more invested in the trip and less likely to protest the itinerary.
To expand on this, here are more specific ideas:
If your itinerary is flexible, show the kids a map of your general travel plans. Give them ownership of choosing one of three pre-determined (by you) side trip options. For example: let's say you're heading to Vancouver, BC Canada from Portland, Oregon. Allow the kids to choose whether to stop for lunch in Centralia, WA, in Tacoma, WA, or in Bellingham, WA.
Show kids websites of a few pre-screened (by you) restaurants at your destination. Have them choose the restaurant to visit for the first night.
Got a free morning at the hotel? Allow the kids to choose the morning activity.
Going camping or headed to the great outdoors? Let the kids choose a hiking trail or biking trail for the family to explore one afternoon.
🚗 Update your emergency car kit
It's a good idea to have an emergency car kit in your trunk at all times. About a month before your road trip, be sure to check your kit.
Do you need to purchase any new supplies or update old ones?
Some good basics to have in your car kit are:
Jumper cables
Flashlights
Duck tape
Work gloves
Tow rope
Blanket
Cat litter (for traction!)
Ice scraper
🛠️ Vehicle maintenance
Take care of vehicle maintenance 1-2 weeks before you leave
The last thing you want to worry about while you're on the road is your vehicle. A couple of months before our road trip, we discovered the air conditioning wasn't working properly. Luckily we discovered this before we hit the road and drove into 90-107-degree temperatures throughout our trip!
Before your trip, it's a good idea to have your oil changed. Also make sure the air conditioning and heating are working properly. Make sure you have your tires checked at this time, too!
🧩 Make kid activity packs

I make vacation packets for my kids each time we go on big trips. The ones pictured above are the ones I made for our road trip. They contain activities such as:
Word searches containing words related to our vacation destinations
State or country coloring pages
Crossword puzzles containing words related to our vacation destinations
Maps so they can follow our journey
Journal entry sheets
Fill-in-the-blank sheets asking questions about the vacation (example: "My favorite place to visit was _____ because ____").
🍎 Plan your road trip food and drink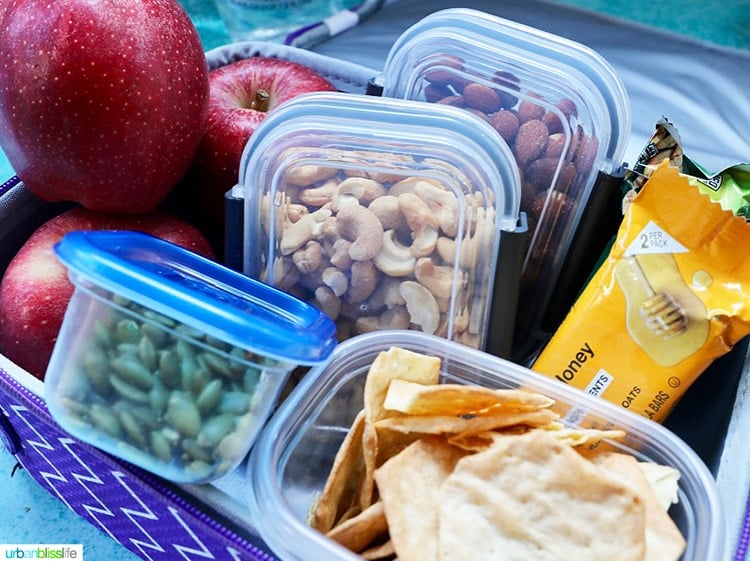 If you can't tell by reading my blog, food is pretty important to me and my family. I'm going to guess it's a big deal to you and your family too when you travel.
A month before the trip, make a list of all of the food and drinks you want to take on the road with you. If you're camping, this list will obviously take on a different spin than if you are road tripping and staying in hotels.
Keep a cooler in the car, someplace within arms' reach. Pack the cooler with water and healthy fruit for the first part of your trip. Then include non-perishable healthy snacks, such as homemade or store-bought granola bars, cereal, dried fruits and dehydrated meats. You want food that will stand up to heat and also last for the duration of your road trip.
Make some healthy snacks ahead of time. Check out our collection of 50 Best Road Trip Snacks for Kids that adults will love, too!
When you have LONG stretches of road, snacks are vital -- for kiddos and parents alike! You will also save money by planning ahead instead of buying expensive and unhealthy snacks at the one and only gas station in that tiny town.
🧳 Pack ahead of time
Packing up a family for any trip feel like a full-time job. And packing for a road trip takes extra organization.
Plan ahead where you will pack items strategically in your vehicle, such as:
extra clothing for each family member (in case of emergency)
maps, pens, pencils, tape, Sharpie pens, mints (trust me on needing the last two -- I always keep both in my car!)
car games (cards, activity packets)
electronics & chargers
safety & health kit (sunscreen, insect repellent, bandages, Neosporin, allergy meds, etc)
food & drinks
comfort items for the kids such as their stuffed animals, favorite pillows, blankets
Also, plan as much of your clothing and toiletries in advance as possible. This will help you avoid overpacking at the last minute.
I've designed the Road Trip Packing Checklist to help you out!
🚗 Download our Road Trip Packing Checklist
💻 Prep your tech
Before the trip, download books, movies, and games onto phones, iPads, computers. We visited our local library a few days before our trip, armed with a long list of movies that the kids wanted to check out.
Also, make sure you have adequate chargers for all of your technology. I keep our chargers in a ziploc bag, and use washi tape to wrap around each cord and label which tech toy the cord belongs to. This makes finding the right cords for each device SO much easier for everyone!
🗺️ Map out pit stops along the way
Search the web to map out family-friendly pit stops along the way. It helps to have these planned ahead of time. This is especially true if you're headed out on a very long road trip, or through areas you're unfamiliar with.
Let's face it: there are some rest areas and gas stations that are more family-friendly than others. Especially if you are traveling with babies and toddlers, or if you are traveling while pregnant.
Your kids can even mark the pit stops on their maps to help navigate! I don't know about you, but my kids love being "in charge" of things. Give them an important responsibility during a road trip, and they will take it with pride!
☀️ Encourage your family to look up and out
The sky is so different over Oregon than it is over Idaho or Montana or Massachusetts. Make sure that you and your kids don't miss that magic. Part of the beauty of a road trip lies right outside your car windows, and while it's tempting to sleep or read the time away, or get lost in movie after movie, be sure to periodically and pointedly mention the scenery, landmarks, unique or random road sightings.
📝 Plan, plan, plan – and then go with the flow
This is pretty much my life philosophy. It works well for every family trip as well.
Jam-packing a road trip itinerary, much like over-scheduling in life, is a recipe for disaster. Build in extra time for those unexpected pit stops, for traffic, or even just for those GOOD side trips.
Have realistic expectations. If an opportunity comes up unexpectedly that makes your family's eyes light up with possibility, for the love of all things bacon and chocolate, TAKE IT!
Go the long route because you've heard it's more beautiful.
Stop when everyone's tired and recharge.
And accept the things you can't change.
I've had plenty of crazy family travel stories. Did you read the one about what we now lovingly call Diarrhea tunnel? GREAT memories! No sarcasm - for real! And every moment during a family trip gives it its well-deserved place in your family's history.
I hope you found this list helpful! Don't forget to download the printables above.
Go forth and find your family road trip bliss, fellow travelers! I'd love to hear your road trip tips & stories in the comments!