Before you head out on your next family vacation adventure, download and print out these free printables of fun road trip games!
Summer means ROAD TRIPS!
At least, it does for my family. During summer, the weather is close to perfect in Oregon, so we prefer to stay closer to home and do road trips during the summer, then save big travel trips to sunnier locations when the grey returns (as it always does...) to our great state.
My kids are awesome little travelers, but they're still kids, and they get b-o-r-e-d quickly sometimes. Yours, too?
Free Printables: Road Trip Games
I designed some Road Trip Printables to break out for those "I'm so BOOOORED" moments -- a set of 4 different Road Trip Bingo cards plus one License Plates Game printable -- and tested them out this past weekend when I drove out for a quick day trip to the Oregon Coast.
They were a huge hit! In fact, my kids LOVED them so much, that they continued on with new Bingo cards on subsequent car rides.
You can click here to download the Road Trip Bingo printable for free. Simply download, print, and cut!

Plus, they kept the License Plates Game printable in the car so that they could continue crossing off different states anytime we are on the road (hint: the airport parking garage is a great spot to nab a bunch of different states at once!).
Who knew they would LOVE these games so much?
Road Trip Games: Bingo Tips
- Make up your own rules: you can have them mark off the Speed 55 box, for instance, for only 55 MPH speed limit signs or for ANY speed limit sign. We decided that the bike symbol could be crossed off if they see a bike (parked or locked up on a street) or if they see someone riding a bike -- that both would count. The kids love being able to help come up with the rules as it helps invest them even more in the game.
- Once a child gets a Bingo, keep going to see how many Bingos he/she/all kids can get before you get to your destination.
- After a few Bingos, we decided to aim for a Blackout Bingo: getting ALL of the squares on a Bingo card.
- Whether you have prizes or not, it's up to you. I decided not to offer prizes, just because I'm trying to get my own kids out of the habit of thinking there's a prize for every game/win. But you could offer prizes that go along with the road trip. For instance, maybe the kid who gets the first Bingo gets to choose where to go for dinner the first night at your destination.
Recommended ages for road trip games
My kids are ages 7 and 10, and I think the ideal ages for these printables would be between 4 and 12.
The license plate game is definitely better for the older ages since they can read the license plates and just generally have a keen eye for catching different plate designs that whiz by your car.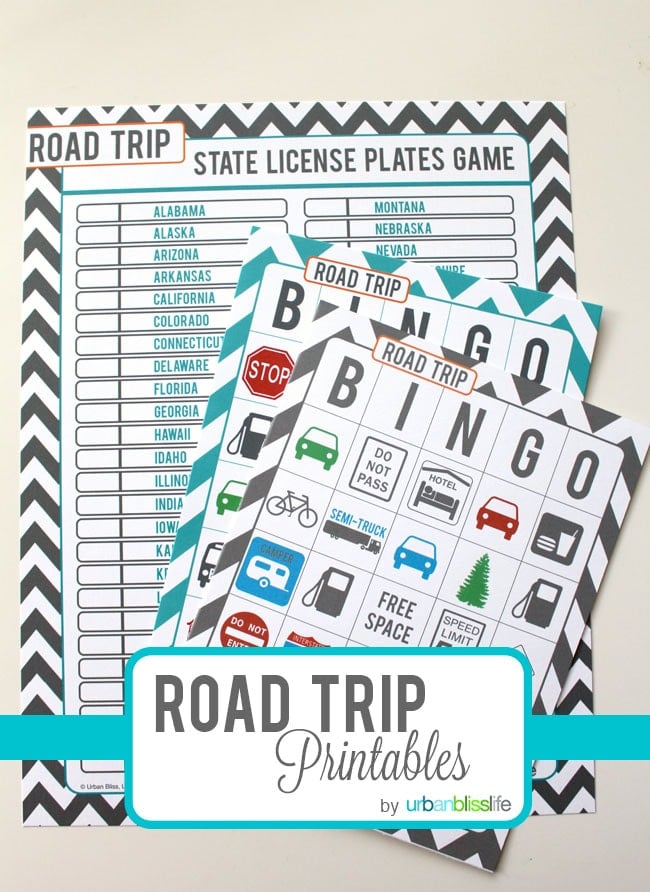 If you would like the License Plates Game Printable, please visit my friend Kim's awesome blog, Today's Creative Blog. She has the printable on her site!
More free printables
Does your family do road trips during the summer? What other road trip games do you like to play?