Researching where to stay in Maui? The Fairmont Kea Lani in Maui is an ideal family vacation spot!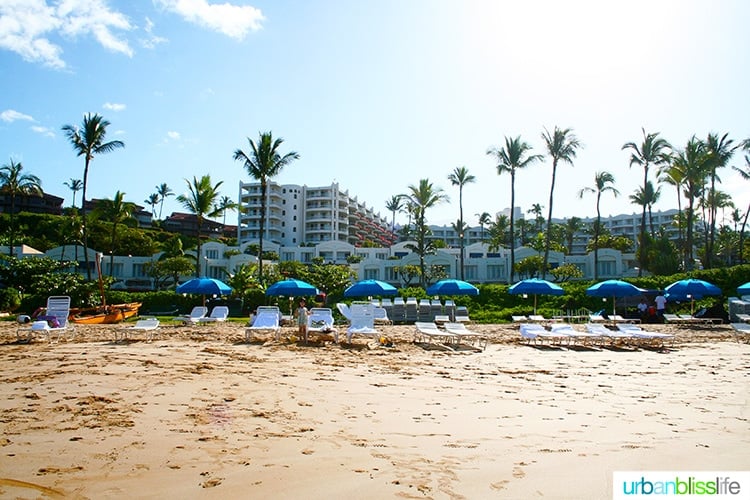 How do you celebrate your 10-year wedding anniversary? There's so much pressure to make it memorable. When faced with too many choices, I tend to get overwhelmed and resort to eeny-mmenie-miney-moe.
Where do you spend your 10 year anniversary?
Originally, we were looking at taking the kids to Vila Vita Parc in Portugal. We spent our honeymoon there, fell in love with the country - and with Vila Vita Parc. It is truly a magical place, and I highly recommend you go there if you have the means. However, after researching plane tickets for four people to Portugal, we realized we most definitely do not have the means at this time.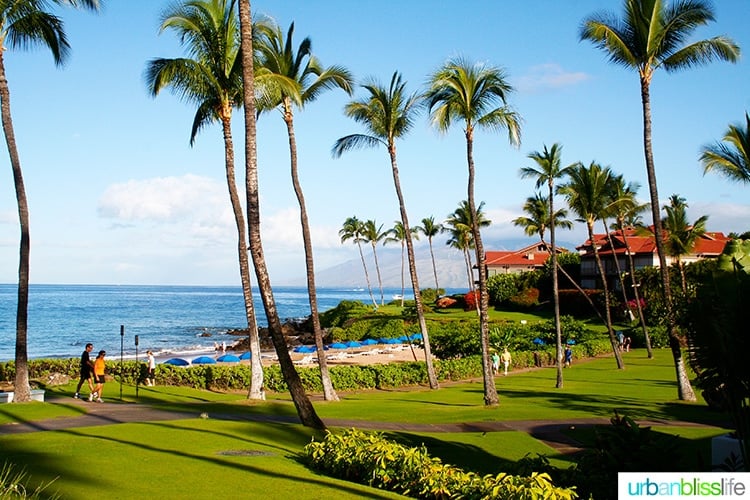 So we settled on Hawaii. I had spent two weeks island hopping for work several years ago, but my husband and my kids have never been. I was excited to share the beauty of the islands with my family - but which island, and which hotel? After getting recommendations from Facebook and Twitter, and our own research, we settled on the Fairmont Kea Lani.
It was the absolute best choice we could make. We all had the happiest time imaginable!
Stay at the Fairmont Kea Lani in Wailea, Maui
The Fairmont Kea Lani in Wailea, Maui is a study in resort perfection. Every detail of this resort hotel is tailored to the customer experience.
Upon entering the massive, open air hotel lobby, we were offered the tropical drink of the day (I believe it was a mango passionfruit drink that day). The ladies are welcomed with lovely fresh flower leis (and yes, I know our daughter needs a haircut; she got one right when we got home!), while the men are welcomed with black beads.
Fairmont Kea Lani Hotel Suite
Our standard king bed room was pretty large. When you enter, there is a mini kitchen with sink, microwave, fridge, and coffee maker. Moving into the living space, you'll find a sitting room with media center, pullout couch, and table for working/eating.
The bathroom was enormous. There's a large marble bathroom with jetted tub, double pedestal sinks, and walk-in shower.
Our Fairmont Kea Lani room had a spacious separate bedroom with King bed. The bedroom included two closets, and plenty of drawers.
Doors from both the bedroom and the living room area lead outdoors to the patio, where we would rest & enjoy the views in between adventures.
At first we were sad that we didn't get one of the upper floors with the lanais and ocean views, but we're grateful for our room's unexpected added bonus: an expansive rolling green area where the kids would open either the bedroom door or the sitting room door and excitedly run right out to this.
Fairmont Kea Lani Pools
When you're considering where to stay in Maui, beach access and pool access are usually top priority. You get both at the Fairmont Kea Lani!
We spent a lot of time near the kiddie pool that was just one foot deep because our 3-year-old couldn't quite stand up yet in the other pools, which were usually 3 or 3-½ feet deep to start.
You had to get there early in the day to grab lounge chairs right by the pools, but once there it was so easy to spend a few hours just soaking up the sun, splashing in the pool, enjoying the gentle Hawaiian breezes... paradise.
There is also a separate adult pool, but with both kids, we never ventured over there. I can tell you that each time we walked by the adult pool, it was very, very quiet. And almost empty. The Fairmont is definitely more of a family-friendly resort in my mind.
Most of our time was spent between the beach and the pools.
Again: pure paradise. Being in Portland, my kids are already beach lovers (we live less than an hour from the coast), but the Wailea beach is definitely special. For one thing, the water is so warm that my kids actually spent a lot of time splashing in the ocean and chasing the waves. The Fairmont Kea Lani also has canoes and little boats that they would take guests ages 10 and older out into the ocean. We can't wait to come back when our kids are older to take part in those adventures!
Warm, welcoming customer service
The thing that stood out for us about the Fairmont Kea Lani, was the kind, attentive and personal service we received from the moment we stepped onto hotel grounds to the moment we left.
Everybody we encountered had a wide smile, a hearty "aloha!" and they remembered our names and did everything they could to make sure we were enjoying our vacation. I can't thank the staff of the Fairmont Kea Lani enough for such wonderful customer service, especially the kind women who did our turn-down service each night, and Lia & Chewy who served us lunch from the Polo Beach Bar & Grill poolside.
Make no mistake: Maui is not cheap, and neither is the Fairmont Kea Lani. We dropped a lot of cash on this trip. But, it was, after all, our 10-year wedding anniversary. Seeing as how this also was the first true vacation we have taken as a family of four (excluding trips to visit family or for work -- those aren't REAL vacations), it was a splurge that was worth every penny.
Since y'all know how important food is to me, I'm writing a separate post about our dining experiences in Maui. Stay tuned!
Where to stay in Maui: Fairmont Kea Lani
Fairmont Kea Lani
4100 Wailea Alanui Drive
Wailea, HI 96753

More Hawaii Travel Guides