Our travels to Hawaii, the Big Island, continue! Here's a look at lodging options in Mauna Lani.
---
We've gone ziplining, snorkeling and kayaking, experienced a Kohala ditch adventure, visited a local family-owned coffee plantation farm, eaten some amazing Hawaiian-style cuisine, and devoured our way through the Taste of the Hawaiian Range event.
Now it's time to check into someplace soothing for some rest and relaxation...
Jump to:
Mauna Lani Bay Resort
Nestled on the warm, sunny Kohala Coast of Hawaii Island, Mauna Lani Resort offers travelers a variety of lodging options, including: Mauna Lani Resort Hotel, Mauna Lani Bungalows, The Islands at Mauna Lani, and Mauna Lani Point.
The sprawling resort features 30 oceanfront acres and three miles of secluded shoreline just 23 miles north of the Kona International Airport. Here, you can experience world class golf on two 18-hole courses, enjoy a state-of-the-art work-out facility, lap pool and Tennis Club, and indulge in numerous spa services, including two natural lava saunas.
Dining options at the resort are plentiful, including poolside service, The Bay Terrace for breakfast, Oceanside Bar & Grill for lunch and dinner, and the hotel's signature Canoe House, offering upscale Hawaiian plantation-style cuisine.
And as with any Hawaiian resort experience, you have numerous adventures at your fingertips. Take a walk down to one of Mauna Lani's private beaches and stop at Uncle George's Beach Shack for kayak, SUP board, body board, and snorkeling rentals.
This is Uncle George:
At 70 years old, his energy and enthusiasm for beach living is infectious, and he's more than happy to help you find the right beach activities to suit you and your family.
Mauni Lani Hotel
The Mauna Lani Hotel houses 341 guestrooms and suites, many of which have been recently renovated, and all of which have private lanais.
Mauna Lani Bungalows
The ocean Bungalows were probably my favorite of all Mauna Lani properties. They are gorgeous, spacious homes with modern interiors and privacy. They are secluded yet conveniently located within a minute's walk of the Mauna Lani Hotel lobby. Privacy is maintained with a gated driveway and private access to the beach.
The Mauna Lani Bungalows offer families an incredible amount of space. This is where you want to stay if you're having friends over and plan on entertaining, or if you are spending a week or more here and you want to feel pampered yet completely at home.
Each bungalow features 4,000 square feet of living space, including two master bedrooms, three baths, a private swimming pool, whirlpool spa and a spacious lanai.
The Mauna Lani Bungalows also feature full kitchens with modern appliances.

The Islands at Mana Lani
The Islands at Mauna Lani are described as luxury condominiums, but they truly are like private residences. You just happen to share a wall with another condo, but trust me: at 2,000 - 2,500 square feet each, they really feel like private residences -- all for the same price (and in some cases, lower) than what you might pay for a hotel room on other properties. And, the residences generally offer you FOUR times more space than a hotel room.
The 2014 prices, which fluctuate per house, were:
2-bedroom Deluxe Garden View $350 - $415
3-bedroom Deluxe Garden View $450 - $670
Each residence offers a unique decor and layout, plus all of the comforts of home.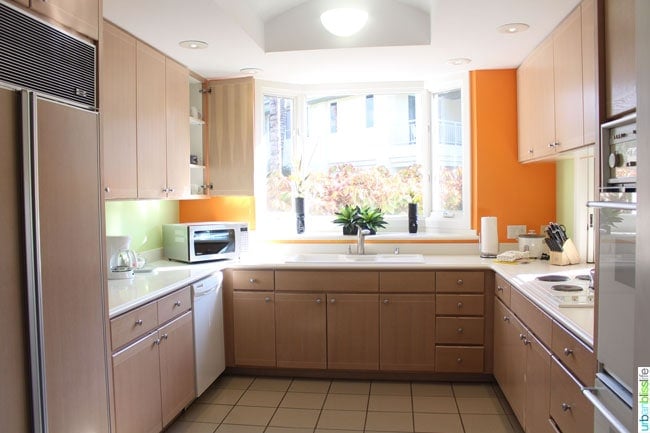 What I love about The Islands at Mauna Lani, is that when you rent a home, you're not just left to your own devices. Within the rental price, you also get several hotel amenities:
Daily maid service included (no cleaning fee)
No resort fee (no hidden fees at all)
Free internet
Free parking
Complimentary resort shuttle.
Concierge services
Mauna Lani Point
During our trip, we stayed in the luxury oceanfront condominiums of Mauna Lani Point - the only oceanfront condominiums on Mauna Lani. Condos are available in one- or -two-bedroom style layouts, and offer families room to roam within 1,100-1,700 square feet. Each comes equipped with a fully stocked kitchen, washer and dryer, private lanai, and full bathroom for each bedroom.
Here's a look at the lovely condo I had the pleasure of staying in during the last half of my trip to Hawaii Island:
The modern and fully stocked kitchen was one of my favorite parts of the condo. I had everything I needed, including plastic kids' cups and plates!
Since I was on the ground floor, I had this gorgeous lanai to step out onto each morning. This is where I sat and enjoyed my morning coffee before our 6:15am departure for the day's adventures.
And this was my view:
Not a bad view, eh? Talk about zen. I could sit on my lanai and stare at that view all day and night.
2014 prices for Mauna Lani point were as follows:
1-bedroom Fairway View $235 - $415
2-bedroom Fairway View $275 - $560
1-bedroom Ocean View $310 - $550
2-bedroom Ocean View $350 - $670
2-bedroom Ocean View Signature Hole (premier view) $490 - $790
Hawaii really is a magical place, and the wide variety of accommodations at Mauna Lani Resort are designed to allow you to enjoy that magic to the fullest extent. Be sure to visit their website for full details. They offer so many wonderful amenities and activities for families traveling to Hawaii Island.
I would stay here again in a heartbeat, and think you would love it here, too.
More Hawaii travel ideas
Travel to Hawaii Island: Hawaiian-style Cuisine
Travel to Hawaii Island: Taste of the Hawaiian Range
Travel to Hawaii Island: Kayaking and Snorkeling Adventures
Travel to Hawaii Island: Aikane Plantation Coffee Farm Tour
Travel to Hawaii Island: Hilo, Ziplining, and Black Sand Beaches
Many thanks to the Hawaii Island Visitors Bureau and the kind and generous folks at Mauna Lani Resort for the complementary stay during the Hidden Hawaii press trip. As always, all opinions and photos are my own.