Hawaii is full of fresh, delicious specialty foods and beverages. Here's a taste of Hawaii, at the Taste of Hawaiian Range event.
Jump to:
So far on our journey through this Travel to Hawaii Island series, we've:
It's taken a lot of restraint for me to hold off talking about the food of Hawaii Island for this long! I'm delighted to finally share some of the island's food stories with you.
As one local so perfectly put it: "It's so easy to eat healthily in Hawaii."
Indeed, the true taste of Hawaii includes an abundance of delicious, interesting, and versatile fresh fruits and vegetables. I'll be sharing some of my favorite local fruit and vegetable finds. Plus, a cute little Vegan restaurant (run by a woman from Portland!).
First, I'd like to share with you a side of Hawaii Island you may not have realized plays a large part in the history of the island. This is the ranching industry. It was highlighted through a fantastic annual event that I was honored to attend: The Taste of the Hawaiian Range.
Taste of the Hawaiian Range
The annual Taste of the Hawaiian Range takes place at the Hilton Waikoloa Village on the Kohala Coast of Hawaii Island. Its goal is to provide an educational venue to encourage and support local production of agricultural products.
Now looking forward to its 20th year, the event features a large number of local food and beverage producers, restaurants, and agriculture programs. More than 2,000 attendees sampled their way through the event in 2014 (pre-sale tickets were $45; $60 the day of the event).
A big focus was on pasture-raised, or grass-fed, beef. Seven of the 30 culinary stations at the recent event paired together a local chef with a local ranch. The chef was challenged to prepare 100 pounds of a specific cut of pasture-raised beef from that ranch. Or, the chef could use locally sourced pork, lamb, mutton, goat or USDA-inspected wild boar.
The results were inventive, satisfying dishes. Each paid great tribute to the diversity of the land and the cut of meat.
Hawaiian Food Highlights
Here's a look at some of the seven highlighted culinary dishes:

Smoked Marinated Grilled Flank Steak by the Mauna Kea Beach Hotel Culinary Team
The Mauna Lani Bay Canoehouse culinary team, lead by Chef de Cuisine Allen Hess, prepared two items:
Tri Tip Nacho: Housemade Shrimp Chips, Ume, and Avocado Creme Fraiche
Tri Tip Furakake: Puff beef tendon, Unagi, and Pickled Pumpkin

This one was one of my favorites:

Feral Hog with mustard seeds by Tommy Bahama
Inside the main festival area, attendees were greeted with even more food, beverages, and informational booths.
This pho caught my eye because it included my favorite Filipino pancit noodles: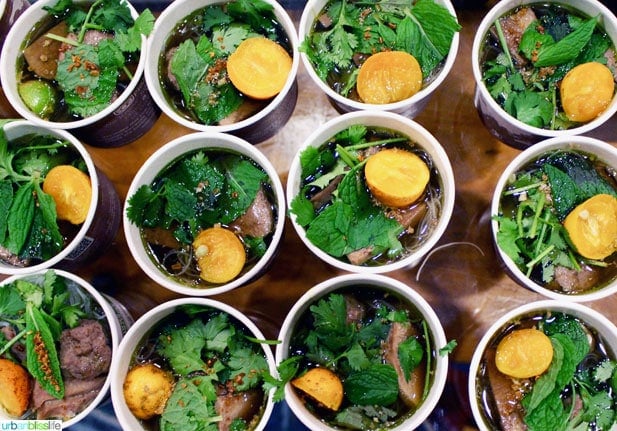 Beef Tongue Pho. Pancit noodles, bone marrow stock, grass fed beef bo vien, bean sprouts, basil oil jalapeno, , kula onions, cilantro, mint, garlic sand, and calamansi
There were also a handful of featured Kona coffee producers on hand. Here, you could learn about the process from coffee cherry to final cup (read more about the Aikane Plantation Coffee Farm).

Of course, it would not be a complete food event without some tasty desserts.

Purple Sweet Potato Mochi Balls with Macadamia Nuts

Gingerbread with Honey Drizzle and Candied Ginger
Information about Hawaiian food
Informational booths were interspersed among the food and beverage tables. These were overflowing with educational info about food research programs. Plus, you could learn about local beekeeping programs and ranching history.
If you find yourself visiting Hawaii, the Big Island, I highly suggest buying tickets to this event. It's a wonderful opportunity to meet the people who raise, prepare, and distribute the amazing cuisine of Hawaii Island.
You'll walk away with a full, happy belly. And, you'll have a greater appreciation for the food and beverages presented before you at your next vacation meal.
For more information, visit http://www.tasteofthehawaiianrange.com/