One of my favorite parts of traveling is not just devouring local food and drinks, but meeting the people behind the food and drink. During my recent trip to Hawaii Island, I had the pleasure of touring Aikane Plantation, a family estate located on the slopes of majestic Mauna Loa Mountain in the district of Ka'ü.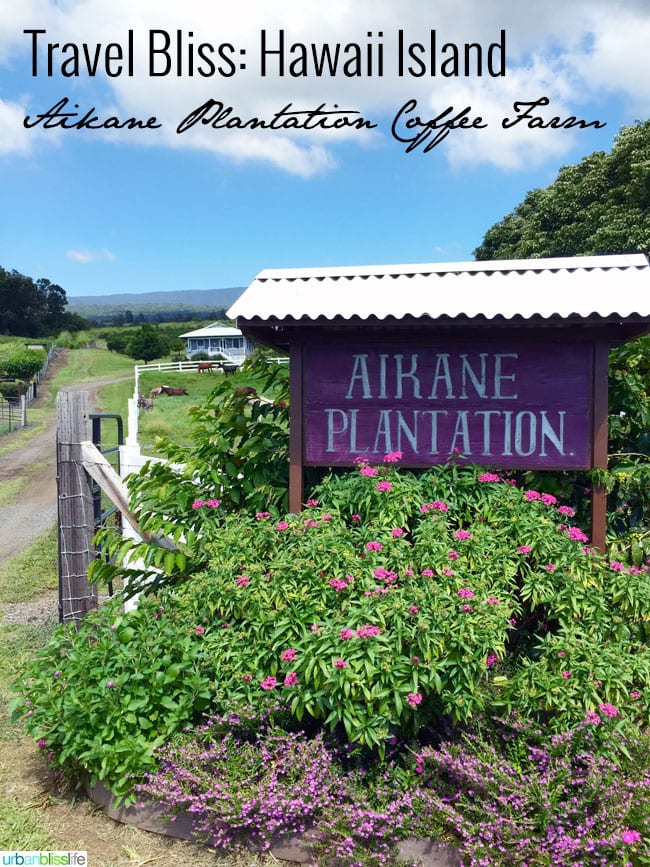 The plantation itself is quite a ways off the main streets, and we stopped by on our way from Hilo to Kona. Aikane means friend in Hawaiian, and as soon as co-owner Merle Becker greets you, you feel as though you're reuniting with a dear friend.
Merle's great-grandfather decided to farm the estate and plant coffee trees in 1894 as an experiment, and it is the first locally grown coffee in the entire district. He was a rancher, not a farmer, and struggled to make a go of the land. The land has since been passed down through the generations and eventually landed in the hands of Merle and her sister. Now Merle and her husband Phil run Aikane Plantation, which is known for producing Aikane Plantation Coffee, 100% Hawaiian gourmet coffee.
And, my friends, their coffee is FABULOUS.
But, coffee only makes up for 12 of the 150 acres of Aikane Plantation. I'll get back to the coffee soon. First: a quick look at the rest of the plantation.
Aikane Plantation
Much of the estate is used for pasture, and walking around, you'll find cattle and horses roaming about. I made another new friend on our tour: this guy was so friendly, he just came right up to say hello.
The estate is also home to numerous native trees and plants, including some macadamia nut trees. It was fun to pick up the fresh ones on the ground and crack them open!
The property also is home to many gorgeous flowers (such as the classic Bird of Paradise), fruits and vegetables, and even a cotton tree. This was the first time I had ever seen and touched a cotton plant. The cotton flowers were so oddly beautiful.
Have you ever seen pineapples growing out of the ground? When they're ready, you should be able to gently twist and pull them straight up. I was more than eager to volunteer to pick my first fresh Hawaiian pineapple. Merle was so sweet and let me take the pineapple back with me to the hotel. We named her Lucy, and on the last day of our trip, Lucy provided a delicious late night poolside snack.
Hawaii Coffee Farm
Okay, back to the coffee.
The Beckers have planted between 600 to 700 coffee trees per acre on their land. Monday through Thursday of each week, they have two workers hand-pick the ripe coffee cherries off the trees each day. Merle likes to boast that they have some of the best workers around, and watching one of them in action, I can see how skilled they are at picking the right cherries so smoothly and quickly off each tree.
Coffee cherries are a gorgeous sight and look so different than the eventual coffee bean that you see in stores. The cherries start out green, like this:
Then one by one, the green cherries turn red. It can be tricky for the workers, since the cherries don't all ripen at the same time. Only fully red cherries are ready to be harvested.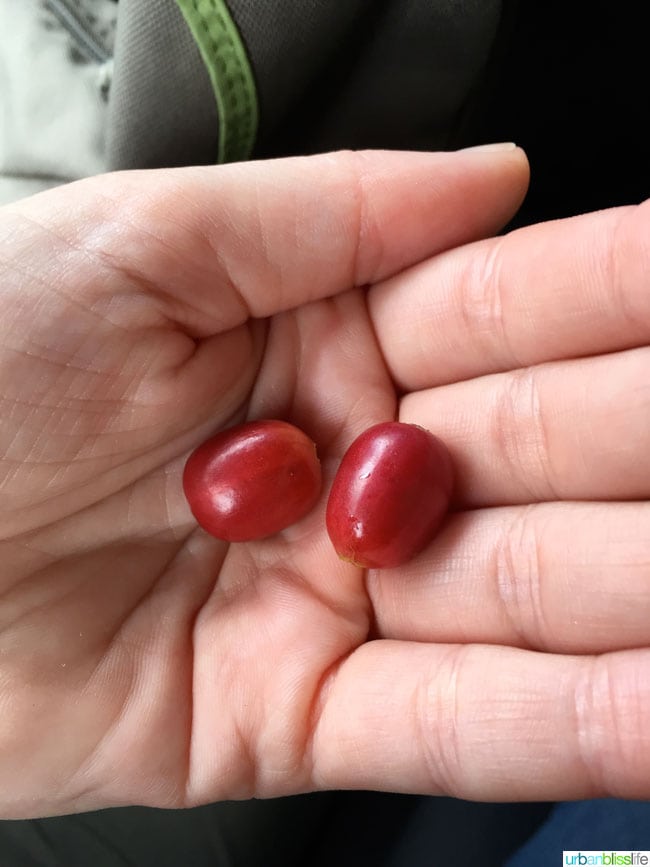 Once the cherries have been picked, they soak overnight. Merle says most coffee growers don't take the extra time to do this, and she thinks it makes a big difference in getting rid of the acidity in their coffee. They then go through a machine that removes the skin and washes the remaining coffee bean.

At this point, the beans are still light in color. They are dried to a specific temperature, then transferred to burlap bags, where they can stay for up to one year, but they are usually immediately taken to the coffee roaster.
The Beckers roast their beans to a medium-dark roast. Two percent of their crop actually consists of peaberry beans: smaller beans found on the same trees as the regular beans.
Hawaiian coffee
Did you know it takes 100 pounds of coffee cherries to make 16 pounds of coffee beans? Think about that the next time you're enjoying your first or fourth cup of Joe. It is amazing to really witness parts of the process first hand to put our beloved cups of coffee in perspective. I have such great respect and immense admiration for the work and passion coffee farmers put into their beans.
Our tour wrapped up back at the Becker residence, where Merle offered us freshly baked brownies (she really is THAT sweet and kind, folks) and, of course, a piping hot pot of Aikane Peaberry Coffee.
We were each given a pound of Aikane Peaberry Coffee to take home, and I can tell you from experience: this coffee is just as good made at home as it was brewed on the plantation, with the kindness of Merle and the sweetness of her family's history and hard work swirling around every drop in my cup. Their coffee is so very smooth, with no bite and no acidic after taste. I love it so much. Merle and Phil, if you're reading this, I will be ordering more from you soon!
If you find yourself on Hawaii, the Big Island, I highly suggest booking a private tour of Aikane Plantation. Simply call the number below, or visit their website to learn more and contact them. The tours last approximately two hours, and are completely free of charge. You will love it, I promise! And if you do go, please let them know that Marlynn of UrbanBlissLife sent you -- and give Merle a big hug from me, please!
This tour was courtesy of the Big Island Visitors Bureau and part of the Hidden Hawaii press trip, with no expectation or requirements for coverage. All opinions and photos are, as always, my own. Many thanks to the Big Island Visitors Bureau for sponsoring this press trip, which allows me to continue to provide fresh, original content for my readers.