Hey, hey, it's the weekend!
I work pretty much seven days a week as a small business owner. Weekends are still my chance to relax, replenish, recharge. It's time for family, and my family loves to go out to eat.
I've written about a lot of restaurants on this blog over the past 10 years, but they've never really found their rightful space here. Sometimes they're on Travel Tuesdays, sometimes on Foodie Fridays. Sometimes I post them on a random Thursday. I think I have finally found a regular spot for my restaurant posts that makes sense: Saturdays.
If you're like me, you're constantly trying to figure out where to eat when you finally have some time to relax and enjoy good food and good company. Weekends are for exploring, for two-hour lunches and three-hour dinners, for finally hitting that hot spot you just read about.
Ecliptic Brewing
Recently, I wrote about some of my favorite Family-Friendly Breweries in Portland, Oregon for TravelAge West. One of those breweries was Ecliptic Brewing.
Located in the hip Mississippi arts & shopping district in North Portland, Ecliptic Brewing was launched in 2013 by longtime Oregon brew icon John Harris (formerly with McMenamins, Deschutes, and Full Sail).
The brewery pays homage to his two loves: beer and astronomy. You'll find subtle astronomy references throughout, from the decor to beer names.
Ecliptic is a light-filled industrial space divided into a bar section and a larger section next to the brewery that is often full of families. Outside there is additional seating, where furry friends are welcome.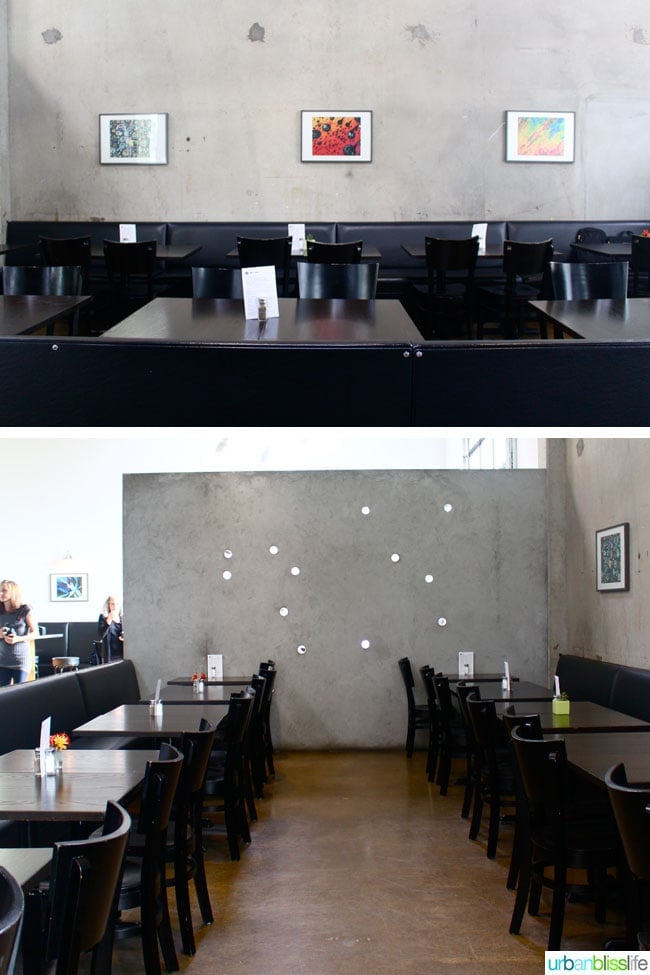 In addition to the 14 Ecliptic beers on tap, you can also order inventive cocktails from the bar. On a recent visit, we were treated to a Pine Flip, aptly named because of it's ingredients, and also the skilled shaker flip before the contents are strained into a glass.
PINE FLIP: Douglas Fir Brandy, egg white, agave, Pollux Imperial IPA

The outstanding brewery menu
What helps Ecliptic stand out from the Portland, Oregon craft brewpub crowd is the food. Yes, the beer is excellent! But the food transcends traditional pub grub.
NOTE: Ecliptic's menu changes regularly to make the most of local, fresh ingredients. Not everything you see in this post will be available when you visit. But this gives you a good idea of the type of food you can expect.
I suggest ordering some steamed mussels ($13) to share. The tomato garlic broth works beautifully with the mussels, leaving a hearty broth worthy of dipping the accompanying grilled bruschetta.
Ecliptic currently offers a delicious romaine salad. On this visit, however, I thoroughly enjoyed the endive salad. It had asian pears, camembert toast, and maple-mustard vinaigrette.
I also loved this Fried Green Tomato, topped with bay shrimp and dill. I've actually been dreaming about this dish since, and aim to remake it at home someday. The well seasoned bay shrimp dill topping is the perfect complement to the crispy fried tomato.
The Pan-roasted Chicken dish rotates. It currently comes with parsley spaetzle, but I loved the sweet combo with corn, zucchini, cojita cheese, and red pepper vinaigrette. The chicken skin was crisped beautifully and the chicken was tender and flavorful.
A Red-Wine Braised Brisket was a rich, hearty finish, along with savoy cabbage and picked rutabaga. Elevated comfort food at its finest.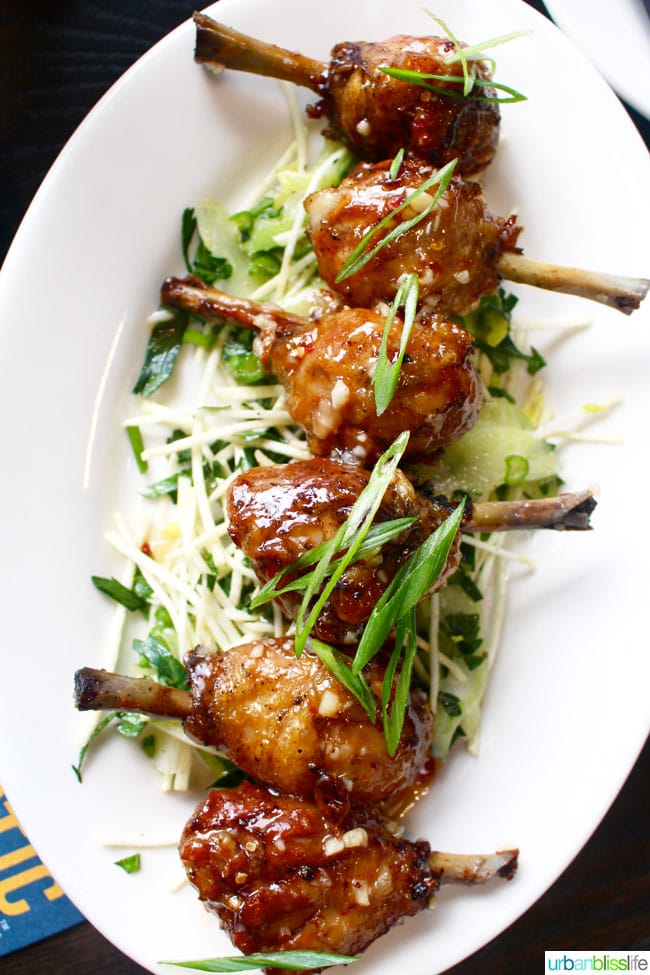 I've saved the best, however, for last. These Sweet and spicy drumsticks with chicken confit, celery salad ($9) were a showstopper! And they tasted just as sticky, sweet, delicious as they look.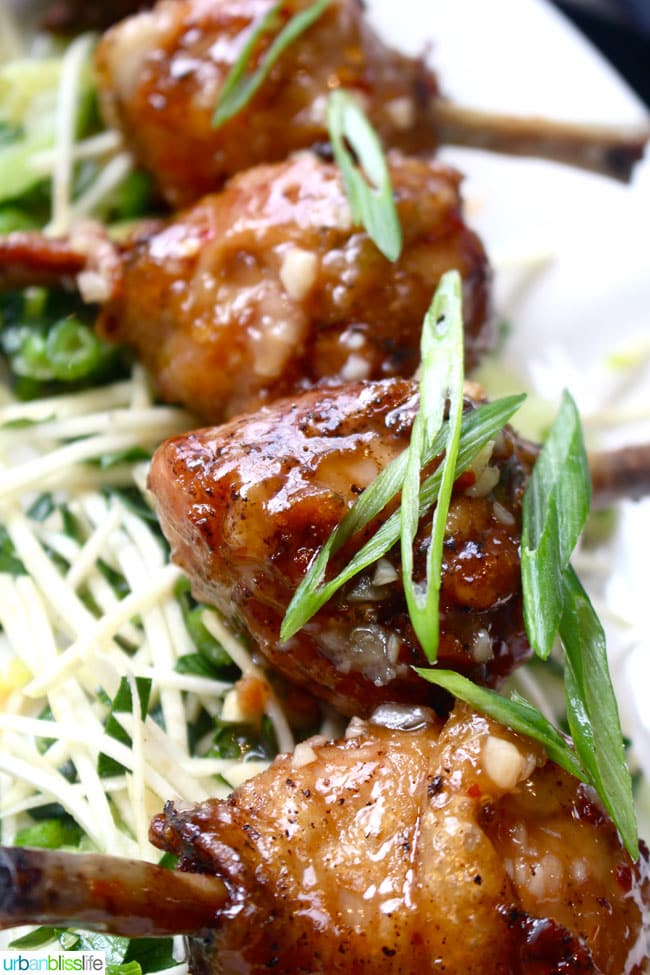 Is there a kids menu?
There is indeed a kids menu at Ecliptic Brewing. It has standard kid fare such as burgers and fries, but also trout sticks and finger steaks.
Dessert at Ecliptic Brewing
For dessert, I highly recommend the churros.
The Beer
You're going to need some beer to wash down all of that good food. Ecliptic has 14 beers currently available. From pale ales to ESBs to stouts, and even a delicious sparkling ale.
My favorite beer here is the Phobos Extra Red Ale. This is a rich red ale made from eight malts that give it a smooth caramel flavor. It's named after the Martian moon that circles the red planet!
This is an accessible red that I think goes well with almost anything on the Ecliptic menu. I speak from experience here.
The Pyrocon Pale Ale is the Ecliptic beer I would suggest if you like a classic Pacific Northwest ale. It's the most accessible beer here that I have tried. And, it's the one I would order if we were just here to enjoy some beers without a full meal.
Visit Ecliptic Brewing
825 North Cook Street
Portland, Oregon 97227
503-265-8002
HOURS: Sun - Thurs 11am - 10pm
Fri - Sat 11am - 11pm
More Portland, Oregon restaurants: