Traveling to Whistler British Columbia in western Canada? Consider a stay at the Pan Pacific Whistler Village Centre Hotel. This 4-star hotel in the heart of Whistler Village offers year-round boutique vacation experience for families, couples, and all outdoor adventurers!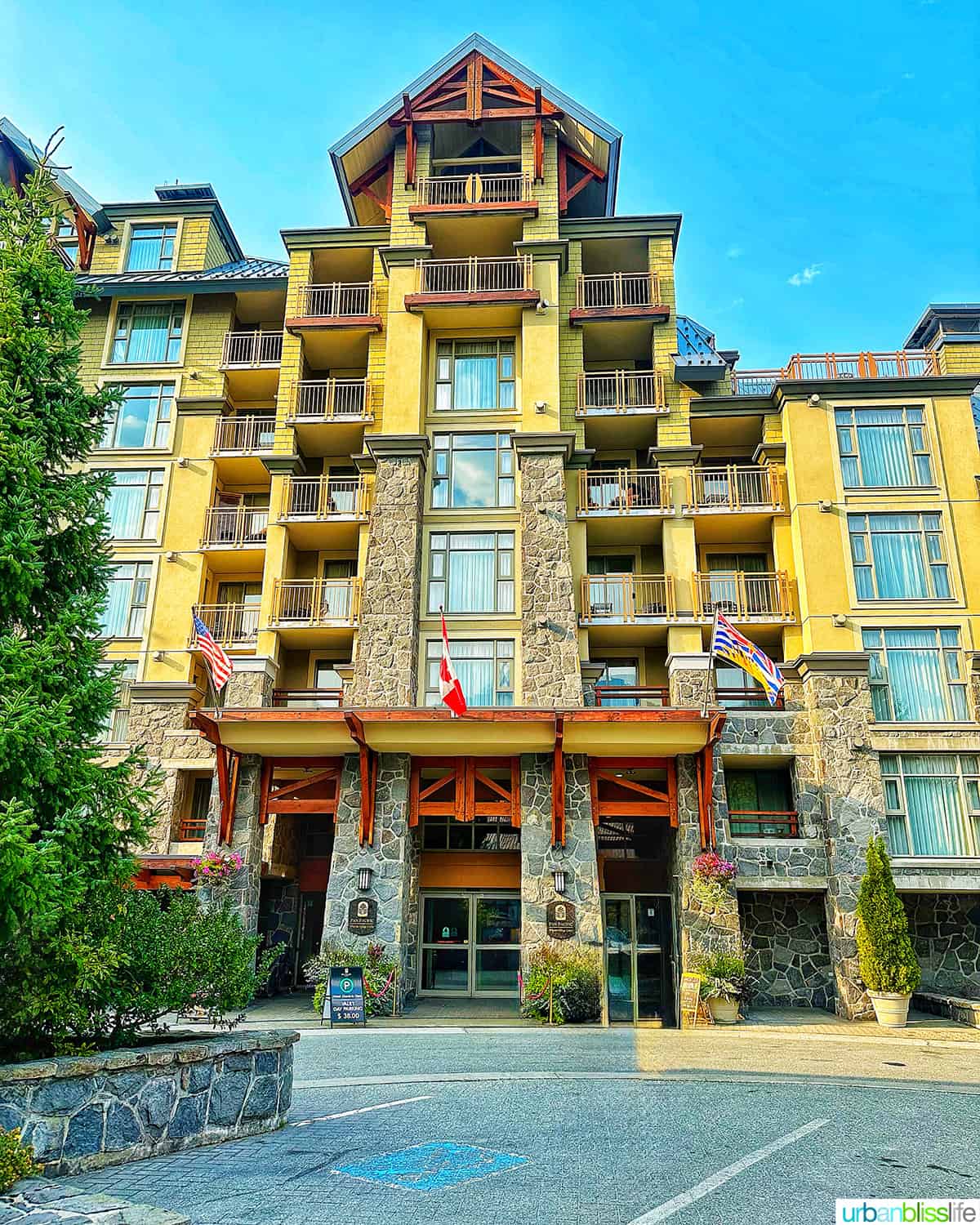 Nestled amidst the stunning landscapes of Whistler, British Columbia, the Pan Pacific Whistler Hotel offers a haven of luxury and relaxation for travelers seeking a memorable escape.
There are two Pan Pacific hotels in Whistler: Pan Pacific Whistler Village Centre and Pan Pacific Whistler Mountainside. I had the pleasure of staying at the Village Centre location recently, and this blog post will review that location.
With its unbeatable location, well-appointed rooms and suites, and a range of family-friendly and dog-friendly amenities, this hotel promises an unforgettable getaway in the heart of one of Canada's most renowned mountain resorts.
Jump to:
About Pan Pacific Whistler
The Pan Pacific Whistler Hotel enjoys an enviable location at the base of Whistler and Blackcomb Mountains. I had the pleasure of staying here for three nights recently, and loved every minute of it. Whether you're here for winter skiing or summer adventures, I think you'll love making the Pan Pacific Whistler Village Centre hotel your home away from home.
You can wake up to breathtaking mountain views from your private balcony and breathe in that fresh mountain air. In winter, you can hit the slopes within minutes. During the summer, explore the pristine hiking trails, embark on exhilarating mountain biking adventures, or simply enjoy the serene beauty of the surrounding forests and lakes.
The village itself is a bustling hub of restaurants, shops, and entertainment, making it easy to explore the local culture and cuisine.
And then you return to an ultra comfortable suite with all the amenities you could want during a vacation. Where you can relax in front of your suite's gas fireplace, or take a lap or two in the saltwater swimming pool.
Award-winning Whistler hotel
This gorgeous all suite hotel has won over travel professionals as well as hotel guests. Accolades include:
Canada's Best Ski Boutique Hotel in the World Ski Awards
Top 10 Best Resorts in Canada - Condé Nast Traveler annual Readers' Choice Awards, 2022.
How to get to Pan Pacific Whistler
If you're flying, the nearest airport is Vancouver International Airport.
Driving from downtown Vancouver, British Columbia, to the Pan Pacific Whistler Village Centre in Whistler is a picturesque journey that takes you through some stunning landscapes. Here are step-by-step driving directions to reach your destination:
Directions to Whistler from Downtown Vancouver
Start by heading northwest on West Georgia Street.
Merge onto BC-99 N via the ramp to North Vancouver/Whistler.
Continue on BC-99 N for approximately 117 kilometers (about 73 miles). You'll pass through several beautiful towns and scenic areas along the Sea-to-Sky Highway.
Be prepared for some winding roads and elevation changes as you make your way through the mountains. Drive carefully and enjoy the breathtaking views.
As you approach Whistler, you'll see signs indicating the various exits into the village.
Once you arrive at the hotel, you can use the hotel's parking facilities, valet parking, or any other parking options they offer for guests.
Rooms and suites
Pan Pacific Whistler Village Centre is an all-suite hotel offering one-bedroom and two-bedroom suite accommodations to suit the needs of every traveler. For the ultimate luxury vacation, they offer a 2-bedroom penthouse suite, two three-bedroom suites (also penthouse suites), and a 3-bedroom plus den penthouse.
Whether you're on a romantic getaway, a family vacation, or a solo adventure, you'll find these spacious suites are the perfect place to call home during your stay!
Each of their lovely suites is designed with comfort and style in mind. Here you'll find a king-sized bed, queen sofa bed, cozy fireplaces, full kitchens, private balconies, dining area, and spacious bathroom suites.
Each suite has standard amenities such as a flat-screen TV, free Wi-Fi, and daily housekeeping. These thoughtful amenities ensure that you have everything you need for a comfortable and convenient stay.
Dining
One of my favorite Whistler restaurants is located on the first floor of the Pan Pacific Hotel Whistler Village Centre: the Raven Room. Their outdoor patio is the perfect spot for an après-ski cocktail, or cozy up inside the restaurant for a delicious dinner.
You can also get food delivered to your room from nearby restaurants.
Hotel guests receive complimentary continental breakfast delivered daily to your suite.
Side note: if you're staying at the Pan Pacific Mountainside hotel, check out the Dubh Linn Gate Irish Pub. It's a Whistler staple!
Dog-friendly
At the Pan Pacific Whistler Hotel, they understand that pets are family too. You are welcome to bring your furry companions. All of the suites here are dog friendly and cat friendly!
Here's what they offer for your four-legged friends:
Pet amenity package that includes food and water bowls, biodegradable poop bags, a blanket and delicious treats.
Dog-friendly trails nearby. If you're looking for dog-friendly hiking and walking trails, just ask the front desk. They are happy to offer recommendations!
Pet concierge. The hotel's pet concierge is available to assist with any special requests, such as dog-walking services, pet-sitting, or arranging pet-friendly dining options in the village.
There is a maximum of two pets per suite per stay. The pet stay fee is CAD $25.00 per pet per night. The fee is capped at CAD $100.00 per pet per stay.
Pan Pacific Hotel FAQs
Is there an outdoor pool at this hotel?
Yes! There is a heated saltwater lap pool and two outdoor hot tubs.
Is there on-site parking at the hotel?
Self-parking is available at CAD 32 per day/night. Two electric vehicle charging stations are available. There is also valet parking available.
What time is check in and check out?
Check-in time is 4:00 pm. Check-out time is 11:00 am.
Is there a spa at Pan Pacific hotel?
Yes, the Whistler day spa offers spa treatments such as massages, spa facials, and waxing. It's located on the lobby level and is open from 9am to 8:45 pm. There is also a dry cedar sauna that is open from 6:00am to 10:00pm.

What other amenities does Pan Pacific offer hotel guests?
There is also a bike valet and golf storage available. You'll also find coin-operated laundry facilities (ask the front desk for the current operating hours) and vending machines.
The Pan Pacific Whistler Hotel offers the perfect blend of luxury and convenience. Within easy walking distance from local restaurants, shops, galleries, in a picturesque mountain setting, this is an idea place to stay whatever outdoor adventures await.
Whether you're seeking adventure on the slopes, relaxation in the great outdoors, or quality time with your loved ones (including your furry friends), this hotel has it all. Book your stay today and experience the beauty and hospitality of Whistler at its finest!
Pan Pacific Whistler Village Centre
4299 Blackcomb Way
Whistler, British Columbia
V8E 0X3, Canada
For more information and to book your stay, visit the Pan Pacific Whistler Village Centre website. Or call +1 604-966-5500.
Check out more places to stay in Whistler BC
More Canada travel articles
If you visit, please be sure to let them know that you read about it on Urban Bliss Life! And if you snap some pics, tag us @UrbanBlissLife and #UrbanBlissLife on Instagram, TikTok, Twitter, and Facebook.