If you're traveling to Banff in the Canadian Rockies, you must add dining at Brazen Banff to your itinerary. With inventive, creative dishes and tableside extras, this Banff restaurant offers guests a bold dining experience that celebrates the adventurous spirit of the town's early pioneers.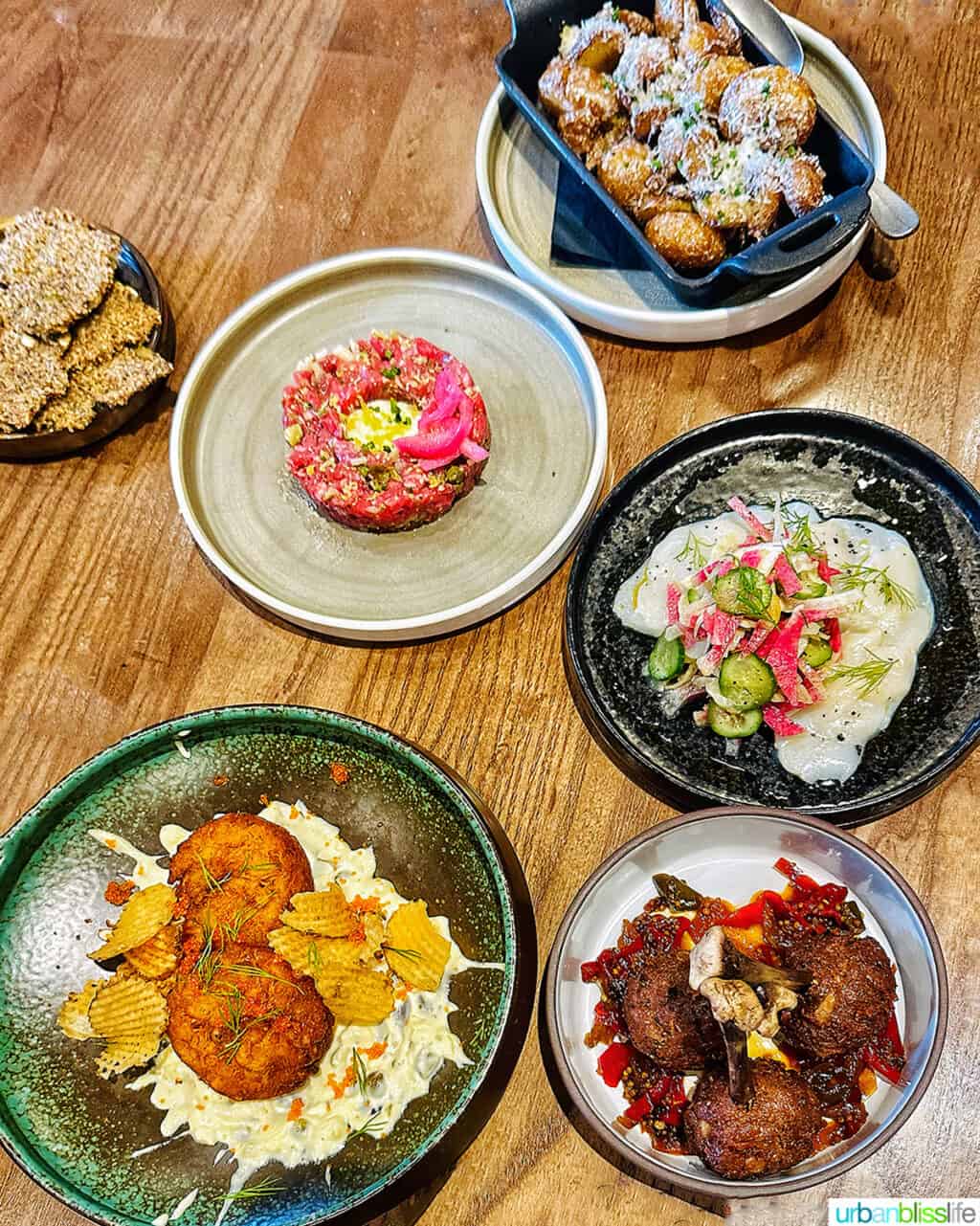 There are dining experiences that surprise and delight. The kind that stick with you months after savoring the bites and oohing and aahing over the tableside theatrics.
Dining at Brazen in Banff Canada is one of those experiences. My mind is still celebrating the creativity, talent, and sheer deliciousness of my dinner here.
If you're traveling to Banff -- and I hope you will be someday soon, because it's truly an amazing place to visit -- definitely add a dinner reservation at Brazen to your itinerary.
Here's a look at what you can expect from dining here.
Jump to:
NOTE: the menu items and prices here reflect what was available during one particular visit. The menu and prices are subject to change, so be sure to visit the restaurant website for the latest.
🍽 Restaurant Vibe
Located within the historic Mount Royal hotel right in the heart of Banff Avenue, Brazen pays homage the audacity, courage, and sometimes foolishness of the town's earliest explorers.
Servers here are well versed in the tales of the past and Banff's bold characters. They helpfully weave the spirit of those pioneering adventurers into the stories presented to you on the plate and in your glass.
🍹 The Drinks
Although not solely an Alberta bar, the cocktail menu at Brazen is not to be missed. Brazen offers contemporary takes on classic cocktails.
The ongoing theme of Brazen might be "nothing is quite what it seems." And this starts with the cocktail menu, which features local spirits and drinks made with the adventurous Albertan spirit.
With A Garden Tea Party ($18), a glass of blue cotton candy is doused in The Botanist gin, peach liquor, lemon, ginger kombucha. Resulting in a cocktail that is as beautiful aquamarine blue as the nearby Bow River. This is a delicious, not-too-sweet cocktail that is a delightful start to the meal.
Order a Mt. Royal ($19) for a sparkling wine cocktail that literally bubbles with raspberry dust, very berry caviar, and chambord.
The Smokin' Warden ($16) is a cocktail that is smoked tableside, with Bearface 7 year old Triple Oaked Whisky, pine syrup, bitters, and orange.
🥘 The Food
While you could come here just for the great cocktails, the creativity continues with the food menu items at Brazen restaurant. I recommend ordering two to three starters for the table, and sharing two to three larger plates of main courses, to get the full flavor of this restaurant. And of course, you musn't skip out on dessert!
🥔 Starters
Banff offers several shareable plates and a seasonally inspired menu.
Pickled Deviled Eggs ($6) are made with a savory saffron mousse and dill.
Truffle Parmesan Honey Butter Potatoes ($10) are a hearty, flavorful starter.
Smoked Beef Tartare ($23) is expertly done, infused with cognac, topped with garlic aioli, pickled onion, and truffle oil. Served with quinoa crackers.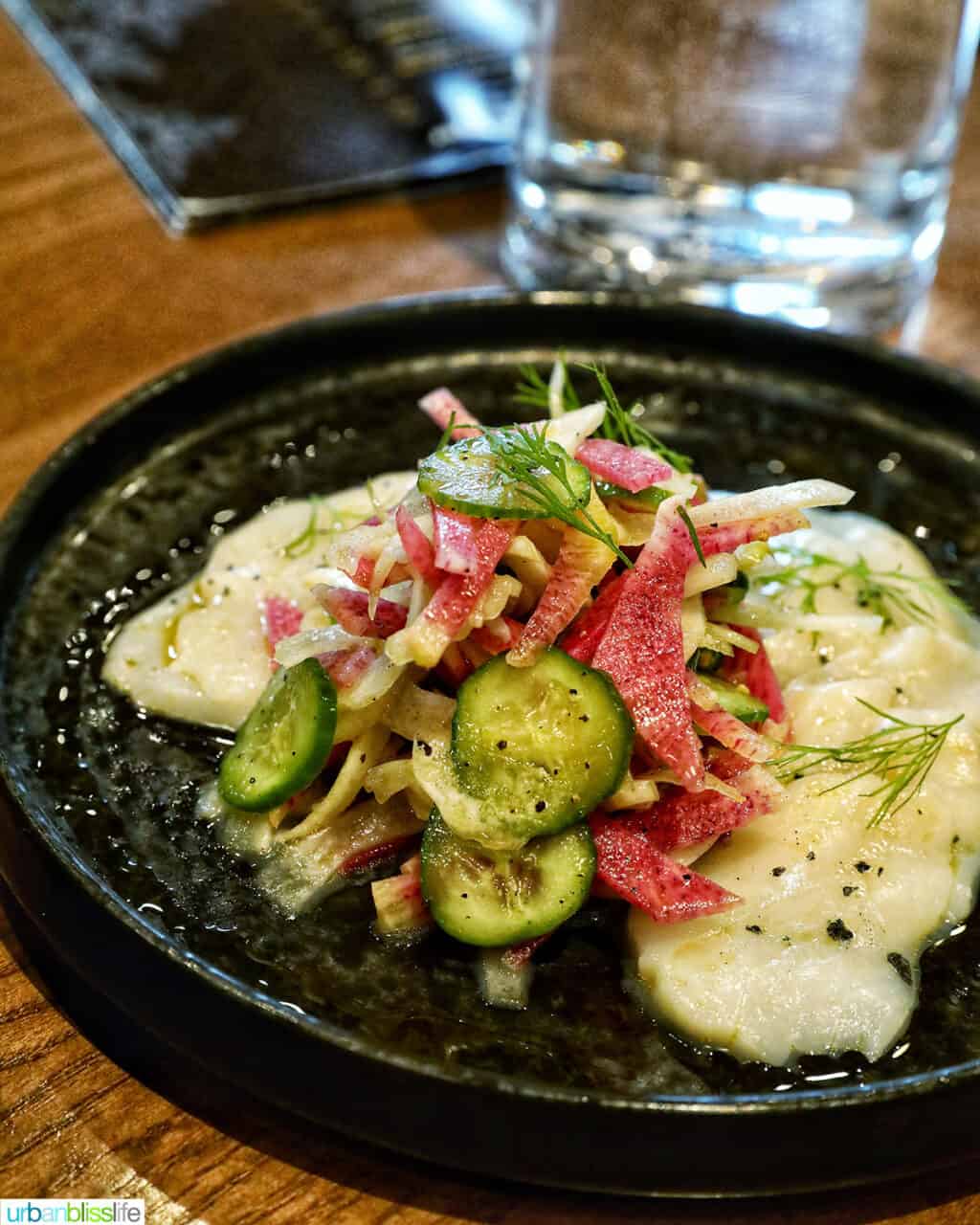 Seafood lovers will enjoy the Scallop Crudo ($29). Served with watermelon radish, fennel, dill, cucumber, and pink peppercorn glass. The scallops were beautifully prepared and I loved this dish!
A classic Canadian dish, Salt Cod ($18) at Brazen is served with house made gaufrettes (crispy fried potato chips), remoulade, lemon caviar, and tobiko (fish roe).
🥩 Main courses
One of my favorite dishes of the evening was the Ginger Beef ($28), which is flambéd at your table, giving the dish a fresh smoky flavor. Certified Angus Beef Hanger Steak is served with pickled onions, blistered shishito peppers, and a ginger syrup.
I also loved the innovation with the Green Tea Mussels ($30). Served in a matcha broth, topped with neon green tobiko (fish roe), and with a side of absolutely delicious Uprising Bakery sourdough bread to soak up that amazing broth.
But perhaps one of the most interesting menu highlights to me was the Mushroom Ravioli ($28). The ravioli was made with activated charcoal, giving it a dark mysterious look. Which is contrasted with bright, colorful toppings of blistered tomatoes, Swiss chard, and braised leeks.
If you're in the mood for steak after a long, chilly day on the mountain, this 14OZ New York Steak ($50) will warm you right up. Certified Angus Beef Striploin is given the classic coffee-rub treatment with Banff Roasting Company Coffee. Topped with crispy leeks then served with Chocolate Jus.
I personally think this steak is large enough to share between two people, especially if you order some of the appetizers (which you should!).
🍮 Don't forget dessert!
Bringing the "nothing is what it seems" theme full circle, is the Creme Brulee ($13). Made with Banff Roasting Company Coffee, Baileys, and topped with hazelnut powder, this modern-day twist is made to resemble an ash tray. Complete with chocolate sticks to look like cigarettes. Adorable, but also delicious!
And the Mango Passionfruit Cheesecake ($13) is served in deconstructed fashion, with blueberry, almond crumb, mango puree, passionfruit gelato, and mint. A refreshing way to close out an incredible meal!
✨ Restaurant FAQs
What is the dress code for this restaurant?
Casual.
Is this restaurant kid-friendly?
Yes, this is a very family-friendly restaurant.
Are reservations required?
Reservations are accepted but not required.
Are there vegan options at this restaurant?
Yes! There are vegan options in the starters and a couple on the main course menu.
Is there outdoor seating? Is it dog-friendly?
There is patio seating available, and friendly, leashed dogs are welcome in the patio area.
Is there parking?
Parking can be a little tricky downtown Banff, but there is street parking around the restaurant.
🥘 Brazen Banff
Brazen is a fun, creative restaurant with good food, classic dishes done in a contemporary way, and great cocktails. It's a cozy, casual gathering place after a day of adventure in the Canadian Rocky Mountains.
The restaurant is located inside the historic hotel of Mount Royal, at 138 Banff Avenue.
Hours:
Breakfast 7:30 AM – 10:30 AM
Lunch 11 AM – 3 PM
Happy Hour 4 PM – 6 PM
Dinner 5 PM – 10 PM
For more information, the latest menus and prices, and to make your reservations, visit the Brazen Banff website.
Brazen is part of the Banff Jasper Collection of restaurants, along with Sky Bistro, which is another great Banff restaurant located at the top of the Banff gondola.
🏔 More Canada travel articles
Where to stay nearby
What to do in Banff
If you're visiting Banff National Park, be sure to check out our Best Things to Do in Banff travel guide.
If you visit, please be sure to let them know that you read about it on Urban Bliss Life! And if you snap some pics, tag us @UrbanBlissLife and #UrbanBlissLife on Instagram, TikTok, Twitter, and Facebook.