Traveling to Victoria British Columbia, Canada? Add these delicious downtown Victoria restaurants to your itinerary!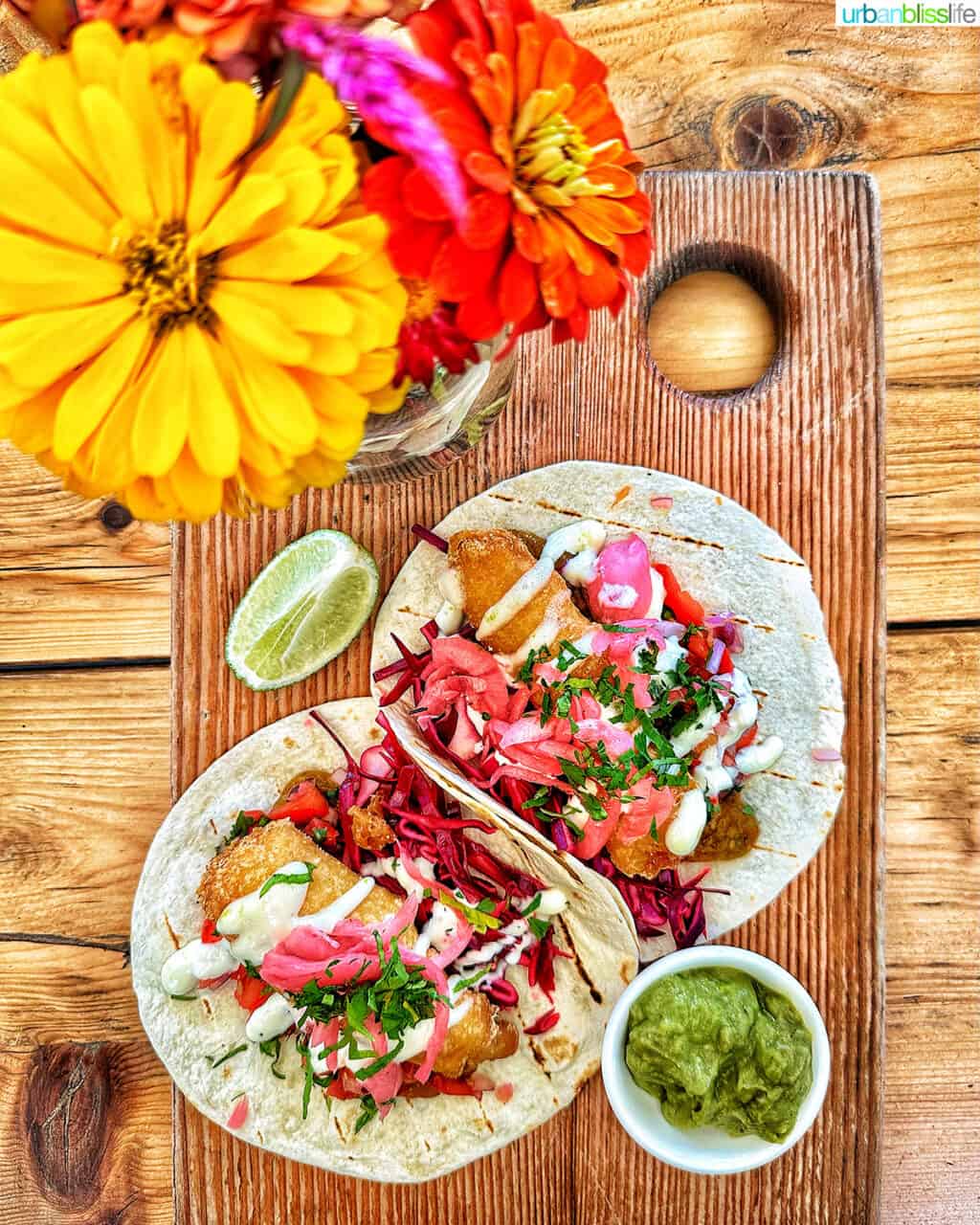 Victoria, British Columbia is a vibrant, beautiful city on Vancouver Island in western Canada. I love traveling there, and always find new eateries to try with so much good food, and so many new things to do and places to explore.
The local culinary scene in Victoria is quite impressive. Surrounded by water and with lush forests and farms, it's easy for restaurants here to highlight the area's incredible seasonal ingredients.
Jump to:
Downtown Victoria restaurants to try
The heart of downtown Victoria BC is home to some of the city's best restaurants that are popular with visitors and locals alike. From a casual dining place to fine dining restaurants, whether you're searching for happy hour or special occasion restaurants, there are so many great options.
Here are four must-visit restaurants in the heart of Victoria, each offering its own unique menu and atmosphere.
Victoria BC FAQs
Do I need a car to get around Victoria BC?
It's easy to travel around the heart of Victoria without a car. You can rent bikes or walk to most places if you stay downtown. And there are plenty of ride share options and taxi cabs. However, if you plan to visit sights outside of downtown, such as the famed Butchart Gardens, you may want to rent a car.
What kind of food is Victoria BC known for?
Surrounded by water, Victoria is known for fresh local seafood, like wild salmon, trout, and Dungeness crab.
What is the currency in Victoria?
The currency in Victoria BC is Canadian dollars. Most restaurants accept credit cards.
Are these restaurants kid-friendly?
Yes! We've traveled to Victoria BC with our kids when they were young and took them everywhere with us. These four restaurants are all kid-friendly.
Aura at the Inn at Laurel Point
Overlooking Victoria's Inner Harbour, Aura is a chic and contemporary restaurant focusing on Pacific-inspired cuisine. In addition to their beautiful dining room, they also have a lovely outdoor patio. Both offer the best views of the harbour and downtown Victoria.
Local seafood is a highlight here with menu items such as the Roasted Steelhead Trout and the Halibut. While you can order a la carte from the menu, if you're with a larger group and want a memorable dining experience, go for the Chef's Tasting Menu. It's truly a wonderful culinary experience and quite reasonable at just $65 per person.
Their a la carte dinner menu and their tasting menu are both fantastic, but Aura is also one of the best brunch spots in town. I'm in love with their signature dish for brunch: the Seafood Bennie.
Recommended attire: Smart casual
Reservations: Highly recommended
Hours: Tuesday to Sunday, 5pm-9pm
Address: 680 Montreal St, Victoria, BC
Website: https://www.aurarestaurant.ca/
10 Acres Bistro and 10 Acres Commons
Located at the edge of Victoria's vibrant downtown core, 10Acres Bistro is a farm-to-table restaurant that showcases the best local ingredients from the surrounding area. The always fresh food and seasonal menus include small bites and full dinner plates that reflect on the availability of what's in season from local farmers.
You can order small plates from the 10 Acres kitchen for lunch, such as chilled prawns. I love their Baja tacos. Their dinner menu highlights include Cauliflower Gratin, Pappardelle Ragu, and a DuckConfit Salad. This is also the perfect spot to order a craft beer or try a local wine off their fantastic wine list.
Dress Code: Casual
Reservations: Highly recommended
Hours: Monday to Sunday, 5pm-9pm
Address: 10 Acres Common, 720 Burdett Ave, Victoria, BC
Website: https://www.10acres.ca/
BeLove
BeLove is a vibrant and sustainable plant-based restaurant in the heart of Victoria. Here you'll find a creative menu that changes with the seasons. They offer delicious vegetarian and vegan dishes featuring may regional ingredients. It's great food at a fair price.
The Be Love menu highlights include many dairy-free and gluten-free options, which I appreciate. the Karma bowl, the seasonal vegan Burger, the Farmer's Market Salad, and the vegan Mac and cheese.
Dress Code: Casual
Reservations: Not required
Hours: Monday to Sunday, 11am-9pm
Address: 722 Government Street, Victoria, BC
For more information, visit the BeLove website.
Zambri's
A long-standing Italian restaurant in downtown Victoria, Zambri's offers classic Italian dishes with a modern twist. It's the perfect place for date night, but also a great place for enjoying classic dishes with good friends or co-workers.
The menu highlights include traditional dishes like Bolognese, Penne with Peas and Gorgonzola, and Meat Lasagna. Definitely order some delicious side dishes, like the Zambri's "Cesare" salad or the Polenta Rustica.
Dress Code: Smart Casual
Reservations: Highly recommended
Hours: Monday to Sunday, 5pm-9pm
Address: 880 Yates St, Victoria, BC
Website: https://www.zambris.ca/
---
Whether you're in the mood for a romantic dinner, a casual night out, or a delicious meal with friends, downtown Victoria has something to offer for every taste and occasion. So why not treat yourself to a delicious meal at one of these exceptional restaurants today?
Plan your next trip to Victoria BC
Search for the best flight options using the search form below:
Book your hotel here:
More British Columbia, Canada travel
If you're traveling to British Columbia, be sure to check out all of our Canada travel guides.
If you visit, please be sure to let them know that you read about it on Urban Bliss Life! And if you snap some pics, tag us @UrbanBlissLife and #UrbanBlissLife on Instagram, TikTok, Twitter, and Facebook.