Traveling to Victoria, British Columbia in Canada? Here are four family-friendly places to eat in Victoria.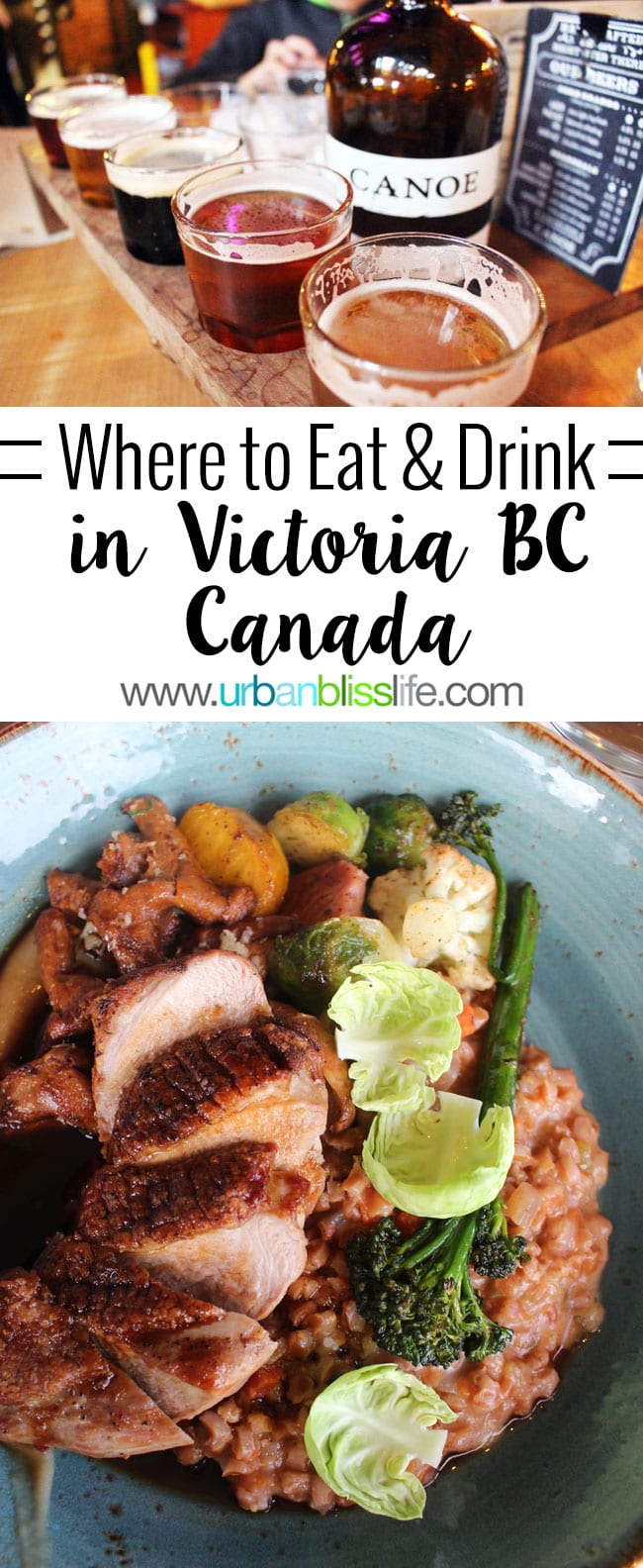 Jump to:
We ate at several restaurants and brewpubs in Victoria. Here's a look at some of my family's fave restaurants and brewpubs in Victoria BC from this particular visit.
But first, a few tips for dining in Victoria British Columbia!
✨ Dining in Victoria BC FAQs
What's this drink called the Caesar?
You will often find a drink called the Caesar on most menus. A Caesar is Canada's version of a Bloody Mary. We found that it is often the drink special of the day on Sundays.
What's the average alcohol pour in BC?
Beer and wine pours are more generous than most places in the United States, so order (and drink) responsibly. Wines by the glass are often offered in a 6-ounce or a 9-ounce pour (and I swear those 6-ounce pours were more like 7-8); beer is often offered as a 14-ounce "sleeve" (although technically, Canadian restaurants & bars serve sleeves that are anywhere from 12-16 ounces) or a 20-ounce "pint."
How much do I tip in BC?
Tipping etiquette is similar to the US. Don't let the European feel and look of Victoria fool you: tips are appreciated in restaurants and bars here, just like they are in the States. A general guide for the amount you should tip: 18% for good service, 20% for better service, 22% for exceptional service.
Places to eat in Victoria
There are so many wonderful places to eat in Victoria, BC Canada. The four highlighted here are simply ones that we enjoyed during this particular family visit. I hope you and your family enjoy them, too!
🚜 10 Acres Commons
As part of the 10 Acres Group, 10 Acres Commons is affilated with 10 Acres Bistro. The latter is a smaller, more intimate setting located just up the street from 10 Acres Commons.
The restaurant has a modern Pacific Northwest feel. You'll find lots of different wood tones, chalkboards, and aluminum and copper throughout.
It's a large space that is open for lunch and dinner only.
🍤 The food at 10 Acres Commons
My husband ordered the Curry Bowl ($19) with chicken curry, baby potatoes, green peas, jasmine rice, raita, cilantro, naan bread.
He enjoyed this savory dish with the Hoyne Brewing Co. Dark Matter, which is done in an American brown ale style.
My son loves fish and chips, and ordered the Cod Fish & Chips. It was beer battered with locally brewed Hoyne beer served with fries, coleslaw, & house tartar sauce ($16 for 1 piece; $20 for 2 pieces).
I ordered the Spaghetti Frutti di Mare ($26) with clams, mussels, prawns, squid, spinach, chili, gremolata, and olive oil.
They served a generous amount of seafood with this dish, and the gremolata provided lovely added flavor and texture to this dish. It was delicious and filling – perfect for lunch to fuel up for a busy afternoon!
🍷 Drinks at 10Acres Commons
For my wine, I tried a local BC white wine: the 2014 Stag's Hollow Kozier Organic Vineyard Pinot Gris, from the Okanagan Valley ($12 for 6 oz, $19 for 9 oz, $48 for a bottle).
Although there is no kids' menu, we were able to find some items that our kids would enjoy. Their food was delicious and they have a good selection of BC wines and beers.
🍽 Dine at 10 Acres Commons
It's definitely a fantastic place to go after work, with friends, or for a date night out.
10 Acres Commons
620 Humboldt St
Victoria, B.C. V8V 4G4

HOURS:
Mon to Sat 11:30am - 1am
Sun 12pm - 12am
🛶 Canoe (now closed)
One of the aspects my husband and I were really impressed by was the amount of microbrews and brewpubs in Victoria BC.
Like their bustling metropolis neighbor across the water, Vancouver BC, Victoria is really coming along in the microbrew scene. Our first meal in Victoria was at Canoe Brewpub, which was a quick, easy 10-minute walk from our hotel, the Delta Victoria Ocean Pointe Resort and Spa, located right on the inner harbour.
Canoe is designed in classic Pacific Northwest brewpub style: a large warehouse space with exposed brick and imposing exposed wood beams. The theme is carried throughout the interior, with canoes hanging from the rafters. It's a beautiful, casual, light-filled restaurant that was packed with couples, families, friends meeting for drinks, and tourists like us.
🍺 Drinks at Canoe
Being new to the Victoria microbrew scene, I ordered the Fleet of beer ($11.50) (love how they tie in the restaurant theme by calling it a Fleet instead of a Flight!), which includes your choice of five of the brewery's current beers on tap.
My fave: the Lager, which received the Canadian Brewing Award Silver Medal. It was crisp and light with a gentle hop finish.
🥪 Food at Canoe
Since we had just arrived and were slightly travel weary after the fun but long drive + ferry ride from Portland, Oregon, my husband and I weren't too hungry.
He ordered the Caesar Salad. It was a nice traditional Caesar Salad ($11) with romaine, white anchovy & roasted garlic dressing, parmesan, croutons.
I ordered the Mussels starter plate ($16.50) pictured above. The mussels were mostly well cooked (a couple were closed) and bathed in a beautiful broth of vaduovan curry, coconut milk, lemongrass, cilantro, charred lime, and grilled flatbread. I thought the char-grilled lemon added a nice, bright finish to the dish. I also added on a side of fries, because I seem to be on a mussels + fries kick lately.
Canoe Brewpub is 100% without a doubt family-friendly. They take reservations for parties of all sizes (the best service restaurants can offer families, in my opinion!), have high chairs, a baby changing table, stroller storage, and have a really fantastic kids' menu.
Your little one can chow down on beef sliders or grilled Lois Lake Steelhead, or go the more traditional route like my kids did and enjoy Canoe's super tasty grilled cheese, which comes with fries that received high praise from my young restaurant critics.
Canoe Brewpub
450 Swift Street
Victoria BC
250.361.1940
CanoeBrewpub.com
🎣 LURE restaurant & Bar
My personal favorite restaurant on this visit was our hotel restaurant.
Hotel restaurants are usually stable and predictable, with decent service and okay food, in order to please a wide variety of palates. Yet LURE Restaurant and Bar located on the first floor of the gorgeous waterfront Delta Victoria Ocean Pointe Resort and Spa offers an impressive dining experience.
Even if you are not staying at this hotel, I highly recommend you dine here during your next trip to Victoria BC.
Our first night in Victoria, hubby and I stole away for a quick drink in the LURE bar, pictured above (benefits of traveling with older kids!).
A kind gentleman named Tim was our server, and we were delighted when he was once again our server when we dined here as a family during our last night in Victoria.
The interior is modern, with clean lines and a lovely mix of contrasting yet complementary materials. There were glass partitions, dark wood tables, sanded reclaimed wood on some of the walls mixed with coppers and whites throughout.
The lightness of the space and large floor-to-ceiling windows opened up the restaurant to amazing views of the harbour. Who doesn't love dining with a great view?
As for the food, I was in foodie heaven.
🐠 The food at Lure
I had a hard time choosing which dish to try because the menu offered up a mouthwatering list of options. In the end, I went with the Duck Breast ($27).
The duck was cooked perfectly: crispy, salty skin and tender, flavorful meat. I love how the chef braised the farro with a beautiful array of seasonal vegetables (brussels sprouts, chanterelles, broccolini) in a creative, soothing smoked apple sauce with quince jus.
This was my favorite dish in Victoria.
My husband ordered the Pacific Wild Salmon ($25). It was seared to perfectly seal in all of that juicy salmon flavor, and served with brown butter vegetables and adorable, delicious crispy oatmeal cakes.
Those added some lovely crunchy texture to complement the tender salmon and crisp vegetables.
Like most hotel restaurants, LURE is very kid-friendly. I do love that kids can order smaller plates of the salmon as well as roast chicken breast.
But of course, my children decided to start their Victoria BC food journey and end it with a classic kids' grilled cheese with fries ($11)
🍷 Drinks at Lure restaurant
As for our continued tastings of local beers and wine, I enjoyed the Mission Hill Rootstock Cabernet Merlot while my husband enjoyed the Blue Buck Beer by Phillips Brewing Company.
We capped off our delightful dinner experience at LURE Restaurant and Bar with a Dark Chocolate Pot De Créme, which had a nice slightly crunchy dried caramel top crust with dried berries on top. Meanwhile, the kids each enjoyed some vanilla ice cream served beautifully with mint and berries... of course, they dug right in and nearly finished their dessert before I could take a photo.
🍽 Dine at Lure restaurant
LURE Restaurant and Bar is definitely a spot I recommend if you're looking for places to eat in Victoria.
You'll love the stunning harbour views, especially at night when the whole town is lit up, and you'll enjoy wonderful dishes that will satiate even the pickiest of eaters (trust me: I have two of them! One more than the other right now... but that's another story).
LURE Restaurant and Bar
100 Harbour Road
Victoria, BC V9A 0G1
250.360.5873
INFO@LUREVICTORIA.COM
HOURS:
Sunday - Thursday: 6:30 am - 11 pm
Friday & Saturday: 6:30 am - midnight
http://www.lurevictoria.com/

💖 Floyd's Diner
And now, for something completely different...
While searching for a breakfast or brunch spot before our private family cooking class with The London Chef (cannot wait to share this experience with you next week!), we tried and failed to get into two of Victoria BC's most popular breakfast/brunch hotspots: JAM, and The Blue Fox Cafe.
The lines for both – on a Monday, no less – were of Portlandia proportions, and thus, I can't recommend going to either unless you have at least a week to spend here and time to kill waiting in line.
When traveling, no restaurant is worth a lengthy wait for me, when there's a family to feed and more exciting places to experience. Also, at press time, neither place accepted reservations for a party of four for breakfast/brunch.
So off we went in search of sustenance, and via Yelp, TripAdvisor, and the good ol' Google Maps, we came across Floyd's Diner.
And it was just right.
As you can guess by the name and exterior, Floyd's Diner is a classic throwback diner.
🎹 The restaurant vibe of Floyd's
The interior is fun and funky, with in-your-face colors and classic images of past icons scattered throughout the walls (including the bathroom! Go to the bathroom when you're here, even if you don't have to "go"!).
🧇 The food at Floyd's
The food is also classic diner food, which is perfect if you are feeding a hungry family. I had to try the chicken and waffles, because: HUNGRY.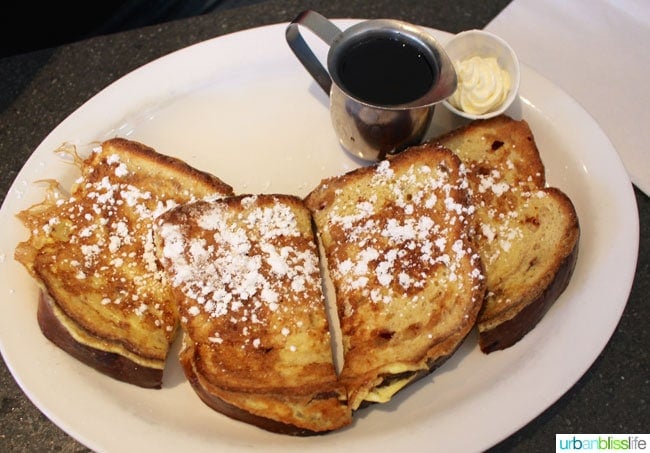 Hubby enjoyed the classic French Toast.
Meanwhile, my daughter delighted in the huge mound of whipped cream and chocolate drizzle that was served with a side of hot cocoa underneath.
She and my son also split an order of the kids' pancakes with a couple of sides of bacon. Because: BACON (and also: my children).
Floyd's is a fun spot for families and really travelers of any group size who are looking for classic diner food at affordable prices in a fun, casual atmosphere. If you're not looking to spend your vacation time waiting in line for food that you may or may not enjoy, do check out Floyd's Diner.
Floyd's Diner
866 Yates St.
Victoria, BC Z8W 1L8
For more information, visit the Floyd's Diner restaurant website.
🇨🇦 More British Columbia, Canada travel
If you visit, please be sure to let them know that you read about it on Urban Bliss Life! And if you snap some pics, tag us @UrbanBlissLife and #UrbanBlissLife on Instagram, TikTok, Twitter, and Facebook.