Looking for one of the best kid friendly restaurants in Vancouver BC? The Cactus Club Cafe offers delicious dishes the whole family can enjoy in a comfortable, vibrant setting. It's a great place for group dining!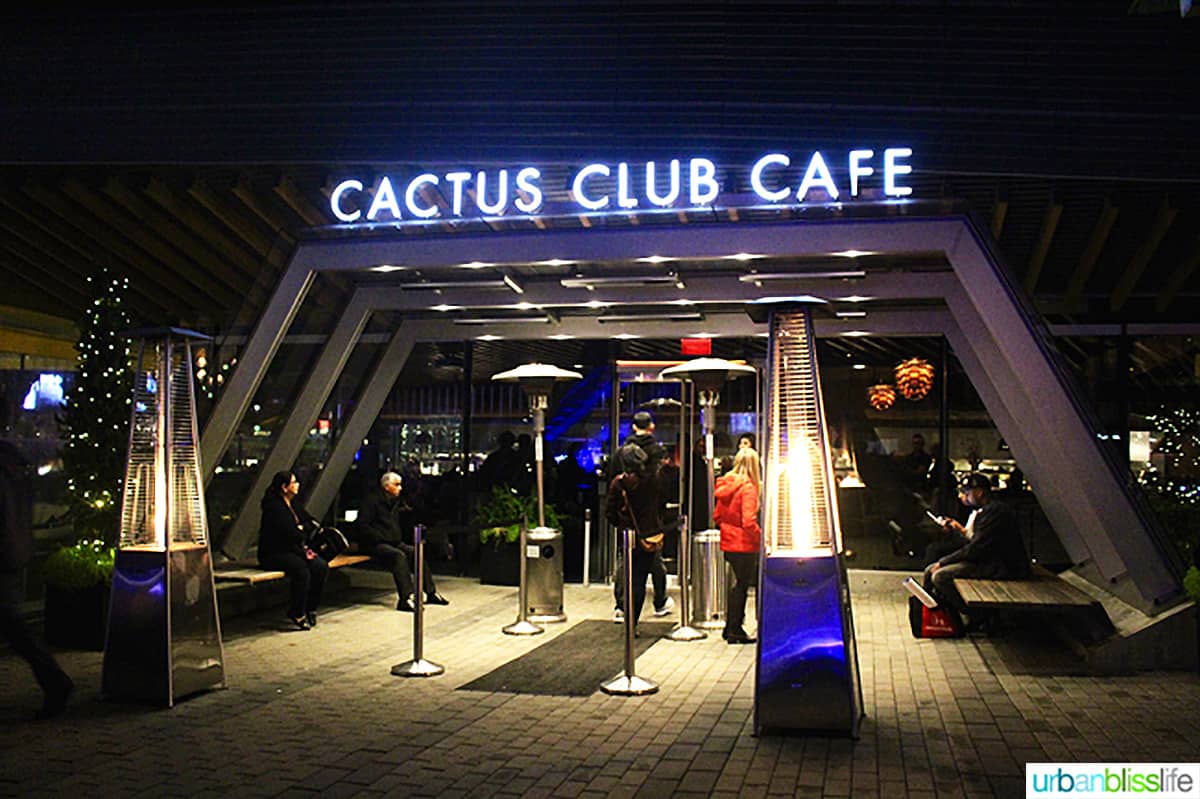 Living in the Pacific Northwest, we love taking west coast road trips from Portland to Victoria BC and to Vancouver BC, both in the southwestern corner of Canada.
We traveled up to Victoria BC and Vancouver BC recently. And we were looking for a restaurant close to our Vancouver BC hotel. We wanted good food and a great view. Plus someplace that could accommodate two families of four at one table.
All of my research led me to the Cactus Club restaurants. More specifically, to Cactus Club Cafe in Coal Harbour.
🍽 Cactus Club Coal Harbour
There are currently 29 Cactus Club locations throughout Canada, with a large number of locations peppered across British Columbia.
We met my cousin and his family for dinner at the Cactus Club Cafe Coal Harbour in North Vancouver. It's just a short walk from where we were staying during our visit, at the Coast Coal Harbour Hotel.
Looking for a place to stay in Vancouver BC? Check out hotels using the search form below:
🌟 Restaurant vibe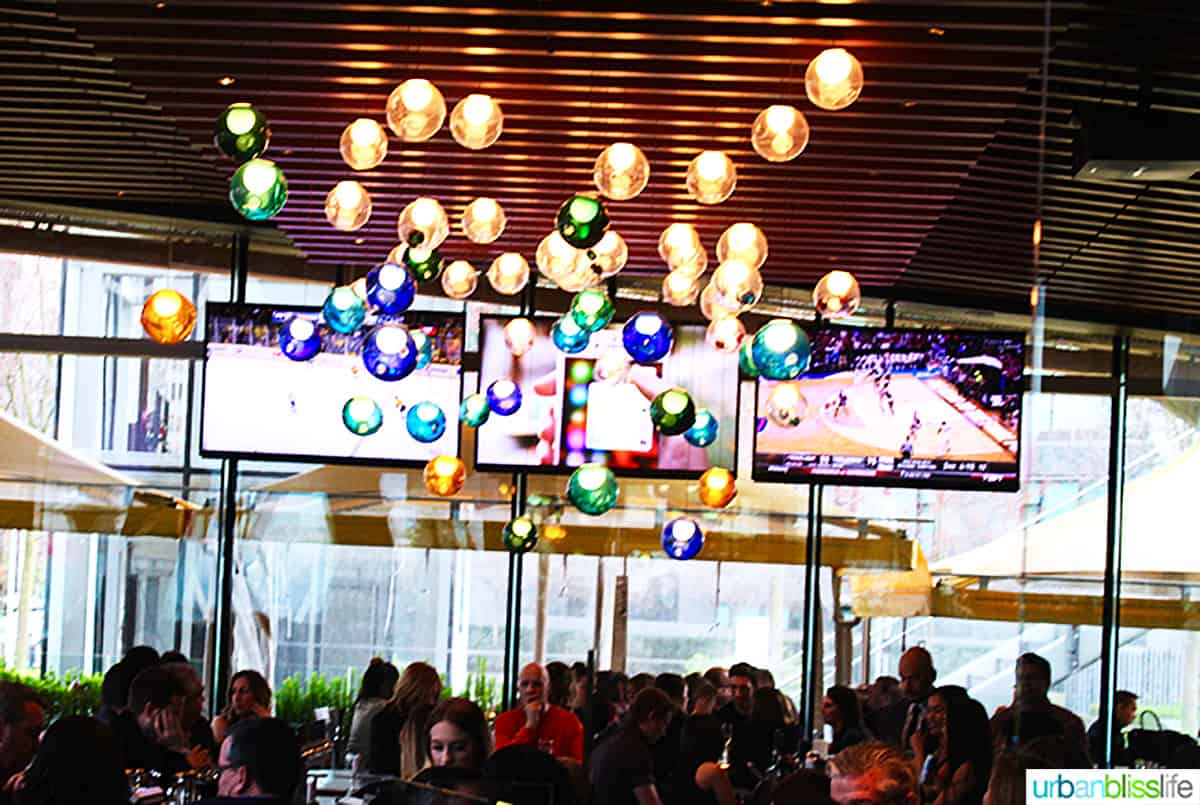 The vibe is upscale but not in a stuffy, hushed tones way. The casual dining restaurant is filled with lively conversations and hearty laughter from every corner. The buzz of conversation makes it a truly comfortable restaurant for diners of all ages.
There's colorful lighting, a stylish bar, and even the large modern bathrooms (the women's bathroom is pictured above). This Cactus Club Cafe location is a fun, vibrant restaurant for so many different occasions.
📍 Location
The location is fantastic if you are visiting Vancouver.
It's a short walk and even shorter 6-minute drive from Stanley Park. And you have gorgeous views of the water. And on a sunny day, a great view of the North Shore Mountains.
As a bonus: the location is right next to the Olympic cauldron sculpture from when the 2010 Winter Olympics were held in Vancouver BC. The Olympic torches light up at night. It's a spectacular sight (and great photo opp!) against the city skyscrapers from one direction and the harbour from the other.
🍷 Local wine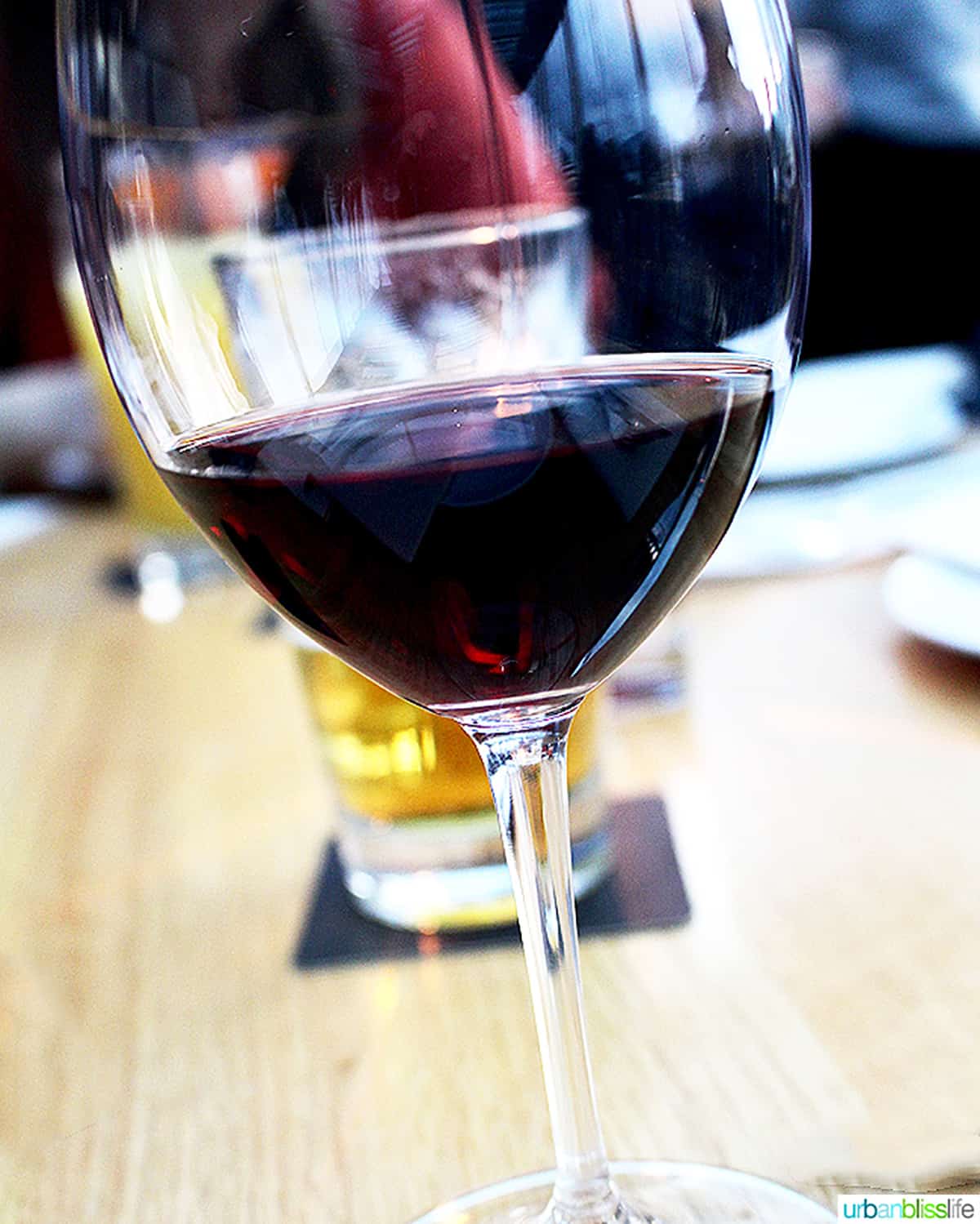 As with all of the restaurants we visited during our Victoria BC/Vancouver BC trip, I ordered a local wine. Meanwhile, my husband ordered a local craft beer. The dark red wine you see above is a slightly sinful, rich Burrowing Owl Cabernet Franc ($15/6 oz). This deep purple wine hails from Oliver BC and is a full bodied red with intense black fruit flavors.
🍽

On the menu

The menu differs slightly from each Cactus Club Cafe location. Here's a look at what we enjoyed at the Cactus Club Cafe - Coal Harbour location.
Starters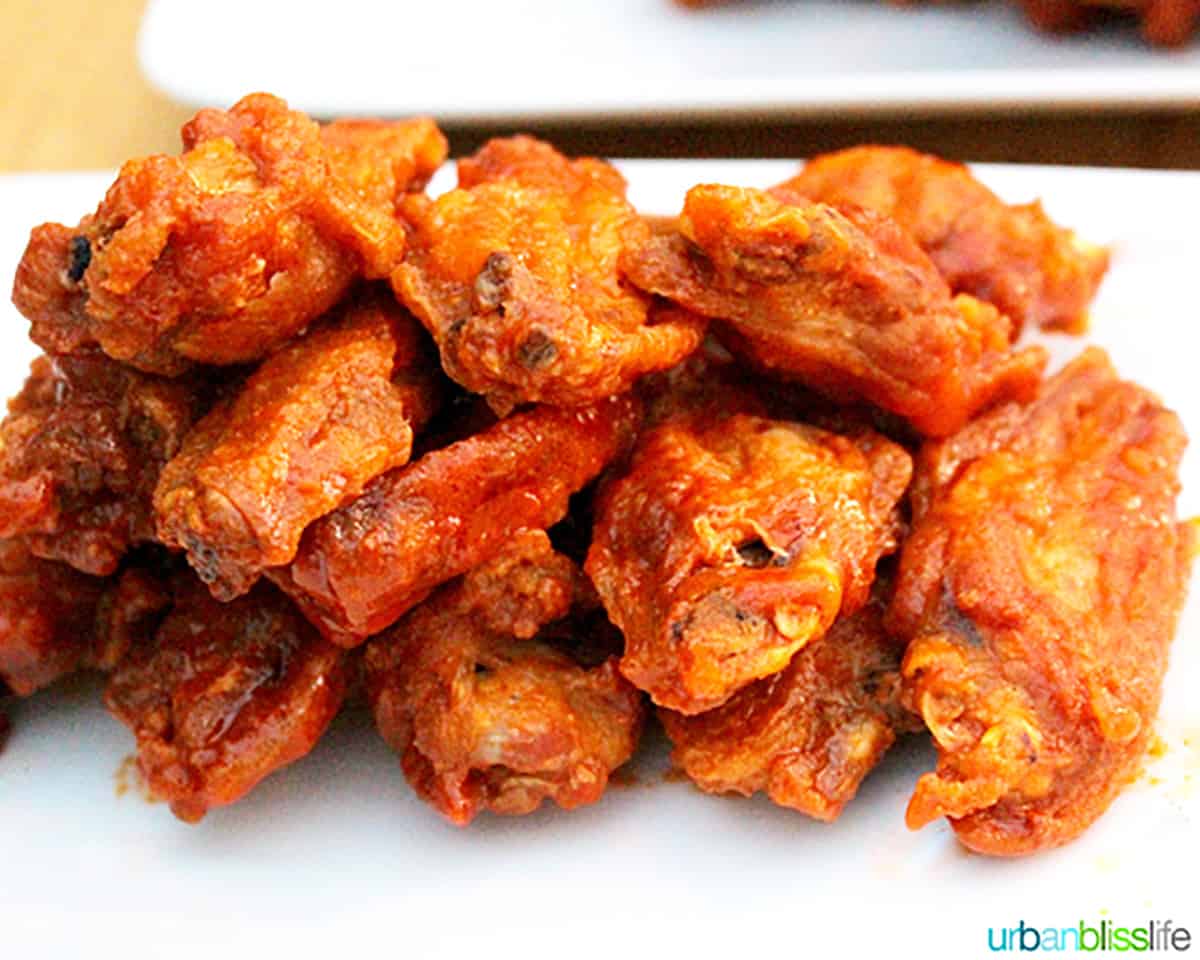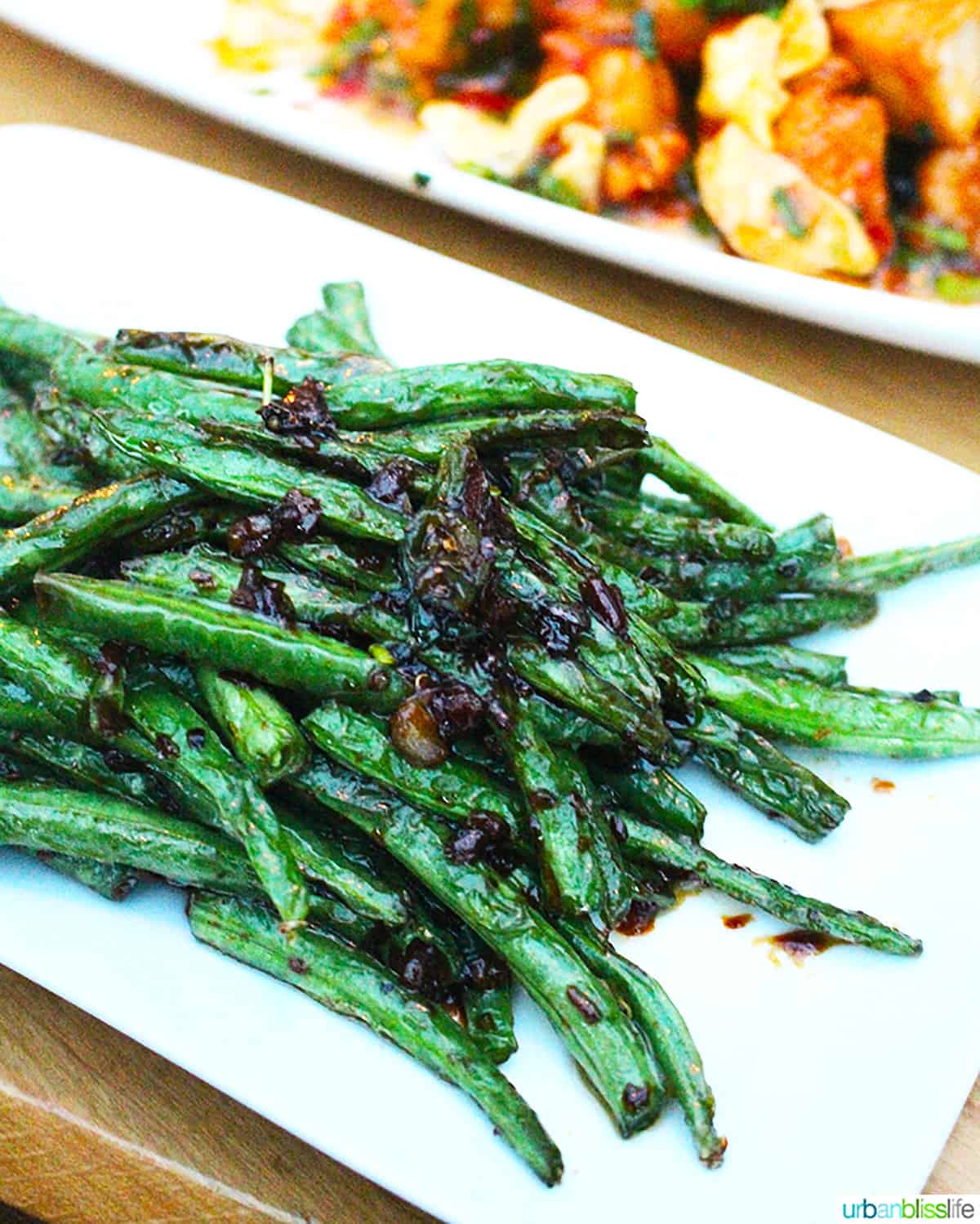 We started with some super spicy Chicken Wings ($13.50) and a plate of garlicky green beans.
Kid-friendly food
While there is no official children's menu at any of the Cactus Club Cafe locations, the menu is not only packed with kid-friendly items. And, all locations have an unprinted rule that they will basically make whatever the customer orders. That said, even my picky eaters were able to find dishes on the main food menu that they enjoyed.
There's always the classic Chicken Tenders ($13.50) - panko-breaded chicken, sea salted fries, honey mustard dip. The breading is crispy and the chicken tastes fresh and delicious. My French fry connoisseurs gave these fries a hearty seal of approval: they had just the right amount of crisp on the outside and just the right amount of potato per fry.
One of the kids enjoyed the Pesto Chicken Quesadilla ($11.75), which was a cheese quesadilla made with blended cheeses, basil pesto, sundried cranberries, honey lime dip and served on a bed of tortilla chip slices.
Main courses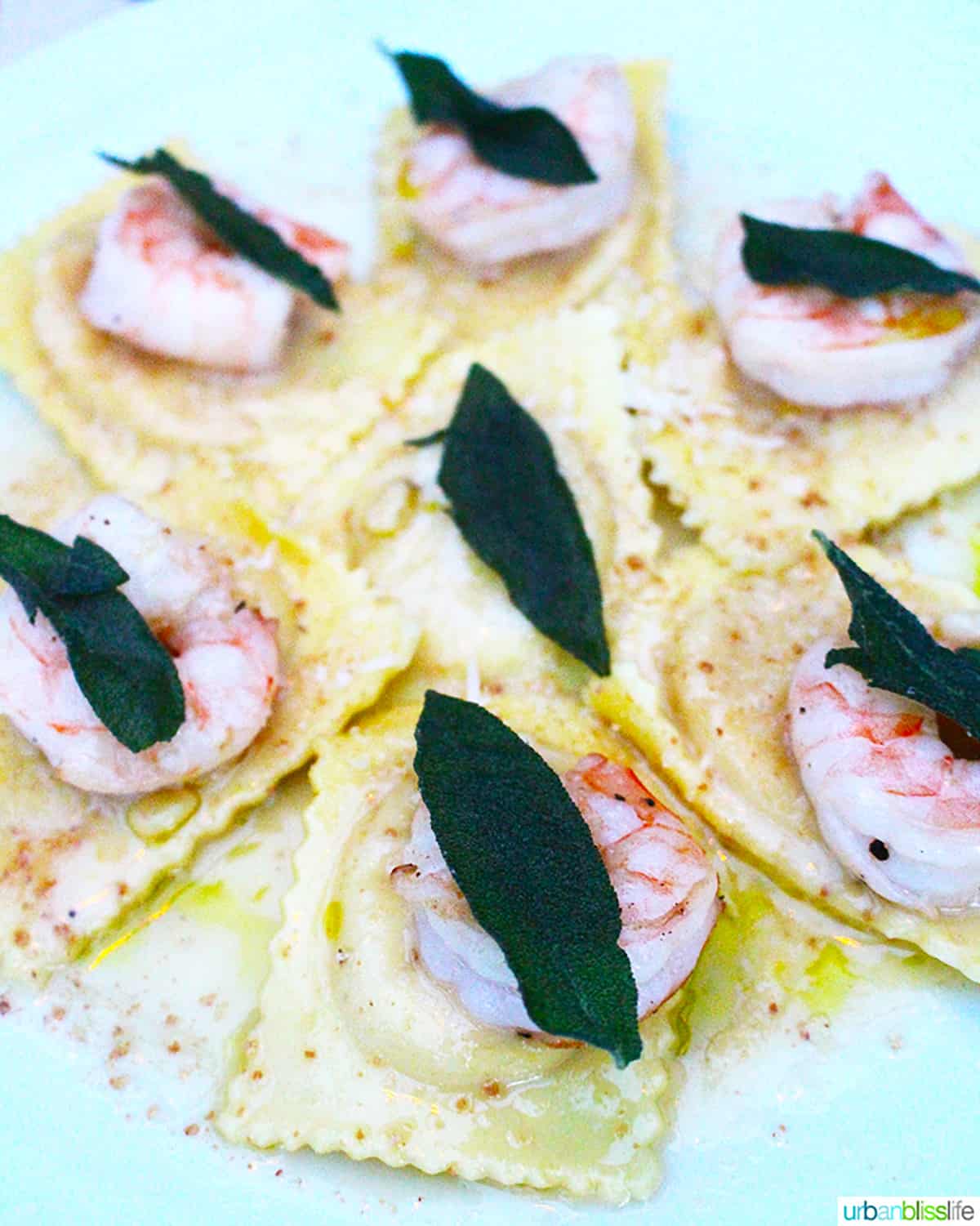 Perhaps one of the most popular dishes at Cactus Club Cafe is their Butternut Squash Ravioli with Prawns ($24.75). This has butternut squash and mascarpone ravioli, truffle butter, sautéed jumbo prawns, pine nuts, crispy sage.
Hubby and I ordered this as an appetizer, which comes with three large ravioli and prawns. Meanwhile my cousin's wife ordered the entree size, shown above. The crispy sage is the perfect flavor finisher for the sweet mascarpone ravioli and buttery prawns and pine nuts. Delicious!
For my main course, I ordered a half size of the Raincoast Greens Salad ($17.50/full size). It has fresh greens, grilled chicken breast, avocado, tomatoes, spicy pecans, cucumber, feta, lemon-thyme vinaigrette. This is a very filling salad, and a very large salad for a half sized salad, so I was happy I took the waitress's advice and just ordered the half! There was still a lot leftover, and I was stuffed. However, it wasn't my favorite dish of the evening, and I think the next time I would try something else as a main course.
For hubby's main course, he ordered the Short Rib Pappardelle ($22.50) - slow-braised short rib, porcini mushroom cream, grana padano. This was my personal favorite dish of the night. The short ribs were so flavorful and so tender, the papardelle was perfectly al dente, and the porcini mushroom cream sauce was light yet packed with earthy rich flavor in each bite.
🌃 Dinner with a view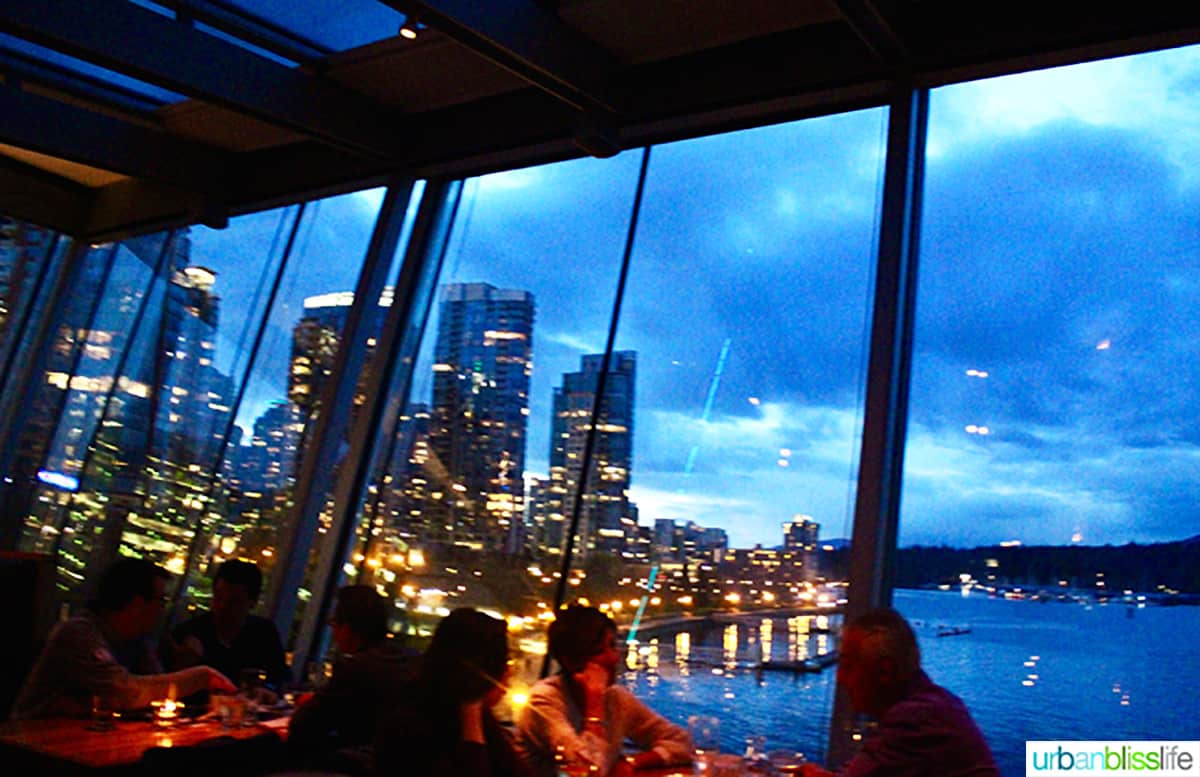 The meal was delicious, the company was delightful, and we received excellent service. Plus, you get to dine with an amazing view. I highly suggest going to the Cactus Club Cafe just before sunset. Try to get one of the window seats with a water view. It's magical while the sun sets over the harbour as the city lights twinkle on.
So yes, this is a chain restaurant. However, it is the most un-chain-like restaurant I have honestly ever dined in. It feels more like a swanky local hot spot that somehow manages to hit the sweet spot of large menu + tasty food + fun atmosphere + gorgeous views.
I love how kids are made to feel special here. They can truly order something that suits their tastes. Yet there are also several options on the regular menu that even the pickiest eaters will likely find enjoyable. We had a great time meeting up with family here during our visit. We would definitely go back again in the future!
Restaurant FAQs
Are reservations required?
While not required, reservations are recommended. It is a busy location.
What's the dress code?
We saw everything from jeans and sweatshirts to suits and ties.
Dine at Cactus Club Cafe Coal Harbor
1085 Canada Place
Vancouver, British Columbia
Canada
Call for reservations: 604.620.7410
Hours:
Daily 11:30 am - 12am
Happy hour & late night:
Every day 2-5pm + 9:30pm-close (dine-in only)
For more information and the latest menu and hours of operation, visit the Cactus Club Cafe Coal Harbour website.
More British Columbia travel articles
Find fun Vancouver BC activities
If you're headed to Vancouver, British Columbia on a family vacation, check out Cooking Classes with The London Chef! Or check out some tours, which are a great way to see a lot in a shorter amount of time. Check out some of the most popular tours:
If you visit, please be sure to let them know that you read about it on Urban Bliss Life! And if you snap some pics, tag us @UrbanBlissLife and #UrbanBlissLife on Instagram, TikTok, Twitter, and Facebook.