Have you ever considered cooking classes in Victoria BC? My Victoria BC series continues with what was the highlight of my family's trip: a private cooking class with The London Chef.
Jump to:
Family trip to Victoria
When we travel as a family, I think it's easy to fall into the typical traveling trap of staying on the tourist path: seeing the main attractions, visiting museums, dining at popular restaurants, and exploring the history of each city. These are all wonderful activities for family travel, but during our recent family road trip to Victoria BC in Canada, we were given the opportunity to take a private cooking class with The London Chef, and it turned out to be the highlight of the trip for some of us!
---
If you're just "tuning in" to the blog now, be sure to catch my previous Travel Bliss: Victoria BC posts:
Where to Eat & Drink in Victoria BC
Where to Stay in Victoria BC: Delta Victoria Ocean Pointe Resort & Spa
Family Road Trip: Traveling from Portland, Oregon to Victoria BC Canada
---
The London Chef
With floor-to-ceiling windows and bright white interior finishes, The London Chef is an Instagram-worthy large space bursting with natural light from every angle. It's like a dream kitchen! Basically, if you're considering cooking classes in Victoria BC, this is the place to do it.
Dan and Micayla Hayes opened up The London Chef after moving to Victoria from London. He runs the kitchen while she runs the business side of things. In addition to offering a wide variety of cooking classes for adults and kids, The London Chef also offers private catering, event space, and a pantry stocked with many of the fresh, local ingredients used in the cooking classes as well as their house made soups. Dan also stays busy hosting the television show Moosemeat & Marmalade, an "exploration of culture, worldview, and really good food." You can watch full episodes of the first season online; Season 2 is scheduled to begin filming this fall and will air in early 2017.
Pasta cooking class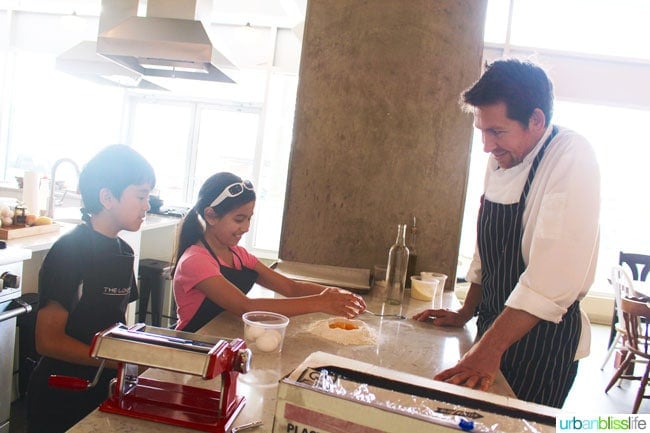 The fresh pasta cooking class we were signed up for was a completely hands-on, interactive class and Chef Dan got the kids involved right away.

He started by sharing how simple it is to make fresh pasta: just a few ingredients - eggs, all purpose flour, and semolina flour – and the kids dove right in by creating a well in the flour, breaking the eggs, mixing the dough together, then kneading the dough and rolling it out.
As you can see, my kids TOTALLY got into it, and Chef Dan made them feel so comfortable from the very beginning. He would say things like "there's no wrong way" and "you can't mess it up, don't worry," and then showing them how to adjust with more flour if needed. He would also crack jokes every once in a while, which of course, humor always goes over well with my kids.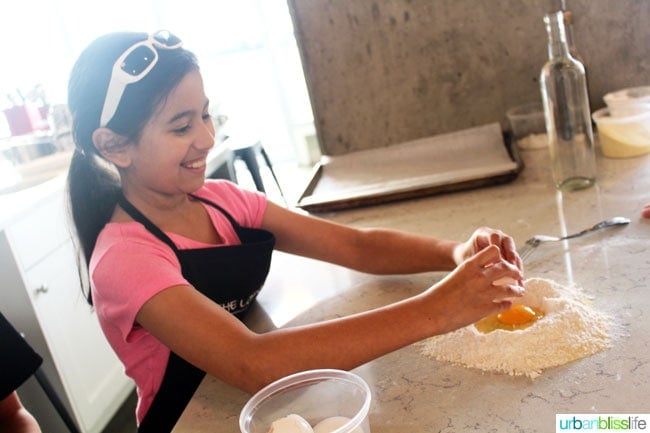 Mom Side Note: I really love seeing my kids working together, on anything, and this class was a huge treat for me and warmed my sappy mom heart. I loved, LOVED!, watching my kids work together as a team to make the pasta!
Then Dan showed them how to feed the pasta dough through the pasta maker to make the pasta strands.
Now, we have a pasta maker at home, and we've made fresh pasta a few times, plus the kids got to watch fresh pasta being made during our trip to Lake Como, Italy, but you would think by their reactions that this was the MOST AMAZING THING THEY HAVE EVER SEEN!
"Wow! That's how it's made? That's cool!" So they may have forgotten past pasta making adventures, but I am pretty sure they will remember this one. It was awesome to watch their expressions.
And, my husband and I even got to help a little!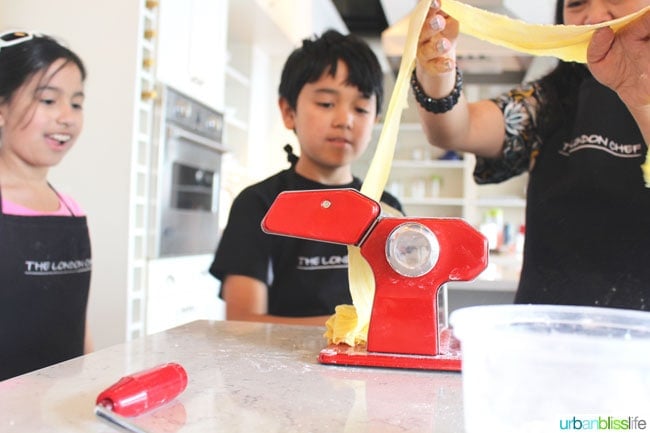 Once the pasta was finished being rolled through and then cut into strands, we started working on the sauce.
While prepping ingredients, Chef Dan shared really helpful and educational information about each ingredient – such as which part of the pig bacon comes from, going over different types of fresh vegetables – and tips that kids and adults alike could use in the kitchen.
Once again, both of my kids got into the act and helped add ingredients to the sauce and helped stir the onions, garlic, and pancetta.
Chef Dan is SO amazing with kids - very patient, funny, kind, and trusting. I think the key to cooking with kids is showing them that you trust them in the kitchen, which helps them feel more comfortable and less likely to hurt themselves.
The kids helped tear some fresh basil for the pasta while Chef Dan finished the dish with some freshly grated parmesan cheese.
One of the things I love about experiences like this when traveling is not just learning something new in a new environment, but also getting the opportunity to chat more in-depth with locals and learn more about the destination from their perspective.
We chatted with Dan a lot about Victoria and it was great to get his take on the city as someone who had moved there years ago from London.
Voila! In about 40 minutes, we had made pasta and a healthy sauce from scratch!
Fresh pasta with pancetta and vegetables... it was absolutely DIVINELY delicious, and seeing my kids (who can be quite the picky eaters on certain days) gobble up the results of their labor was a truly proud mom moment!
A final proud mom moment was when Dan asked us what were some of our favorite meals we had so far while visiting Victoria, and my daughter immediately said, "We're having a really good meal right now!"
I'm always telling my kids that food tastes better when you make it from scratch and you know what's in it, and when we were leaving, I told my son I loved how he gobbled up his pasta. He said, "Well that's because we made it, mom! Food tastes better when you make it yourself."
Well, how about that? They do listen to their dear old mom sometimes ;)
Many thanks to Dan and his great team for sharing this incredible experience with us during our trip to Victoria. It is one we will never forget, and I can't recommend this enough to other families, couples, or groups of friends visiting Victoria!
Th London Chef
If you're in or will be visiting Victoria BC, you can check The London Chef's current class schedule and make reservations online. Be sure to read the details of each class for the recommended skill level and appropriate ages.
953 Fort Street, Victoria, BC
(250) 590-1865
TheLondonChef.com
Have you ever taken a class of any kind – cooking, dancing, art, wine – during your travels? I'd love to hear about it!
Many thanks to Tourism Victoria for sponsoring this family travel series and our cooking class featured here. As always, all opinions and photos are my own. My family and I truly enjoyed every experience shared that is/will be featured in my Travel Bliss: Victoria BC series, and I think you will too!