Wondering where to stay in Vancouver BC? The Coast Coal Harbour Hotel is a family-friendly option within walking distance from many of the city's attractions.
---
Be sure to check out all of our Victoria BC Canada family travel posts!
---
After our fabulous family vacation in Victoria BC, we took the Spirit of British Columbia ferry to Vancouver BC.
I have to admit: we were all very impressed by this BC ferry!
It was super clean, had comfortable newer seats, a large dining area with lots of delicious hot meal options as well as snack options, a large gift shop, and two arcades!
WiFi was super reliable on the ferry, and it was a very smooth, easy ride. For the latest fares, schedules, and know-before-you-go guidelines for travelers (because all of these items change regularly), please be sure to visit the BC Ferries website.
Coast Coal Harbour Hotel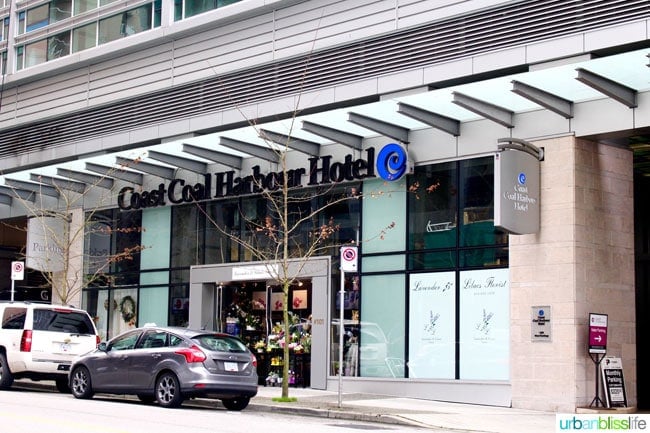 After our ferry arrived in Tsawassen BC, we drove about 30 minutes north to downtown Vancouver. It was an easy drive, but as you near downtown, you'll likely hit city traffic so be sure to plan for an extra 15-30 minutes just in case. Vancouver traffic is similar to any medium/large city, although in my experience, the drivers in Vancouver are generally a lot nicer than they are in other cities.
We arrived at the Coast Coal Harbour Hotel and instantly felt relaxed and at home.

The Coast Coal Harbour Hotel is located, as you would guess, close to the harbour. It's downtown, within walking distance to shopping on Robson Street and the city's hottest restaurants and bars in the Gastown District. If you're traveling here for work, it's also within walking distance to the convention center.
Our room was located on the top floor - the 20th floor - with a fantastic view of the city. We could also see the harbour marina from our room.
Every single one of the rooms at the Coast Coal Harbour Hotel has floor to window ceilings, which makes the already spacious accommodations seem even more spacious and bright.
Our suite had a king bed and a pull out sleeper sofa.With bigger kids (ages 9 and 12), we need a lot of room when we travel these days! Our suite provided ample room for us to rest and relax in between our daily adventures.
The furnishings and decor are beautiful, modern, and peaceful. It really was a very relaxing place to call home for a few days, and that's so important when we're traveling: that we feel like our accommodations are a home away from home.
The bed was very comfortable, and I love how there was a slight separation between the main sleeping area and the sitting area with a modern work desk, coffee station, and flat screen in the middle.
There was reliable free WiFi, which is also so important when we're traveling (and I'm working/playing) as a family.
And, if you've ever traveled with older kids, you know how important it is to have decent bathroom space. The bathrooms at Coast Coal Harbour Hotel are spacious, super clean, and offer lots of room for a family of four's toiletries.
The hotel is also one of the city's most environmentally-friendly hotels, and I have to admit:I usually shy away from using hotel toiletries, but their Earth brand products are really wonderful!
Our kids LOVED the pool, although if you go, you should know that it is an outdoor pool. It rained while we were in Vancouver, so we couldn't use the pool as much as the kids would have liked, but it is a great pool for a city hotel. The pool is located right next to a large fitness center, with a surprising amount of treadmills, bikes, and weight equipment for a city hotel.
The hotel is home to Prestons Restaurant & Lounge, and you can also order room service from the restaurant. We loved their breakfast menu especially, which takes your ordinary pancakes and French toast to a whole new level! The French toast (pictured above) had caramelized sugar edges and smoked bacon. The pancakes (pictured below) were made with apples and pecans. Delicious!
In addition to the fabulous rooms, amenities, and food, we experienced excellent service from everyone we met at the Coast Coal Harbour Hotel. We were welcomed in with big smiles, they helped us with walking directions on clear days and helped us secure cabs on rainy days.
Most of all, our kids felt as comfortable at the hotel as we did. They loved it! The view is spectacular, and the location can't be beat. If you are traveling to Vancouver BC, and you're looking for accommodations within the city that won't totally empty your wallet, I highly recommend checking out the Coast Coal Harbour Hotel.
Coast Coal Harbour Hotel
1180 West Hastings Street
Vancouver BC Canada
604.697.0202
Visit their website
More British Columbia travel ideas
Our accommodations at this hotel were partially sponsored by the Coast Coal Harbour Hotel; we paid for one night's lodging, meals, and tips out of pocket. As always, all opinions and photos are my own. I only write about places, experiences, events, and products I (and/or my family) personally enjoy, and think that you will enjoy as well!